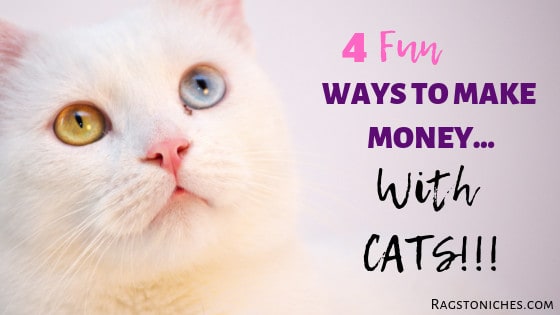 Can you make millions from your cats online?  What about just making money from cats online in general, how do you go about it?
In this post, I'll be discussing 4 fun ways that you can make money from cats online…. let me know if you're thinking about any of these!
I will confess, I am a huge cat lover. 
Actually, I spend most of my days with one of my cats.  He follows me around and relentlessly sits over my laptop. 
You can see him in the image below, (his name is Yoshi).
So, I can totally relate to the love that people have for cats.
Also, I don't know about you, but I have definitely spent an unhealthy amount of time watching cat videos online.
Well, it's like a natural Prozac watching cats do crazy things isn't it.
So, back on topic… how can you make money from cats, or even your cat?
Here are a number of ways.  Let me know in the comments of any others you can think of.
PIN ME FOR LATER 🙂
1. Sell Cat Stuff To Cat Fans!
I recently wrote a post about how you can make money as an ETSY affiliate, but of course you can make money on there directly selling as well.
So, as an affiliate, you would recommend products to readers on your blog or website.
If someone clicked your particular Etsy tracking link and goes on to buy something, you make a commission.
For Etsy that is 5% for currant customers and 8% for new customers.
They have a 30 day cookie, which means that even if someone clicks your site to Etsy and then doesn't buy anything for up to 30 days, you still get a commission if they do.
Because ETSY is largely based on homemade items, you can find some really unusual and unique items.
Take a look at some of these steampunk inspired cat items below……
If that's not your kind of thing, don't worry… ETSY has a tonne of different categories.
From clothing, jewellery, home decor, arts a crafts and vintage – it shouldn't be hard to find something that you like.
If you're more of a creator and talented at making your own things, then you could have a go at becoming at ETSY seller instead.
If you're interested in that side of things; you may want to check out Etsy's beginner guide to selling on their platform.
Want To Learn About Affiliate Marketing?  Get Started Here!
2. Create A Pussy Cat Super Star:
Yes, unless you've been living under a rock, you are likely aware that some cats have taken the internet by storm.
The result being some cats making their owners literally millions.
Some have their own range of cat apparel and accessories, they have websites and advertising deals, millions of Instagram followers, Facebook shares and you tube hits.
Probably the most well known is grumpy cat.
While the top earners seem to have something a bit unusual about them – some pretty regular looking cats have also achieved success.
Some of my favourites are cole & marmalade.
They may not quite be the giant super stars of some, but I like the relationship between the two and their owner does a great job of creating sweet videos and engaging their audience.
Also, they make some great props, which are hilarious.
At the time of writing, they also have close to 80,000 subscribers on YOUTUBE.
For an insight into the life of an Instagram cat star check out the video below:
I think it's pretty obvious here that the road to making these cats hugely popular did not just happen, there is a lot of work and marketing that goes on in the background.
But isn't it tenuous to base your entire career on your cat?
I think you'd want some sort of back up plan in place, or additional income streams set up.
Some people may feel a bit sorry for these cats too and think it's cruel.
When you see dogs performing, they genuinely seem to enjoy it.  But will a cat really enjoy being dressed up in various outfits and having pictures taken of it every day?
Probably not.
That's what I DO like about Cole and marmalade.
From what I see, their owners still treat them as CATS and they aren't parading them around in silly outfits.
Instead, they create elaborate games for them to be involved in and film them enjoying themselves.  Games that the cats clearly DO enjoy.
Nevertheless, there seems to be a whole business based around their existence.
Hopefully  a back up plan is in place for when the inevitable happens.
Or perhaps some new stars will be born.
What do you think?  Let me know in the comments below.
3. Sell Cat Tshirts… (and other merchandise):
One side hustle I started a while back – is with Merch By Amazon.
Merch allow you to design and sell T-shirts on the Amazon platform.  They do all the work… they print the shirts, send them and deal with customer service and you get a cut of the profits.
What's more, you don't necessarily have to pay for advertising like you do with other similar platforms, (like Teespring).. because by targeting certain keywords on Amazon, your shirts can appear when people are looking for certain phrases.
So, for example… Crazy black cat shirt…  Cute tabby cat shirt…  and so on.
Cats are something that came to mind, because they are a big selling point when it comes to all sorts of merchandise.
While there is definitely competition in this area, there is still room for you to bustle your way in and if you're a talented artist, or designer…Well, all the better.
The thing I struggled with was Merch, is that I'm not a designer and I didn't really want to pay out for many designs – I wanted to learn how to design shirts myself!
But learning any new skill naturally takes time and effort and with so many different things to juggle, it ended up being something that I put off and am getting back into as I type this today.
Nevertheless, I still think it's a good opportunity for others, which is why I continue to mention it regularly.
There isn't just Amazon on offer here though.  There are many print on demand services you can explore, such as Red Bubble and Teespring….
Even Etsy now how a print on demand option, by creating a Printful integration!
also, it isn't just tshirts!  There is a variety of merchandise you can print your designs on.
I also did a post a while back talking about how you could make money on Facebook with Fan pages… and being in the Cat niche could work well there as well.
4. Create A Cat Related Niche Site/Blog:
I touched on affiliate marketing a moment ago, when I was talking about Etsy.
But affiliate marketing is so much bigger than just one program.
The biggest affiliate program known today would be something like, the Amazon affiliate program and still one of my favourites today…
Useful post: 3 Awesome ways you can make money with amazon!
When I first found out about how to create niche websites, cats were high up on my list of interests and really, it's still something I'd look into if I had time to set up another niche related website.
Cats are an evergreen niche and people have shown time and time again just how well cats sell… even when there are tonnes of different sites competing out there.
Many people will niche down to particular areas, so that it can be easier to gain traction earlier.
For example; I know someone who has a site related to natural remedies for cats.  Another site I know of, started out reviewing cat trees!
Often times, some of these small niche sites expand and become more of a general site over time.
Rather than having a narrow niche site, you may just want to create a blog around your own amazing, unique cats – like Cole & Marmalade.
I guess one issue there is, that you never know how long your cats are going to be around and if your entire business is built around them, that could be problematic in the end.
That's not to say you couldn't introduce new cats into the mix over time, or even eventually and naturally adjust the direction of your blog.
Once your website is established, there are many ways that you can bring in an income.
Interested in starting a niche site or blog?  Check out my ultimate guide to starting a money-making website!
Concluding Thoughts!
None of these ways are going to make you money over night, but all certainly have potential.
You just have to choose a direction and go for it.
Any of the ways above have the potential to make you a full-time income online, but it's hard to know what to do if you don't have any experience at all.
A great way to make money long-term is to have your own blog or website and, (as I mentioned before) this could completely be in the Cat niche.
Because a website will act as a foundation to your business and it's a great place to start.
You can then link back to your blog, from YouTube and you can even incorporate your own online store.
As well as this, you can earn from it via affiliate marketing, sponsored posts, paid advertising and more.
If you want to learn all about that, I recommend the training here – which has in depth, step-by-step training.
So, that's it for today…
Do you have any other ideas regarding how you can make money with Cats online?
If you do, let me me know in the comments below.
All the best,