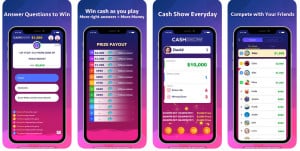 Is Cash Show A Scam, Or Can You Legitimately Win Cash Here!?
I've been reviewing various phone apps in recent months, because they're one of the newest and quickest ways that you can earn or save a little money.
Generally, you will not make much at all and some apps like to claim you can make much more than you really will.
However, cash app caught my eye because, it's different to other apps of its kind.
In this case, Cash Show app can earn you money for playing trivia show games.
I thought this may be of interest to some of my own family – because they're obsessed with game shows and general knowledge, several of them are very good.
I've been playing for some time now and try and login to the two shows a day when I can – I've roped some of my family members into it as well and we're all enjoying it.
Psst…  I don't rely on APPS to make real money!  Stick with me until the end of this post to learn how you can make more.
Cash Show App Review In Brief:
Name: Cash Show
Cost: Free
Money making opportunity: pocket money
Overall Verdict:  Legit – a lot of fun, but you won't make much at all, (unless you're a trivia master!) but it is quite addictive if you enjoy quizzes!
Sign up via apple itunes: Here!
Sign up via google play: Here!
For An Extra Life; Use Code: 6QPCFS   
If you enjoy answering trivia type questions for fun, then this could be a potential way you could do this and get paid a small amount in the process.
It's not a scam, I find it really fun.  If you have a good general knowledge, you could potentially make it to the final round most days.
Say you just made $/2 £2 each time and made sure you signed in every single day.
That's $730/£730 a year, that's a lot of money that could build up from something you could be doing for free anyway.
I'm not sure how realistic it is to make it to round 12 every day, you'd have to be very good.
How many games do you personally play for free on your phone?
My husband is obsessed with playing "words with friends," (basically, scrabble) on his phone.
He must play it for hours and hours every week.  But what does he get out of it, aside from the enjoyment factor?  Absolutely zero.
So, in my mind, spending that time doing something that could also make a bit of money, has to be a bonus.  But only if you really enjoy this kind of thing.
Personally, my general knowledge is fairly poor – but I still enjoy playing.
If anything though, this app has shown me that I actually knew a bit more than I thought I did.
If you enjoy this sort of activity anyway, then the low payout won't bother you.  The cash is really just a perk and adds a little bit more fun and an extra dimension to the game.
How Does Cash Show Work?
You can download this app for Apple or android devices, via Itunes or Google play – you're also now able to download this app in the UK.
If you're in the UK, you will have a different talk show host.
I have read that the American host is quite annoying and I've seen a couple of different hosts in the UK so far, both of which are OK.
You can't just login and start taking quizzes though, so you won't know about the live shows, unless you either make note of the time they're running, or switch on your notifications.
I actually set an alarm on my phone to go off five minutes before the show starts.  I started doing it after I forgot to login to several shows.
In each show, you will have 12 questions.  You won't get any money until you get to question 6.
From questions 6-12, you get slightly more money per question answered correctly, with the most money for question 12.
If you answer any of the questions incorrectly, it's game over and you'll be thrown off… but you can continue to watch the show.
There will a couple of booster options that can help you along the way – for example; you can get extra lives by inviting friends or family.
You also have a "wrong gone," booster to eliminate one incorrect answer from the options.
You can get extra "wrong gone," boosters, by linking your account up with Facebook.
They've also started an additional bonus recently, (in the UK, I presume this is also in the US) which is like a wheel of fortune.
If you stay until the end of the evening game, you can spin the wheel and get a booster, such as an extra life – or you get a booster to skip you to level 6!
I skipped to level 6 the last game I played with this booster…  Unfortunately, I still only got to level 8 though :(.
Getting Started With Cash Show App:
When you first sign up, you get a practice round of 5 questions.  All the questions were pretty simple to answer.
In my case, I was then told there would be a quiz in a couple of hours and the prize fund would be £1,000.
How much the prize will be is going to vary on your country and will vary.
Also, this will be the total prize fund, which will be shared between winners.
As I'm in the UK, I could see there are only two shows a day at 12:30 and 9pm.  I believe the US has three shows per day.
How Much Can You Really Make With Cash Show App?
If you don't enjoy game shows and answering general trivia questions, then I wouldn't recommend just doing it for the money!
personally, I found the format quite fun and enjoyable knowing you're playing against other people.
My 11 year old was really keen on joining in as well when I play.  Unfortunately, this is for ages 17+, but your kids can still participate with you!
In any case, you will need to correctly answer the first 6 questions to get anytihng at all in the way of winnings.  The more questions you answer, the more you can make.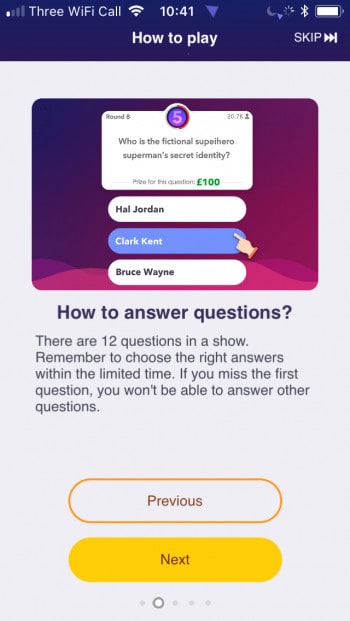 It will entirely depend on how many people are playing and how many people make it through each round, as to how much you will make.
In the time I've been playing in the UK, the question 12 winners have taken home anything from £1.50, to £4.90 so far!
The round they won the most definitely consisted of considerably harder questions.
In the US, people seem to say they earn a few dollars in a game.
If this is correct, it's still a lot more than you'd normally get from an online paid survey, (for example) and with only 12 questions, it's quick and pretty enjoyable.
You need to reach a $10 or £10 threshold before you can cash out and this wouldn't take too long to achieve if you're good at Trivia…
If you're terrible, then you probably won't get to the later questions.
For example; during my first game… I only got the first two right!
Generally, the first 6 questions are pretty easy, but they sometimes stick a tricky one in there.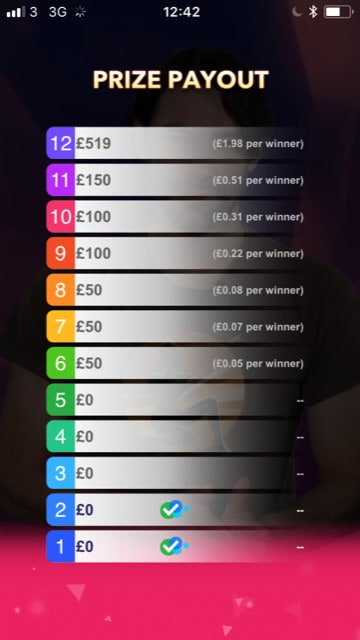 There is always the chance you could guess correctly though, as there are three multiple choice answers.
What People Say About Cash Show App?
This app has an overall rating of 4.7 on itunes right now, which is a really good rating considering over 30k people have left reviews.

Google play users have rated it 4.4 so far and that's really decent as well.

There have been some common complaints that seem to arise frequently.  The main ones include:
Finding the host annoying & cheesy….  (Well, I kind of find that funny, it's like they're an exaggerated version of the already cheesy annoying reality of game show hosts).
Glitches with the app – I have experienced this a little bit, but generally it's worked fine.  You want to make to make sure you have a decent connection when you play too.
You only get a tiny amount of money until the last question, (I think for question 6, I got 2p!!).
I also noticed while checking out the T&Cs; that you need to cash out your balance within 90 days, or else you may not be awarded.
Is Cash Show Legit – Can You Really Make Money?
No, cash show is completely legit.  But, unlike real shows you're going to be watching on TV, this isn't one that you're going to make much cash from!
So, keep applying to those real cash shows on TV!  I should know, I have several family members now that have been on quiz shows and they can certainly be profitable.
However, if you just want to have a bit of fun and earn a small amount of the process, go and check it out.
For an extra life; use code:  6QPCFS   
Beyond Phone Apps – Making More Money Online!
If you like the idea of making an additional income in the long term and aren't sure how to go about it, there are various ways you can build up an income online.
People often focus on the wrong things – things that seem easy, like online survey sites and phone APPS as a way to hopefully make some extra cash.
But you can't make anything substantial with those things – just pocket money.
I make the most online right now via affiliate sales and that comes from recommending products or services via a blog or website.
I have a few different sites I work on, but until a few years ago – I had no idea how to create a website and I didn't even know what affiliate marketing was.
So, if this has gone over your head… Don't worry, you can learn all about it!
*this training taught me how to build an income online from scratch… step-by-step.
Let me know how you get on with cash show app :).
All the best,

Other posts that you may like!