I've just recently written a full Dealspotr review here.    But I wanted to dedicate an entire post to how you can become an "influencer," on Dealspotr – because they're are some really great advantages!
If you didn't already know, Dealspotr is a site where you can earn points for sharing and editing deals/discounts on the website, as well as referring others to Dealspotr and interacting with the community.
"Influencers" have some additional perks and privileges – which I will go into below.
What Is A DealSpotr Influencer?
Dealspotr partner with bloggers and social influencers to help grow their business.
If you have a blog or website related to saving money, frugal living, making money online –
or other topics that may fit in well with Dealspotr, then you could sign up as an influencer and gain extra perks.
There are so many types of blogs that can relate to Dealspotr too- (who doesn't like finding a good coupon code or discount?!).
For example, a parenting type blog may want to talk about great discounts you can get on toys or baby products…
A fashion blog can blog about great discounts on clothes or shoes.  A photography blog – deals on cameras…
You get the picture, the possibilities are pretty endless there.
So, your blog doesn't specifically need to be about saving or making money to blog about Dealspotr.
As an influencer, you will get greater opportunities to earn points and you achieve different perks depending on what level you reach.
Influencer Levels & How To Level Up:
If you have a blog or website, just sign up through this link to Dealspotr to claim your first bonus $5.
You can then contact me directly for your bonus influencer code – I will give further details at the end of this post.
If you're already signed up, that's ok too – I will also show you what to do at the end of this post.

So, there are three different influencer levels: Bronze, Silver and Gold and I will run through each of these now.
BRONZE STATUS:
At the Bronze level, you get included into a directory of other Dealspotr influencers, which can be viewed by all members and this could lead to more visitors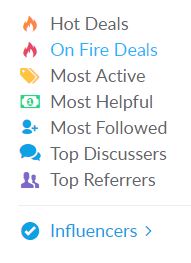 finding your blog.
More exposure in the blogging world is always a good thing, so this in itself is a good opportunity.
There are different leaderboards that you could compete in as well – the higher you up on any leaderboard, the more chance people will find you.
You can also get a $5 access code for your own readers, so they will immediately benefit from signing up under you.

SILVER STATUS:
When you qualify for silver status, you will get a "verified influencer," badge on your profile.
You will now be able to earn 20% commissions on anyone you bring to Dealspotr and $2 PER REFERRAL upfront.
To qualify, you need to follow a few steps including: adding your blog or site URL and adding a Dealspotr button to your website.
GOLD STATUS:
Finally, there is the gold status.
With gold status, you can achieve a double (2x) lifetime points multiplier, you can cash out via paypal and you can earn 35,000 points, ($35) for writing an article on your blog relating to Dealspotr.
To reach this level, there are other tasks required too – such as you need to post or validate your first 5 deals.
While you can only earn amazon giftcards at every other level, once you reach gold status – you can withdraw via paypal.
The Perk Of Writing A Dealspotr Post…
The great thing about writing a Dealspotr post on your blog is, not only will you get paid for it, they will also promote your review – which then will lead to extra free and often highly targeted traffic.
But What If You Don't Have A Website?
If you're thinking that being an influencer sounds pretty awesome – but you don't have a website or blog yet – I have a post showing how you can literally set up a great looking site in a matter of seconds here:  How to create a free website today.
If you're wondering what your blog could be about, but wanted to promote Dealspotr, there are various sites that could work really well for it.
For example, money saving, frugal living, a site that reviews ways that you can save money online – a large number of free-to-join sites actually pay a commission if you bring people into the business.
Or, you can earn referral commissions often by signing other people up and earning a percentage of their earnings.
While this may not add up to much with one or two sites, it starts to add up when you get referral commissions from multiple sources.
If you'd like to learn exactly how all this could be achieved – check out this program first.   It's free to get started and there's a bunch of great people over there too.
How To Become An Influencer:
In order to become an influencer at Dealspotr, you first need an account.
Join here and get your $5 bonus – you can also sign up and use this code: RAGS2N
In order to be upgraded to an influencer, you need to do one of three things.
Comment below and ask for one, I will email the code to you.
After you sign up to Dealspotr, you can contact me via message on there.  I am @RagstoN on Dealspotr.
After you've received your unique code, you need to sign up at one of two places.
If you haven't yet registered any account, take the code I have given you and go here!
If you ALREADY have a Dealspotr account and just want to upgrade it, take the code I gave you and go here instead.
That just about covers all you need to know about becoming a Dealspotr influencer, if you have any questions – leave me a comment below and I will get right back to you.
All the best,

Other posts that may interest you…