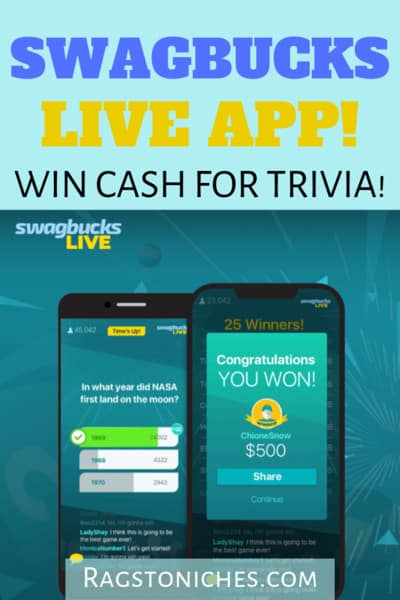 As a Swagbucks fan myself, I was excited to see a new addition to the App Store…  Swagbucks LIVE! 
Much like other Apps such as HQ Trivia and Cash Show, Swagbucks LIVE is another live Trivia game, that has a real cash prize.
Tip: you must join Swagbucks first in order to play, $5 bonus here.
It's worth noting that this App used to be called Swag IQ, but they recently changed it to Swagbucks LIVE. 
So, hopefully they haven't changed it again by the time I've completed my Swagbucks LIVE review, but you never know.
On the app store on my mobile, it's still showing as Swag IQ – but on the general appstore online, it's Swagbucks LIVE…
So, yep, a little confusing, but I'm sure the new name will be fully changed across the board soon.
These sorts of Trivia Apps seem to be growing in popularity and I can understand why, because they're just really fun…. 
And quite addictive too actually! 🙂
Personally, I got my whole family playing HQ Trivia and this one could just be another to add to the list, (although, in my case there is a big downside right now, which I will get on to in a moment!).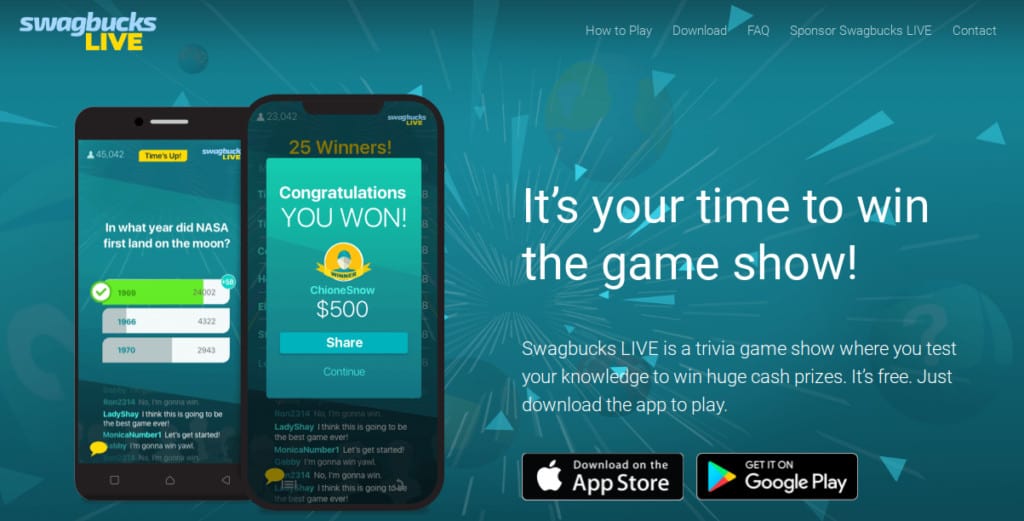 Have you tried Swagbucks yet? 
Well if not, I do recommend it – (Sign up for free here) – you actually need to be a member in order to join Swagbucks LIVE.
Swagbucks is one of the most well known reward websites, (and apps) out there where you can redeem cashback on your purchases, complete online surveys, watch videos and play games.

You then earn "swagbucks," for doing these activities and your Swagbucks can be transferred into PayPal cash, or a variety of gift cards.
They also have a useful Chrome browser extension, that notifies you about any cashback offers when you're browsing the web.
Even though I'm on Swagbucks mailing list, I somehow missed out finding out about this App at all.
I happened to come across it quite by chance, while I was browsing the App Store.
Seeing as I already enjoy other Trivia apps. I thought it would definitely be worth checking out.
What Is Swagbucks LIVE  About?
Swagbucks LIVE is an online Trivia game App, that is directly related with the Swagbucks brand. 
There are Trivia games throughout the week that you can join, for a chance to win a jackpot prize.
While there are certainly other games out there that are similar, if you are already a Swagbucks fan then this is definitely worth a look.
In particular because, the prizes are also paid out in Swgbucks. 
So, even though the jackpot may be $500, you're actually paid that in Swagbucks.
So, you will have to redeem your winnings on the Swagbucks platform anyway, by redeeming your SB's for gift cards, or PayPal.
How many live games there are seems to vary. 
Personally, I have only seen one live game available per day, but some say it is two.
Unfortunately, this App is also based in the US…
So, if you're in a totally different timezone – the quizzes may be on at unsociable hours!
I'm in the UK personally and all the quizzes have been on around midnight or 1am my time, which is a little late for me! 🙁
In any case, as well as the regular games, they do throw in some unexpected bonus games here and there.  
What About Swagbucks? 
The people behind Swagbucks created this game app and it's been one of the most long-withstanding pocket money sites that I've actually stuck with.
So, I have been using Swagbucks for years now and have redeemed hundreds of dollars worth of rewards by now.
The main way I earn from the site, is via cashback. 
Because, if you have the browser extension enabled, you get notified whenever your on an online store that they have cashback for.
Another really simple way to make Swagbucks, is via their search engine –
You can search for things as you normally would with their search engine and can sometimes win Swagbucks for doing so.
I've never had a problem with Swagbucks paying out in the years I have been with them. 
Typically, I redeem Swagbucks via Amazon vouhers – although, sometimes I go for PayPal too.
Who Is Swagbucks LIVE For?
Well, first of all – you need to be a member of Swagbucks.
Because you get paid in Swagbucks if you win a prize, (and even just for playing).
In order to join Swagbucks at all, you also need to be a minimum of 13 years old.
You must must also reside in either, the US, Australia, Canada, UK, India, Ireland, or Germany.
If you're not sure about letting your 13+ year old play this App, I would recommend downloading it and playing a few games yourself first.
It's all very tame, so should be apropriate material for Teens.. but everyone has their own idea about that, so it's probably best you do check it first.
Also, it's likely that younger teens would find the questions pretty difficult to answer… 
Unless they have a good Trivia knowledge already!! 
So essentially, this is App is for everyone over 13, who enjoy playing Trivia games, (as long as you reside in an eligible country of course!).
If It's Free…  How Do Swagbucks Make Money?
You may wonder how Swagbucks can give away cash to people –  when this App is completely free to join? 
Well, they will have advertising deals with companies…
so, a company can provide the cash for the prize draw, in exchange for being revealed as the sponsor and thereby, getting their name out there in front of many thousands of participants.
PROS VS CONS Of Swagbucks LIVE!
PROS
Free to join/Free chance to win.
Prizes could reach $1500 or more, which is nice.
Short amount of time to answer, reduces the possibility of cheating.
Occasional bonus games.
Option of using your own SB to buy yourself back into the game!
Entertaining and fun – if you enjoy Trivia!
CONS
You must answer all 10 questions correctly in order to share the main cash pot.
Sometimes there is a lagging problem, (common with apps like this!).  This can sometimes mean that you can't answer in time and are chucked off.
Most people would probably just prefer real cash – not SB as a win!
The questions can be hard, but this helps reduce the number of winners at the end.
You have to share the winnings with everyone who answers all 10 questions and this means you won't usually win very much, (but this can also vary wildly!).
What Time Are The Shows For Swagbucks LIVE?
The time the shows are on are going to vary depending on where you are in the world.
You can work it out for you, by knowing it generally seems to be 8-9pm Eastern Time US, (EST).
Most recently, it's been on 12 midnight in the UK for me, which would equate to 9pm (EST).
There can also be bonus games that pop up, but these are random and you will often only hear about them last minute. 
Are The Questions Hard?
There are a wide variety of questions – from easy, to hard….   To very hard.  
Some people have complained that some of the later questions are close to impossible, unless you just guess the answer.
However, for the most part, they are just general Trivia questions – they can just get much more difficult as you go along. 
You only have 10 seconds to answer questions, so you do need to be very quick.
Buy Back In With Swagbucks!
One interesting feature of this App, is that you are able to buy your way back into the game if you're eliminated and get an extra chance to win the big prize!
One way you can do this, is via getting your firends and family to join.
Short of that though, you can use your own Swagbucks to get back in.
How much will it cost you?  Well that depends! 
The further you get into the game, the higher the amount of Swagbucks it will cost to rejoin!
You cannot keep relentlessly rejoining however – you have ONE chance to rejoin the game and that's that!
How Can You Win The Big Prize Pot?
The most recent prize pot available to me was over $1000… 
In order to win it, you'd need to answer 10 answers correctly.  With one re buy-in opportunity.
But, of course, you're not going to be the ONLY one winning $1000. 
You will share that main prize pot equally with all the others that have reached that stage.
So, naturally, the less people that reach that final stage, the bigger the prize!  
The prize people go home with varies wildly….
But I have seen it as low as around $2!  
It can be a lot more than that however.  But you do just find that some days, the questions seems a little overall easier than other days.
The prize isn't going to come in cash – it will be in the form of Swagbucks. 
However, in my opinion, it doesn't really matter much because you can still withdraw your Swagbucks via PayPal!
How Much Money Can You Make?
The prize pot will vary from game to game…   Most recently I have seen prize pots of $500, $1000 and even $1500.
But, even if you don't win the main prize, (and it's unlikely that you will) you can still make a few extra Swagbucks… Which makes it worth it to me!
With many of these other Trivia games, you make nothing unless you reach the main prize – so, it's a good consolation.
What Do Swagbucks Mean?
Most survey type reward sites witll have some sort of points system rather than cash.
100 Swagbucks = $1. 
You can cash in your Swagbucks for many different rewards, there is a large number of gift cards you can exchange for – but you can also redeem for PayPal.
You can redeem from a low amount as well, as low as $3 when it comes to Amazon vouchers, (£5 if you're in the UK).
Referring Others To Join Swagbucks:
If you'd like to invite your friends and family to sign up to Swagbucks, you can get 10% of everything they earn… for the lifetime of their membership!
This EVEN works within this App though… So, if they do happen to walk away with a decent prize, you can get 10% of that too.
But also, every time you refer others to join Swagbucks LIVE using your affiliate link, you can get an extra rejoin option into the game, (this means you don't have to waste your Swagbucks!).
Reviews Online Regarding Swagbucks LIVE!
My personal experience with this App has been positive and I think it's great for a bit of fun – being someone who already uses Swagbucks, it's a good way of making a few extra ones as well.
The downside for me, is they don't have their own other specific UK platform, (like some other Trivia shows do). 
This means it's just on too late for me to do most of the time.
Nevertheless, this App currently has almost 5 stars on the App store and 4 stars on Google Play.


With thousands of reviews combined, this is a good score for an App of this type.
So….  What are some of the things people have had to say about this App?

1. Glitchy Glitch Glitch!
Many people have complained about glitches with this App.
This has been common with other Trivia Apps as well, especially when there are many thousands of people joining a game.
This can be frustrating, as it means the screen could freeze before you give an answer to a question.
You probably also want to make sure you have a decent connection before you join a game!
Due to the lagging, it is also possible that you get an even smaller window of time to answer a question.
Since you only get 10 seconds anyway, this has made it impossible to play for some players.
2. Unusual Questions – Which Is Fun!
Some people online have commented that they find the questions here more interesting than other apps.
There is a bit of an interesting mix, as sometimes Swagbucks incorporates its own surveys into the questions – for example; by asking people to guess how a majority of people answered.
Of course, this can lead to some questions being more a case of guessing, than actually knowing the correct answer.
3. Annoying Show Hosts….
People always seem to complain about show hosts being irrirating – or just talking too much between questions!
This is always going to be a complaint though…  Because you can't please everyone!
Some people will love the hosts and others won't!
4. Slow To Receive Points!
Some people have complained that it can take a while for points to appear in your Swagbucks account.
While this may not be an issue when you're only winning a few here and there, of course it would be more worrying if you won the grand prize.
I know sometimes it has taken time for Swagbucks to appear on my own account, but they do show up eventually!
It may take a little while, but you can contact their support team if it seems to be going on for too long.
Is Swagbucks LIVE Worth Your Time?
If you enjoy general Trivia and especially if you have already enjoyed Apps of this sort before, then it's definitely worth checking it out.
I personally play trivia apps for the enjoyment aspect and not for the money.
It's odd how exciting it can be though, even when you know you may only win a small amount!
If you happen to be amazingly good at answering Trivia questions though, you may be able to win some decent prizes here and there.
I also like the fact that, in this case, the game is connected to Swagbucks – where I'm already a member and interested in increasing my Swagbucks regularly anyway.
Have you won the main prize pot on Swagbucks LIVE?  Let me know in the comments!
Is Swagbucks LIVE Legit?
Yes!  I can thankfully say that it is and it's also a good way of building up your Swagbucks account.
This app has plenty of good feedback online too.
Plenty of people continue to win their share of the jackpot…  Who knows, maybe you could be one of the next winners?
Want To Get Started?
To get started playing Swagbucks LIVE, you first need to sign up to Swagbucks.com & You can get a free $5 bonus for signing up with them via that link.
Once you've signed up and confirmed your email address, you will be able to sign up to the App either with the Appstore here, or via Google Play.
Once you've downloaded, use the same info you used to sign up to Swagbucks, to join here.
Beyond Apps Online:
If you're already a fan an member of Swagbucks, or are newly signed up – then you may as well check out Swagbucks LIVE too! 
Even if you're not great at Trivia, you could still get some questions right, more by guessing and then gain some extra Swagbucks, while having a bit of fun.
If you do try out this App, be sure to let me know in the comments what you think!

If you like this App, you may also want to check out – 5 apps where you can win real cash. 
However, if you're looking to make more than pennies online, you might want to consider some other options!

For example; some people make thousands of dollars every month with their own niche website or blog.
I wrote an in depth guide for how you can get started right here.
Alternatively, you may want to check out these 40+ ways you can start making money from your couch.
If you have zero idea how to get started and think you must need a tonne of technical knowledge, you really don't!