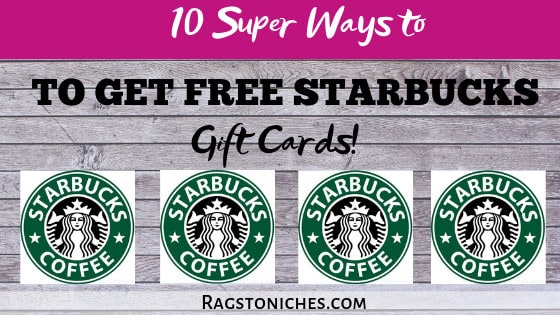 Today, I wanted to share different ways to get free Starbucks gift cards!
Partly because, it's become my new go-to place to work during the day! 🙂
My local Starbucks has big comfortable chairs and plug sockets everywhere…
So, I can easily plugin my laptop and my mobile charger, get free WIFI…. AND drink giant mugs of coffee.
They also do free refills if you get their filter coffee, (I don't know if that's just a UK thing!).
The downside is… If you're not just going for free refills, it can get seriously expensive!
So, instead of cashing out via Amazon or PayPal with certain pocket money sites, I have recently enjoyed getting Starbucks Gift Cards instead.
It just feels like a way I can save for that one particular thing & feels like I'm just getting the coffee for free, (even if I did put in some work to get it).
So, below I've created a list of ways you can get hold of these gift card codes.
Also, I've ONLY added the sites where you can cash out from a low amount.
So, if you can't cash any rewards until you reach $30 or something… I have not included it.
Because, let's be honest… high payout thresholds really suck.
I had to start with this, because Swagbucks is one of the top pocket money site that I recommend – due to the fact that I use it the most.
Nope, I don't spend all day on there doing surveys, but I do use it for cashback and use their search engine to get extra points.
I sometimes also make use of their cash offers, which pay more than surveys typically.
They have tonnes of gift card options, but Starbucks is one available on there!
Sign up to Swagbucks here – and get a $5 bonus!
This is a site very much similar to Swagbucks – some people prefer Prize Rebel and some prefer Swagbucks, it's personal preference!
The have the same ways to earn, in terms of surveys, cash offers, videos and mini tasks.
They also have a tiered referral program – where if you refer your friends and family, you can earn between 10% and 30% of their earnings too.
You can get to a 30% commission by earning more points on the platform yourself and working your way up in their ranking system from bronze at the bottom, to diamond at the top.
I used to think the platform was a bit dated a couple of years ago, but it's looking loads better these days & there are lots of different ways to earn points.
I also like the way they encourage you to be more active on the platform, as the more points you earn, the greater the rewards.
You can redeem a Starbucks gift card from just $5/£5.
I've only recently looked into Lifepoints, since both Global Test Market and MySurvey merged with it!
This is a regular survey panel – there aren't additional ways to earn, just straight up surveys.
While there have been some complaints about getting screened out of surveys, this is common with survey sites anyway.
I managed to qualify for around half the surveys I've completed, (which is actually not bad) and will soon be able to cash-out a Starbucks gift card.
A really good aspect to this site, is the low payout threshold!
You can get a Starbucks voucher code from $3/£3… Which shouldn't take you long!
Join LifePoints in the US here,
This was actually the very first way that I redeemed a Starbucks gift card online.
Qmee is a website and a chrome browser extension – on the website, there are now surveys you can complete.
But the main way I've used it, is via the browser extension.
As you search the web, or even browse Amazon, it will pop up with recommended alternative products, (like little Ads).
If you click on them, you get a tiny amount of money but throughout the days and weeks, this can add up.
You can definitely earn more via doing their surveys and there are usually some available on the platform.
You can redeem a Swagbucks gift card from as low as $5/£5.
It's free to sign up, you can check out Qmee here.
While not really a fan of the main website in the past, I did get on fairly well with the app.
There were plenty of surveys and even though getting screened out is an issue, it usually is that way with survey sites.
However, the app is pretty fun and easy to use on the go – something to do on the commute to work.
PLUS you can cashout a starbucks gift card from $5/£5 here too.
You can download the Toluna app here.
You will need this to upload your gift codes on to the Starbucks App anyway, so you may as well download it!
But it's also an additional way that you can earn some free coffee!
Every time you use the app to buy your coffee, you can earn stars.
Earn enough stars and you will gain yourself a free coffee!
Also, you can grab a free birthday drink gift on your Birthday! 🙂
Non-UK Options:
I'm including these because I know so many of my readers are from the US and are unfortunately a couple of ways that I can't make use of <sobs>….
One of these below you CAN join from the US, (InstaGC) but you cannot redeem Starbucks gift cards on this platform outside the US, (for some reason).
There are plenty of other ones you you can though.
This app is hugely popular, with some people claiming to have saved hundreds of dollars on their shopping.
It's an app which can help you get cashback in tonnes of different ways.
What's more, you can get a $10 bonus just for signing up here.
It's highly recommended by many users and you can also redeem your reward via Starbucks gift cards… so, what's not to like?
This is another survey platform which comes recommended to me from my US friends.
With many people claiming it's one of the best online survey panels, it's a great shame that it's not available to more countries.
In any case, you can sign up for free here and start earning!
You can join InstaGC from the UK AND multiple other countries too…
But the Starbucks gift card option seems to be available in dollars only at the time of writing.
A good thing about this site is, there are some rewards that you can get for just $1.
But there are also plenty of $5+ options and one of these is for Starbucks.
This platform is a get-paid-to site, with an emphasis on paid offers, but plenty of surveys as well.
This is less familiar to me, as I'm a Chromebook girl at the moment and pretty much Google orientated.
But if you're more into BING, then this could be one for you.
Every time you search on Bing and make any purchases, you add points to your Microsoft rewards account.
You can also earn bonus points with quizzes and fun tasks.
The downside is, I believe they only offer Starbucks gift cards as a promotion, so you may not always be able to get hold of them!
You can sign up to Microsoft Rewards here.
Concluding Thoughts:
Be cautious of anything claiming it will give you a Starbucks gift card just for entering your email address, or answering a few questions.
There are scams that lure you in with this and then tell you at the end that you've been entered into a prize draw instead, (after you've handed over your information).
There are many things like this that promise gift cards, gadgets or cash as an incentive for your email/telephone number/address.
But in many cases, this information is sold to third parties and you end up with relentless spam.
In all the cases I mentioned above, they do require a bit of work – if you dedicate a set amount of time each day to one or two websites, it won't take you long before you can redeem some gift cards.
Beyond Freebies – Making More!
I say "free," here.. But doing any of these things aren't entirely free, because you are paying with your TIME.
I like getting gift cards, but I don't like spending too long on things like surveys and extra income sites.
Just because, it's exchanging my time for money and a very SMALL amount of money.
That's why I learnt how to start building profitable websites in 2015, where I learnt I could create an extra income that far exceeded anything from surveys.
If you'd like to learn to make more money online in the long-term, I recommend you get started here.
All the best,
Pin Me For Later! 🙂