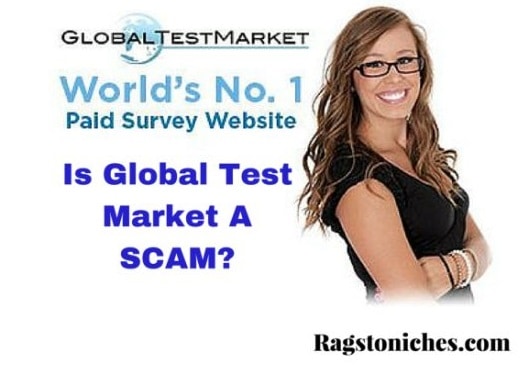 Is Global Test Market A Scam? 
There are a great deal of online survey sites out there.  The trouble is, as far as I have found, a mass majority are either complete scams or a waste of time.  Is Global Test Market any different?  I took a look to find out.
Product: Global Test Market
Price: Free to join
Earning potential: pocket money
Overall Rating: Average, it's legit, but you won't make much!
>>>  Sick of earning peanuts online?  Try this instead!
Online Surveys – People Hoping For An Easy Few Bucks…
People just love to know about making money with online surveys.
I get it, it seems like surely it's real simple to do, just ticking boxes.  So, if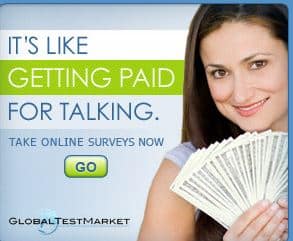 at the end of it you make a bit of money out it and you've only been doing them in your spare time – no harm done.
Generally, I want to look for opportunities where you can make at least a part time, to full time income online.
However, this wasn't always the case and I do still find the value in doing small tasks, (if they don't take you forever) to make a bit of extra cash on the side…
That is, if you have the time and don't want to make any real effort as far as learning new skills or starting your own online business.
What Is Global Test Market?
Global test market (GTM) is in fact one of the most long standing and established online survey sites – so, as such you'd expect it to be one of the better ones, one you can trust.
However, many customers now claim that while it used to be reliable, slowly it's been in steady decline.
Many have complained that they do not receive their money, that they are suddenly blocked from their accounts after they attempt to redeem, or that GTM do not answer their emails.
That being said, there are plenty of others who still claim to be happily making their extra money on the side and have limited trouble.
Survey sites really aren't as easy to make those few bucks as many people initially hope.
So, Should you bother putting effort into GTM…? …. well….
How Much Money Will You Make?
Each survey that you're sent has a particular value.  They're each worth a number of points.  When you reach a 1000 points, you make $50.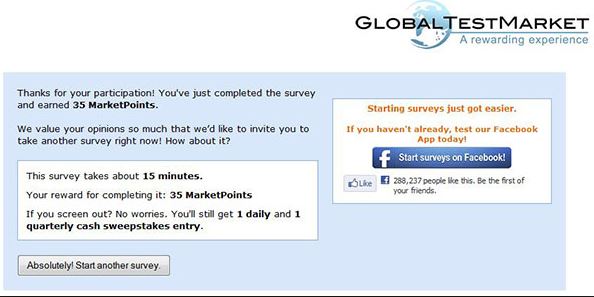 So, if you take the example above – if you took around 28 of the above survey, for 35 points, then you'd almost be at your 1000 points.
If the 15 minute approximate time is accurate, then that would take you around 7 hours worth of survey taking. That said, it would actually most likely be much more than this – because you are thrown off surveys for not being eligible very often.
As well as exchanging points for cash, GTM also have a reward system, so you can save up you points and choose from a catalogue what you'd like to exchange them for, (for example, giftcards, e-certificates).
But you generally need to participate in 20 to 30 surveys to actually reach a point where you can actually exchange and some customers say that the amount you get per survey, has been going down.
So, to make this thousand points would take up a great deal of your time.  A lot of time… and minimal reward.
In addition to this, there have been complaints that GTM take a long time to pay out, some claiming that they have even been unable to get their points redeemed and their emails are not responded too.
For a real opportunity to start making money from home, see here.
A Big Problem With Online Surveys
Sometimes a survey will go on and on depending on your answers, I've spent 45 or so minutes on one survey and I know others have spent even more time than this.
Plus, there is further time wasted, because often you do not qualify for a survey and are kicked out – but you've already wasted time starting on it.
This is a common problem with a majority of survey sites I've tried.
I've taken 15 minutes answering questions – only to THEN be told I am not eligible.  I find that pretty infuriating and I know I'm certainly not alone.
In fact, I know some people who have answered questions for THIRTY minutes, only to be kicked out after that… seriously, how crazy would you feel after that?
It doesn't seem right that you shouldn't be awarded something for attempting to answer their screening questions – rather than that time being completely wasted.
You're told not to worry because you get 10 entries into their quarterly prize draw for $3,000 – seriously?  With millions of members, can you imagine how many entries are in this draw?  That is really no consolation!
I don't know about you, but I feel pretty ripped off having given out my own personal information, having been asked questions for 10, 20 or even 30 minutes and then be chucked out with no reward – and worst of all, this can happen time and time again.
Before you know it, an hour has gone by and you haven't even been rewarded for a single survey.
A Common Complaint Against Global TesT Market:
Many people complain that whenever they email Global test market, they get no response.
They may email them multiple times and hear nothing back… I just see no excuse at all for not providing decent customer service if they're a legitimate company.
There is no doubt that Global test market will be making an immense profit from people filling in these surveys – and if they want to stand out from the "scams" then they should be responding to their emails within an appropriate time frame.
In addition, people claim that on occasion, when GTM do reply to emails regarding redeeming points – they're promised their checks should arrive in a certain number of weeks, only to never to arrive.
Ok…but enough of the negative, is there anything positive to say?  Let's check out the PROS vs CONS!
PROS 
I actually found it super simple to sign up with Global test market.
Easy to navigate, some survey sites are pretty confusing.
Regular emails alerting you to new surveys.
Free to join.
You can exchange points for rewards.
CONS
A fair bit of effort, for minimal award.
Constantly risk being chucked out of survey, if you're not eligible, (even once you're near the end of a survey!).
You can wait 5 weeks or longer for payment, (and there have been complaints from people who have not been paid or had to wait months).
Lack of customer service/support.
Is Global Test Market A Scam, Or Legit?
Despite many dissatisfied customers, there are still millions of people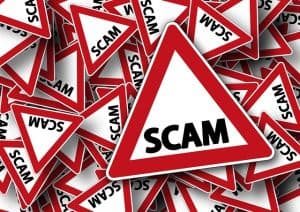 registered to GTM and many satisfied ones at that.
With so many people doing these surveys and what looks like some questionable customer support, you're going to encounter problems.
Until fairly recently, GTM has been considered a legitimate company, but the amount of complaints against GTM in recent times are on the increase!
This fact makes the risk of spending hours and hours completing these surveys, even less appealing than it was to begin with!  Oh, that is if you can even complete one without being booted out….
Conclusion
If you're definitely keen on trying out surveys, Global Test Market is super easy to sign up to… you can figure out pretty quickly if it's something you have the patience for.
Just be aware, that some people have had negative experiences – so, go into it with limited expectations, you may end up being surprised that you have no issues.
As pocket money opportunities go, I prefer Swagbucks – Check It Out!
I couldn't stick with doing surveys long enough on this site so far to get to the payment threshold!
For me, it is a waste of time and the relentless booting out of surveys – is just unacceptable to me.
If you're really serious that you want to make money online, I wouldn't waste your time with online surveys.
I have a bunch of programs that I recommend that can help you get started making an income online and some of them come with free training too – check my review tab at the top of this page, if you'd like to read some positive reviews.
Have you tried many survey sites?  What do you recommend?  Leave me a comment below!
All the best… 🙂