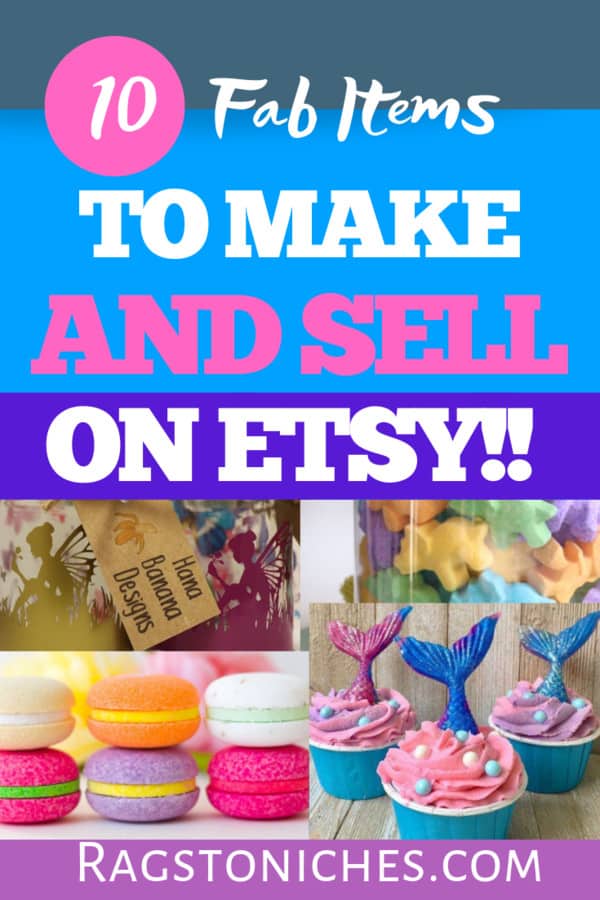 Since I've come online, I've seen that one of the easiest and quickest ways to first make money online…
is to make and sell things that people want.
It's NOT the greatest way, (in my opinion)….
Because, there are only so many things you can make and only so many hours in the day for you to make them!
So, really, the ideal things are going to be LOW cost to create and QUICK to make.
This way, you can generate the most profit from your efforts.
Unfortunately, I'm not particularly crafty!
Plus, by their very nature, homemade things are often not speedy to create.
However, there are some things that can work around this and whatever route you choose, you want your profit to justify the amount of time you put into it.
So, you've decided that you want to create your own products to sell… But where can you sell them…..?
There are many places that you can list and sell homemade items.
Facebook buy/sell groups.
The Etsy Platform.
Alternatives to Etsy, find loads here.
If you're just looking to design & upload on to products, Redbubble has tonnes of products you can upload on to! I reviewed it here.
For the purposes of this post, I'm going to focus on the Etsy platform.
Because Etsy has millions of visitors coming to search for products and therefore, you have the ability to reach many thousands of visitors to your Etsy store!
Etsy has become a household name now and is a go-to place for people to discover unique items that you can't find elsewhere.
What Sort Of Items Should You Sell?
The vert best options are going to be easy to make in bulk & cheap to produce.
However, they're also going to have to be things that are in demand and something that, ideally, is evergreen.
Meaning, that it's not just a fad that will go out of fashion next week – but likely to be something that you can continue to make for many years to come.
That being said, there's no reason why what you start selling today… You'll continue selling long into the future… So, feel free to experiment!!!
Below, I've outlined 10 potential things that you could create and sell on the Etsy Platform.
1. Personalized Prints!
These are gifts that could be suitable for many different occasions – such as Birthdays, Weddings, Christening, Christmas, Anniversaries.
It's a popular way for people to get their message across to someone, in more of a personal and unique way.
You don't need very much artistic ability to get started with this, it would cost nothing to produce, (aside from any digital design program you may purchase) and you can produce many in a short amount of time.
Check out the Rainbow image below, where you can insert text of your choice – this is purely a DIGITAL product!
Since it's a digital product, this removes the usual hassle and extra effort involve in packaging and shipping the product.
However, who ever makes the purchase does have to frame it themselves and this may put people off.
A similar take on this, is the image below, where they put a name within the Art.
2. Unique SLIME…..
Slime has been big for sometime now and it doesn't seem to be going anywhere soon.
In fact, the slime just seems to be getting more and more experimental and elaborate in some cases.
Making slime is something that anyone can do – but you may need a little talent to create some of the more unusual types! (see below for examples!).
Don't know how to make slime? Here are 21 slime home recipes to keep you busy!
Will people get bored of slime?
No way, there will always be new little people coming into the world, ready to discover the wonders of slime for the very FIRST time.
It's not just for kids though, adults also enjoy it.
I found one shop on Etsy taking slime to a new level…. What about this Strawberry Birthday Cake slime?
Or my personal fave – their Unicorn Birthday cake slime!
Looks good enough to eat, doesn't it? (But don't do that! 🙂 ).
Once you get the hang of your own variation on recipes, it shouldn't take you too long to get your slime together.
The downside of this one, is that it is quite a low-cost item and so, you'd need to be selling a good amount of these.
3. Novelty candles!
Candles are not going anywhere – but people are coming up with more inventive ways of creating them.
This can be, by setting the candle in different items – such as tea cups, (which are really pretty and cheap to pick up second hand), by creating unusual scents, or by using unusual molds.
Check out the cool pastel skull candles below! These are awesome!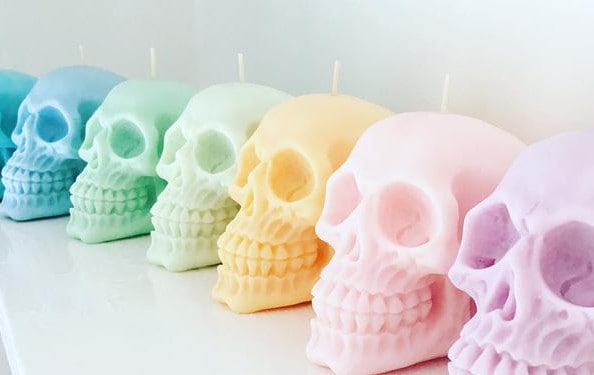 If you've never made a candle before, it's not as difficult as you may have imagined!
Take a look at the great tutorial below, which shows you step-by-step how to create a candle….

I've seen candles in all sorts of shapes, that you can find on Etsy.
I would say that taking the time to create a unique product, is likely going to help you stand out from the crowd here.
Perhaps honing into a particular niche, could attract peoples attention more.
So, for example – creating creepy candles could be a route you could go down and this could incorporate the skulls and things of that nature.
One candle that I found particularly funny, was this brain in a jar candle!
4. Gift Mugs!
Everyone loves a novelty mug……. Who doesn't have a mug that someone has bought for them at some point?
They're a great gift, as they're something that everyone can make use of and they're something that can make you smile every time you use it.
I have got several mugs that I've had given to me as gifts and they're ALL the top mugs I use, before any other mugs I own!
FIRST the gift mugs…. Then the others if I'm desperate.
The great thing is, you don't even need to purchase and store mugs anymore, (which could take up a lot of room and be tiresome to send in the post…. not to mention, breakages!).
You can however, upload your own designs to certain companies – who will do all the hard work for you.
The downside with mugs is, your profit margin could be small. You can check out your profit calculator with Printful here.
Printful are one company that I have personally used, to sell Tshirt designs on Etsy.
Etsy has a simple integration you can set up, whereby any order from your Etsy store, will automatically be fulfilled by Printful, (when you have it set up).
There are many items Printful can print on to – Mugs is just one option, (I'll give another further down).
Mug wise – you don't need to be an amazing designer to add a print to a Mug!
In fact, straight up word prints do well and you can create designs on platforms like CANVA.
There are many free stock images you can use, or get hold of online.
If you're a keen graphic designer and are competent with something like photoshop, or Illustrator, then all the better!
I know many people who also create designs with free programs, like GIMP.
See some examples below…..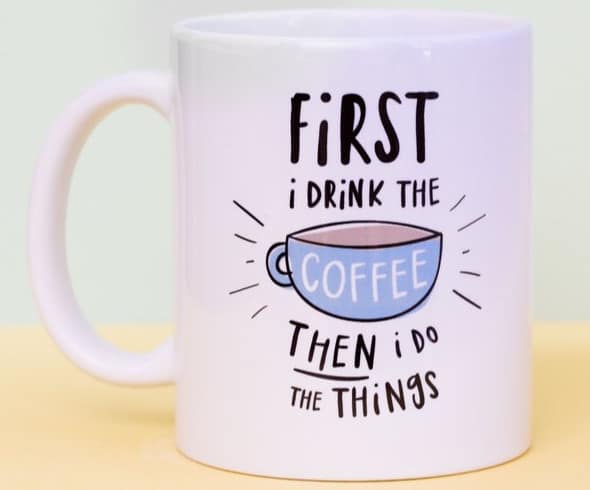 5. Fun Dough For Kids!
Obviously on a similar path to the slime idea above… Although possibly a bit easier!
I thought this would be a good one to include because, what kid doesn't love Play Doh? I know I did.
But you can make your own fun dough to play with at home and you can also sell it on platforms online, like Etsy.
Of course, if you put your own fun spin on it, it's going to be likely to stand out.
Take a look at some of these fun examples on Etsy….
There are even those who have created their own fun Play dough kits, which I think looks great, although will be some additional work/cost.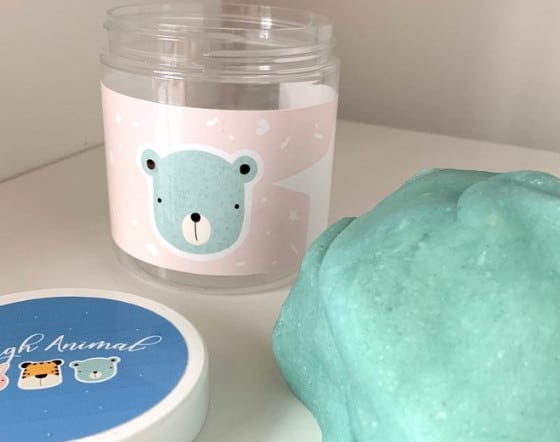 Dinosaur Play Dough Kit – Etsy
If you're clueless about how you could possibly create your own, homemade Play Dough…. check out the handy video below!
I've included one recipe that DOES use cream of tartar – you'll want to use this if you're selling the dough, as it makes the dough last much longer!
6. Cute Jar Lights!
I've seen these sorts of things in regular shops – but you could so easily create these at home and many people have!
There are many different ways you could customize these, but I see a very common variation has a fairy theme!
I found a DIY video, showing you how to create these lovely fairy jar lights below!
The one thing with these is, that they do appear to be fairly time consuming, with lots of accessories included as well.
That said, I have seen some that are simpler than the design above, (see below) selling at around $13, (£10) – excluding delivery.
Some are going for even less.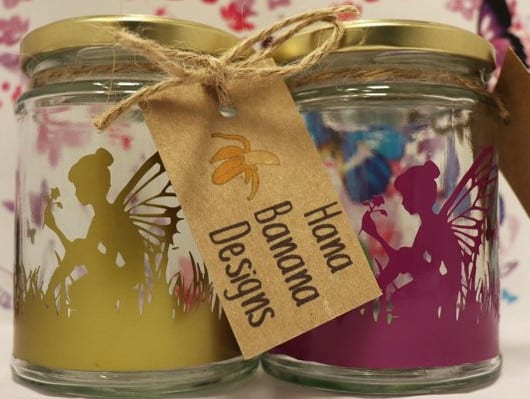 Fairy Tea Light Holders – Etsy
7. Cool Tshirts!
This is another thing, (like the mugs) that you can sell on Etsy via Printful.
Printful will print and ship various items – all you need to do, is provide the designs.
I first got introduced to print on demand, via selling tshirts on Amazon, (which is another option for you).
I still have some shirts that sell each month, but it is much more competitive than it was.
I briefly dabbled selling shirts on Etsy as well, where the competition was far lower at the time.
It's such a low-cost way to start your business – so, if you don't end up selling shirts, it's very little risk or loss to you.
With Etsy, you just pay 20cents per listing and that will last you four months.
So, for each shirt you have live on the platform, it would cost you 60 cents per year, per item.
You can see how this would add up if you have 100's of listings – but it should encourage you to delete the under performers and keep the best ones.
The main thing you'll be using, is your time, (by designing). Some people also hire designers cheaply, on platforms like Upwork.
You can find more info on using Etsy & the Printful integration here.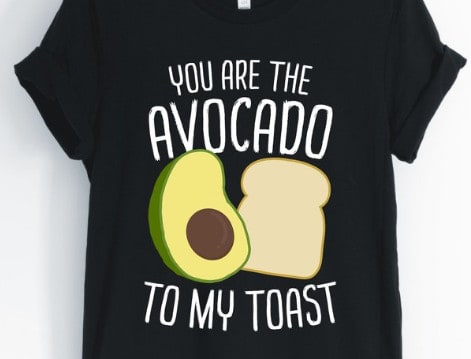 8. Bath Bombs!
Bath bombs are really popular these days – and not nearly as difficult to make as you may imagine.
You can be pretty creative with them and add things like dried flower petals, different scents and herbs.
I've even seen varieties in different shapes – like dinosaur shaped ones for kids! (see below!).
If you're interested in making bath bombs – there is a step-by-step tutorial here.
You can also find various DIY videos on YouTube here.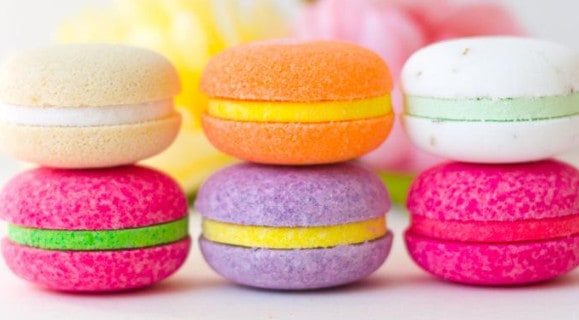 Cute Macaron Bath Fizzers – Etsy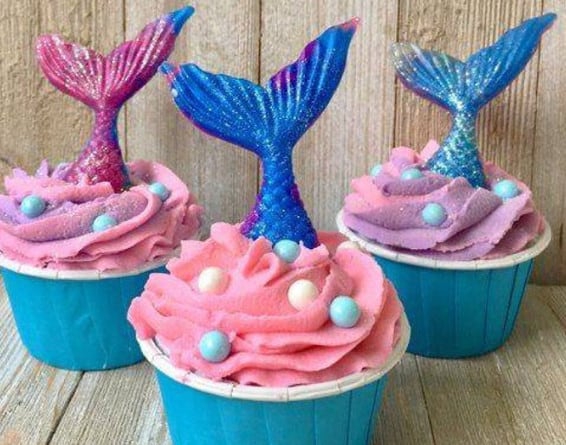 9. Dog Treats!
If you're a Dog lover & have your own Dogs, this could be the side hustle for you!
To be honest, I was really surprised to see Dog treats on Etsy, I didn't know they sold them on there… But indeed they do!
Plus, they really have quite a nice variety and they're so adorable, they could make a lovely gift too.
I found a great video here, showing you how to make homemade donut shaped Dog biscuits!
You can also see here, how an Etsy seller has created a YouTube video to advertise their Dog Treats, (great idea!).
Check out a couple of the amazing Doggy treats on Etsy at the moment…..
So cute!!! Doggy Doughnuts – Etsy
Wow… Pupperoni Pizza Dog Treats! – Etsy
Both the examples above are by the same seller and there are some more standard type Dog treats on offer on Etsy, (such as… in the shape of bones etc!).
The important thing is, to offer something unique. Whether that's by using all natural/organic ingredients and some cute packaging…
Or going all out and creating quite a novelty fun item, it's up to you!
Whatever you choose, be careful to thoroughly read through the Etsy guidelines before you list your item.
10. Cat Teepee!
Obviously some people are cat crazy and want to pamper their cats.
While these are going to take a little while to make, you can sell them for quite a high price and people are willing to pay it too.
Obviously, by adding your own additions and making them original, you could charge a higher price.
I saw some Teepees selling for around $65/£50.
Below is a simple DIY video showing you how to create a simple TeePee.
You don't even need a sewing machine, (although, you can use one if you have one!).
Of course, you could also create these for Dogs too!
You can find a few examples of Cat TeePee beds below!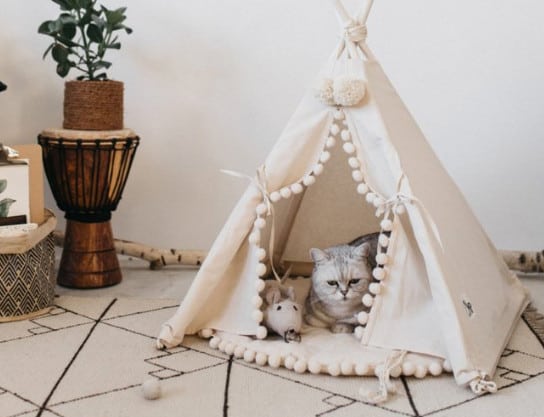 Concluding Thoughts & Making Money Online – Without Direct Selling?
If you want to directly sell items that you've created, platforms like Etsy provide a GREAT platform for you to do this.
Platforms like Printful, also give you the opportunity to sell FAR more items than you'd ever be able to create on your own.
When you're just creating your own products though, there are going to be time constraints…. (There are only so many Teepee's or pots of slime you can create in a day!).
There are ways to indirectly sell items on Etsy, by being an affiliate.
I'm an affiliate with Etsy, which means that I make money whenever I link to them and somebody makes a purchase.
Affiliate marketing is pretty hands off – because one post you create on your blog, could bring you in money for many years into the future.
You can learn more about being an Etsy Affiliate here.
If you want to learn more about affiliate marketing – get started here!
All the best,