I joined the Fiverr affiliate program sometime ago now but neglected the potential for a while and totally missed it when I'd actually made sales!
When you join a lot of affiliate programs, this can happen from time to time!
That you don't check something for a while and completely miss that you've actually made some sales.
To be honest, I didn't have many affiliate links to set up for a long while and I wasn't expecting to have made money, so it was a welcome surprise.
Naturally, since the discovery, I decided I would incorporate the Fiverr affiliate program more and also went back to old posts to add links, which I'd long intended to add before.
This discovery led me to want to know more about the program that I'd neglected and discover how I could utilize the program and make more sales!
In my Fiverr affiliate program review today, I will explain to you how you can sign up, (step-by-step) as well as walk you through the commission structure.
There are a couple of different ways you can join the Fiverr affiliate program, which I will explain below.
If you want to learn more about building an online affiliate marketing business, you can start learning for free here.
What Is Fiverr?
If you discovered this review, chances are that you already know about Fiverr…  But if you're just a regular reader, you may not!
So, Fiverr is a huge online marketplace – where you can purchase various services, starting from just $5.
This is regular a go-to place for bloggers and online marketers to get stuff done, at a reasonable price.
If you're unsure which gigs are a good choice, you should check out my Fiverr post here.
But the sort of gigs on offer include:
Graphic design,
Article writing/blog posts/copywriting,
SEO services,
Video Editing,
Technical help,
weird and unusual gigs…
….And much more.
Basically, it's a real mixed bag of services – but with a particular emphasis on services that help online businesses.
As a result, this affiliate program is a great match for bloggers in all sorts of niches.
So, What Is The Fiverr Affiliate Program & How Does It Work?
I presume if you found this post, that will already be familiar with affiliate programs, but I will just explain this in a nutshell below.
The Fiverr affiliate program enables you to recommend services on Fiverr, and receive a commission when a purchase is made.
You will be able to convert regular Fiverr links, into affiliate links once you're signed up to their program.
You can then add these links to your blog, as you write relevant content.
These links are specifically tracked and connected to you alone, so Fiverr will be able to track when someone has come via your website or blog.
How much commission you make, will depend on the service they've purchased.
You can see a breakdown of the different services & commission rates below:
And yet more continued……
This affiliate program  has a CPA, (Cost-Per-Action) structure and this means you will only be paid a one-off set fee for your referral.
You can only earn once per NEW customer, so if someone goes via your link that has already previously bought something on Fiverr, you won't get a commission unfortunately.
But, as you can see above, you can get up to $150 for a single sale.
It also doesn't matter how much your potential customer spends…. 
Your referral could get the cheapest gig on Fiverr for $5, you would STILL get the corresponding category commission; which is awesome.
So, for example; if you write a post about the best gigs on Fiverr doing whiteboard/explanation videos and someone purchases a related service via your link – you would make $50!!
Fiverr are generous with their commission structure here, so I think it's a great opportunity for any blogger.
Always Recommend Quality Gigs!
Ideally, you'll already have made some purchases on Fiverr and already have some favourite gigs in mind.
There are certainly some highs and lows when it comes to quality, like many freelance related platforms.
I went over some of the best vs worst gigs on Fiverr over at this post.
But it goes without saying, make sure you check out the reviews and recommend well established sellers, with lots of good feedback.
Being a buyer on Fiverr initially will soon help you work out what type of gigs are worth your time and money.
You can also get some idea from the feedback. 
Many of the best Fiverr sellers, could have thousands of reviews.
You also want to be sure that what gigs you recommend fit your audience.  
Obviously, your conversions won't be good if you're recommending products that aren't relevant tot them!
What Type Of Sites Work Well With The Fiverr Affiliate Program?

Certainly there are many different types of websites that could work well with this affiliate program.
Say you have a site about WordPress, there are lots of WordPress related gigs and services.
Or maybe you have a blog about video marketing, there are many video related gigs on Fiverr and some of those are really good.
Graphic design is another one, you can get some really well done graphic design on a budget at Fiverr… Lots of great logo design gigs out there, for example.
If your blog is relating to internet marketing, affiliate marketing, or blogging in general – then there are a broad range of services you could recommend.
Other good options include: Whiteboard videos, graphic design of all types, WordPress set up/customization, or keyword research type gigs could work well.
Check out the affiliate program here and write a list of some of the potential gigs  that would fit in with your niche.
PROS VS CONS:
PROS
Tonnes of gigs to choose from – a great fit for a wide number of niches.
You can make very good commissions, even on a $5 sale!
Gigs that can be useful to you too & you can affordably research gigs and recommend your favorites.
The flat rate commissions are generous.
CONS
One off commissions – nothing recurring, (but that is common anyway).
Flat based commission – so, it doesn't matter how much they buy, you still get a flat fee.  The fees are pretty good though and your commission can often end up being MORE than they spend.
Not all gigs are going to be great quality, so you need to be careful what you're promoting.
How To Join The Fiverr Affiliate Program:
You can either join the Fiverr affiliate program directly over here.
You can also join Fiverr at AWIN, which is an affiliate network that houses many different programs.
I originally joined the program at Awin, because I was ALREADY a member – however, there is a $5 fee for signing up.
If you join Fiverr directly, it's free and you will get better affiliate support and help if you signed up directly with Fiverr themselves.
Therefore, I'm going to quickly walk you through how you can sign up with them, although it's really straight forward and quick!
Also, if you're a blogger who also creates content relating to affiliate marketing, you can join Fiverr's sub-affiliate program, which means you can ALSO earn commissions for bringing in new affiliates.
That's not the case right now with AWIN, which is just an additional reason to join with Fiverr direct.
Signing Up With Fiverr:
Is to sign up with the Fiverr affiliate program here.
It's simple to sign up, just follow their straight-forward instructions.
They will want some basic info such as your name/password/location and telephone number.
You also have the option of giving them your Skype name.
You then tell them a little more about you from here on. This includes:
How you will promote Fiverr services, (so for me, I ticked SEO, Blogs and in "other," I put Pinterest.
Tell them your audience interests – for this you can tick several different options if that makes sense.
Agree to the terms and conditions and click to sign up.
Give them as much info as you can, so they can provide you with the best tools.
You'll get helpful informative emails sent to you fairly regularly, by the Fiverr Affiliate team.
There are very few barriers for signing up with the Fiverr affiliate program, which also makes it a great affiliate program to join as a beginner online.
Check Out The Fiverr Affiliate Dashboard:
Once you can login to your account, you can check out the full affiliate marketing dashboard.
This is where you will be able to track all your clicks, conversions and sales!
You can also access some marketing tools, such as banners that you can add to your blog or website.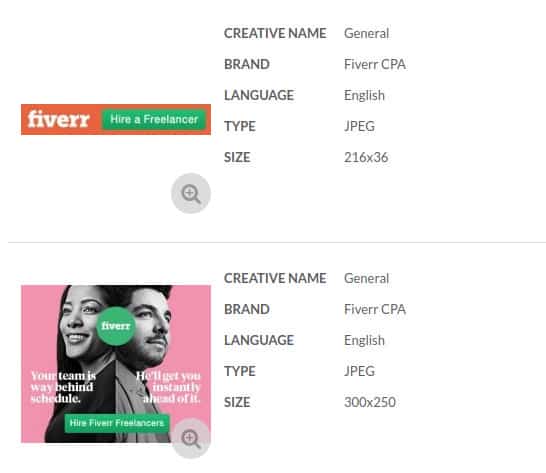 You can also get detailed reports for all your earnings, so you can see what is converting well.
This is where you can also find full-details of all their commission rates and the structure.
Also, ensure you add your payment details. Personally I used PayPal, as it's so convenient.
But you can also choose to get paid via Payoneer or wire transfer.
What Is A Sub-Affiliate ID?
It's possible to join the Fiverr affiliate program in two different capacities!
On the one hand, you can promote products and services for a CPA commission, as mentioned earlier.
What you make, will depend on the gig purchased – with the highest being the Pro-Plan for a $150 commission.
But you can also recruit new affiliates who would like to also promote Fiverr.
This is going to be a good fit as well, for people like me who talk a lot about affiliate programs and affiliate marketing.
For this, you can get a separate affiliate ID, solely for this intention.
Via your affiliate-sub ID link, you can then earn 10% of anything your referrals make, which is on a recurring basis.
This has no impact on your referrals earnings at all. But if your referral makes a $150 commission, (for example) you would make $15.
This sounds decent, but of course it depends how successful your referrals are at affiliate marketing.
Because… You only get paid when they make sales!
Nevertheless, if you're going to promote the program anyway, then it's definitely going to convert better for you than using regular Fiverr affiliate links.
The good thing is, you can experiment here and see clearly the results of your efforts on the Fiverr affiliates dashboard.
Conclusion – Is The Fiverr Affiliate Program Worth Joining?
I've only recently started incorporating the Fiverr affiliate links into my website more.
When I first signed up, I didn't even check the commission structure!
It's only when I saw $40 in my account from Fiverr that I realised I'd been paid that for 2 small sales and that was at nearly a 15% conversion rate.
I'd also completely missed an additional $15 sale I'd made!
Once I took a look at some of the commission rates, I figured that this could actually turn into a decent additional income stream with some nurturing.
The great thing about Fiverr, is that it offers an extensive range of services that can attract a wide range of audiences.
Since they have budget services, right up to gigs ranging in their thousands and can be attractive to a broad spectrum of people.
Yes, with the general program, you will only get paid once per customer, but that's the case with many affiliate programs out there.
No matter what, there is a good opportunity to at the least make some additional cash.
Ultimately, I think this is a great program with generous commissions and one that can easily compliment other affiliate programs as well.
Let me know how you get on with becoming a Fiverr affiliate and if you have any questions, let me know in the comments!
Need Any Extra Help – With Affiliate Marketing?
It can be very difficult to start making reasonable sales with affiliate marketing and even more so with consistent sales.
Typically, it could take several months to see those initial first sales, (IF you stick with it!).
If you're going it alone, it can be even harder to keep going.
That's why I find it helpful being part of a community, where I access ongoing training, support and help from other people in the same boat.
This is where I got started with affiliate marketing – you can check it out for yourself, for free.
What do you think about Fiverr and the affiliate program…. I'd love to hear your opinion! Leave me a comment below!
All the best,
PIN ME FOR LATER 🙂