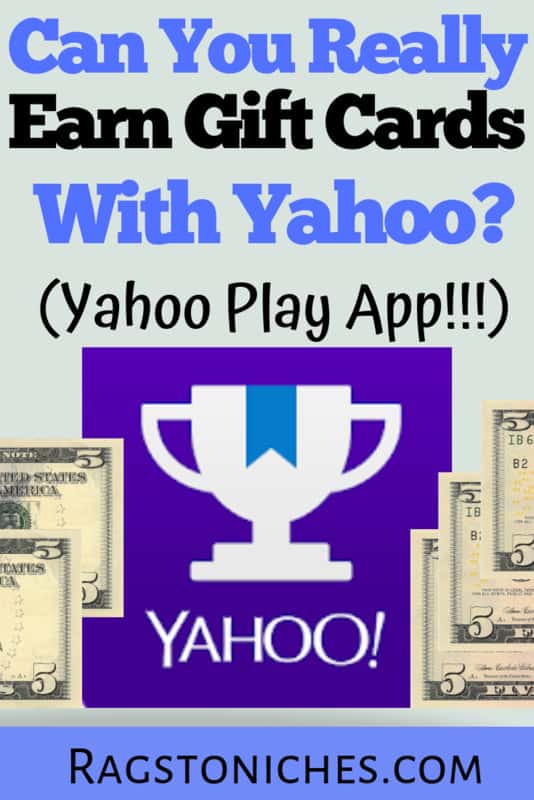 Recently, I came across a video, talking about the Yahoo Play App.
It's not one I'd heard of before so I thought I'd check it out and let you know, what it's like and whether I'd recommend it.
… Actually, I discovered something kind of weird about this App!
Which I will talk about a bit further down.
This is quite different from many ways you can earn via Apps, (which is usually via surveys and cash offers…).
Actually, elements of it seem more like Microsoft Rewards, which I reviewed recently.
So, in my Yahoo Play App Review today, I'm covering the following.
What is Yahoo Play App About
How Do You Earn Rewards?
What Gift Cards Can You Get?
What Do Other People Say About Yahoo Play?
PROS VS CONS,
Is It Worth It?
Want to Make More? Forget Apps!
What Is Yahoo Play App About?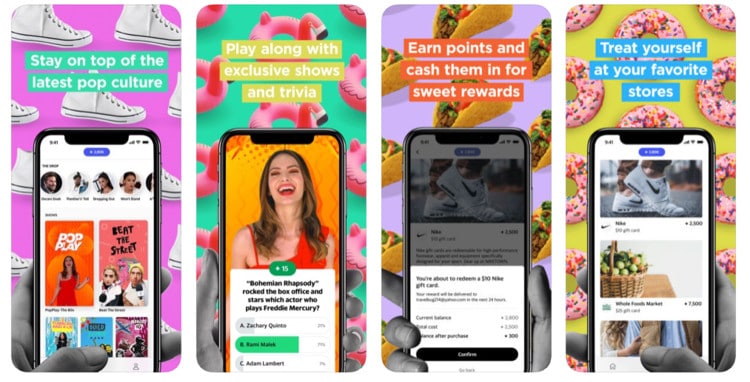 The main aim of the App seems to be, to get you to watch short videos – which they call "shows," and earn points, which you can exchange for gift cards.
You earn extra points for answering questions correctly as you watch the videos, (I guess, rewarding you for actually paying attention).
If you earn enough points, you can exchange them for a large number of gift cards…
Although, people have said that these have been sold out really quickly.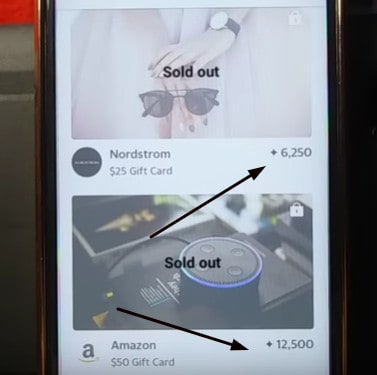 But you could also question how on earth it would be even possible to get 12,000 points in a week!!!
(Which is how much an Amazon $50 gift card is).
And if it's not possible to get it…. why is it there? ( Or IS it possible? Have YOU done it!? Let me know what you think in the comments).
Another weird quirk of the App is… You HAVE to spend them within the allotted time of the week.
After which time, your points are reset on a Sunday evening.
Usually, with Apps like this, you get to save up your points for bigger prizes over time.
This is something I really didn't understand or like…
But, on the plus side, people seem to find it fairly simple to reach the $5 gift card threshold.
But, a $5 gift card isn't very exciting is it? I guess if you get one every week and it pays your Starbucks bill or something….
Looking For Legit Survey Panels? See Here!
How Do You Earn Rewards?
The main way to earn is through watching their selection of short videos and answering trivia quesitons while watching them.
For example…
One video could be of someone baking a cake and they will ask you questions throughout the show, asking you questions related to what you're watching.
You can earn two points for just watching the video, (and not answering questions).
If you DO answer a question correctly, you'll get 15 points per question.
If you don't answer correctly though, you get zero.
You can also get 5 points for answering polls.
Generally you could earn 30-60 points for answering the questions alone, as they tend to ask between 2 and 4 questions.
I'm unsure how many videos you can actually watch… (would it just go on and on… into infinity?!).
But there is no point sitting there all day doing it anyway, as you are eventually capped at 5,000 points in a day anyway!
So, on that basis, I guess if you dedicated hours to it, you could earn that $50 gift card…. But you may go a bit crazy in the process.
While there are SOME $5 gift cards that you can get for a low amount, the lowest point ones have additional restrictions.
With the Groupon one, it's more like an offer, as you have to spend $20 to redeem it!
The proper $5 ones will require you to have 1,500 points, but these don't include some of the more popular options – like Amazon.
Starbucks, Dunkin Donuts and Target are featured too.
To get an Amazon gift card, you'd need to have enough for a $10 gift card – which are 3,000 points!
This App is fairly new now, so it could be that these features will evolve soon enough.
What Gift Cards Can You Get?
They do have some cheap rewards, such as the one I mentioned previously of the Groupon $5 for 150 points.
BUT, as I mentioned, it's not really a proper gift card… But money off.
So, yes… it's fine if you regularly use Groupon. But totally pointless otherwise.
The most popular Gift Cards and the ones people really want and they start at $10.
These ones include cards like Amazon and Nike.
There are some $5 cards for 1,500 you could potentially get, such as for Starbucks , Ebay & Target.
If you're active on this App every day, I can imagine 3,000 points being achievable.
I guess if you do manage to get the 1,500 points and there are still some that haven't sold out, you're better off trying to get a $5 card, while you still can!
Whatever options you choose and however many points you do have, there is a weekly reward limit of two!
What Do Other People Say About Yahoo Play App?
I wanted to see what other people had to say about this strange weekly-points rule and also, the issue with the Gift Cards running out.
At the time of writing this review, it has 3.3 stars on average, for reviews on Google Play.
It has has an average of 3.9 stars right now, for reviews on the App store.
It seems some people, (as above) definitely feel that participating has been worthwhile to them.
However, some people are showing their frustrations, regarding gift cards selling out and losing all their points, (see below).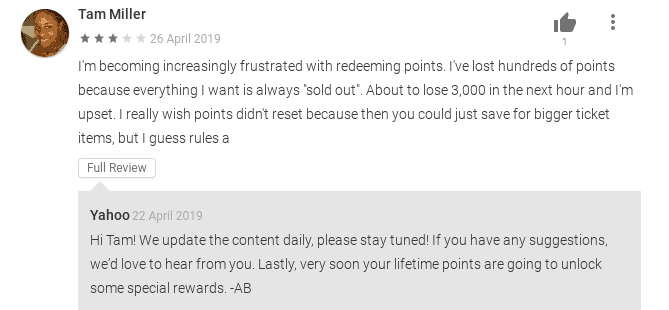 However, it's worth mentioning that Yahoo Play App are listening and responding to complaints.
I believe they will take all this on board and work to iron out some of the issues going on.
I guess for now, it's a good idea for you to get as many points as you can during the first couple of days in the week and aim to get a gift card, before they sell out.
Then possibly try and get another, before the end of the week.
That way, you're playing it safe and still potentially earning two gift cards.
I'd be interested to hear how you're finding the Yahoo Play App… Let me know in the comments!
PROS VS CONS
PROS
Free to download,
Variety of potential Gift Cards,
Easy to earn points, through watching shows & answering questions,
More interesting that some other reward/survey Apps,
Generally good feedback online,
Easy to navigate App & play.
CONS
Points run out on a weekly basis – if you don't manage to get a reward, you'll have to start all over again :(,
People are frustrated that rewards seem to sell out quickly,
No PayPal option right now.
Is The Yahoo Play App Worth It?
I think this App could well improve and change over time – right now, the amount of points you can actually earn, is pretty good.
The problem is, that Gift Cards can go out of stock and also, that you can lose all your points, if you don't redeem by Sunday evening each week.
This prevents people from being able to save up their points, for something more significant.
Nevertheless, it's still go plenty of good reviews from happy players as well.
You're not going to make much, whatever you do, but it's free to download and try so, you may as well just check it out for yourself.
Want To Make More Online? Forget Apps!
Apps & survey panels aren't going to make you much more than pocket money.
For most people, that's all they're looking for and it's fine by them.
But if you'd like to make more online and are motivated to generate an income online in the long term, I recommend you check out this post first.
If you'd like to learn more about other methods, you could check out the posts below…
I hope you found this Yahoo Play App review Helpful!
All the best,