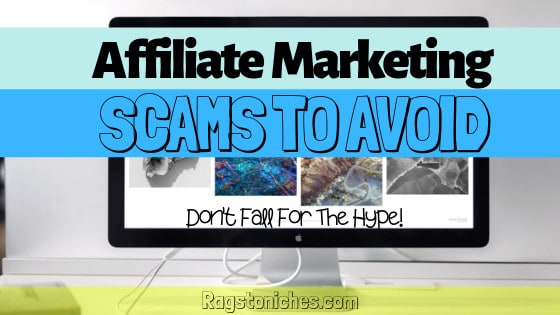 If you're looking to make money online, chances are you will have already come across your fair share of affiliate marketing scams.
If you haven't, you've been very lucky!
But… What Is Affiliate Marketing?
I'm presuming if you found this post, you already roughly know what affiliate marketing is, so I will keep this brief!
This is a form of marketing online that can be used in various ways online, to earn commissions and sales.
It simply involves promoting products and services and making a commission either per sale, or sometimes per action, (such as a sign up, or an email address).
There are many people that may use this particular model, along with others, to make money online.   
This includes bloggers, website owners, YouTubers, social media influencers and more.
However, behind every legitimate way to make money online  – an avalanche of scams usually follows closely behind.
On top of that, even people promoting legtiimate products will over emphasize the good and downplay how difficult it may be to make money using whatever method they're promoting.
Ok, well that's marketing... But it can also make it difficult to figure out fact from fiction.
For example; maybe a blogger is making 10k a month affiliate marketing – but there could be more going on behind the scenes that has strongly aided their success, such as who they have networked with for example.
The first rule is…  If someone is making something sound easy, assume that it is is significantly harder than what they're saying.  
If what they're saying sounds way too good to be true….  It generally is.
Aside from people exaggerating the simplicity and ease of success, there is then the complete outright scams that lure people in and lead to things as small as email spam and your details sold on to third parties, to as serious as losing many thousands of dollars.
While it is true that SOME people have made millions of dollars from affiliate marketing alone, they are the exception to the rule.
Most people do not learn about it for long enough to make any money at all….
But of those that do, there is a huge spectrum from a small amount of pocket money each month, to a comfortable income and more.
Basically, online marketing in general, (including affiliate marketing) is something that you need to work at on an ongoing basis and continue to learn over many months and years.
I don't think you ever stop learning about online marketing, because there are so many different avenues to explore and learn about and it's changing and evolving all the time.
Affiliate marketing is definitely something that's worth learning, but just go into it with your eyes open.
Below are some typical Affiliate Marketing scams, that you should avoid falling for.
Get-Rich-Quick Affiliate Marketing Schemes:
There are are probably thousands of these operating at any time online.
They are difficult to close down – but before they run into trouble, they will tend to close and reopen somewhere else with a different name.
Many of these scams will have an over-the-top video sales pitch, sometimes saying that a secret video has been linked to the internet, or that you're about to hear some top secret method or system, that can work on autopilot.
(Yeah…   If they had a secret system making thousands on autopilot… why would they be telling you about it?).
However they choose to market themselves, they will always say that they've made some extraordinary amount of money in a very short space of time.
This will be thousands of dollars within 30 days usually and they will also say that it's ridiculously easy and more than likely, that once you've set it up, it will work on autopilot.
Once you pay for the training, you may find very little on the dashboard – perhaps some general training that you could find anywhere online for free.
Very often there may also be things that are completely unrelated to affiliate marketing too, like how to make money with Surveys.
Business In A Box – Automated Programs:
These are borderline scams, because it's possible you could make some money with them, but I'd strongly advise against them.
In these programs often well-established, "internet marketers," will provide you with a ready-made website/sales funnel whereby you give away a freebie of some perceived value.
You need to drive traffic to this page to capture email addresses. 
From here, you build an email list, (although it won't belong to you) – the internet marketer will then send emails to them and promote products.
If any sales are made, you make a commission.
What they don't tell you is that driving free traffic to these single-page websites would be difficult for a beginner to do and using paid traffic methods would be very expensive.
Also, you're not building a real business in this way, you're spending your time building someone elses email list and there have been programs like this that have been exposed for stealing commissions from their affiliates.
Ultimately, if you want to market affiliate products to an audience, you should take the time to learn the skills for yourself and not try and piggyback on someone else.  
Affiliate Programs – That Are Really Pyramid Schemes:
A recent example of this that was closed down was the MOBE program.
These type of programs are characterized by having to pay more and more to access higher levels of training.
You are not able to sell any level of the program, or any of their products, without buying them first.
So, some levels may cost you $10,000+ and you are going to be strongly encouraged to purchase higher levels, because these are going to bring you in the highest commissions.
While they may have some worthwhile training within them, a majority of people who join will lose money.
I've personally heard many stories where people have ended being up many tens of thousands of dollars in debt…. and there are no refunds.
Some of these programs do manage to slip under the radar for many years and stay afloat without being closed down.
As a beginner learning about affiliate marketing, you should not have to pay thousands of dollars upfront to learn about it.
There is even tonnes of stuff you can find online for free... although I don't recommend you solely do that because, you will more than likely end up chasing your tail like I did.
There is so much conflicting information, it's really confusing to know what to focus on.
However, I think it's best to figure out the basics first and see if it's something you're interested in FIRST…
Do not pay thousands of dollars with your eyes closed, simply to access an affiliate program. That's a huge red flag.
Much of the time, you will be unable to get a refund for these high ticket programs. Be very careful to check the T&Cs prior to purchasing any course.
And What Do You Think About….
Blogging about affiliate marketing, prior to having ever made a single sale?
People blogging about making money blogging, (prior to making any money)… People blogging about affiliate marketing…(who have never made an affiliate sale)…
When I first started writing about affiliate marketing YEARS ago, I'd made some sales, but I certainly wasn't an expert on the topic.
I don't believe you have to be an expert on a topic to share your own knowledge & experience…. But what if you have ZERO knowledge on the subject?
There are certainly many bloggers out there claiming to be making thousands of dollars a month from affiliate marketing and other means, who haven't made a single dime!
Unfortunately, there are those out there who would rather fake it until they make it – but by doing so, they are adding to the false idea that making money online is easy.
People who are trying to look for legitimate money online, see all these people who are seemingly having massive success and believe they can replicate it easily.
Once they get started, a majority soon figure out it's not as simple as they'd imagined.
I've had my blog here now for over four years and I'm still learning & evolving.
Some people can run websites and blog for a living incredibly effectively and make great money long term and quite quickly…. but this probably isn't the case for a majority of those that try.
Does that mean you shouldn't try? Not at all.
Even when I don't work on my site at all, I do still make some money passively now and that makes all my previous efforts worthwhile for me.
How much would you need to make from blogging or affiliate marketing, for it to be worthwhile for you?
What do you think? I'd love to hear your thoughts!
If you're interested in learning about affiliate marketing for free – I first got started with by taking this free 10 part course.
---
So, that just about concludes my post today!
In my opinion, affiliate marketing is just ONE way to make money from a website, or grow an income stream.
But creating multiple income streams over time, is the way to go and one thing that I am trying to do gradually.
That way, when if one income stream screws up, you still others to fall back on.
BUT you shouldn't spread yourself too thin.
Don't don't try and learn ten different methods to make money at once.
Choose something to learn and make sure you have some GOOD results from that, before venturing into anything else.
For example; I'd had my website for several years before I started to go seriously into self publishing on Amazon – I then made over $1700 last month from that income stream.
Had I started doing that at the same time as trying to build up my website, I likely would not have had the same success.
What methods have you tried to make money online? Let me know in the comments below!
All the best,
PIN ME FOR LATER 🙂