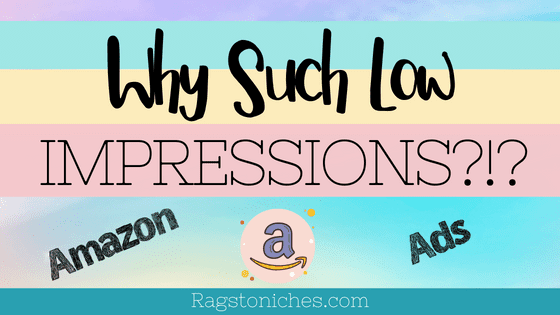 When you're trying to run Ads to your KDP books…. You sometimes fall into a common problem.
Your Ads get zero…. Or very few impressions.
Not only is this an extremely common problem, it's a frustrating one.
But WHY does it happen and how do you fix it?
There are a few common reasons why this happens and I'm going to outline them now.
First of all…. What Are Impressions?
Impressions are simply when a customer sees your Ad on the Amazon platform.
So, let's say I'm scrolling away looking for a Cat colouring book.
One of the first results is a sponsored listing, this is going to count as one impression.
If you have very few or zero impressions – this literally means that very few or zero people are actually seeing your listing.
An impression does not mean a click. An impression just means someone has seen your listing, not that they have clicked it and taken a further look.
Obviously, if you had one impression and one click – then this will be the same person that both saw and clicked on your Ad.
1. It's the niche/keywords you are targeting.
I had a case recently when I started an AUTO campaign for a new book and very low impressions.
Initially, I had less than 9 impressions.
I kept raising my bid every 3-4 days by 15% and gradually I got marginally more impressions, but it still wasn't good.
Sometimes, it seems almost like Amazon doesn't really acknowledge what your niche is and what keywords to rank it for.
This is especially the case when you're in a very narrow niche.
This WAS the case here. The niche was small and the keywords they even attempted, were not particularly related in this case.
Amazon is probably targeting long tail keywords, which probably have a very low search volume.
Or terms that are actually too generic and therefore, my bid is too low. As some short tail keywords will have a very high search volume and be incredibly competitive.
So, they may have put my Ad up for that — but on page 50 or somewhere that it will next to never be seen!
In my view, the solution in this case is to test out product Ads.
Presumably, you have seen books in this narrow niche sell.
Note down the ASINS of these books and target them in your product Ad.
The aim is that your book is better than your competitor, or appeals to a particular subset of that audience.
Therefore, your book is going to be a great alternative in this niche, when someone isn't 100% on board with aesthetic that your competitor has created.
The great thing about product as, is you're targeting customers who are 100% ALREADY searching for a book in this niche and are checking out other books in this niche.
2. Your bid isn't high enough:
If I have started a campaign on a fairly low bid, it's not unusual to not get impressions on this book.
In this case, I increase my bid by 10-15% every 3-4 days.
There is a way to increase your bid by a percentage. Just check out the drop down menu when you change your bid and you can select the % option.
(I show this on the YouTube video, if you want to check that out).
If this doesn't work, another type of campaign will work better.
Experiment with manual, product and auto Ads and figure out what you're most comfortable with.
Also, watch out for niches where traditional publishers have a strong presence.
Inevitably, they're going to have a bigger budget than you.
I find some of the most ideal niches are ones which are full of independently published authors – and not too many traditionally published ones.
3. You Have TOO Many Keywords In Your Campaign:
If you have a LOT of keywords in your campaign… Let's say, 50 or even 100 keywords then your budget is likely too low overall.
Therefore, your budget is not big enough to pay for all of those keywords you're trying to target.
When I have start a manual campaign – I will rarely have more than 20-30 keywords at a time. Sometimes after I optimise a campaign, there may be only a few keywords out of those that are even profitable.
If you have very long tail keywords with a tiny search volume, then you may be able to afford to have more keywords than this.
However, I also like to ensure that all my keywords are incredibly relevant to the product in question.
I do not like to add generic or barely relevant keywords into the mix personally.
4. Your Keywords Are Too Competitive Or Irrelevant To Your Book:
Another reason that you may not be getting any is that your keywords are just too competitive.
If you choose very generic/broad and short tail keywords for your campaign, the chances are that many other traditionally published authors will be paying BIG money to rank on the first page for them.
An example of this may be something like…. Activity Book.
You need to be searching for longer tail keywords that you can target, that you may have a half a chance of actually ranking for.
For a pretty budget tool that can help you search for keywords, I recommend Publisher Rocket – or if you're looking for a more in depth but expensive tool, you might want to try Helium 10.
Choosing irrelevant keywords can also be an issue.
If you say, have a Space colouring book and are trying to target Unicorn colouring books in your campaign, Amazon is not going to rank you for that keyword.
Similarly, if you are running an Auto campaign and Amazon can't really figure out what to rank your book under, they will also sometimes use fairly irrelevant or generic keywords that are too competitive for you to rank for on a low budget – therefore your book is barely seen and this leads to low impressions.
5. There Is A Glitch!
Occasionally, Amazon Ads can get a little glitchy.
You may set up a campaign and it just doesn't move. Zero impressions going on, zero activity seemingly at all.
But then you set up the campaign again & it suddenly starts moving.
Why this happens sometimes, I've no idea but it has happened to me a couple of times.
More often than not though, the reason for low impressions is due to one of the other reasons I mentioned above.
Have you ever experienced the low impressions with your Ads? What resolved the issue for you?
Let me know in the comments!
Pin For Later