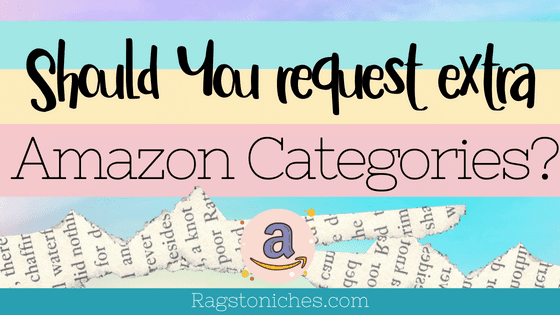 Before I start this, I will just say that I have not requested any categories since Amazon switched the conditions for and acknowledged low content books.
But I imagine that since this, they have got stricter as far as putting low or no content into categories.
This is basically an assumption on my part though and I haven't read anything to say that you cannot request additional categories for low content books.
Have you been able to get your categories accepted since the change?
Let me know in the comments.
Quick note: things such as colouring or activity books are NOT classified as low content and there shouldn't be a problem requesting categories for these types of books and other books classed as medium or higher content books.
Those First Categories:
We all know that we need to choose a couple of categories when we upload our books initially and they can be a little bit restrictive.
Those are known as the BISAC categories.
These are not Amazon's categories personally, but an industry standard.
Dependent then on your keywords, Amazon automatically will place you in 1 to 3 additional categories on their platform. These categories are Amazon's categories directly and are CUSTOMER FACING.
These additional categories are important because these are the actual categories that customers browse themselves on the Amazon platform.
I initially thought you could request 8 additional categories. That means you will be in 2 BISAC categories and 8 Amazon categories.
However, I have heard some people saying you can request more than this in fact.
That said, in order to ensure you are ONLY requesting relevant categories – I'd think 8 is more than enough and I've tended to stick with 8 or less personally.
There is very little information about the rules regarding this on Amazon KDP itself, so you may get very frustrated trying to get information about it.
These days, I would imagine your category choice for low and no content will need to be HIGHLY relevant to be accepted.
I've heard many times in recent months that people with low content books have tried to add categories and have had them rejected.
Other people don't seem to have had this issue.
I imagine the higher content your book is and the more specific you are, the more likely you will have your categories accepted.
So, do not just choose a category because you need a LOW number of sales to get a best seller.
What's The Benefit Of Adding Additional Categories?
Each browse category has its' own top 100 book list and you can find the best sellers in a category you are interested in.
This will boost your books visibility and discoverability on Amazon.
If you're lucky enough to get the #1 spot – then your book will also have a BEST SELLER badge on it in the search results and of course, this is further going to boost your books.
I have only requested categories be added to my book a few times.
One of these books does happen to be one of my best sellers & it's held the BEST SELLER badge in two of the categories I requested multiple times.
Many other times I haven't bothered as often, because I haven't seen relevant categories to my book that are possible to rank for.
For example; if you need hundreds of sales per day before you can get to the number 1 spot, then it's probably not going to be worth requesting.
That said, I also check out how many sales you need to get to the top 10. Because even being in that top 10 can be worthwhile and increase the visibility of your book.
Some Publishers Are Ruining This Practice:
Unfortunately, publishers who have requested completely irrelevant categories on Amazon have started have somewhat ruined this opportunity.
Amazon have tried to tidy up the market place and accounts that have tried to manipulate this system.
Nowadays, I'm sure it's far more unlikely that Amazon will place your book in an irrelevant category, but it does still happen.
You're going to have the best chance of having your book placed in a category if it is highly related and relevant.
Also, even the staff working at Amazon sometimes seem unaware that authors can request categories and especially with low content.
Therefore, some low content publishers in particular have been told they cannot have their books in additional categories.
So, it can sometimes seem to depend on who is reviewing your books on the day.
Where Can You Find These Categories?
You need to either manually find your categories on Amazon directly, which I show you in the video on this page….
OR…
You can also easily find these categories on publisher rocket.
In the video posted here, I show you how you can find the categories using this tool and it also holds some really useful info.
Such as, how many sales you need per day to get to the number one spot.
What BSR the number one spot holds and how many the number 10 spot holds, for example.
You can then easily assess how competitive a category is before selecting it.
It will also clearly show you the correct browse path/string that you need to copy & paste to Amazon when you request the category.
It's extremely important that you do include the ENTIRE browse path/string, otherwise Amazon could easily place your book in the wrong category.
This is often an additional reason for a category being rejected.
See an example of a full browse path string below……
Books > Young Adult > Literature & Fiction > Historical > Renaissance
Books > Young Adult > Personal Health > Fitness & Exercise
Books > Young Adult > Sports & Outdoors > Motor Sports
I will show you how to contact Amazon about your category selection next, but ensure you know your entire browse paths string before contacting them.
Requesting Your Categories:
Making your actual request is really straight forward.
Log into KDP and click on HELP in the top right corner.
From here, scroll down to the CONTACT US button in yellow.
Click on that.
Then click on: Amazon Store & Product Page > Followed By "Update Amazon Categories."

The next thing that will come up is a really useful template, which you can see below.
It basically shows you EXACTLY what you need to do.
Just remember that you need to state what marketplace you're requesting the categories for.
If you searched for the categories in the US, you cannot just assume it's the same in the UK.
You need to check the browse paths in each market place you want to target and then do a separate message per different book & unique market place.
I made the mistake before of making a request for the UK when I had only been searching via the US.
Ensure when you list the categories, you do include the entire browse path string – not just the final category location.
There is also a section where you can ask to remove categories, but this is only when your book may have been placed in a category by mistake. So, you can just leave this.
Finding Your Categories Manually:
Check Your Competitors:
Go to the niche you're planning on entering.
For example – Bee colouring book.
Check the keyword and go into some of the best sellers and see what they're ranking for in categories.
Scroll down to the product details and you will find it.
Unfortunately, this is also where you will very frequently find books ranking for completely irrelevant categories.
As you can see the book below is ranking for categories that have absolutely nothing to do with either bees or activity books….
Not finding anything much relevant in this niche, I checked out space colouring books….
In this case they're ranking for children's Aeronautics and space books….. Ok maybe a bit questionable but it may pass for a space book.
Relevant here is of course, Children's colouring books.
The issue is, choosing categories will only really help you if you can rank highly in that category and the bog standard regular categories will be highly competitive.
This leads people to be tempted to book their book in less than appropriate categories but this isn't always the case.
This is why I have a VERY small number of books that I have actually requested categories for.
I have only done it when I felt the book could legitimately exist in that category top 10 and not seem out of place.
I have had a best seller in several categories this way.
If you're searching for browse categories by looking at your competitors, you still need to find the whole string.
You can do this by clicking on the category in the listing and back tracking the steps all the way to books.
When I click on – "Children's Aeronautics & Space Books" – the parent category can be seen. It's "Space, Nature & How It works…."
We click on that and the parent category is Children's books.
We click on that and the parent category is books.
Therefore, we need to write the category string to amazon like this…..
Books > Children's Books > Space, Nature & How It works > Children's Aeronautics & Space Books
You can now continue to check out other books in your chosen niche and keep writing down some of these categories in a google doc or spreadsheet.
You can test out various keywords related to your book and see what else comes up.
As you can imagine, this will take you a lot of time.
Once you have your list, you can check out all these browse categories and see what the BSR is of the book in the number one slot.
Using a BSR calculator, you can roughly work out how many books you'd need to sell per day, to reach the number one slot.
You may also want to check out how many books a day you'd need to sell to reach the number 10 slot also – because this could still lead to you to have more visibility for your book.
Just bear in mind that BSR calculators are not particularly accurate and varies depending on the category you're in but, it can give you a rough idea.
There is a simpler way to find these categories, which I will go over in a moment.
Personally, I have only ever used Publisher Rocket to search for categories and I will show you why below.
Using Publisher Rocket For Categories:
Using Publisher Rocket is easy for finding catergories.
To see how this is done, please watch the video in this post, where I walk you through it step by step.
You can purchase this tool as a one of payment, so there is thankfully currently no monthly subscription. You can find that deal here.
To summarise though, you can very easily browse all the categories available on Amazon, or simply search for a keyword.
Publisher Rocket will then come back to you with all the vital information you need.
Including….
How many books you roughly need to sell PER DAY to make the #1 spot for that category.
The number of sales you need to reach #10 slot.
The EXACT string of categories you need to contact Amazon with.
You can find all this information in a matter of seconds, whereas it would take you potentially days to figure out the best categories for your book the slow way.
One benefit I HAVE found from manually looking on Amazon to some degree, AS WELL AS checking on Publisher Rocket, is that I sometimes just stumble across new niches and new category ideas by looking on Amazon directly.
While doing this video, a category I stumbled across gave me an idea for a Children's book that I actually started to write there and then.
That is why I really don't recommend SOLEY relying on tools for everything – Amazon can be a great source of information and inspiration.
I think that's enough information shared for today!
Let me know in the comments if you have any questions and I will do my best to help.
PIN ME NOW!