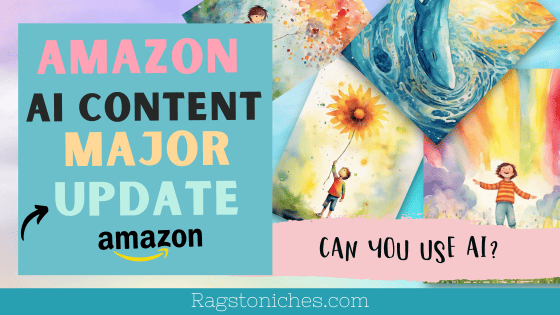 Is Ai Generated Content Still OK To use for Amazon KDP?
Anyone who has been on KDP in recent times, will be aware of the growing number of books published that are created with the aide of Ai.
My personal favourite tools are ChatGBT and Midjourney, but there are many others besides this too. It was only a matter of time before Amazon stepped up and decided to lay out some regulations.
Amazon made an announcement in the KDP community stating that from now on, publishers will need to notify them when they are uploading books containing Ai material. Even if these materials have been extensively edited.
That said, they do make a distinction between Ai generated and Ai assisted. It's my understanding, for example, that if you wrote some text and then asked Ai to merely improve it – this would be Ai-assisted. In this case, you do not need to disclose that you used Ai.
So, if a writer uses AI technology to polish, rectify mistakes, or enhance their content, there's no obligation to declare such usage.
Amazon does not appear to be anti Ai here… They aren't telling you not to use it, they just want you to disclose if you do and which software/program you're using to do so.
Whether you use Ai or not, of course it's important to adhere to all of Amazon's other guidelines.
I imagine that if you do say you're using Ai, this will likely lead to additional checks from Amazon to avoidany plagiarismm or copyright issues.
Whether Amazon will add additional rules and stipulations, it is unclear. Although, it seems very likely that more will happen in the future, as the whole Ai landscape evolves. It's all growing so fast, that there is no doubt Amazon will have to keep on top of things and adjust as they go.
Some people are wondering whether Amazon will start to label books that are written via Ai, or contain a large amount of Ai content. So far, there are certainly no signs of that but who is to say whether that could happen in the future.
Ai Disclosure For KDP:
At the moment, you disclose your Ai content at the same time you upload your book to KDP for publishing.
On the second page, it asks you if any of your content was Ai generated. This is either Text, images or translations. Next to each section, there are a variety of options. You will need to say if you purely used the Ai as it is, or whether it's significantly edited.
You then also need to disclose which Ai tool you used to generate the content.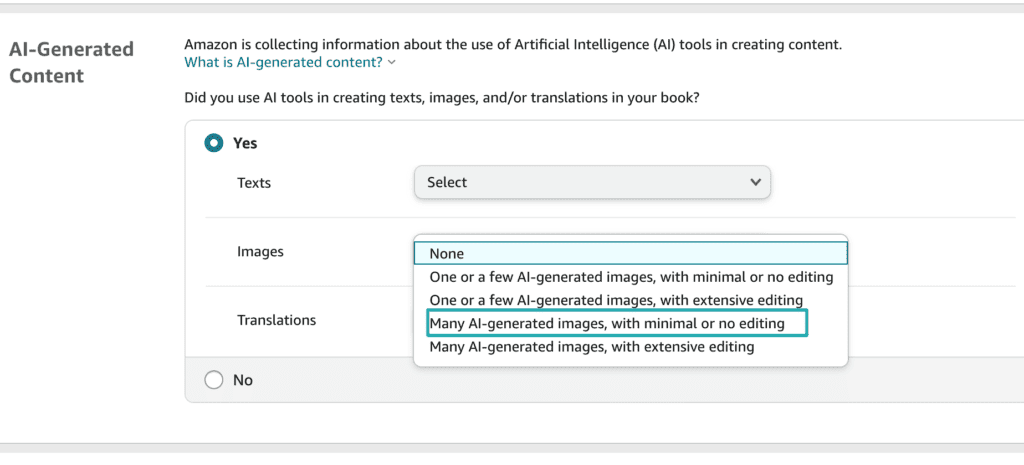 Something To Be Wary Of:
Something I find problematic is that many platforms now sell Ai generated clipart and illustrations WITHOUT disclosure.
Many people could be using images from Creative Fabrica, Canva or Etsy without realising that they are Ai generated images. Therefore, they will not have the details at hand to inform Amazon.
If You're Using it…. Disclose it.
Personally, I think if you are using Ai, then you should disclose it. If Amazon have any issues with it at all, it's far better that they inform you of this BEFORE they've published anything. Then you can make any changes prior to publishing.
Is It Safe?
If Amazon didn't want to publish Ai generated content, they wouldn't be going down this road of asking all these details about it.
Who knows what will happen in future – but it seems unlikely that an all-out ban on Ai generated content is on the cards, or even possible.
In so many cases now, Ai can be undetectable and this will be even more so in the future. It seems more likely that Amazon is preparing to embrace Ai coming into our lives and on to the platform and just wants to try and cover itself and carry out more checks prior to publishing.
Some have also suggested that Amazon is using this as an opporunity to simply gather data. To potneitlaly see which tools are most used & which are the most reliable for example.
You never know, you may see Amazon introducing some Ai tools of its own to help their potential self-publishers.
You're probably aware of that pretty dated cover book creator… It is about time that Amazon updated some of its KDP tools.
Will You Continue To Use Ai For Amazon KDP?
No matter what anyone says, change can always be unnerving and that's certainly always the case in the Amazon self-publishing community.
So, how are you going to respond? If you have already started using Ai for your books, are you simply going to carry on how you were?
Or are you going to take a mini step back and just see how the land lies?
Let me know in the comments!