Here I'm going to very simply explain Amazon PPC Ads for KDP, when it comes to using it to sell low content books on KDP.
I cannot guarantee that Ads will work for you & I'm certainly not claiming to be an expert in Amazon Ads yet, but I have learnt a lot since I started running Ads in January 2021.
The best thing you can do with Ads is literally just start them…. That is the no.1 tip I have.
There is no one size fits, cookie cutter method here.
These are not something that you can just set and forget.
Amazon Ads are something you will have to monitor regularly and tweak as you go. A profitable campaign one month, may not necessarily be so the next month.
What might work amazingly well for one book – won't work for another.
Frustratingly, even keywords that work amazingly well on an Auto Ad, don't necessarily convert when you move them over to a manual Ad! (More on explaining Ad types in a moment!).
There is still an element of mystery as to exactly how it all works but somehow – when you've spent enough time on the platform, certain things become more intuitive.
This is something that only comes from experience and cannot be taught.
If you haven't signed up yet – you can sign up via the link below.
https://advertising.amazon.com/
At the above address is a drop down menu where you can choose what platform to run Ads on.
I currently run Ads from the US, Canada and the UK.
I login via the different platforms and then I save each link to my bookmarks & access them directly from my bookmarks.
Obviously, you need to sign up to amazon Ads first, pretty straight forward so I won't cover that here.
What Is Amazon PPC?
Amazon's Ad system is auction based and in this means that you will be bidding on keywords, in order for your listing to show up under specific terms & phrases.
The seller who has the winning bid, will win a certain placement for that keyword search term.
But advertisers only pay the bid amount of their Ad actually gets clicked. If your Ad is not clicked, you do not get charged.
This is what the PPC term stands for… PAY- PER – CLICK!
Since this is an auction based model, you often will not pay the full bid amount.
What you pay, is only 1 cent above what your competitor bid.
So, if your competitor bid 50 cents and you bid $1…. You will pay 51 cents should your Ad get clicked.
The winner won't always necessarily be the highest bidder however, as Amazon does have other info to go on to make that decision.
More on that a bit later!
Sponsored Ad Examples….
You can see Amazon sponsored listings in various locations on amazon.
In the image below, you can see the word "sponsored," in small writing above the listing.
So small that, if you weren't aware of Amazon advertising, you may not even notice it.
You can see these sponsored listings in various locations all over Amazon. For example – at the top of the page, in the middle, towards the end and then on other peoples product pages as well.
The higher you are in the results, the more likelihood your book will be seen.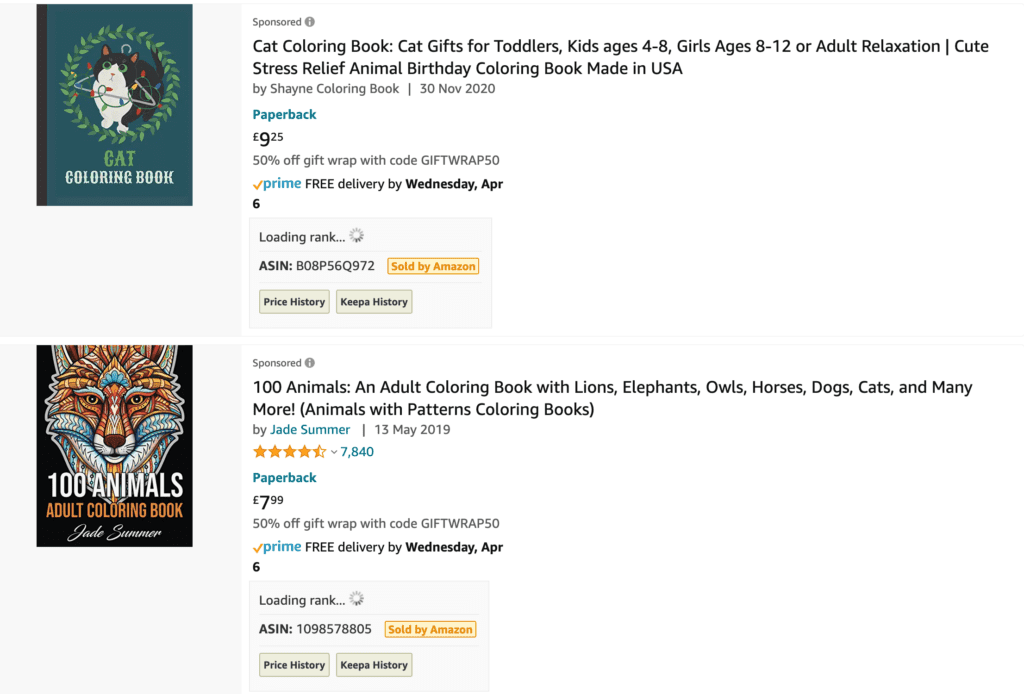 Every time someone sees your Ad, this is classed as an impression.
We do not get charged for impressions…  We only get charged for clicks.
You decide on a bid amount, (I will show you that in a minute) and the most you will be charged per click is that bid amount you choose.
So, if I clicked on one of the Ads above, the seller would be charged a certain amount for that click.
So, will your ad appear at the top if you just bid the most?
Nope.
Which is fortunate, or else only people with the biggest budget would ever win the spot.
However, Amazon will base their decision on where to place your Ad, (if anywhere) based on various factors – including relevancy.
For example; if you're bidding for a space under the keyword – "unicorn coloring book," and it's a book about fish… 
Amazon isn't going to choose your book to be at the top of the search results.
Also, if they see a book is converting very well and they're bidding a lower amount, they will still choose that other book because it's making more money.
Of course, they will want to reward the book that converts the best and is the most relevant, because both making money and customer experience is very important to Amazon.
Some terms to be familiar with…
CPC…  means cost per click.  This is how much on average it's costing you per click on your book.
Impressions – as previously mentioned, is how many times your Ad has been viewed. 
Bid – this is the HIGHEST amount you're willing to pay for a click.  This is not necessarily what you WILL pay.  It may be much lower and all depends on what your competitors are bidding and the relevancy of their books to the keywords they are targeting – as well as various other factors, such as their conversion rate.
Amazon wants to reward books that have the highest conversion rate and are the most relevant to the keywords they are targeting.
ACOS – this is a very important metric, which ultimately determines whether your campaign is profitable.  The lower this percentage is the better, but what a profitable ACOS is for me is going to be different to you….
I'm in the UK and also get charged 20% VAT now on top of my Ad spend. 
I believe this will happen to you too from other European countries, but you can look into that.  The 20% VAT is charged at the end of the month along with your bill.
There are various ways you can work out your ACOS but a simple way is this…..
A quick glance at your ACOS can then determine whether you're losing money or making money. So, it's good to have a break even figure in mind.
To work out your break even point ACOS is easy:
Book Royalty divided by Listing Price X 100.
This will determine your break even ACOS for your book campaigns.
Anything higher than this number and you are losing money.
The lower the ACOS is below this number, the more profit you are in.
EXAMPLE:
So, I have many books selling for a $2.04 royalty and selling at $6.99.
2.04 divided by 6.99 x 100 …  Approx 29 ACOS to break even.
In the UK, I have a higher profit per book of around £2.49 because I also sell many for £6.99, which is worth more than dollars.  ACOS of 35 to break even.
However, in my case this isn't right – because I get charged an additional 20% VAT. 
So, what I do is reduce my royalty by 20% before doing this transaction. 
For example £2.49 minus 20% is around 1.99.  ACOS is 28 in the UK to break even, when I take into account that 20% charge on my income from the Ads.
Not all countries are charged this VAT on their ADS. So, you'll need to check this for yourself – or you will find out anyway come bill time.
You can register for VAT in order to not pay this, at a certain income level, you have to register for VAT.  (if your taxable turnover is over £85,000  a year in the UK at the time of doing this).
It's Not ALL About ACOS:
Not that it's ALL about ACOS, as sometimes you may just want to run Ads to rank a book on Amazon and you may want to invest a certain amount of money into doing that.
When I'm running Ads on established books, I prefer to have a reasonable break-even Acos at the least.
What you don't want to do is be in a position where you're putting more money into running Ads than you actually have coming in from the book sales!
Then, of course, it makes no sense.
Types Of Ad I Use:
There are a few different Ads that I use…. Which I will briefly describe here.
Auto Ads:
These are the simplest to set up but can get expensive quickly if you're not ready to optimise them and tweak them as you go.
This is where Amazon will choose how to display your Ad – using keywords that it deems relevant based on the information it has about your book historically to date and your books meta data.
It can also choose to display your Ad on similar product pages. So, if you have a Unicorn colouring book, it may show your book on other similar product pages.
These Ads are great to discover profitable keywords that you can use in your manual campaigns. That said, keywords that work on an auto Ad, don't always work with a manual Ad!
This seems to be one of the mysteries of Amazon Ads. Frequently I've ended up finding Auto Ads to be the most profitable for me in the end – perhaps because certain other types, (such as Exact match manual Ads) tend to be more expensive.
However, everyone is individual and has unique results, including what type of Ad seems to work best for them.
Manual Ads:
Manual Ads rely on you choosing specific keywords yourself.
Amazon will also suggest keywords for you. I tend to use a combination of keywords amazon chooses and others I find on AMZ expander tool and publisher rocket.
If I started with an Auto campaign though, I tend to set up an Ad just with the keywords that were profitable in the auto campaign and see how that goes.
There are different types of manual ad you can set…
Exact Match:
which is purely the keyword exactly and nothing else. For example – "gratitude journal". Amazon will only show the Exact match keywords that you specify in the campaign.
They will only show your Ad when those exact search terms are searched for, without variation.
Phrase Match:
When your keyword can also include words before/after the keyword in question.
So, "gratitude journal for Women", for example. Or, "Daily gratitude journal for Ladies."
Broad Match:
This is the least restrictive type of Ad on Amazon and designed to reach a much broader audience.
It could contain your keyword terms in any order, with additional phrases before and after and may include close variations on your keyword and related terms.
Check Out My Mini Course Below — It's Free & For Beginners:
So, Which Is Best?
There is no Ad that is necessarily best for everyone. I like exact match, because I have the most control over the keywords.
Broad tends to come up with too many loose terms which are not going to convert very well.
Recently, I have been doing some experiments using broad/phrase and exact match in each Ad and trying to optimize it as I go.
However, this will lead to quite a high initial spend and it takes a lot of work to weed out all the badly performing keywords.
What I prefer is using the Auto campaign to figure out some profitable keywords and then put those into an exact match Ad.
Sometimes I go for an exact match + phrase as well – if I don't have that many keywords that convert well.
Ultimately, I still experiment and don't purely stick to one type of Ad. What works well for one book, or one niche, won't necessarily work well for another.
It's worth mentioning that out of all the keywords I test out – I may only end up with one or two which actually convert well, with a profitable ACOS!
There are also some campaigns that simply are not profitable and when the best thing you can do is just pause them and move on.
Product Ads: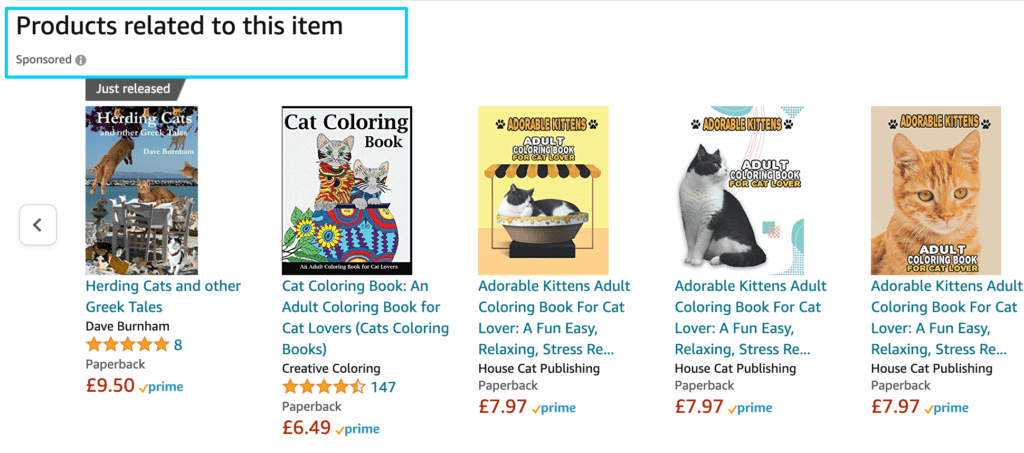 I really like product Ads. This is where you can choose to advertise your book on your competitors sales pages. You can also choose to target your own books in the same niche.
So, I always try to have several of my own books in the sponsored section of my own books sales pages.
That is, if they're in the same niche of course.
The downside recently is, I've found some product Ads becoming more expensive and not profitable.
For certain keywords I just seem to get tonnes of clicks without sales and it has crossed my mind that these are from my competitors, or other people on KDP researching niches and clicking on my Ad.
This can happen with the regular Ads too – but it seems to have happened more to me recently with product Ads.
Do You HAVE To Be In Profit?
I am fine with either breaking even or even making a small loss. 
(Or a bigger loss if it's a brand new book).
So, you may wonder…  What's the point then?
Well, selling your book via Ads ultimately boosts your book in the algorithm, (that is, if you do make sales from your book…) then this will leads to more visibility on amazon and ultimately more ORGANIC sales on amazon.
So, just because you're breaking even with an Ad, it should not mean you're breaking even overall.
You want to be making considerably more profit on Amazon organically, than you do directly from Ads alone.
Organic sales = sales without Ads. 
Your book is found naturally on amazon and purchased via your standard listing.
Also, sales via Ads will also hopefully lead to REVIEWS. 
Positive reviews are going to also boost your book up in the algorithm and boost your organic sales, (and your Ad sales!).
Now, if you like – you can always switch off your Ad once your book has ranked well on Amazon and is making organic sales.
If your Ad is in profit or even breaking even — I see no reason why not to keep it running. 
However, if your running at a loss, then you may want to switch it off and monitor your sales.
You may find that your organic sales ALSO drop off once you stop the Ads – in which case you can reassess this.
This is purely what I do. I know many may say to keep running Ads to your books no matter what happens.
Most Important Thing – IS JUST GET STARTED WITH ADS!
If I could go back and start learning Ads sooner, then I would.
It's such a valuable thing to learn and something which does require significant time and effort over time.
As I said previously, it's not a quick fix by any means and won't always be profitable but it can also generate great results over time.
A majority of my sales are organic, but they are boosted up by the fact that I have Ads running.
So, don't be worried about starting, you can start gradually and with a small budget.
Let me know in the comments if you have any questions and all the best!
Pin Me For Later: