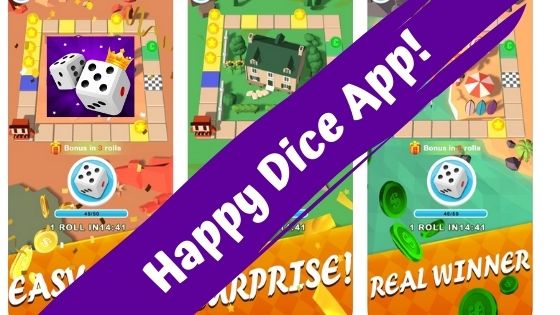 Happy Dice App is a game I had never viewed before on the Apple App store until this week, although it looks as though it was downloadable via Google Play for a long while.
It's funny how some of these Apps completely bypass me!
In any case… after looking at some 1-star reviews regarding its money-making potential, I decided to check it out and write a Happy Dice App review.
As with all these Apps, they promise you a chance to win prizes and cash in exchange for playing the games and watching a lot of Ads.
The problem I have found with all of the ones I've tried, without exception so far, is that getting any sort of money at all is very hard – some think impossible in many cases.
As a result, many people give up on the Apps prior to ever having won a prize or downloaded any money…. Even they may have watched 100's or 1000's of Ads.
The good news is, some of these Apps are fun to play. Therefore, some people simply enjoy playing for fun and aren't particularly bothered if they never actually withdraw cash.
If you're purely in it to WIN money though, I wouldn't recommend wasting your time.
Do Apps even work for making money online? See what I think, at the end of this post!!!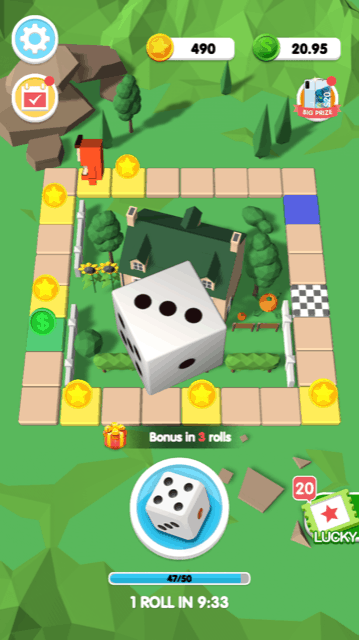 How Does Happy Dice Work?
You can download Happy Dice easily and start playing immediately.
It's a very simple game, where you roll a dice and make your way around a virtual game board.
From here on in, nothing much happens.
You roll a dice… you may apparently win some money or tickets and you'll watch Ads to move on around the mini game board, or boost your prize.
You'll find there is a big prize that pops up and you can aim to try and win this.
In my case, this big prize was a Galaxy S2. You need to press a "SPIN," button and you can win puzzle pieces that will add up to your grand prize.
You can also win cash or, "gold," from doing this as well.
You can keep pressing the spin button and will be regularly diverted to watch more Ads.
In my case, this was a zillion Ads for a game called Brick Buster that kept relentlessly popping up – I will link to that here, when I've reviewed it next.
After a certain amount of time, you may need to wait a while before you can play again.
After playing for around 10 min or so – I had to wait 10 minutes to take my next turn.
Right at the start, it told me I'd won around $17 dollars…… This is pretty typical for an App with a high payout threshold.
Here you need $100 before you're eligible to cash out any money.
People usually get excited by the fact that they seemingly win money right away and this ensures they play on…….. and on………. and on…..
What Do You Win On Happy Dice?
You can win several things via Lucky Dice.
The grand prize, (in my case a galaxy S2). Collect puzzle pieces to win.
Gold
Tickets
Cash – you need $100 to cash out $100 via PayPal
However, even after playing for some time, I'm not sure what some of these things mean.
What do you do with the gold you win? No idea… no info about actual gold exchange even on their cash-out page…… Which also seems odd, (I explain why below).
Tickets… What do you do with those? Again, I have no idea.
I discuss the weird cash-out page a bit further down……………
Problems With Happy Dice App:
It's boring.
I found this App really boring because, there is next to nothing to it.
Click a dice and see what you've apparently won – watch another Ad.
Roll the dice again.
Watch another Ad.
The excitement is limited to zero and so, I can't imagine many people will continue playing for long.
Too many Ads.
There are a lot of Ads. Maybe this would be fine if you had a legitimate chance of winning any money.
However, you need $100 before you can cash out.
With other Apps of this type, where you need this level of cash to take any out, I've not heard of anyone managing to do it.
What happens is you win quite a bit at first and then gradually less and less until you barely ever win cash.
This would go on for months or years — obviously people just quit eventually, because the App just isn't interesting enough to hold anyones attention for long.
You'd have to have an insane amount of perseverance to just relentlessly continue on – but will also get more and more frustrated in the process.
You'll Probably Never Win?
Let me know whether you've legitimately one anything.
I've heard from enough people online now – who all play this type of money-making App to realise, that this does not appear to happen.
Futhermore, the prize info page doesn't even seem related to this game, (see below).
Not Enough Info – Prize Info Page Incorrect?
It should be obvious what the different items are worth that you win on the App – and what prize they equate to in reality.
If you go to the settings section – you have the chance to either turn off/on music and turn off/on sound!
That's it!
If you click on either the gold or your cash section, it takes you to a page that contains elements I've not even seen in the game.
Apparently getting 150 lucky sevens – means you get 1000 amazon voucher?!
What lucky 7's are those? Never seen any!?!
250 fruits = $10.000!? Hmmm….
5 million gems = $50 Amazon voucher.
5 MILLION gems? I hadn't seen any gems while playing the game.
This page looks as though this info is relating to a different game entirely and has just been stuck on here.
And there seems no info on what the gold is, (one of the main things you win in this game).
See below! If you have any clue what this all means — let me know in the comments!
It's Glitchy
Sometimes an Ad would just get stuck while it played, making it impossible to return to the game.
Even coming out wouldn't help. I'd have to uninstall the game and then download it again.
I then had to start all over again – as they don't require you to sign up or anything to start playing!
What Do Other People Say About Happy Dice?
You need to be cautious when checking out App reviews online… As in, really take them with a big old pinch of salt.
That's because it's just so easy to buy reviews online now and still very easy to game this system.
Even a large number of 1 star reviews can be evened out by a thousands of fake 5 star ones.
Further issues arise when rewards are offered for leaving reviews – as many will leave a 5 star review, just to receive some reward the App offers.
No such reward was offered by this App……. But what do people say?
On Google Play – the App currently has an average of 4.6 stars and 52,000 reviews :-o…. Interesting.
On the App store, it currently has 4.9 stars on average and close to 3k reviews.
As expected, people complain that when they get close to the $100 cashout – either lots starts going wrong or they win less and less….

Also, if you skim over the 5 star reviews – the people writing haven't actually cashed out or anything.
They say things like……. "so far so good….."… Which I don't feel should warrant a 5-star review?
Also, some seem confused by the winnings.
It can look as though you win cash immediately and this will spur people on to keep going, they may feel they've legitimately won something.
But they likely don't know yet that they need $100 to cash-out ………….and that sadly, they are unlikely to ever reach it.

Is Happy Dice A Scam?
I'm surprised to see this App on the App store, because – last year the App store really cranked down on Apps that really didn't pay out and were misleading.
To me, this looks exactly like another misleading App that claims you can pay out………. but you actually never will be able to?
What do you think? What's been your experience with Happy Dice? I'd love to know!
Let me know in the comments!
In my opinion………. It pretty much SUCKS.
Do I Make Good Money With APPS?
No.
App and make-money site wise, I've made the most money using Swagbucks.
That's pretty much the only one I use now on a weekly basis and I also still make money from the old referrals that I used to get on there years ago…. meaning that people DO still continue to use it years down the line.
That's just rarely the case with these sites.
If you want to make more considerable money online though, stop looking for quick fixes and pocket money sites.
To make money long term, you do need to put time & effort into doing so – and it really is worth your time.
Here are 10 side hustles that made me money.
If you'd like to recommend an App, or just rant about this or other Apps available……. feel free to comment below!!! 🙂