Google Adsense is one of the simplest ways to make money with your website or blog.
Mainly because there is really nothing to do once the ads are placed – add a little code to your website in various locations and your job is done.
But one of the most common questions asked regarding Google Adsense is….
"How much can you make with Google Adsense?"
Google Adsense is a pay-per-click system.  You place a banner on your website that shows various ads, (these aim is to be as relevant to your website as possible, as google "spiders" crawl your site and figure out what ads would be best).
When your visitors (hopefully) click on these ads, you can make money.
 You get paid a different amount per click, depending on the ad.
Additionally, you can make money from "impressions" which is based on the number of times your posts and pages are viewed, (if those pages have ads on).
Google Adsense is one of the first things people tend to use when attempting to make money from their website – which is quite ironic, because unless you have a large source of traffic to your website, (and that, in addition, your niche is such that your ads are very appropriate and targeted to that niche, which sadly sometimes does not occur) you will make next to nothing.
How does a few cents sound?  
If you're lucky, you may make a few dollars.
I don't think you can retire to your own island paradise on that, do you?  This is why so many people give up with Google Adsense.
Certain niches are much more appropriate to Google adsense than others.
If you search your niche or website topic in the google search bar and  see that there are plenty of google ads at the top of the search in your result, that's a good sign that the ads supplied by google will be relevant.
You are able to select what you deem "appropriate" ads via google in your account – but google has a limit and you need to supply them with enough options for Ads.
You can also block ads categories, but google may also say a category is too "broad" to block and you may occasionally still find inappropriate ads on your website.
However….
You weren't asking whether these ads would be relevant to your niche…you wanted to know how much money you can make from Google Adsense!
Well, lets just assume for a second that your niche has plenty of appropriate ads available, that your niche is a profitable one and that you are generating thousands of visitors to your website per month….
The highest earners on Google Adsense can be making 100k…. 250k + every month.
Take the below example, taken from techunblocked.org on a post about Google Adsense's highest earners…. (update: the original article appears to have since been removed or relocated elsewhere!).
           Marcus Frind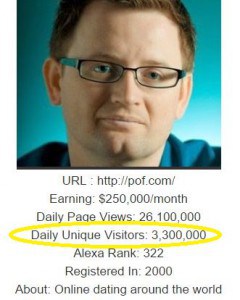 It's estimated Marcus earns $250,000 per month from Google Adsense.
However, if you take note of his daily unique views, you'll see he has 3,300,000 unique visitors PER DAY.   
So, while it's perfectly possible to make huge money with Google Adsense, you'll need to be creating content that millions of people are desperate to visit by the truckload.
And not only that, but that your ads are relevant enough to your niche that your visitors will be tempted to CLICK them in the first place.
Other super successful Adsense earners include, the creater of ehow.com, mashable.com, digitalpoint.com, digg.com and techcrunch.com, to name but a few.
But hold on…. making 250k a month is all very nice, but you would be happy making $500 a month or $1000 per month, right?
You're not looking to be a millionaire, (or not yet) you're just wanting to make a few bucks on the side?
The thing is, you can't simply do the math from these success stories to assume what you could make from less visitors.  
Why not?
Certain ads pay more than others, such as ads in the finance and loan ads.
It depends how well your niche converts into clicks.
 It depends on the keywords that were searched for.
It depends what your niche is and how many ads are available and so on….
Why Your Niche Matters…
If your website is about, (for example) "campervan accessories" and the Google Ads showing on your site are related to campervan accessories or campervans in general, then you can assume that this would have a pretty high conversion rate.
People looking at a site about campervan accessories are already considering buying something before they get to your site at all.
 They probably have several specific things in mind they are looking for.
They are in the right phase of the buyers cycle to take the plunge and make a purchase!  So, these people will be more likely to click on a relevant ad than someone looking up a topic purely for information.
On the other hand, someone looking for a site to discover tips about how to save money by making their own clothes or creating arts and crafts from recycled materials, are going to be less likely to want to buy something at all.
They're looking to save money, not spend money.
 There may be few ads that google would be able to add to your site that would be relevant and they may also be low paid.  Check the screenshot below of me searching for "arts and crafts from recycled materials"…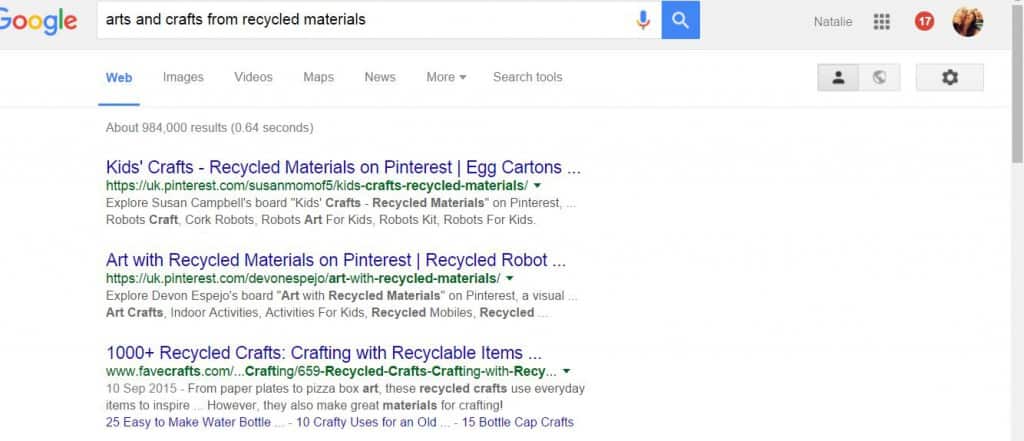 As you can see – there are absolutely zero google ads on the right hand side.
If you're looking to make a site that could potentially make money from Google Adsense, it's a good idea to check if there are many ads that would match well.
On the other hand… if you search "campervan accessories," a bunch of ads can be seen listed in a column on the right hand side.
The lesson here is, to make sure you do your research first if you're looking to make money with google Adsense.
A Great Benefit To Google Adsense…
is that someone visiting your website is only required to click on an ad on your site to make money, they do not have to buy anything.
 Whereas, to get a commission on amazon or other affiliate programs, your visitor has got to make an order via your link and that order has got to be completed before you get any money.
If the order is returned, your commission is taken away.
…This is not the case with Google Adsense – your visitor doesn't have to buy a thing and you still get paid.
However, this won't seem like much of a benefit when all you're being paid is a few cents
. It may be that you'd be better off with a different program, such as the amazon affiliate program or multitude of other affiliate programs available.  (I suggest you would at first in any case!).
Many people use both and it's a good idea to experiment with Adsense in combination with other affiliate programs, as well as trying it independently and just work out which is best for you.
A key thing to note: is that is not advisable for you to go off and seek out what the best paying Google Ads are and create a website solely around that.
Plenty of people have done this by the way.
But the reason I don't recommend you do it, is that it's incredibly hard to build a website day in and out on a topic that you have no interest and no knowledge in.
Figure out what your interests are first, then figure out which of those interests is best to work on from a financial perspective – Adsense or otherwise!
You can totally build a website around something you find tedious and boring, it will just be that much harder to stick to in the long term.
In conclusion –  How Much Can You Make From Google Adsense?
I think we've established that there are people who have made a fortune using Google Adsense alone, whether it be via a you tube channel, blog, website or combination of these.
But,while it's clearly possible to do, but there are several key things you need to take into account:
To make a huge income from Google Adsense, you need tens of thousands of visitors a day, the highest earners have hundreds of thousands of visitors per day.
To make even a modest additional income, you will generally still need thousands of visitors to your site per day – so, if you're generating less that 10 thousand visitors per month and you're disappointed that you're not making enough money from Google Adsense – don't be!!  Simply work on building up your traffic first and go from there.  If that kind of traffic seems like an impossibility, Google Adsense is only one way to generate an income online.
If you don't mind missing out on the odd dollar here and there, maybe hold off signing up to google Adsense until you've built up your website or blog and are getting A LOT OF TRAFFIC! Having ads all over your site can put your visitors off and will be pointless anyway when they aren't generating an income for you.
Make sure your niche has decent relevant google ads available, to give you a better chance that your visitors will click your Ads.
Make sure that you're niche is a profitable one, if people are not searching for topics related to your niche, no one will find your website to begin with, let alone generate thousands of unique visitors per day.
Beyond Adsense – Any Other Advertising Networks Available?
Many people don't get to even see whether they could make a profit with google Adsense, because their applications are rejected before they can get started.
Alternatively, their Adsense account gets banned, which is a common problem.
Others try and persevere with Adsense but just cannot generate an income from it.
For these cases, there are plenty of other advertising networks available that you could try instead.
A bunch of alternatives to Google Adsense…
Mediavine –

You need 25,000 sessions a month to apply minimum.  This is who I'm with right now and they pay way, way better than Adsense.

Media.net –

You do need to pay a fee to join them if you have under 80,000 pageviews a month.  But they also pay better than Google Adsense, so are worth checking out.

RevenueHits is the self-proclaimed best alternative to google adsense and many seem to agree!  Bonus: You get accepted right away.  Downer: income generated is hit and miss. 
Chitika The ads displayed using Chitika are based on your visitors search queries rather than related to the content of your page.  Bonus: Chitika have an affiliate program, so you can also make money by referring people to them.  Downer: There isn't much variety in the appearance of the ads available, which is a bit dull.
Infolinks

 

Best used when your website is heavily text based.  you will need what they consider to be content of value, or you won't be approved. Bonus: There is an IOS and android app available so you can monitor your progress from your phone.  Downer:  The links appear in your text, which can be frustrating if you put your cursor over a link by mistake – on the plus side, you do have the option to limit the links on your pages.
If you have any questions regarding anything I've outlined in post, I'd be happy to answer them!
All the best… 🙂