Whether we admit it or not, social media has become an integral part of our lives. It's the new way of socialising, especially for the Zoomers (Generation Z). But do not be fooled, nowadays, everyone is on their screens.
The only difference is where on the internet, different ages spend more of their time.
For instance, research shows that Zoomers spend a longer time on fewer social media platforms while their counterparts (the Millennials) tend to visit a wider range of platforms.
With the influx of social media visitors, various platforms and apps have come up to make it even more exciting.
TikTok is one such app that has currently taken social media by storm. Even those who haven't used the app know all very well it exists.
It has become a great and worthy competitor for older apps on Apps Store like Instagram and Snapchat. Cruising with over 500 million active members monthly, TikTok is another internet phenomenon.
But what exactly is it, and how can you use it? Well, here are the answers to all those questions…. right now!
What is TikTok?
TikTok is another social media platform that is currently finding its way in every conversation. The platform was formed after the merger of two apps; Musical.ly (launched in 2014) and (TikTok launched in 2016).
Initially, it was designed to help users create, share, and discover short music clips. In other words, you can think of it as the Karaoke of this digital age.
However, although intended to help the young generation express themselves via songs, dances, lip-syncs, and comedy, even the older generation uses it.
Users can record short videos (not more than 15 seconds) and share them through the community.
Many individuals and companies are now using TikTok as a market tool, which is seemingly working quite well.
But, for those who haven't used the app before, it can be quite daunting to make your way through. So, our next big question will be, "how do you use this app?"
Here is a detailed step-by-step guide from how you download the app to how you post your videos.
How to Use the TikTok App
Where do you start? First things first: before anything else, you must be able to set up the account. So what is the account setting process?
Account Set up:
1.   Download and Sign Up on the App:
This is the initial step to using TikTok. Visit your Google Play or App Store to download the app. After the download, open the app and sign up.
Like many other apps, you can instantly sign up with your social media accounts like Facebook, Twitter, or Gmail. However, if you opt not to connect these accounts with TikTok, you can easily add a username and password for a distinct account.
Whichever way you decide to sign up through, the app will give you a generic username.
For instance, if you use your phone number, you will get a user name like user1234567.
If you use your email, on the other hand, you will get a more personalised username (although many people may deem it to present privacy issues).
You can start browsing videos immediately after your download is complete, but you'll have to complete the signup to post any video yourself.
2.   Set-up or Edit Profile:
After logging in, you are redirected to the videos feed page. On the bottom right corner of the page, there is an icon that resembles a person.
Click on this icon and then tap on the edit profile option to edit your profile.
This gives you an option to change the generic username into a unique one as you prefer. Also, you can add a picture, a bio, or a profile video.
At this point, you can also link your Instagram and YouTube pages to display your other visual platforms. For business people, this can be an excellent chance for you to advertise your visual platforms.
How to Record and Post Videos on TikTok
The first step towards recording and posting your videos is to tap at the plus (+) sign, near the bottom of your screen.
Credit: socialmediaexaminer.com
This opens the camera, from where you can see a red record button that resonates that in Snapchat.
Although the app allows you to create 15-seconds to 60-second videos, it's wise to start with short ones if you are new. This will give you a chance to familiarise better with the app.
Photo courtesy: Social.techjunkie.com 
On the same screen, you'll see an array of awesome features on the right hand of the screen; all meant to make your recording easy. These features include:
·         Flip functionality for the Camera.
·         Speed – allows you to record in speed or slow motion.
·         Beauty – helps to hide blemishes on your skin.
·         Filters – allows you to change the camera's color filter.
·         Timer – enables you to record your clip without the need to hold the record button continuously.
Start Recording
Before you can start your recording, you also have an option to add a song.
This will help your clip, lip-sync, or dance to flow well with the music.
You do this by tapping on the sounds icon on the top centre of the screen.
Photo courtesy: Hubspot.com 
But if you want to record something at that moment, you can just film and add your music later.
At the bottom left of your screen, there is an AR effects option, which helps you perform simple tasks, like altering your eyes or hair color. The upload button is on the bottom right of your screen. 
To start recording, tap, and hold on the record icon and capture your clips. And you have an option to record a full clip or record it in segments.
If you don't want to keep on pressing and letting go of the record button, you can still record these pieces with the help of the timer.
Before you start recording, use the timer to allow yourself ample time between records, before it starts recording again.
photo courtesy: hubspot.com 
You can upload short 15-seconds videos or connect multiple clips adding up to one minute (60 seconds). You can also record longer videos outside the app and upload them.
Create and Caption your Video
Once you are through with the recording and are comfortable with it, tap on the "Next" button to go to another screen where you can now create your post.
Here, you can add your caption, hashtags, and select a cover image.
You have a limit of 150 characters to include your caption and hashtags.
Ensure that you add keywords that will help TikTok to know which audience to convey your video to.
One crucial thing to note is that you must proofread your text again and again. Once your post is published, you can't pull it back.
Posting your Video
After you are through with everything, you can either post the video immediately or save it to drafts for posting later. You can see these two options at the bottom of the screen.
How to Make Money with Tiktok
The major question here would be, "can you make money on TikTok?" And the answer is a definite YES.
Like most other social media platforms, TikTok has become an excellent way for people to make money online.
On average, a user with around 500k followers with high engagements (comments and likes), earns about $450 monthly.
This means that the more followers and engagements your videos get, the higher your earnings will be.
Some TikTokers are making way beyond $150,000 yearly from their accounts.
But, it's also a no brainer to say that your videos must first gain popularity to start making any money.
However, the earnings will be affected by your location, with countries with higher purchase power making more money.
And if you thought it's only followers and engagements that can make you money on TikTok, you are wrong.
There are several other ways to make money on TikTok. These include:·        
– Growing accounts For Sale
This is the first way many people are making a kill online with TikTok. It entails opening an account, growing your following and engagements, and then selling the account. The method works quite well in the e-commerce space.
However, similar to a platform like Instagram, you'll have to pick a niche and create entertaining content that will hopefully go viral and attract willing buyers for your products.  TikTok Live is helping people to advertise their products as they Livestream.
And you don't even have to own a product. Many people in this space are growing profiles around certain interests (niche topic), and then reach out to brands around that niche to sell these profiles.
It has become an excellent and legit way to make money online with TikTok.
– Manage Influencer Campaigns
Another incredible means of making money with TikTok is by managing influencer campaigns. It uses the same concept used in other platforms like Instagram.
You can create an influencer agency where you'll be acting as the middleman between TikTok's content creators and brands that wish to work with the influencers.
Your work will be to help create an agreement, manage both the influencer and the brand, and make sure that all the deliverables are met.
You charge a service fee for being a coordinator and managing campaigns.
– Offering Management Services
This is also a lucrative area to make money on TikTok.
Many content creators are overwhelmed by the overnight popularity and following resulting from viral videos.
In most cases, many creators will need someone with experience to manage their profiles.
This is where you come in; you come to offer assistance in managing their content and creative strategies, as well as any deals and offers that will come their way.
This way, the creators can have time to continue producing creative content for their followers.
-Drive Traffic To Your YouTube Channel & Website
Another way to make money with TikTok, is indirectly by driving visitors from TikTok to other channels.
For example; you could use it to grow your YouTube channel. From here you may already be making via advertising, affiliate marketing and sponsorships.
If you have a website or blog, you'd also link to this via YouTube – so, again, this is another way to bring external visitors to your website.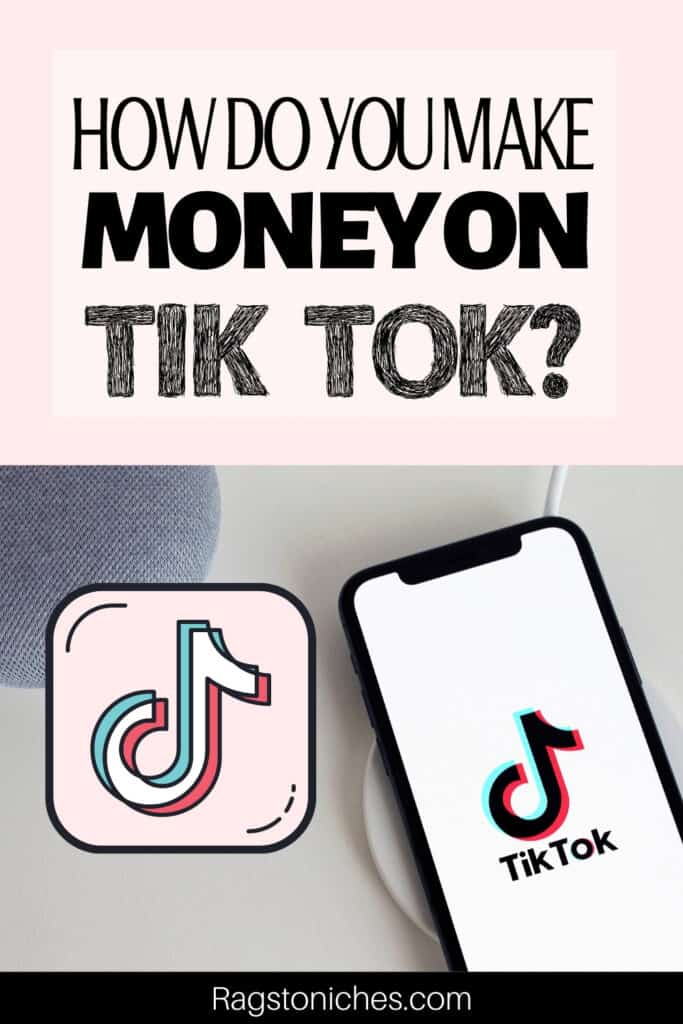 Conclusion On How to Make Money with TikTok
While TikTok is a great platform for people to express themselves and talents through videos, it's also an incredible platform to make some money and grow an audience.
If you create engaging content that people will love and follow, you can be sure to make money while at it.
In this article, we have prepared all the basics you need to understand how this app works.
And if your goal was to learn how to make money on TikTok, you will certainly have the knowledge now to get started!
Making Money Beyond TikTok
I am obsessed with the idea of growing multiple income streams online and developing an income from a social media channel, is definitely one way to do that.
Personally, I've never been so good at keeping up with social media and it's not something I've conquered just yet!
But I have made money from trying various other things online… You can check out the side hustles that worked for me here.
Have you had any experience on TikTok? Let me know what you make of it in the comments below.