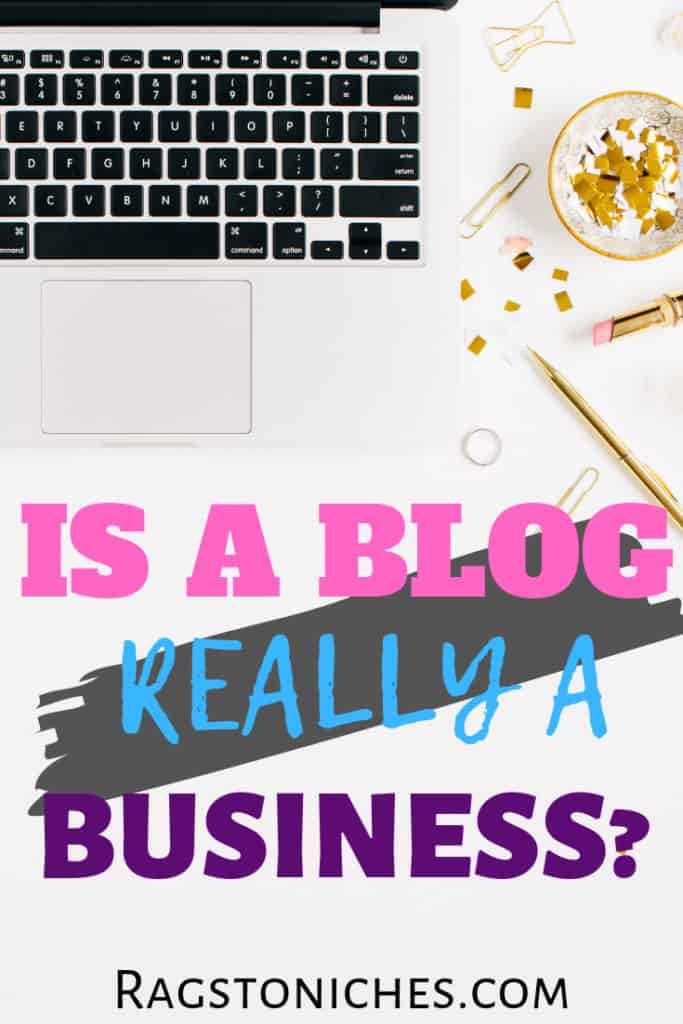 People start blogs for all sort of reasons, but a majority tend to start them for their own personal reasons.
They may want to document their parenting journey.
They may want to start sharing their recipes with the world.
Maybe they have a personal story they want to share with people.
Whatever it is, it will often come from a personal place.
But…. When is a Blog a "business…?"
Can you really make that much money from a blog?
Well, yes there are people bringing in 5-figures or more a month from blogging alone – and you can certainly consider it a business if you're making money.
(Plus, I believe you should consider it a business from way before that…  But I will explain more a bit later!).
Related Post:  Can you make money online?  5 Success Stories!
I remember, all the initial blogs I started, were food/recipe related, because I had become passionate about cooking.
I definitely wasn't making money.
I didn't know that was an option.
At one point, I was passionate about BENTO… That is, creating elaborate Japanese style Bento lunches for my husband to take to work.
I'm not Japanese…    I just loved the look of Bento and also was, (and am) addicted to Japanese food.
If you're not sure what I'm talking about, check out an awesome Bento Box below….  (I actually started writing this post just after Halloween!).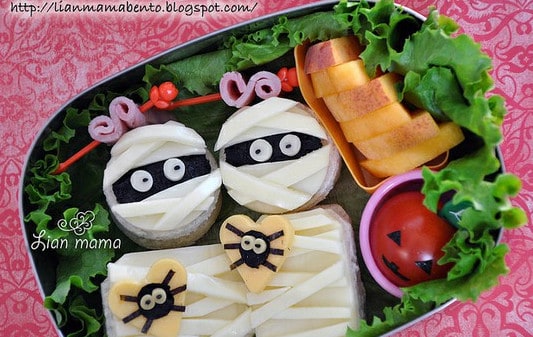 Image from Surfandsunshine.com  <— some great bento images here!
So, I had a Bento related blog.  It lasted about one month!
But I digress….
Despite people often initially starting a blog for their own reasons, many also start one to start generating a little bit of extra money.
Basically, like a side-hustle, it's the ideal one for stay at home parents – because it's something that can fit in around family life.
It can sound like a dream home based business for many getting started…  Although, for those who make it, it can turn out being far more time consuming that they'd envisaged!
For example; you get many bloggers claiming to work longer hours than they did in their regular jobs…
There are definitely some days where I may have worked for 12 hours or more straight.
But then, I have a lot of days off too!
I probably work four days of the week and sometimes it's less…
Would I have made a lot more money, a lot more quickly, if I'd worked 12 hour days?
Without a doubt!!!
In fact, I am planning on going on a bit of a crazy blogging spree, trying my hand at a post a day soon.
But for many people, making money with your own business is meant to give you the freedom that you wouldn't have with a regular job.
More time with your family, for example.
More freedom to do the things you never had time for with a 9-5 job.
So, the idea of working even longer hours, does go against that whole idea for many people.
How Much Do Bloggers Really Make Though?
I was reading a post by Powerhouse Affiliate today, that stated these following percentages for how much you could make from blogging.
As you can see from the figures above, not even 30% make $10 from their blog!
However, I know plenty of bloggers earning more than $10,000 PER MONTH though, so I'm not sure what percentage that is going to be, (if only 0.4% make 10k in a year?!).
That said, those are people with niche blogs, created with a created purpose and with the intention of making money…
Which I guess makes it more likely for them to be successful with it?
I didn't see where these statistics were actually from, or how many bloggers it was based on.
I mean, who are these bloggers where the statistics drawn, when were they taken and who have they left out?!
These are key things that can shed light on how realistic the statistics really are.
I'm guessing this also won't include things like niche websites….
Here there is some cross over with niche blogs, but a niche site could have very little to do with blogging and just be full of toaster, or running machine reviews, (for example!).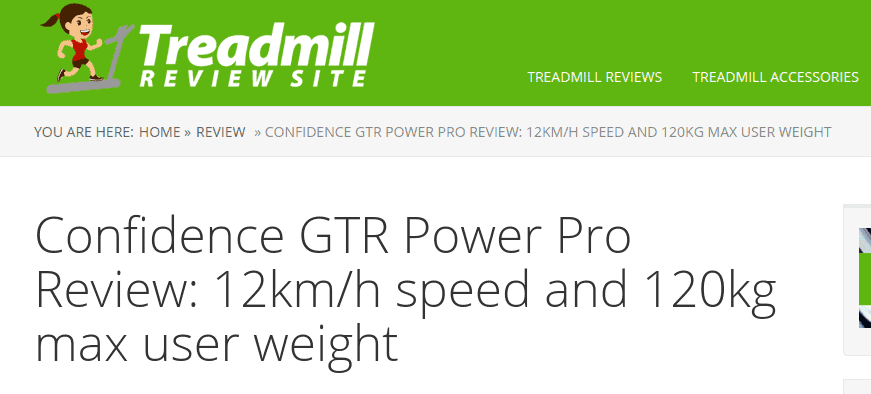 For example; take the Treadmill Review Site above, this site only has around 435 visitors a day, according to siteworthtraffic.com
But actually, niche sites can still make some reasonable money, even with a small amount of traffic… Because their content is so targeted.
Or take this other niche site, about football snack helmets: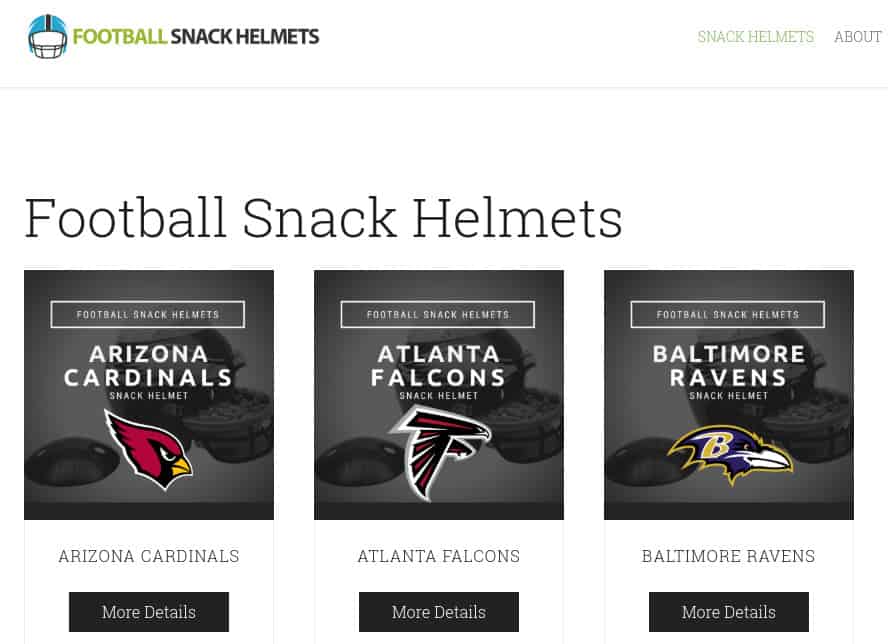 The above is going to have bursts of traffic, depending on whether it's football season – but the creator has said that the site brings in $300 a day at the tail end of NFL season!!!
Which is pretty darn good, considering this is such a small and narrow niche website.
You can see a video series, showing how it was created over here.
So, I guess my point here is there are lots of ways to make money from a website, that don't simply involve a traditional "blog."
I'm in the process of creating more of a niche-website myself…  It's not going to involve some typical blog-type-posts, but will be very product orientated.
Because when you focus on a small niche area, you're completely catering to a narrow and specific audience.
If you're clever about it, you will be targeting people in the right stage of the buyers cycle, where they are ready and waiting to make a purchase!
If you can help your audience solve a problem and offer a solution, (which ends in a sale for you) then you can get some high conversions with your site.
For someone looking for a football snack helmet, (for example) .. .What more could you ask  for, than to find an entire site dedicated to them?
Anyway, all I am just saying here is that, the overall statistics regarding how much people make with *blogging,* are going to miss out on a whole bunch of websites that aren't your typical blog.
So, when you're wondering about whether you can make money blogging, don't think there is just this black and white way you can make money from a site, or that you have to be an incredible writer to make money from a blog or niche site.
I know people that have actually outsourced all the content writing for their websites affordably and created businesses in this way in different niches – barely writing a word themselves!
Related Post:  Hirewriters Review – My Experience.
However, If You're Going Down A Traditional Blog Route…
It is a fact that a majority of people who start blogs, don't make very much money.
Out of those that do make money, an even smaller amount make enough money to provide for their family.
That said, there are a couple of really important points to note here too:
MOST bloggers aren't really writing for an audience, they may not have a defined niche and they don't really know how to go about making money from their blog.
Many bloggers start out writing for themselves and will write hugely in depth posts talking about things going on in their own lives.
Most readers are not going to be interested in this.
So, you have to switch your mentality towards serving your readers and writing about things that they want to know about and writing about things that will help THEM.
This can be a bit of a mindset shift for bloggers who really started out wanting to document things for themselves.
Also, many typical bloggers do not have much technical knowledge, they may not know about SEO, or keyword research, or affiliate marketing.
Again, all will have a role to play in the statistics.
Lastly, as well as all these factors, a majority will quit blogging before they make a decent amount of money at all.
So, Is A Blog A Business?  Can It Become a Full Time Gig?
A blog is not a business from the start, but if you treat it that way from the outset, you're going to be far more likely to make money with it, (in my opinion).
In the first couple of years starting to create websites/blogs, I feel I looked upon it as much more of a hobby, than a business.
This is a mistake that many people make!
If you treat something as just casual and part-time, you're going to get the results to match that attitude most of the time.
So, while your brand new blog is not really a *business….*
You'll be wise to treat it that way!!
Imagine from the get-go that you ARE making a full-time income from your blog….
How would it feel to be making money from your blog?
How much time would you spend on it?
What would your goals be?
What things would you be doing, to help progress your business?
What would your working day look like and what would your priorities be?
If you imagine that your blog provides the majority of your family income and you rely on money coming in, you're going to see your blog very differently.
Think about it, it's unlikely you wouldn't bother getting up to work in the morning for a regular job because, you weren't feeling motivated.
So, why allow yourself to do that with your blog?
Have A Greater Chance Of Success:
There are some things that have really helped me to progress personally and many things that I should have done from the beginning.
Here are a few things:
Planning content in advance…  This is huge.  Spend some time on the weekend planning at least a week ahead content wise.   It will save you so much time.
I tend to procrastinate the most, is when I have finished all my scheduled content and I don't know what to do next.
Write what days you'll write which posts and put other upkeep tasks on a timetable too.  For example; when will you work on Pinterest/Reply to emails/ complete training online.
Creating more content…  Whenever I up my content amount and stick to that for several weeks, you will see positive results from it.
Whether that's from traffic going up, or an increase in sales – there will be a positive result from putting more content out there.
A positive mindset…  You will not ALWAYS be able to have a positive mindset, sometimes you're going to feel pretty miserable and that's just the way it goes.
However, whenever you can, reading success stories, visualising your own success and also celebrating small victories can all play a great role.
Acknowledge if you are self sabotaging/have a fear of success…  One reason I took so long to gain some momentum and start making money, is that I (still) constantly deal with self sabotage and a fear of success.  Well, it's not really a fear of success, it's more a fear of responsibility.
If I earn more than my husband, (for example;) it's then on me to maintain that level of income.
I will be then be the main provider…. and what if it goes away?!  Etc…
I think many people have similar concerns.  Usually this is not a conscious thing going on.
However, if you're constantly putting off tasks that you KNOW are going to advance your blog, or you keep feeling like you are taking two steps forward and two steps back again…
You should take a deep look at what is going on – you could be subconsciously holding yourself back.
So, that about wraps it up for today.
Despite the sobering statistics about blogging…  You CAN make a blog a full-time business.
Keep in mind that…
Most bloggers give up before they've made money, (this is a majority in my experience).
Many bloggers may lack knowledge in areas that could make all the difference, (for example; SEO/Keyword Research).
If you have any questions, don't hesitate to comment below!
All the best