Cashback research is just another of many survey sites available to take part in – some are more legitimate than others.
Many people don't trust these sort of websites, but what about this one… Is Cashback Research a scam?
I will cover everything you need to know in my cashback research review today, so you can figure out if this website is worth your time.
You may also like: My Top 10 Survey Sites USA OR UK.
What Is Cashback Research?
Cashback research has been around since 2007 – so has some longevity under its belt – as well as 1.5 million sign ups.
It is primarily a survey site – but the surveys are created by other providers, so cashback research will send you where ever the next survey is available.
There are also a small amount of cash offers you can do – this is generally when you do some task for another company (such as sign up to their website to sign up to a free trial) and they will pay you a small sum.
While you can normally make more money with cash offers, they are not always free – you also need to remember to cancel any free trials before you're charged.
In addition, signing up to free offers can bring you a lot of SPAM – whether by email, phone, mail or even text – be sure to check the T&C's if you're thinking about it.
As far as cash offers go – I far prefer Swagbucks.  
Swagbucks have a google chrome add on that makes it very easy to make use of different offers, cashback and regular web searching, (where you can win points).
Surveys vary greatly in size and length depending on the provider – apparently some higher paying surveys are available but I certainly did not see any for more than £1, (or probably a dollar if you're in the US) and normally much less.
Earning wise, you can get paid via gift cards or paypal.  Paypal should be processed within two weeks – gift cards 4 weeks.
If you're wondering why it takes so long, you're not alone.
But this is common with survey sites and a standard amount of time to wait, (that is – if you're lucky!).
First Impressions Of Cashback Research: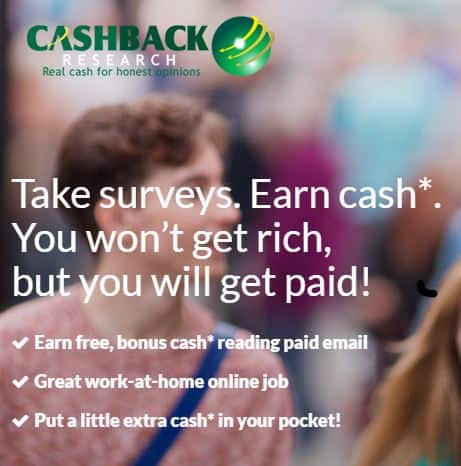 On the very front page before you sign up – they do make a very honest statement.
They clearly state:  "It is not a get rich quick claim, or even a realistic part-time job."
So, at least they do make this reality clear from the very start!
If you're just doing it for the money – online surveys aren't going to do it for you!
However, that's pretty much where my reasonably good first impression ended, which was a bit of a let down.
Once I signed up I needed to complete various mini tasks – at the end of each task it would have a link to take me to "part-two"…
However, each time it would direct me to a completely different site.  For example, to inbox pounds or mintvine.  
Cashback research are clearly trying to get you sign up with these other providers because they get a commission when you do.
The more they send you over to other sites, the more chance you may have to sign up – fair enough, they're a business.
BUT they're really pushing this fact on their visitors, rather than ensuring that the user experience of there members is a GOOD ONE!
It's not a good feeling to be shipped off to different sites left, right and centre when you're not expecting that; although many other survey-related sites also do this.
However, the way they do it here, actually feels deceptive.
In fact, you cannot even go on to complete any of the actual surveys on cashback research until you've signed up to at least one of these other sites.
If you sign up to TEN other such sites, you get £5.00, (differs depending on your country).
Well, having already reviewed many survey sites myself, this wasn't an option for me, because I'd already signed up to most of them.
However, they also ask you to sign up to some highly suspect sites that have horrendous reviews too.
Worryingly still, Cashback Research claim they're all reputable, no problem.
Make sure you do your research before you do decide to sign up to any of these other companies.
Surveys Are Very Difficult To Qualify For!
Once you do finally get around to taking part in a survey – you may not qualify for it.
Survey companies are always looking for a very specific demographic for every survey.
For example, women aged between 30-35, earning 18-20k per year; who has two cats, eights budgie's and a Chihuahua.
Ok – so, that might be a little narrow – but you get the picture, right?
I didn't qualify for the first handful of surveys I did.  This is not uncommon.
This basically entails answers questions for at least several minutes, (and often longer) before being told that you do not qualify.
This is the frustrating reality of survey sites.
However, you'd think they'd have figured out a simple way of determining whether you're in their demographic BEFORE you've answered a majority of questions.
Sometimes this does not happen and it seems as though you're at what should be the end of the survey when they chuck you off.
This is where the scammy quality comes in with some sites, it just seems they're trying to get your personal details and give nothing in return.
Cashback Research – Lasting Impressions.
If you hadn't already guessed, I'm not really a fan of survey sites – but I do prefer some more than others.
This site just seemed to be focused far more on getting you to sign up to as many survey sites as possible so they could gain their commission and focus very little on the user experience.
If I'm going to be making pennies filling out these surveys, there should at least be some reason why I choose one site over another – this site just doesn't have anything special.
Making Money Online Long Term:
If you want to make money long term, you should consider spending some learning some ways that can give you more of a significant return.
Check out where I learnt how to start an online business here.
You also may want to check out these 40+ ways you can make money online.
I hope you found this review useful – do you have much experience with online surveys?
Let me know in the comments!
All the best… 🙂
Other reviews you may find useful….