What Is Fusion Cash: A Scam, Or Legit?
Fusion cash has been going since 2005, so that's over a decade now and seem to have a mixed reputation.
Fusion Cash is only open to residents of the USA and Canada at this time.
You need to be over 13 in order to sign up, with parental permission.
Website: www.fusioncash.net
Earning Potential: Pocket Money.
Verdict: Legit.
Review In Brief: This is another of what I term "all-rounder," sites.  A survey related site, where you can earn from a variety of ways.  Primarily from: paid offers, watching videos, cashback from shopping online, playing games, surveys and listening to the radio
You can also get a $5 bonus for signing up.  You can sign up here.
Is Fusion Cash Just A Waste Of Time?
Plenty of reviewers out there may slam survey sites for being a complete waste of time and generally, I agree with that.
There are only a couple of ways to make better money with these sorts of sites and that's via doing the cash offers, (where often you may have to purchase something anyway, or sign up to a free trial).
Or – via referring others to join, but in that case, you really need a tonne of referrals to make that work most of the time.
The alternative, is spending a lot of time completing surveys and so on…..
which can be really frustrating, as you often will not qualify for surveys and be thrown off.
The end result is that you spend a lot of time on something, without very much reward.
That being said, some people are just looking to make a little bit of pocket money on the side and why not?
Many people are content with that and and are not looking for bigger opportunities.
Survey sites are low-effort and while they are also low in reward, you can build up a bit of extra pocket money over time.
I try to seek out some of the better survey sites out there.
In the case of Fusion Cash… there are some mixed reviews, but the referral program is one of the better ones I've seen – so, it may be worth you checking out.
How Do You Make Money With Fusion Cash?
You can earn with Fusion Cash in the following ways:
Online surveys – you're emailed surveys, or can access them via your own dashboard.
Cash offers – get a certain amount for signing up for free trials, sign up to websites, or test out software.  You need to remember to cancel trial memberships.
Cashback from shopping online – but you need to buy something to benefit from this.
Paid to call – which includes listening to the radio, watching videos, or doing specific online searches.
Referring friends and family.
The earning opportunities are very similar to many other sites.
The PROS VS CONS!
Fusion Cash PROS…
A referral program means that you can get rewarded for getting your friends or family to join, (or anyone you can recommend).
The referral program at Fusion cash is pretty unique and works as follows:
You get $1 when your referral signs up.
$2 when they complete their first offer.
$5 each time they cash out – (this is for life)
The issue will be, that a majority of people that sign up to Fusion Cash – probably get fed up with it before reaching the $25.
Most people get bored with these sites very quickly.
However, the fact that you could potentially get $3 per sign up, before they even cash out, is really pretty great.
Plus, if they do actually cash out multiple times in the future, you will get $5 every time they do.  So, it's one of the best referral programs I have come across as far as pocket money websites go.
Of course, you'll unlikely have amazing success with it unless you have a good way of bringing in plenty of referrals.
However, if you have a popular blog, social media channels, or YouTube channel – then you could do really well.
It's also worth noting that you also need to make $15 on your own – without bonus credits, before you're eligible to cash out anything.
There are a variety of ways to earn
This isn't just a regular survey site, so there are a bunch of ways that you can earn.  Including cash offers and cashback.
You tend to make the most from things like paid offers.  So, if you're looking to cash out quickly, that would be the way to go.
I prefer sites like this, because it can take a really long time to earn anything from surveys alone.
Fusion Cash CONS…
The Payout threshold is pretty high!
You need to earn $25 before you can cash out.
Many more survey related sites are now making it much easier to reach the payout threshold, by lowering it to $5 or less, like this one.
When the payout is $25, it can often mean that people give up before they reach it.
That being said, this platform does have a variety of ways you can earn, so it shouldn't take too long.
Besides, it feels a lot better to withdraw a decent amount, rather than just withdrawing a few dollars or something!
My views have changed on this somewhat. I used to be really against anything higher than $10 – but, when there are a lot of ways to earn something, it's less of an issue.
There Is Negative Feedback  
Fusion Cash has now been going for over a decade, so it's really no wonder that there is some negative feedback.
However, what's worrying is that some people seem to feel they're denied payout unfairly.
Some report they have to jump through hoops to actually get paid and then are denied.
It's worth taking with a pinch of salt though…  Because, for all the people that have had trouble, there will be thousands more than didn't have any issues cashing out.
Some Negative Fusion Cash Feedback Below: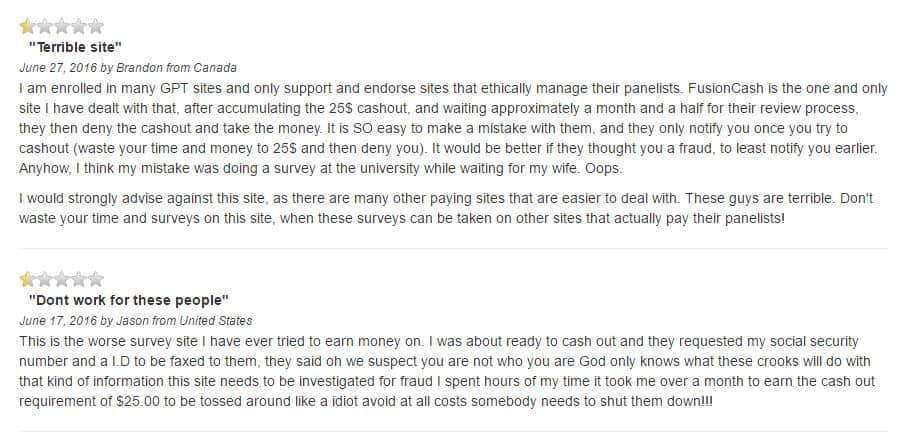 (Image source – Survey Police)
Limited Payout Methods Available
Unfortunately, you can also only payout your $25 by check, Paypal and direct deposit.
Although, if you're in Canada, it's just paypal on offer.
While having paypal is definitely a good thing, many sites have a variety of rewards on offer now – such as a selection of giftcards.
Sometimes, you may also get a cash amount upon sign up or cash out.
People complain you constantly get screened out of surveys.
Unfortunately, getting screened out of surveys is just the way it goes, (I've only found one site where they don't screen you out and that is Yougov.com).
Unfortunately you can only join from the USA at this point in time.
Conclusion:  Is Fusion Cash A Scam? Or Legitimate.
Fusion Cash is a legitimate platform, for earning a bit of extra cash. Or potentially more from their referral program.
It's been going a long time and they're are plenty of people who have been paid just fine.
It's another legit way to make a little extra online – although, there has been some mixed reviews. That's pretty typical for these sorts of websites however.
Fusion Cash are offering $5 for signing up at the moment, so you may want to check it out.
Do you have any experience with Fusioncash?  Let me know in the comments.
If you're interested in joining Fusioncash, you'd probably also enjoy Swagbucks over here.
They also have a far lower payout threshold.
All the best…