What Is Fusion Cash: A Scam, Or Legit?
Fusion cash has been going since 2005, so that's over a decade now and seem to have a mixed reputation.
Fusion Cash is only open to residents of the USA and Canada at this time.
You need to be over 13 in order to sign up, with parental permission.
Website: www.fusioncash.net
Earning Potential: Pocket Money.
Verdict: Legit.
Review In Brief: This is another of what I term "all-rounder," sites.  A survey related site, where you can earn from a variety of ways.
Primarily from: paid offers, watching videos, cashback from shopping online, playing games, surveys and listening to the radio.
While you can get $5 for signing up, the payout threshold is higher than some other sites of its type.
Ultimately, there are better ways you can make money online.
---
Is Fusion Cash Just A Waste Of Time?
Plenty of reviewers out there may slam survey sites for being a complete waste of time and generally, I agree with that.
There are only a couple of ways to make better money with these sorts of sites and that's via doing the cash offers, (where often you may have to purchase something anyway, or sign up to a free trial).
Or – via referring others to join, but in that case, you really need a tonne of referrals to make that work.
So, unless you have a popular YouTube channel/blog or website and know something about internet marketing, you won't make much there either.
The alternative, is spending a lot of time completing surveys and so on…
which can be really frustrating, as you often will not qualify for surveys and be thrown off.
The end result is that you spend a lot of time on something, without very much reward.
That being said, some people are just looking to make a little bit of pocket money on the side.
Many people are content with that and and are not looking for bigger opportunities.
Survey sites are low-effort, but they're also pretty low in reward too!
In any case, I try to seek out some of the better survey sites out there.
In the case of Fusion Cash… while it seems OK, I feel there are better sites out there.
Check out Swagbucks – for a much smaller payout threshold!
---
How Do You Make Money With Fusion Cash?
You can earn with Fusion Cash in the following ways:
Online surveys – you're emailed surveys, or can access them via your own dashboard.
Cash offers – get a certain amount for signing up for free trials, sign up to websites, or test out software.  You need to remember to cancel trial memberships.
Cashback from shopping online – but you need to buy something to benefit from this.
Paid to call – which includes listening to the radio, watching videos, or doing specific online searches.
Referring friends and family.
The earning opportunities are very similar to many other sites.
What I don't Like About Fusion Cash….
The Payout threshold is too high!
You need to earn $25 before you can cash out.
Many more survey related sites are now making it much easier to reach the payout threshold, by lowering it to $5 or less.
When the payout is $25, it just means that most people will never reach it.
Which essentially means that Fusion Cash are making plenty of money there for free, with members leaving before they've made the $25.
There Is Negative Feedback
Fusion Cash has now been going for over a decade, so it's really no wonder that there is some negative feedback.
However, what's worrying is that some people seem to feel they're denied payout unfairly.
Some report they have to jump through hoops to actually get paid and then are denied.
Some Negative Fusion Cash Feedback Below: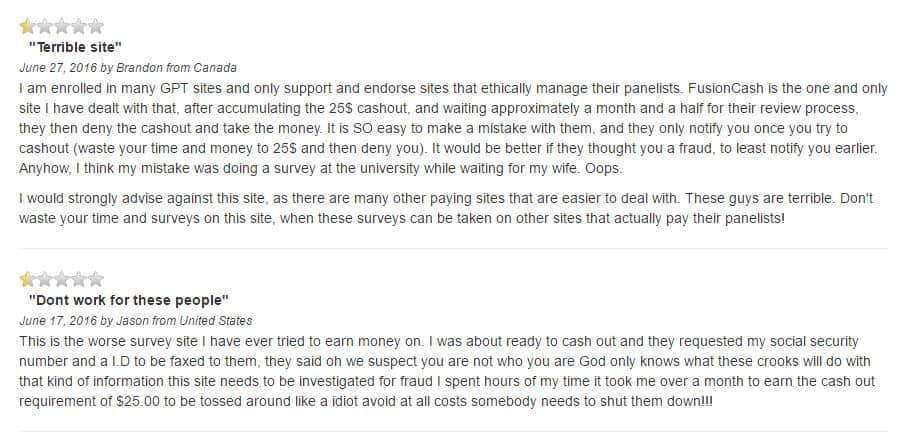 (Image source – Survey Police)
(Image source – I've tried that)
Limited Payout Methods Available
Unfortunately, you can also only payout your $25 by check, Paypal and direct deposit.
Although, if you're in Canada, it's just paypal on offer.
While having paypal is definitely a good thing, many sites have a variety of rewards on offer now – such as a selection of giftcards.
The Referral Program Is Limited
Many survey-related sites have referral programs in place – where you can earn a certain amount for bringing others to the website.
With certain referral programs, you will often get a percentage of what your referral earns for the lifetime of their membership.
Sometimes, you may also get a cash amount upon sign up or cash out.
However, the Fusion Cash referral program, is a bit different.
You get $1 when your referral signs up.
$2 when they complete their first offer.
$5 each time they cash out – (this is for life)
However, the reality is, that a majority of people that sign up to Fusion Cash – probably get fed up with it before reaching the $25.
Most people get bored with these sites very quickly.
Which is why having a lower payout threshold is much fairer to people signing up.
So, unless you're bringing in a tonne of referrals regularly, you won't have much luck with this.
It's also worth noting that you also need to make $15 on your own – without bonus credits, before you're eligible to cash out.
Conclusion:  Is Fusion Cash A Scam?
Fusion Cash is not a scam at all, from as far as I see.
It's been going a long time and they're are plenty of people who have been paid just fine.
It's another legit way to make a little extra online – although, there has been a fair amount of negative feedback.
Fusion Cash are offering $5 for signing up at the moment, so you may want to check it out.
But remember, you need $25 before you can cash out.
Other sites, such as Swagbucks, allow you to cash out at just $5 and just $2 at PrizeRebel – so, check them out if you haven't already.
---
Beyond Survey Sites
You may want to consider thinking of other ways to make money online, if you want to make more than pocket money.
Whether you want to make a part-time wage, or completely replace your income…
Either is a possible, if you're willing to work for it.
If you'd like to create an online business – doing something that you love – you can get started here.
You get a 10-part free course when you sign up as a starter member, so it's worth checking out.
What is your favourite way to make money online?  Let me know in the comments!
All the best…