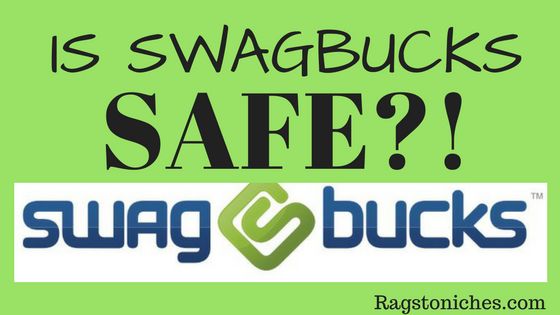 But as I've been a member for a long time now, one question keeps popping up that I thought I'd address. A frequently asked question is……
"Is Swagbucks Safe?"
Before I go into exactly why you should have no worries about Swagbucks, I will just say right now – that YES, Swagbucks is absolutely safe.
signing up is quick and easy to do – and you can get a bonus for doing so.  There is really nothing to lose here.
Get a $5 bonus for signing up here.
What Is Swagbucks About?
Swagbucks has been around for more than a decade and is one of the most well reviewed sites of its kind – as well as being the most trustworthy.
So many survey related sites don't handle themselves professionally.
Many survey related sites have terrible customer service problems, people are not paid, people are thrown out for seemingly no reason…
Plenty of sites that have been around for a long time, do not conduct themselves very well and Swagbucks is different in this respect.
Swagbucks consists of various ways you can make money on the net – completely for free.
For certain actions you take, you earn Swagbucks and these can be redeemed for rewards, such as giftcards or cash via paypal.
Ways You Can Earn Swagbucks Include:
Using their search engine, just as you would any other.
Completing Surveys.
Shopping online and receiving cashback.
Online Polls.
Watching Videos.
Referring others, (10% of earnings for life).
Now, these ways are not going to help you quit your day job – not by a long shot.
But can they help you a few extra bucks very easily on the side?  Absolutely!  And this is as close to free money as it gets.
Unlike some sites of a similar nature, the whole experience on the Swagbucks site is just more enjoyable than most.
The design is sleek, the navigation is on point and they've clearly put money behind this site to make it the best of its type.
It's one of the few sites that seems to actually give a lot of thought into their customer satisfaction and experience and conduct themselves professionally.
Easiest Ways To Make Swagbucks:
If you don't want to waste your time earning pennies for doing online surveys or watching videos – don't worry, you can still make use of Swagbucks.
Certainly the easiest hassle-free method is by using their search engine.  
I recommend you download the Swagbucks icon button to your tool bar, (instructions via the site and very quick to do).
That way, you can just click on the Swagbucks icon and use their search engine, just as quickly as you would using Google or Bing.
Swagbucks search engine is powered by Yahoo, so although the results are slightly different to Google, it's not far off and fine for your every day purposes.
While you don't earn Swagbucks every single time you search – you do get them regularly and they are for a variety of different amounts.
You may earn a few Swagbucks or 100 Swagbucks for a search, it's random as to how much you may make for a search.
The second easiest way to make Swagbucks is by checking out their cashback offers.
Swagbucks offers cashback at a huge number of major brand stores online, as well as other things such as take away food, hotels or package holidays.
I'm in the UK, so the offers available to you will obviously be different depending on where you live in the world.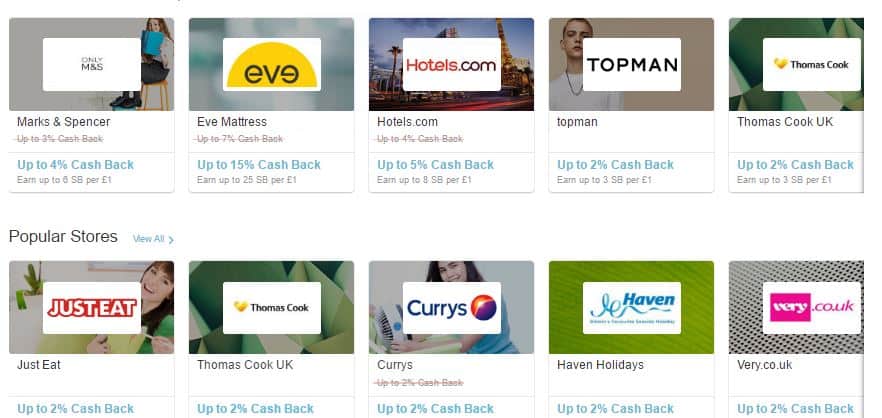 You simply click through the store you're wanting to go to and the cashback offer is activated, you then just shop as normal.
However, to make things even quicker – if you do have Swagbucks installed on your toolbar like I mentioned, the offers will just pop up if you visit a store that Swagbucks is associated with.
In that case, the offer will just pop up at the top of your screen automatically and you can accept it from there.  It doesn't get much simpler than that.
As well as the regular cashback offers, they do have other offers that may involve getting Swagbucks for signing up to certain trials or services – such as casinos or phone apps.
You may also just get straight deals – e.g. they have a lottery deal on at the UK Swagbucks at the moment that gives you two lines on the Euro millions lottery for the price of one – plus 525 swagbucks.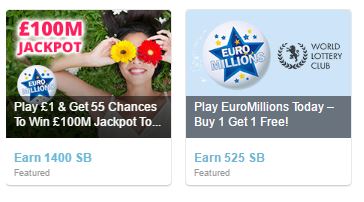 Getting The Most Out Of Swagbucks:
Personally, I don't want to waste hours of my time earning minor amounts by doing online surveys or tasks, it's up to you if you'd like to earn extra Swagbucks that way.
However, if you just want to know the quickest/easiest ways you can make the most out of Swagbucks for very minimal effort, then read on.
there are some things you can do to get the maximum results, for the least amount of time spent.
1 – Swagbucks Mail:
Login in to Swagbucks each day and have a quick glance in your inbox…
Swagbucks are pretty good at sending you the best offers and it's good to take advantage of them.
Make sure you're subscribed to Swagbucks email too, as they send out loads of offers that way.
2 – Swagbucks Videos:
While I don't recommend you sitting their watching the videos on there for next to nothing, you can just stick them on in the background, no effort involved.
Just check back every now and then to ensure the videos continue to play, if you're on the computer anyway, there's no harm in making some extra Swagbucks while you are!
3 – Swagbucks Offers:
Swagbucks offers can be found under the "discover" section on the main website.
I spoke about these a little already with the lotto offer – but these can pay really well.
The ones that pay the most DO require for you to pay money upfront, but if these are things you're going to buy anyway, then it's a no brainer.
Be cautious though, always check the T&C's – some of these offers require you to sign up to a subscription and may have recurring payouts.
If it's a free trial you're signing up for, be sure to cancel it prior to the pay date!
4 – Swagbucks Codes – Don't Miss These:
Swagbucks codes are simply codes you can use to earn more Swagbucks and these can be found in different locations around the web at different times – such as on social media.
If you download the Swagbucks toolbar extension, (which I highly recommend) you will never miss a Swagbucks code because it tells you where they are.
You just then need to go to the codes location and copy/paste the code in order to redeem your extra points.
Conclusion – Is Swagbucks Safe?
Swagbucks is completely safe – it is free to sign up to and at no point do you ever have to reveal your credit card details or anything like that.
You can claim your rewards via reward cards, which you get codes for and you can also get Paypal money sent directly into your account – so, in this way all you give them is your Paypal email address.
Ultimately, Swagbucks is a worldwide recognised legitimate company that will be conducting itself as safely as any other major brand names on the web.
Swagbucks have relationships online with major brands too, as they provide cashback to you for shopping with a whole variety of sites.
The cash back option is certainly one of my favourite ways of making Swagbucks – you're just buying what you would be anyway, but you get money back – what's not to like?
Combine that with a few other methods on Swagbucks and you can end up saving a fair amount of money, which you can simply save to earn bigger rewards if you choose.
Have you already had some experience with Swagbucks?  Leave me a comment below!
All the best…