Hey everyone and welcome to another KDP income report – for February 2023 – for low content book publishing!
I'm very late posting this actual blog post and so, am going to keep it short and sweet.
If you would like more details, please checkout the full YouTube video – which I will post within this blog post.
In this income report, I will be sharing my royalties generated from Amazon KDP, via selling low content books.
This is generally a mix of guided journals with prompts and some notebooks/logbooks.
I also have a couple of books that also contain some activity, as well as journal pages.
So, how did February go?
As I always seem to have a fairly high January, I knew that February would be lower.
I don't have many Valentines related books really, so this isn't a month where I get a tonne of orders related to that.
Nevertheless, my February this year has still been my best February to date – which I'm really pleased with.
Did I publish any books?
I did publish a small amount, but they were all notebooks.
They were also in a size that I've never published in before – 8.5 x 8.5 and I ordered a couple of them as well.
All of the covers I created for these notebooks were created in Midjourney and they turned out really well.
I didn't really do any niche research however, as these were already designs I was using on Merch By Amazon and therefore.
As such, I didn't expect any sales and that's just as well because they haven't sold any! At least not so far and I haven't bothered to run Ads on them.
What I have found in the past though, is that this is the sort of thing that still could potentially sell in Q4.
What Else Did I Do?
This month I FINALLY opened Etsy shop and it's already doing well.
However, at first I was working on it almost exclusively and regularly adding listings.
I spent much of January creating listings and getting the shop the way I wanted and then much of February uploading new listings once the shop was live.
Since the start of March I slowed right down with that and really need to keep posting new listings in order to build momentum.
I also applied to Creative Fabrica.
At first, I was rejected, as I did not have enough listings.
I applied again and was rejected again – only because they couldn't confirm my identity. They said they liked my products and told me how to verify my identity.
So, I applied yet again and am now waiting for them to accept me. (Update in March: they now have accepted me!!).
I'm so excited to see if I can build an additional income stream on Creative Fabrica too and I will most certainly do a video on this.
KDP Royalties February 2023:
You can check out the video above for all the details.
In February I made $6,563.
On my highest day, I made $458. On my lowest day, I made $138.
It seemed to start off pretty high and then reduce somewhat during the second half of the month.
This February was a considerable jump up from the previous february.
Last February I made $5,600. So, almost $1000 more made in February 2023 – which is great!
Advertising wise – costs were pretty low this month.
I won't go into all the details in this post, but they were run in Canada, UK and US and I spent a total of $276 US dollars before VAT. After VAT – this came to $331.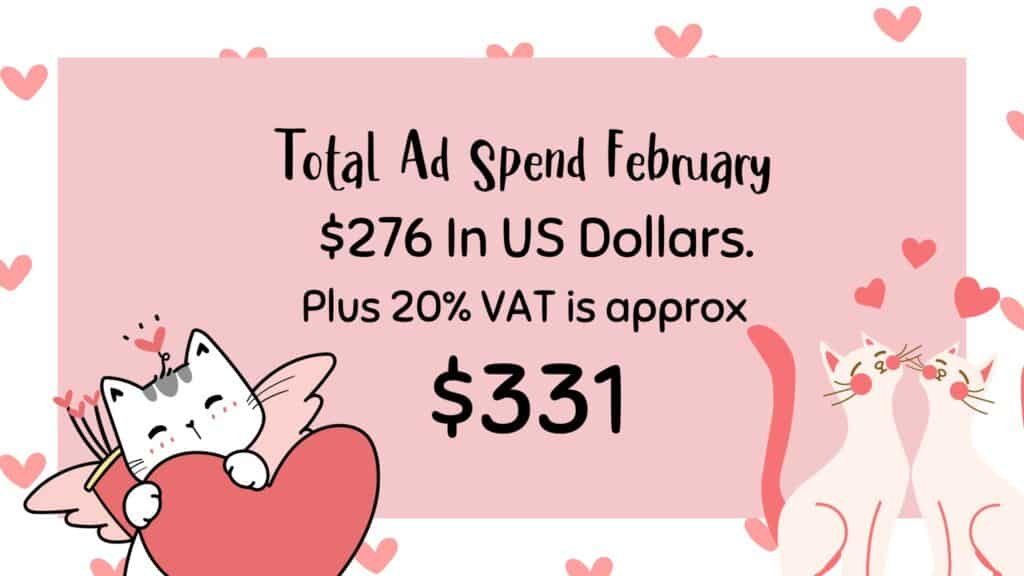 I also have changed some of my monthly tool subscriptions at this point.
Right now, my main tools are…..
The main keyword research tool that I use was a one off fee and that's Publisher Rocket.
My tools this month used for KDP comes to $115 in total.
In total then my total profit in February, after taking off the amount I spent on advertising and tools – comes to: $6117.
I'm definitely happy with this result and look forward to sharing with you how March went!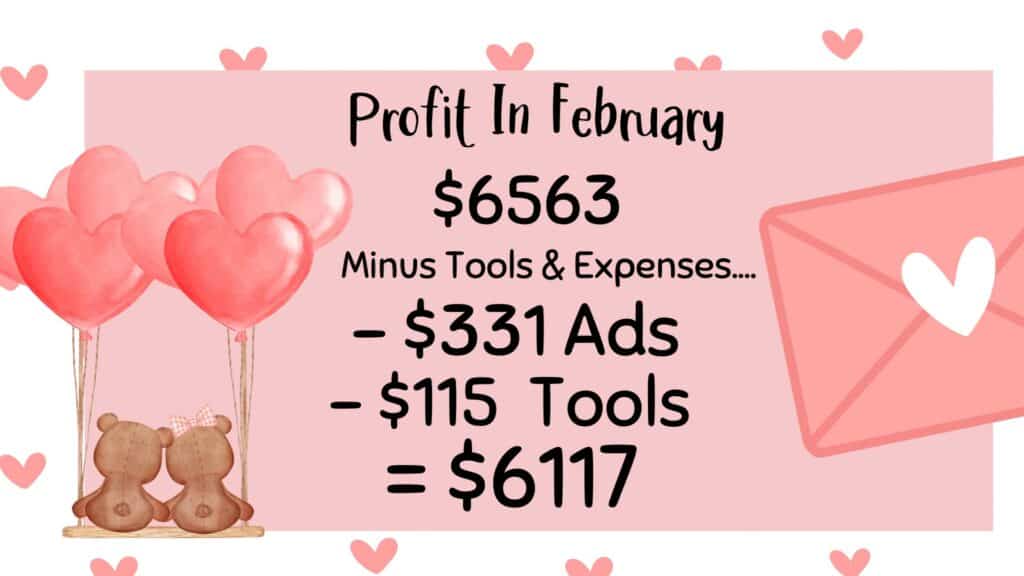 How did your February go this year on KDP?
Let me know in the comments!
Plans For March?
In march, I planned to try and upload more to Redbubble and Merch by Amazon. I planned to do three designs a day and at first, I did really well at this.
Some days I didn't manage it, but then the next I would do twice as many to catch up.
But then I had a few busy days, (things outside of business!) and I didn't manage to keep up with it. Also, sales from my efforts were minimal and I began to think that really — my time and effort would be much better spent on other things!
It was taking my time away from things I really should be doing. I also went off YouTube for THREE WEEKS!
It was good to have a bit of a break away to be honest and I hope to be more consistent with it again.
As for print on demand, I think that will really have to take a backseat for now.
I haven't added as much as I wanted to Etsy in March, so this is something I really want to focus on again in April.
Let me know in the comments if there is anything else you'd like me to create content on.
Pin Me For Later!