Welcome to the first KDP income report of 2023!!!
What an unusual month January was – and also a pleasant surprise.
January is usually one of my best months for KDP and it was no different this year.
However, if December was a bit predictable and similar day-to-day… January was quite the opposite!
It was very much up and down and we even had a reporting delay, which thankfully only lasted about 24 hours.
Some of you may remember the reporting delays a couple of January's back, which went on for several days.
However, I had some really high days and overall it was very much higher than last January!
I Got Started On Etsy!
In other news for January, I got started on Etsy and posted my first few products.
It's funny but, no matter how many businesses I start, I get so excited that I seem to have this expectation, (or maybe just hope) that I will make sales quickly.
I remember when I started learning about blogging and affiliate marketing, I thought within a week or so, I'd start making money.
In reality, it was several months of hard work before I even made a few dollars.
When I started Print On Demand, I think it was around a month of uploading designs before I got any sales, (check this)
Same with Redbubble.
With Etsy the first time, I really hoped I would start getting sales quite quickly too.
In reality, I uploaded over 50 designs initially and it was still a couple of weeks or so before I made my first sale.
Yet, again this time — with only a handful of products initially, I checked back to my shop the minute I'd published them and expected to see the viewing numbers start rolling in.
Instead, there was just crickets. 24 hours later and I've had one person view the shop.
So, again I have to manage my expectations and realise that this isn't a quick fix.
You do have to work your arse off initially with these things.
You front load the work…. but it does pay you back eventually.
However, it's just human nature to want instant gratification.
If we do any work, we expect to get some reward for it now… Not potentially many months down the line.
But that's the way it is when you build your own business and something you have to become accustomed to.
There's a saying that goes – you have to be prepared to do what most people won't, in order to have what most people don't.
It's a very simple saying, but one that frequently comes to mind at times like this.
I've been half thinking of starting to do additional income reports for Etsy….!?! But I think I will give it some time first and see if I actually start generating some sales!
But let me know in the comments if this would interest you.
Anything Unusual happen In January?
Aside from the reporting delay, nothing particularly different happened. As in, the same usual books were still selling.
It's just that day to day, it was not predictable at all.
One day I made close to $800.
Then other days were under $200. Still the lower days were decent. The lowest, (aside from Jan 1st) was around $160.
January Income Report:
So, as you can see – I made $9589 in January.
This makes it quite a bit higher than November and only just over a thousand less than in December, which was really surprising for me.
You can check out December by comparison below….. You can see how the first two thirds of the month was so similar day to day in December.
Very different to January – which seemed quite different from one day to the next.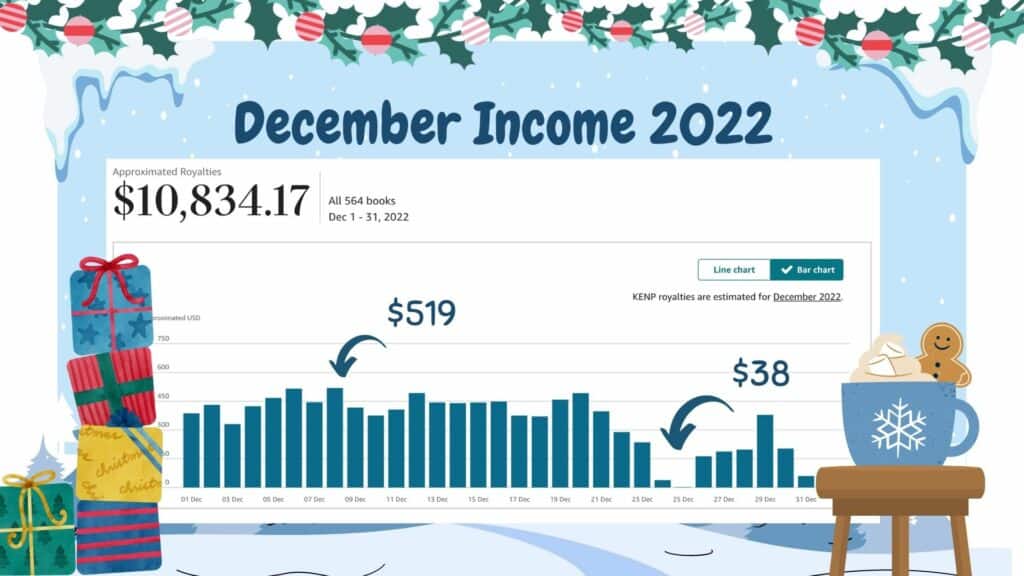 January 2022 Income By Comparison:
You can check out last January above and it's quite amazing to see that this Jan was nearly 3k more than the previous.
It's most of the same books selling, just in larger amounts. My only guess here is perhaps some of these books are now more frequently paired with other high selling books, (in the "frequently bought together," suggestions).
PLUS we have now had another Q4, which means the books have got even more reviews and ratings.
I haven't taken a detailed look at all my stats yet, so I will have to see if there is anything else I can figure out there.
January 2023 AD Spend:
I took my foot of the pedal this January with Ad spend.
I neglected it a fair amount and actually – as I write this – I don't think I've even checked into my Ads account for nearly a week!
I turned off some in the US which started spending way too much and so, didn't have much going on.
I also spent too much in Canada, because I started an Ad campaign which I couldn't optimise. It's something that works in the US and the UK but just seems to spend too much in Canada for some reason.
So, I spent over $200 in Canada & considerably less in the US and the UK.
If you'd like to see the exact amounts, please check out the video above – where I hop on to my Ads dashboard.
If you're interested in the tools I use – not just for KDP – but for everything online, then you can find that info in my tools section of this blog.
You can see my total Ad Spend for January below……….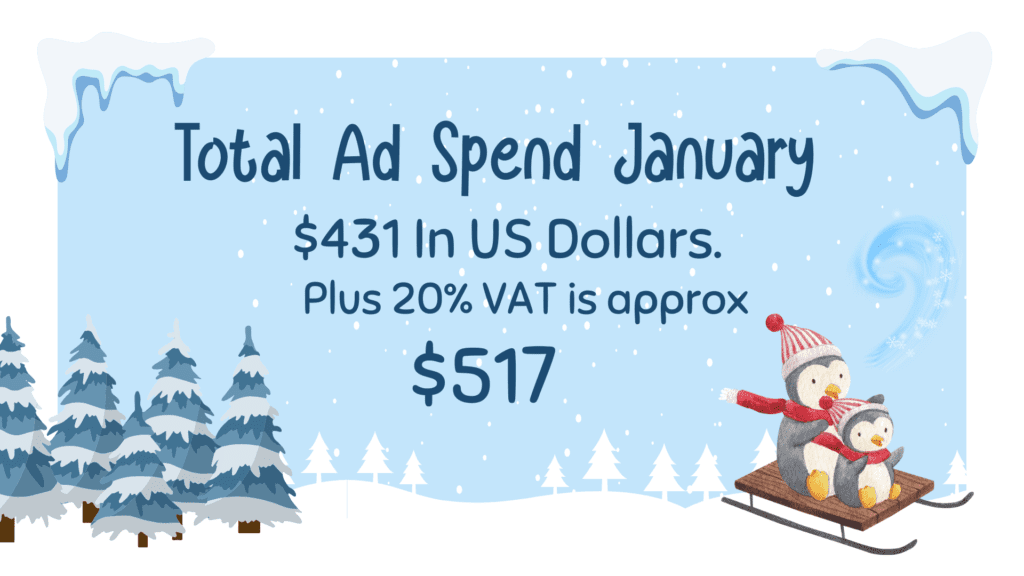 I've Spent Most Of January In Midjourney:
This January I've definitely been distracted by Midjourney and creating Ai Art.
I've been working at creating some colouring pages and had some really good results so far – but despite starting several books, I haven't published any yet.
I guess it still seems so early and even though Midjourney state that paying members CAN use the art they create for commercial purposes…. Understandably some people still feel unsure.
Especially with certain legal battles still underway while I type this.
It's also quite an expensive tool to use if you're not really sure that you will make use of it. That being said, I think for what you can create with it – it's well worth the money.
Pin Me For Later!