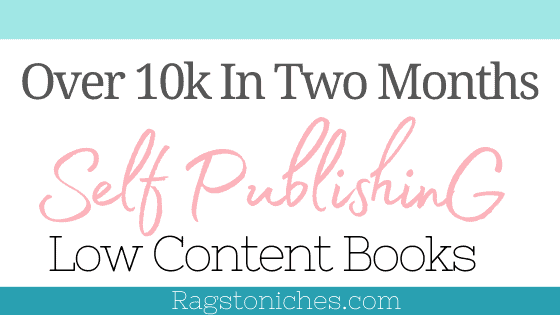 I missed out writing my August income report for Amazon KDP– so, I thought I'd combine it today instead with my September income report as well.
So, that came out as over 10k in August & September combined, as you can see below.
That's not all profit because I had expenses & Ads, but I will run over that as well further down.
However, I try and keep my expenses on the low side and don't invest a large amount into Ads at the moment.
You will also see that I have published 539 books on Amazon. However, not all of those books are live to buy right now, as I deleted some previously – mainly that were date specific.
August was quite solid the whole way through really with a couple of peak days.
Whereas September was quite up and down – with one day when I suddenly made nearly $800 in a single day!
This amount was due to a huge bulk order of one of my books.
It was one that I don't typically sell all that much of, (maybe one every day or so) so it was a bit of a shock to see this huge order.
This does happen to me more regularly now. Usually it's with a book that I already sell frequently…
But sometimes it's with a book that sells less frequently and that's always a big surprise.
In any case, I was really happy with August – considering it's often the quietest month for KDP for many.
I was also happy that there was an increase in my September sales.
How Many Books Did I Publish In August & September?
As far as actual work goes, I was surprised to learn how many books I had published in August and September. It was more than I remembered!
In August, it appears I published 11 books.
However, many of these were plain lined notebooks and very quick to make.
I actually decided to publish some composition notebooks.
It was a bit late because these books are bought in the US at the start of the school year – however, some of them did start to sell!
I think I created around 9 composition books and 4 or so started selling and a couple are still selling here and there. I think that's pretty good really, as they are so quick to produce.
I honestly hadn't really bothered too much before with composition notebooks. I assumed it must largely be over saturated. But clearly, sales can still be made!
It just goes to show, it is worth experimenting and trying things.
I also created a couple of books that required more time and care.
One was an activity book that has sold around 8 copies so far……
I had created another activity book back in July that IS now selling daily and so, perhaps this one will catch up too.
Unfortunately, the second one is in a highly competitive and over saturated niche.
Therefore, it will be hard to get those initial sales, when so many other books in the niche have hundreds or thousands of reviews.
The other book, (that is making sales) is in a semi-related niche, but less competitive. So, it was easier to get those initial sales and get the ball rolling.
The reason I targeted the competitive niche, is I felt I had created something somewhat unique within it and I thought if I created the most appealing cover that I could, that this would be enough.
It has been enough to get some sales, but it's been inconsistent so far.
In September, I only published 6 books.
I have to admit I didn't put in as much time as I wanted to into publishing in September.
But I also spent a lot of my time working on one activity book which took me several weeks to finish.
It wasn't only that it was time consuming to produce – but I also found it quite boring a repetitive and therefore, I found I couldn't work on it for too long at one time without a break.
So far in October, I've published one book that I decided to create in a whim and is still in review.
I am feeling more motivated now so, I just spent some time this evening doing some niche research and have some new ideas to work on.
Motivation Highs & Lows:
It can be easy to think when you see people on Facebook and talking on Youtube sharing their success – that you need to be publishing non stop month after month.
But the reality is that for most people, productivity, inspiration and motivation come in waves.
Sometimes we may be on a low, but if we ride through this we can come back up again and this is where the work gets done.
After a period of intense activity, it can be normal to need a bit of a rest and sometimes you may feel burnt out. In these times, it can be better to work on other aspects of your business.
Sometimes you may want to step away completely. But always feel better if I'm at least checking in – whether doing research, or trying to optimise my Ads and so on.
It's best to be involved in some sense, so that you don't entirely get out of a routine.
Something that HAS personally helped me to track productivity and achieve goals recently is a really simple thing.
It's an online stopwatch!
I've started clicking "start," whenever I start work but then I "pause" it whenever I stop work, or get distracted doing something else online.
At the end of the day, I know exactly how many hours I have put into my businesses online. So, sometimes I will set specific time goals for the day.
It's a simple thing, but I find when you're just guessing about how much actual work you're doing per day, it's likely going to be much less than you think!
My Expenses in August And September:
My total expenses, (including Ads) in August was £499, (or $677).
Less than £200 was on Ads, the rest was on my subscriptions and I also bought the Maze tool generator program, which cost a fair amount! You can see the other tools I use here.
My total expenses in September, (including Ads) was £377, ($511).
A little more spent on Ads in September – around £270.
The tools I've used most in the last couple of months are probably PuzzleWiz – which I get with my Bookbolt subscription (20% off if you want to my coupon code: natniches ).
Plus, I have also been using one the tools with Helium 10 called Cerebro……. I will do a post about this another time.
But I'd avoided getting Helium 10 for quite a long time, due to the cost. Until I realised you could purchase tools individually within it.
The other keyword tool I use alongside Helium 10 is Publisher Rocket and I still find that really useful for things such as finding new keywords, discovering categories. I find it very user friendly as well.
I personally had hardly any tools at all when I started, so don't feel like you have to have tools to make sales – they are just an additional thing, which can partly save on time aside from anything.
I would never PURELY rely on a tool.
I always combine any keyword and niche research with actual manual research on the Amazon platform.
October Is Here – And So Is Q4!
Q4 has arrived – the time of year that all low content publishers look forward to. Last October for me did see a big rise in sales, although partly this was due to some of my books gaining traction.
It would be great if some of my newer books also start to gain traction in Q4.
As far as October books go, I only have one specific Halloween book and a couple of others that may be bought more often during Halloween.
But generally, the bulk of my books are evergreen. That means they can be bought all year and are not particularly seasonal.
It will be interesting to see whether some books that haven't sold many since last Q4, start taking off again.
Is Q4 Still A Good Time To Publish Books?
October and November specifically can still be a very good time to publish new books.
October was the month I seriously started KDP in 2019 and some of the books I published in October and November took off and are still some of my best sellers today.
Similarly, some other books I published in October/November 2020 are also some of my best sellers today.
The reason being, more people are on Amazon during Q4 and your books will have more visibility and a higher chance of being sold soon after publishing.
Remember than Amazon boosts new books up in the algorithm temporarily to give them a chance and this is the prime time you want to get those initial sales and maintain your visibility in the search.
Due to more people searching and buying on Amazon, your chances of making those initial sales may be higher.
With a higher volume of sales, also comes a higher chance of reviews and this will help boost your book up further!
Have you had a a Q4 with KDP before? How did you do? Let me know in the comments!
Pin For Later!