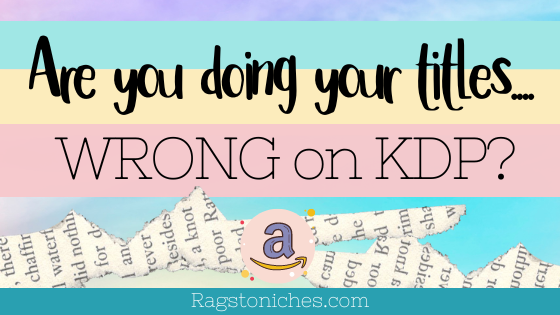 Are you inputting your title and subtitle incorrectly?
This is something that I have made a mistake with in the past, (in more ways than one) and it's something that I have recently been reminded of, after a friend asked me some advice regarding their own books.
I think sometimes people feel they want to have a creative title and so they put this FIRST and that may be all they do.
They then put their keywords in the backend slots and wonder why their book isn't showing up for any of their chosen keywords.
You want to ideally have your best keyword in the title.
Your title & subtitle are the no.1 most important spots when it comes to keywords.
If you get this wrong, it can mean your book is just not found by anyone on amazon and won't rank in the niche you're aiming for.
We are low content publishers and we target niches and keywords. This is vitally important for us, in order for our books to be seen.
Especially if we are looking to make sales without using Ads.
But even if we ARE planning to run Ads, Amazon takes info from our meta data to determine where to show our books when we run an Auto Ad. So, we want as much relevant information in that meta data.
So, we need to have a well defined niche and our target keyword needs to be right there in the no.1 slot available… Our title.
This immediately tells the audience searching on Amazon that our book is what they are looking for.
If you have some vague and indeterminate title, that may be alluring for a fiction book but our aim as low content publishers, is to create books that people are already searching for.
But additionally, if we can fill in the subtitle without being spammy, an extra keyword or two in there can also help.
Especially if this means we may show up for some variation on our original idea.
Some people really add a lot of words in their subtitles and it looks unprofessional and wrong. People do still continue to do it, but Amazon has cracked down on it somewhat.
You should definitely avoid repeating any words from your title in your subtitle however.
Important:
Your title must be on your cover, or on the spine text of your book.
The title must be exactly the same on your book, as it is in the title section you fill in on the backend.
There is no need to add things such as dimensions or the size of your book in the subtitle, so keep these in your description and it's on the listing page anyway. **I think Amazon may have changed their terms because I can't see any info now about not adding the dimensions…. Possibly since including low content books legitimately, they allow it now? I am currently unsure about this – let me know if you know!
Good Vs Bad Title Examples:
Apologies to any authors I'm calling out here.
I could even put myself on this list, as I have definitely created some subtitles that were too long and rambling in the beginning when I first started.
It's just best practice to definitely avoid that and keep things as concise as you can, while still providing enough information and ideally – two or three keywords.
You don't need to add details about the book itself, such as the size of the book or how many pages it contains.
So, you don't want a title like the following…..

The above reads more like a list and is too long and rambling. It feels as though this person is just trying to stuff as many keywords in there as they can.
Another issue is, the book actually doesn't match this description at all inside either.
The book, (from the first initial pages I saw anyway…)… Reads more like it's a writing prompt book!
It didn't appear to have anything to do with self care, mindfulness, or gratitude!
This author also has a keyword in their author name, which is definitely something you need to avoid these days.
This author name was lucky to slide through in 2021… But I imagine that even if they tried to edit this book, they would run into issues now.
I go into more info about this book, in the above video.
By contrast, the title below is fine and still manages to fit in several keywords.

By contrast the above title has a clear long-tail keyword as their title. That entire title IS something that people would type in directly to amazon.
That is the ideal scenario and ideally, it will also be the no.1 keyword they are hoping to rank for and target.
But they also manage to fit in several other keywords in the subtitle, while still sounding natural.
All of the descriptive words in the subtitle, also work well to describe the book, (as long as what it mentions actually is relevant to the book – unlike the first example).
This author also has a brand name – which isn't a keyword. It is fine to have a brand name like this, it doesn't have to be the name of a person.
I largely use brand names/company names myself that I come up with, but I do have the odd pen name that sounds like a person as well.
Another Example……..

The above example just doesn't sound natural.
Again, it reads more like a list and it also includes details that Amazon now warn against using. So, the measurement of 6 x 9 and stating that it's travel size. **Note: I am unsure if stating dimensions is now OK, as I can no longer find info about this in August 2022!
This was published in 2020, so many people were still putting the dimensions of their book in their subtitle. It's done less so now however.
The above title still has PLENTY of information within it and several keywords as well but it is laid out in a way that makes sense.
The subtitle DESCRIBES the book, without sounding like they're just packing in keywords.
The title again is a long-tail keyword in itself and will be something people are actively searching for.
But It's Not Just About The Title:
You could have the best, well thought out and well formatted title on Amazon – but that won't matter at all if your book doesn't look any good.
Or doesn't actually live up to customer expectations.
The number one thing you need to focus on, is creating a good looking book that people are actually going to be searching for on Amazon.
You could have a great design AND a great title… Again neither of those things matter in that case, unless the keywords you're targeting are actually being searched for on Amazon.
Do you have a specific strategy for creating a title & subtitle on Amazon?
Let me know in the comments!
PIN ME FOR LATER!!