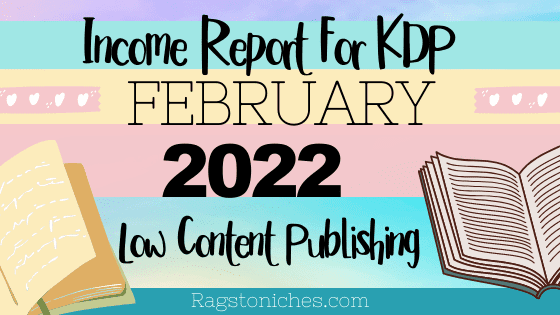 I was curious as to whether my February income would exceed the previous Feb in 2021…. Or whether it would be lower this year.
As it turned out, it was pretty similar – but there was a slight increase.
March last year was one of my highest months. Partially this was due to a large bulk order, so I don't imagine this March will more, (unless I get another bulk order again!).
Anyway, in February I saw a good improvement with Ads so, stick around until a bit later where I will share my exact numbers with you.
LOW CONTENT INCOME REPORT FEBRUARY 2022:
Another steady month, with one peak day of over $400 as you can see below.
In February 2021, I made $5219 and this February was $5600, so an increase of $400. That said, it was probably pretty similar when you factor in Ad spend.
Did I Publish Anything New?
I only published two books in February and one of those was just a Merch design that I added to a large notebook.
I've been trying again with Merch and feel you may as well use your designs on multiple platforms. For me that's usually just KDP and Redbubble.
The numbers are showing I published more books, but that's because I took the above screenshot in March, when I have already published a number of other books!
I finally feel that in March, I am somewhat getting into a publishing schedule again.
I had planned to do more Mothers day (UK) & Valentines related books but……. Nope, I did not get around to that!
Were There Any Surprises In January?
YES!!!
That notebook I published from the Merch design, got a couple of sales!
It's not something I was expecting whatsoever and so, in March I went ahead and published some other Merch designs, (from the same niche) on some other notebooks.
So, I will see what happens there.
Also, one of the Easter activity books that I published LAST YEAR started to sell…. Despite currently having zero reviews!
I thought that was promising and so, will run some Ads to that and see what happens.
I also have another of my books that I worked really hard on starting to become one of my best selling books.
I published that book in June 2021 and it's taken until this year to really start to gain traction. It's in a competitive area but, thankfully due to organic reviews and some advertising, it's starting to do well.
I was also surprised with my Ads this month…. I will go over those next!
KDP Amazon Ads For February:
Amazon Ads went well and were profitable on each market place I'm using right now – which is the UK, Canada and the US.
The Ad I had started in the US is now more optimised so, that's been profitable in Feb.
Then a big bulk order, which was over $300 in sales came in Canada at the start of February and that brought the overall ACOS down to around 11%.
USA Ad spend:
UK Ad Spend:

Canada Ad Spend:
Overall, I was really pleased with my Ads for this month.
It's important to say that I in no way run Ads to every book. I only have a small number of Ads now running at the present time.
A majority of my sales on Amazon, are still organic, (they don't come directly from Ads, just from people finding them).
Other Expenses:
Included in my regular expenses, are all my usual tools. Of course, CANVA being the one I use the most.
Only part of Helium 10 – I use the Cerebro tool, which is cheaper than getting the whole thing. I've been told by one of their team that they're trying to develop a package just for KDP, which would be awesome!
I also have a Creative Fabrica subscription for graphics, you can try that for just $1 here.
You can check out my other tools here.
At the moment, my tools come to around $100 a month.
So, What Are The Total Expenses?
Ads:
$143 dollars
£55.58, ($72.56)
$77.17 Canadian, ($60.50)
Total: $276.06 + 20% VAT.
Around $50.
= $331.06
Other tools: $100
Total Spend:
= $431.06
Total Profit:
$5168.04
Obviously, this before any regular yearly tax that will need to be paid each year.
Check Out My Mini Course Below — It's Free & For Beginners:
How Was Your February?
So, how were your sales on KDP this February? Do you have any plans for the coming months?
Let me know in the comments and also, if you have any questions at all – please go ahead!
Pin Me For Later: