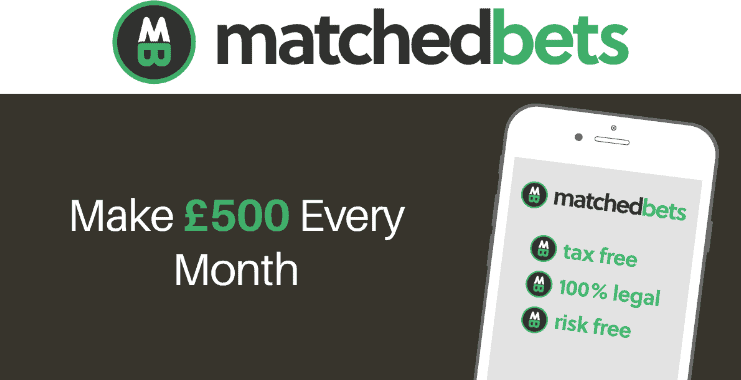 Matched Bets Review – Does Matched Betting Work?
Many people have never heard of Matched Betting; but it is actually something that you can do to make guaranteed risk-free profits – with no risk of losing money and no gambling.
Sound to too good to be true?  Well, it isn't and I'll explain exactly how it works in a moment.
Today, I'll be reviewing a relatively new website, called Matched Bets, which will show you step-by-step, how to profit from matched betting and includes training, tools and support to help you.
I should note before I continue, that is a UK & Ireland based opportunity.  You can also trial it, risk-free and make up to £50 profit.  Sound good?
In this review, I will first outline what Matched Betting is, for those of you who are brand new to the game and then I will explore the various tools and features available on Matched Bets.
Website:  Matchedbets.com
Income Opportunity: Realitically £300-£500 a month and potentially more.
Cost: First £50 profit free, then £14 a month, or £99 a year.
Overall Rating: 90/100 I  have really enjoyed exploring Matched Bets, it's an impressive looking website, with extensive information available, great value for money and useful tools and additional features.
What Is Matched Betting?
Matched Betting is a risk free way that you can generate some extra cash from bookmakers free bets and offers.
When you first sign up to bookmakers, such as Coral, Skybet, William Hill and many others, they will often give you a free bet to use, when you bet with your own money.
Initially, you place two stakes to cover all outcomes, one at the bookmakers and one at a betting exchange.
So,  you place one bet to win and you place a lay bet, at the betting exchange.
This is a risk free bet that you use to release your free bet, sometimes it will involve a minor loss of a few pence.
Lets say a bookmaker gives you a £20 free bet if you open an account and place a minimum £10 bet…
You then use the Matched Bets software to find out the best odds available, in order to generate the most profit from that free bet.
While the profit is quite small per bet, you have to remember that this is risk free profit.
While it may sound complicated at first, you will soon get the hang of it.
Matchedbets.com first impressions:
I found the layout of Matched Bets to be impressive, they've really succeeded in making this website a breeze to navigate.
I have some experience with Matched Betting before, but the matched betting program I joined in the past, was far more basic in comparison.
I wanted to see how this site compared, would it be simple to understand from a beginners perspective?  Or would there be a steep learning curve?
Well, Matched Bets is full of in depth instructions and training videos, but they do say themselves, that you do need to take your time and not rush through.
After You Sign Up With Matched Bets:
When you sign up as a free member, you'll immediately be able to see the steps you need to take clearly laid out on the dashboard.
You watch an intro video.
You learn what matched betting is and how it works.
You get your betting exchange account set up with Betfair.
You get started with a selection of simple offers, to get you to your £50 profit.

The offers selected for you, are chosen specially for their simplicity and are more straight forward offers to get you started.
However, since these are first time offers, you won't be able to complete them if you've previously signed up with the bookmakers on offer.
Don't worry if you have already signed up to a few bookmakers before, there are still many more offers you'll be able to take advantage of inside the members area.
Step By Step Instructions:
There are plenty of instructions that are clearly laid out for you, but it's a good idea to read through everything a few times if you feel a bit confused initially.
There is a learning curve with this, so don't rush in before you feel confident.
Something that I experienced when I first started with matched betting, was that unnerving feeling that I really wasn't sure what I was doing.
Initially, it may still feel like you're gambling, even though your cash is never at risk.
After you've made your first few bets and you can clearly see how it works, your anxiety will subside.
Taking My First Bet With Matched Bets:
When I signed up, I went for a low value simple offer at first,  with an £8 profit available.
To understand what to do  at first, you click on the instruction box to the right of the offer.
At the top of the page, you're given the basic information of the bet and if you have zero betting experience, this could confuse you initially.

What you need to do, is scroll down to the full instructions, where you need to follow what's laid out, step-by-step.
Be cautious when you sign up to the betting sites, that you opt in for the correct bonus.
When I joined one bet here, it was automatically selecting a casino offer and I changed it manually.
If you have minimal experience betting online, then it's a good idea to spend some time looking around the websites and become familiar with them.
Ensure you've read through the instructions several times and feel confident you understand, prior to placing that first bet.
Premium Membership, What Does It Cost?

Once you've made your initial bets for free and you want to continue, you can join their premium membership to access all their additional bets and tools.
Premium membership is just £14 a month, which you can easily cover in one or two bets.
Alternatively, you can pay £99 for the year, which is a bargain for what you get included.
What's Included Within The Matched Bets Premium Membership?
When you sign up for premium with Matched Bets, there are various things on offer.
There are over 50 new customer offers available.  So, even if you have already opened several in the past, you're likely to find a bunch that you can take advantage of.
Even if once you've gone through every single new customer offers, there are regularly further offers that you can take up as an existing customer and this will keep you in profit into the future.
Not something I've yet to take advantage of, this involves an offer where you place a Football accumulator and you'll often make between £5-£10 a time.
Again, not something I've yet used myself, but this is the tool to help you find the right offers to take up with the accumulator bets.   There are also full instructions available, so you can follow those step by step.
Prior to Matched Betting and many years ago, I used to play online poker and some casino games, so I'm really loving these offers at the moment.  27 offers at this time of writing, usually these will involve free casino bets, or free spins.
Bingo offers are a little newer to me, but that I will certainly be giving a go. Currently 16 offers on at the moment.  Often the potential profit is low on something like a free £5 offer, but there's still free, profitable fun to be had.

This is the essential piece of kit you need, if you're serious about matched betting.  This tool helps you find the closest odds match between a bookmakers odds and the exchange – it contains 32 bookmakers and 4 exchanges.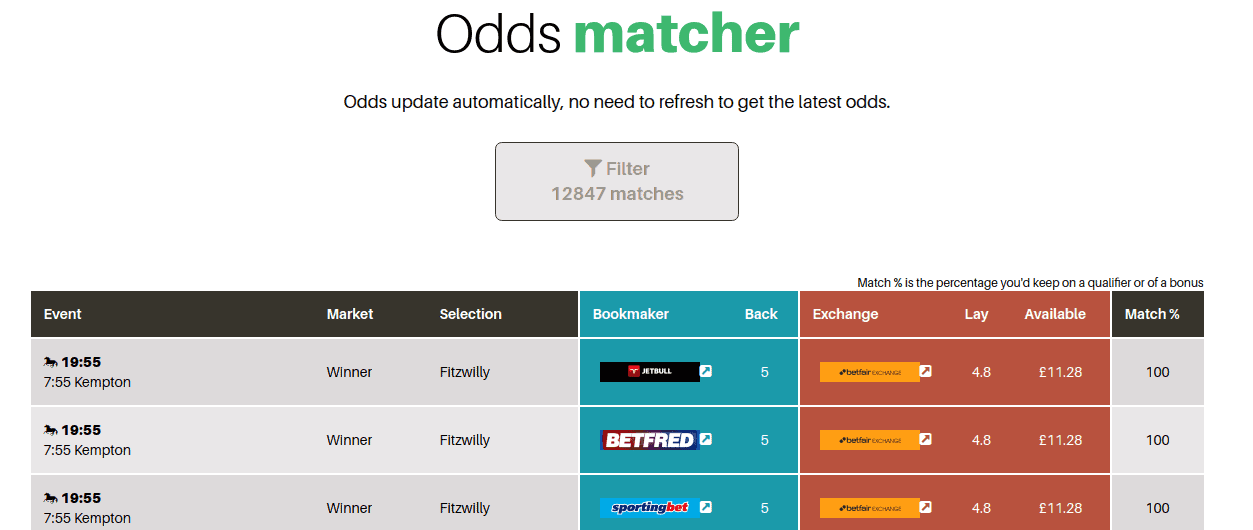 Matched Betting Calculator
Of course, the other essential tool in the Matched Betting toolkit, is the matched betting calculator and this will allow you to see how much you need to bet and what profit can be made.
A useful feature that will let you know which offers end today, or are in some way relevant to today.  This will ensure you don't miss out on any offers.
A large library of information, everything you will need to know about Matched Betting.  A great place for beginners to start.  Info includes – guides to using tools, Matched Betting strategies, problem solving and registration videos.
I was pleased to see that Matched Bets also has a forum, which is a good place to go and ask questions and get advice.
The forum is a little quiet right now, but will only grow as the site grows over time.  You'll also always get an answer from the Matched Bets team – so, don't hesitate to ask any questions!
The tracker is a useful feature, because it can track all your bets for you.
The last time I got into matched betting, I had to add everything to a spreadsheet, which got quite confusing and time consuming after a while.
One of the most important things with matched betting, is to keep track of all of your bets and your profits.
The tracker will also show you how much profit you've made with your bets and you can share this directly on social media.
Important To Note:  You Need A Small Bank Roll To Get Started!
Where one difficultly arises for some, as you do need a small amount of money in the bank to get started.
As little as £60 can get you started, but ideally having a hundred pounds or so would be better.
This is just money to cover your initial bets and the liability at the betting exchange – you will not lose this money.
Even though your money is totally safe, some people may feel uncomfortable having to use their money in this way.
However, this is just a necessity of matched betting and it's easily overcome once you see the profit coming in.
How Much Can You Make – Realistically?
How much you make will really depend on how many offers you take up, within a particular time frame.
At a glance, if you wanted to start slowly and do new customer offer per day for 5 days – profits could range from £8 to £50 per bookmaker you sign up with.
Realistically, £300 – £500 a month is completely possible, but some people make more than this.
The more offers you do in a shorter time frame though, the more you'll need in the bank to cover the bets and liability in the exchange.
PROS VS CONS
PROS
The website is clean and simple to navigate, everything is easy to find and you won't feel overwhelmed, I love the layout.
Plenty of clear to understand training, you should ensure to read the training fully and watch any related videos, prior to making your first bet.
You get the Odds Matcher software included within the premium membership, which is a great little tool.
Plenty of additional offers to take advantage of once you've got through the intro offers… I'm already enjoying the casino offers!
 The Tracker feature helps you to keep track of all your bets and profits, no more spreadsheets!!
You can cancel you're membership at any stage, you are not locked into a contract.
Super customer service, from 8 until late and a live chat option too.  Their customer service team seem quick to respond and provide support when needed.
CONS
Understandably, not all bookmakers are included in the Oddsmatcher software and this means that you'd have to find your own bets for these offers.  This may be tricky to work out, for those new to the game.
I'd like to see more video training – I know plenty of people, (myself included) learn more effectively from video training.
You will need some money in the bank to get started, (this is just a fact of matched betting, not just this program).  From my own experience, I started with around £100, but ideally you want a bit more. This money isn't at risk, but you'll need it to cover liability.
Overall Conclusion?  It's a Winner.
Matched Betting is legitimate opportunity to take advantage of bookmakers offers and make risk-free profits.  This is as close to free money as it gets!
Matched Bets itself have really done their best to provide everything you need to get started and succeed in Matched Betting.
In terms of tools, training and support, their premium membership is great value for money.
Seeing as you can make your first £50 profit for free and check out everything they have on offer, it seems like a no-brainer to me? 
As for me?  I'm going to keep working through those Casino offers on Matched Bets, I'm having fun.
Let me know how you get on.  Having you had any matched betting experience before?  Let me know in the comments!
All the best…