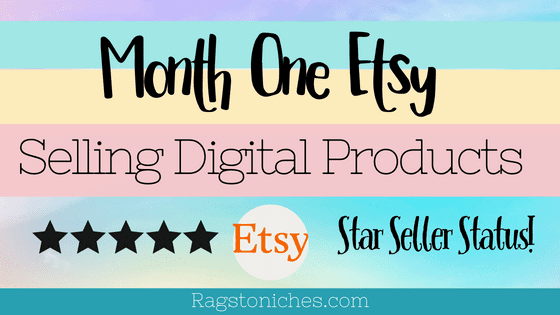 I've been on Etsy since the beginning of February 2023. Or just over a month at the time of writing this.
Update: It WAS just over a month when I started writing this but I'm actually posting this two weeks late. So, things have developed since then and I will do an additional update soon.
Yet, I have already made around 250 sales and have even reached star seller status on Etsy.
I will explain what that is in a moment.
I also have a bunch of 5 star reviews now, which has continued to help sales.
When I got started, I actually only had 4 listings live.
I still a relatively small amount when many people in the same area have hundreds of listings.
Many people find it hard to gain traction on Etsy in the beginning and therefore, I wanted to share my results with you but also to explain some of the key reasons that I think I've grown so quickly.
1. I INVESTED IN TOOLS TO SAVE TIME:
Right off the bat, I subscribed to ERANK and ALURA.
These tools are immediately going to eat into any potential profit, but they are also going to save you time.
YOU NEED to know from the get-go that people are searching for your products.
You need to know that there is a demand.
But you also need to know that the market isn't so ridiculously saturated in this niche, that there is zero point in you even trying.
Both of these tools can help you to find keywords and they can help you to figure out which stores are doing well and which of their products are selling the most.
By simply looking at your competitors, you can see the niches that are working.
I decided to create unique products that were different from my competitors but still in the same niche.
Thereby, I wasn't really directly competing so much as just giving people an alternative.
Tools like this can also help you to uncover lower competition keywords that you can target and have a better chance of ranking for.
They can also give you ideas about which Tags you should use.
I personally have quit using Alura now, because it was quite expensive and also does have a free version. I've been using Erank still regularly.
2. I GAVE STUFF AWAY FOR FREE (ALMOST):
This was definitely not something I was intending to do initially.
But very shortly after I published my first listings, I stumbled upon a video by Dylan Jahraus where she suggests giving away things (almost) for free.
That is, if you are selling digital downloads.
She said to price your products to just about a break even point.
You can also do this by simply charging less to begin with, or by running a sale.
Thereby you essentially put your product at a higher price than you'll ever likely charge and then heavily discount it in the sale.
I was reluctant to do this at first but she made a good point…. Which was basically that:
As a new shop…. You have zero reputation, zero reviews…. zero anything!
You need sales and reviews in order to get this stuff and by providing a bargain, you can get there a lot faster.
The only problem I had with this strategy way…. Was that she suggested you do this until you get at least 100 sales per listing.
Let's say you have 100 listings – she is talking about your first TEN THOUSAND SALES.
Personally, this seemed a little extreme to me and probably unnecessary.
But I can see that some people may benefit from this more than others.
In my own case, I was never intending to sell my products that highly anyway and the way things are going, I think if I just to around 20 or so reviews – this will be good enough to start rising the price slightly and see how it goes.
So, I decided to run a 75% off sale for the first week or so and then incrementally reduce the coupon percentage amount.
As soon as I set this sale up, I went from 1-2 sales a day to 6+ sales in the first couple of days the sale starting on and this now seems to be increasing.
I also got a big increase in people favouriting products and favouriting my shop as well.
I guess people are FAR more willing to take a chance on a new shop, when their prices are super low.
Not long before I tried this, I had cringed at other sellers selling their products for a super low price.
I hate it on KDP when people price their books too low. So, to see this on Etsy too, I worried.
But now I see it slightly differently.
I realise that a majority of sales are still going to those shops with more reviews, even though they are much higher priced.
We just get a little slice of the pie.
But once we are more established, we can raise our prices as well.
In any case, I decided I didn't need to keep this super high discount for long.
I have since experimented with different percentages off and shuffle between 40, 45, 50 and 55% off.
I've also now got a bunch of listings that have never sold on 75% off… Hoping that this MAY lead to some sales and get the ball rolling.
3. I INVESTED IN COURSES:
This is definitely not essential because there is a lot of info you can get online. Although, I personally can't stand going down the YouTube rabbit hole trying to find the info I need.
I'd much prefer to have a course that I can go back and refer to whenever I need and do it in my own time.
Also, it's usually the case that courses are updated over time and you will have access to any of these updates in the future.
There are two main courses I invested in last year.
One is more focuseed on selling digital products and templates and one is more of an all round course.
The second is by Nancy Badillo
Depending on what you're looking to sell, I can't think there is much I could have missed after purchasing these two incredibly in depth courses.
The main thing I was interested in learning from the start was Etsy SEO & keyword research, which is covered in depth in Nancy's course – Etsy Mastery.
This course is SO big, that I no where near completed it.
Although, that's also partly because there is a whole bunch that's covered that doesn't relate to what I'm doing and so, I didn't need to cover it.
Another thing I was interested in was creating Canva Templates, which is covered in Yadsia's course: Digital Business Start Up.
This was actually one of the most useful courses I've ever taken and I just love Yadsia's down to earth teaching style.
As someone who has been on CANVA since 2015, I'm always interested in learning new ways to make money using it.
I was interested in selling CANVA templates, but I didn't really know how to go about it and some of the technical aspects as well and this completely covered everything to the point where I felt confident I could do it.
4. I FOCUSED ON BRANDING FROM DAY ONE:
I really thought seriously about branding this time around on Etsy.
I chose the a set of colours and an overall style for the brand. All of my images follow a similar colour pattern and share the same text styles and colours.
I created a template for all of my Etsy listings, which means I only need to change a few details each time and I do not need to change anything from scratch.
I think this gives you the edge starting out, because you already look professional and this is ultimately going to mean your customers have more faith in your shop over some others.
That being said, there is certainly no lack of competition in this area! Many many shops just look incredibly good and go to great lengths to stand out.
5. I CREATED TEMPLATES TO SAVE TIME:
Etsy is very visual and you need to try and make the most of your space on Etsy by adding as many high quality images or graphics as you can and providing a good amount of information about your product.
But you also want each listing to share similarities to your other listings. By all having your brand font and colours for example and maybe having your logo on each page.
Setting this up every single time you're trying to list something would take you forever.
So, I created a template that was the bare bones of the listing which could easily copy & edit for every new listing.
I also had a basic description as well that I could copy and paste. However, you do nee do always change up the first paragraph of your listing because it needs to contain keywords relevant for your listing.
I would also make sure I had all my tags already worked out and arranged in my notes extension, where I can just copy and paste and not have to input them one by one.
If you would like me to do a tutorial on how you can create an Etsy listing template, let me know in the comments below.
6. I AIM TO GO ABOVE AND BEYOND WITH CUSTOMER SERVICE:
As a new shop in particular, getting reviews is incredibly important.
So, you need to try and bend over backwards really to ensure your customer is completely happy.
If anything goes wrong at all, it's good to over deliver as much as you can.
For example; after your resolve their problem, you could also send them a coupon code, or an additional product for free.
As long as you have a good product and people are getting exactly what they expect to get, then issues are going to be in the minority.
As such, you should try and do your upmost to help out any customers who have a problem and resolve it as best as you can.
While I state no refunds on my listings, (due to the nature of the product!) I have still issued refunds in rare situations.
7. I DID A LOT OF RESEARCH:
Before I settled on what to actually sell, I did a lot of research and really went back and forth on what I was going to do.
This is what actually prevented me from getting started for a while.
I made a big list of products I was going to create, before I got started.
I also made sure to validate these ideas. I could see that similar products were selling.
I also knew right from the beginning that I wanted to sell digital downloads.
Because then you do not have to worry about sourcing or shipping a physical product.
Even in the case of print on demand, there can be issues that arise that are out of your control because you have to rely on a third party partner.
Inevitably things can happen beyond your control.
With a digital product, it can be delivered instantly.
If there is any issue with the product, you can also resolve the problem very quickly yourself and send it back to the customer.
8. I GOT LUCKY WITH ONE PRODUCT:
While every listing I have put up on Etsy was researched beforehand but one of my first listings really took off beyond the others.
One of the products has sold well over 100 copies.
Others make a sale here or there and have sold anywhere from a couple to around 40.
Already I'm seeing that same 80/20 principle at play. As around 20% of the listings make all the sales, with a couple making the bulk of the sales.
I had no idea that this particular listing would be as popular as it is.
Even though I researched what I was going to put out there, it does feel like a little bit of luck that I decided to put THIS particular listing up right at the beginning.
It really helped me to grow faster, because I got sales quite quickly and got reviews fast too.
Etsy Is SO Good At Marketing:
The marketing tools available at Etsy are pretty impressive.
Etsy will send emails on your behalf to your new customers, or customers who have favourited your items and send them a voucher code, (you have to set this up but it takes two seconds).
Running sales is also a huge way to sell more. Because they actually have a countdown clock on your listing, showing how many hours of the sale is left.
Consequently, many sellers run sales all the time because that countdown provides a sense of urgency and leads to more sales.
What About Etsy Ads?
So far, Etsy Ads have been a major disappointment.
I've spent a fair amount and haven't had much return for it.
I had it set for $2 a day at first and then turned up to $3 a day to see if it helped. It didn't.
I thought about upping it further, as I read you probably need to spend more to get the data you need.
(update: I did go up to $10 a day at one point, now I've reduced to $5 a day…. since initially writing this post, I see Etsy Ads differently. Not as a way to profit directly – but as a way to boost your listings that are already generating sales and hope to ultimately rank your products higher up in the search and boost organic sales. This is similar to how I view KDP Ads).
But I'm considering just stopping the Ads altogether for a bit and see how that effects things.
You really have very little control with Etsy Ads.
You can decide what listings are included. You can choose a daily budget… But that is it!
It would be nice to be able to optimise things directly yourself.
In total, it only led to 11 orders and has cost me over $60!!!!!!!
---
Remember also that the revenue there is BEFORE Etsy fees.
I hadn't really looked into all the charges involved in Etsy until now and overall.
So, my revenue to date is actually over £600
But that is certainly not what I take home. This is before Ads & all Etsy expenses.
So, my total net profit to date is £370.
That is after taking off £195 in fees and $51 on Etsy Ads!
So, around $440 profit in US dollars.
I just have to factor in the tools……. Alura being $29.99 and Erank for $9.99.
However, I have just cancelled Alura becuase I've done enough research on it to last a while now and there are many features that I'm just not going to use with it.
I may well go back to it again, but I will see how it goes.
Nevertheless, we're talking over $400.
If I try and think about this comparatively, I made around $30 during my first month on KDP and over $200 during my second month and I was both surprised and excited to reach that milestone.
So, to get to over $400 during my first month on Etsy – is really exciting.
Update: I'm unsure how much my profit will be in March – but it will potentially be over £500/$600. I will update you!
What Is Etsy Star Seller Status?
So, if you meet certain criteria on Etsy, you can be eligible for Star Seller Status and this will essentially mean that you get a little star seller badge on your shop.
This is likely going to lead to more sales.
Also, the criteria you need to meet are not as challenging as you may have imagined.
So, all you need to do is the following, (this is via the UK version, so yours will vary depending on where you are… ).
You need to:
Reply to 95% of messages from customers within 24 hours.
On time shipping and tracking – 95% of orders ship on time, (obviously, this criteria doesn't apply to instant downloads).
Have a minimum of 4.8 stars via customer reviews and ratings.
Have a minimum of 5 orders and £200/$300 in sales during the 3 month review period. You must have also been on Etsy for 90 days since your first sale.
I've been on Etsy for several years but my shop has been just sitting there with no listings. I very briefly sold via print on demand, then deleted my listings.
So, technically my shop is older than a month, even though I haven't been selling.
In any case, as soon as I saw the criteria for this, I set out to fulfil it and got my star seller badge going into March.
—————————————————————————————————–
While I'm just a beginner on Etsy, I do think my own experience in online business an Amazon KDP, has really helped me to get a head start.
By that I mean things like, experience in niche research, SEO and keyword research and a certain level of design skills that I've gradually built up.
Having already had years of experience in SEO to date, that sort of thing is now much easier to understand. Whereas, when I first started, it felt all completely alien to me.
Also, I am now far more willing to invest into a new business by buying things like tools and courses and not just try to do everything for free.
I also understand far more about the importance of things like branding.
After doing KDP for several years, you also just have more of an idea about niches and so on and how to research.
So, certainly, if you have had some success in one type of online business, I do think it can be easier to do so in another field as well.
I'm excited to see how this progresses from here!
Have you got started on Etsy? Or are you thinking about it? Let me know in the comments below!
Pin For Later: