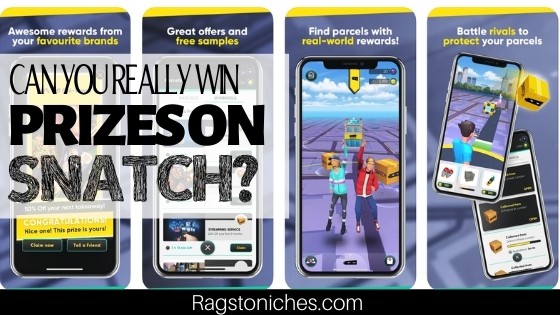 Browsing the App store, I came across an App I hadn't seen before that looked interesting – called Snatch App!
Apparently this is a newer updated version, but not one I'd seen previously.
Snatch App involves an AR world where you look for parcels containing prizes and rewards too.
Apparently it's even possible to potentially find cash in these parcels.
Always interested in ways to make some additional money or win prizes, I thought I'd check it out.
What appealed to me too was the format – I hadn't seen an app incorporate AR and a freebie/prize element before.
Also, there was an additional thing going on, you have to defend your parcel when you have it, because it could be snatched.
You have to defend your parcel in a certain time frame, (before the timer runs out) otherwise it could be taken off your hands.
It appears that there are new rewards available every day and and you can "like," which rewards you prefer in order to win them.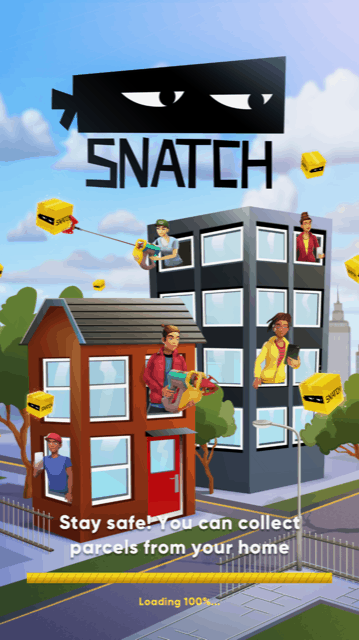 What Is Snatch App About – Key Features:
Free to play App, but you can purchase aspects inside the game.
Not all devices will be compatible.
Has a Pokemon Go feel to it!
Chances to win prizes, rewards/offers from some known brands.
Potential to win cash rewards.
Navigate an AR world in order to find and secure prizes for a certain time and avoid them being snatched.
Check out the prizes daily and like the ones you want to win.
Snatch App – Signing Up & First Impressions:
Signing up was instantaneous at first, I didn't need to provide any personal info – aside from my location and then the game also asked for access to my camera.
I saw my avatar on a little map, but then when a parcel was available, I could see it via my camera — much like when you see pokemon on Pokemon go.
You need to catch the parcel and then keep it for the allotted time.
For me, the first time, that was a matter of seconds.
My first prize was? 3 months of free music with Tidal. No use to me, but perhaps for someone else.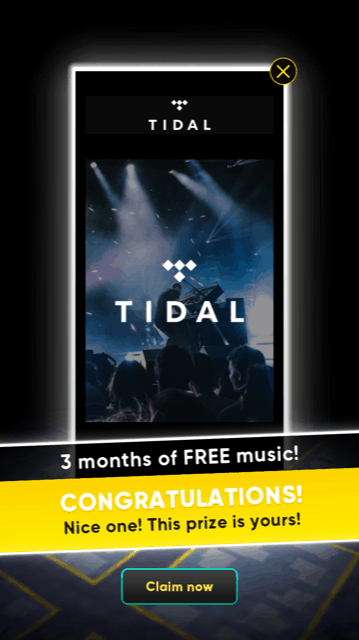 Once I'd won this initial prize though, I had to give further details in order to win more prizes.
This included needing to add my phone number and create a password.
I felt reluctant to leave a telephone number, as I imagine this could lead to spam calls and people calling with offers all the time.
But I went ahead anyway…… You'll need to provide your real number, as they send you a verification code.
You can then create your own Avatar – choosing a look and clothes and get started.
What's The Snatch List?
This is the list of prizes available to snatch that day and it's a combination of some potentially "OK-ish," prizes and just annoying offers that you can get anywhere and are NOT prizes.
As an example – one prize is 3 issues of a magazine for £1. But with this you will start getting charged a subscription fee if you don't cancel.
This is a standard UK offer, (where I am based) available anywhere. Simply Google this and you will be able to get this offer right now…. So, it's not a "prize," in any way!!
Some other examples of what is on offer:
Two months free to thousands of magazines, (just google little bird, you can get this now).
A 4 week course at Shaw Academy, (you can get a 30 day free trial by just Googling this).
Iggy Box 12 month subscription.
Joe and Stephs – Gourmet popcorn bundle, (I will take this one!).
£50 Amazon voucher and Blockhead sweets with skills pack. (Real prize I'd actually want).
Aura Health – 30 days free of mindfulness, meditation and more. Looks like you get a standard 7 day trial normally. I would probably be interested in this. (However, you will have to pay $59.99 for the year after the trial).
Simply cook – £1 trial box, (you can always get this).
That's a selection there and there are a few more but…. You get the idea!
Mostly not much in the way of real value prize wise and that's what I was worried about, as this is generally the case.
That's because these offers are a win-win for the company… they can offer you something and they will make money if you do sign up for the offer too.
You Find A Prize – But It's Out Of Reach!
Often you will see a box but it's out of range and you need to purchase a weapon with your gold coins that you accumulate, or buy.
I bought a special gun that allowed me to reach prizes from further away – I was able to use the gold coins I'd accumulated so far.
You can also choose to battle with other people for their boxes. I'm not really sure how this works – as it appears the person you steal from doesn't actually have to be online.
The first three boxes I was given had something like a 5 hour wait on them. So, I imagine mine will get stolen when I log off at some point.
The actual game itself got pretty dull fast if you're just around the house – it is something you could do being outside as well, but I have a feeling the novelty would likely run out pretty fast.
How Do You Get Gold Coins In Snatch?
You can accumulate more points by….
Inviting friends, 100 coins,
Snatching a parcel, 100 coins,
completing a mission, (deploy attack gadget 3 times) 250 coins,
Open one parcel 100 coins.
You can use your gold coins to buy various snatch gadgets and some other unique items, like radar goggles or camouflage.
What About Gems?
There are also gems that you can purchase for cash and this means you can go ahead an purchase some special defence items, without having to save up coins.
For example, the radar Goggles were 80 gems and you can use these to help you in battles and so on.
You can also buy coins with gems.
The issue is, buying gems would definitely start to get expensive and since they have this option, they should really be providing better prizes over all.
If you wanted to buy 2,400 gems – it would cost you £19.99 in the UK and I'd guess the same in dollars US.
You can see how much the bundles are below:
Snatch App reviews Online – What Do You Think?
On the App Store – Snatch App currently holds 4.2 stars on average and over 2k reviews.
On Google Play – Snatch App only has 3.5 stars and. close to 2k reviews.
The comment below basically sums up some of what I'd been thinking while playing……
It is a pet hate of mine to give away offers as prizes – that is, offers you can literally find anywhere.
But especially when you then get tied into a subscription if you don't cancel.
In fact, sites like Swagbucks actually PAY YOU to sign up to similar offers.
You will earn a small cash reward for signing up for an offer and then you need to remember to cancel it before you're charged.
Some other negative reviews also talk about the App crashing a lot and I imagine this is when you're out an about.
They have stated that they had some technical issues initially, which have been ironed out.
I didn't have any technical issues, but this may have been different outside my home and not on Wifi.
People keep mentioning the old app, which they claim is better – I wasn't aware of an older version so, can't comment there.
Another criticism is that the defences don't actually work and so protecting your parcel doesn't feel possible.
There are mixed reviews – some of the good ones do sounds a little over the top, so may not all be real either.
For example; anyone that purely gives a 5 star review and says that everything is amazing and incredible?….. Doesn't sound convincing from what I've experienced.
I have tried out many side hustles online – check out 10 that paid me here.
Snatch App Review – Concluding Thoughts.
My conclusion with this App is that it's a GREAT concept, with poor execution.
The game itself gets boring quite quickly. When you get your parcels, you're not then notified when attacked.
So, you can simply return to the App and find your parcels are gone, or coins taken.
The prizes, for the most part, totally suck and are not prizes.
FREE OFFERS ARE NOT PRIZES! …. and, like I said, you can get actually get paid to join similar offers on platforms like Swagbucks, (which are also free to join).
So, I really hope they scrap these and start including more quality prizes that you can't just pick up with a Google search.
Even if it's something like 50% off a restaurant or store that don't normally offer that discount – that sort of thing would hold more value.
The reason that Snatch include these offers, is that they get paid a commission when you sign up.
Will I Be Keeping Snatch App Installed?
I will check it out for a while longer, but I imagine the cash prizes and anything decent will be very hard to get.
Have you won any premium prizes with Snatch App? Let me know in the comments!