Stencil Review: What is Stencil And How Can It Help?
Stencil makes it simple to easily and quickly create simple graphics for your blog, website, or social media channels.
If you need a blog header, an amusing banner post for social sharing, a shareable banner post to add to Pinterest, to name a few- Stencil makes this fun, quick and easy to achieve.

You can sign up to Stencil for free here!
Social media is huge – but being proactive in all of them can be really challenging.
However, if you have a few favourite channels to focus on, Stencil makes it super easy to share images that you've created across all of those channels incredibly easily, (I will show how in a bit!).
Shareable content can be a great way to get eye-balls to your website, blog or social media platform.
If you regular post shareable content, you can grow your following on social media more quickly, get more engagement and get more people to your business – Stencil makes this simple to do.
Stencil have over 800,000 royalty free photos that you can use in your images and you can manipulate and change various aspects of your creations, such as by changing fonts, text size, background and so on.

Stencil: Makes Sharing Easy On Any Social Platform!
So, like I just mentioned, a super feature of this software is that you have the option of resizing any of your creations instantly, in order to share on social media platforms.
On other sites similar to this, I've had to create completely new banners depending on whether I was sharing on my blog, to Facebook, twitter, or Pinterest – and this can be very time consuming.
At Stencil, you can just select quickly what size you need, (see below!)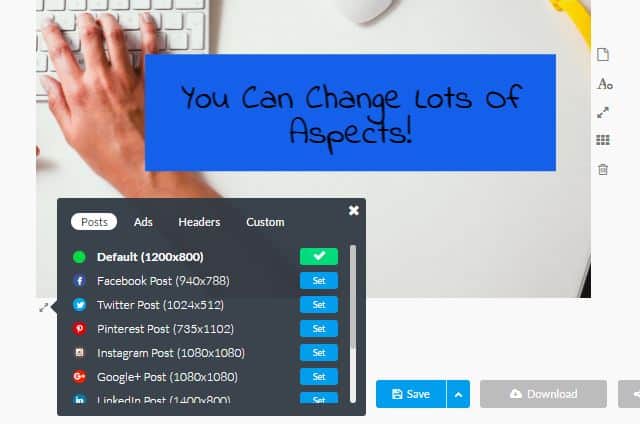 How easy is that?!
It can be a very good idea right now to create Pinterest friendly banners, because Pinterest can be a really great source of traffic and the more repins you get, the further your reach can be.
With Stencil, it can be done with a click of a button.
Stencil even have a thumbnail for YouTube option, so you'll have no problem creating images for your YouTube videos.
What Does Stencil Cost?
Another benefit to Stencil, is that you can start off completely free.  You're able to access 10 free images per month as a free member.
For $9 per month though, you get access to 50 images , or for $18 you can get unlimited images.  Plus many other additional features, (see below!).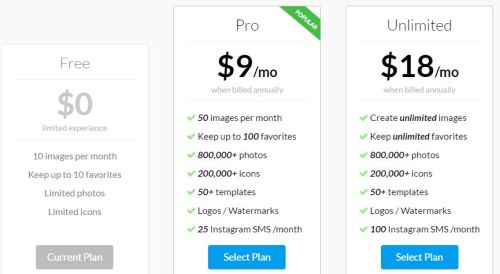 Canva Vs Stencil
Now, I'm a huge fan of Canva, (a similar platform) but for many images you do need to pay $1 per premium image or icon – and that can really add up if you're creating a lot of posts!!
There are more images available on Canva, but the images at Stencil are free or inclusive in your monthly membership – which would work out considerably cheaper if you plan on using it regularly.
For example – You get 50 images for $9 a month at Stencil, whereas you'd have to pay $50 for the same amount of premium images on Canva!
Canva does have some free images and templates, but I tend to always find myself buying the premium ones, as generally they are a lot better.
Another difference is the sharing options.  Stencil is created with speed in mind, you can very quickly put together and share images around various platforms – whereas Canva is somewhere where you'd take a bit more time on your images.
With Canva, there are particular individual templates for different purposes e.g. pinterest, YouTube, blog header, Facebook.
Whereas with Stencil you can adapt the image you create to share on any platform, by just using the resizing option and clicking a button.
With Stencil, you can also access the software very quickly, if you have the chrome or explorer extension uploaded.
So, while I love both Platforms, I can see that Stencil may be quicker and more cost effective for many people.
Do Customers Of Stencil Say?

Other Cool Features On Stencil:
If you don't want to stick to their images, you don't need to!  You're able to upload any of your own images and use those instead.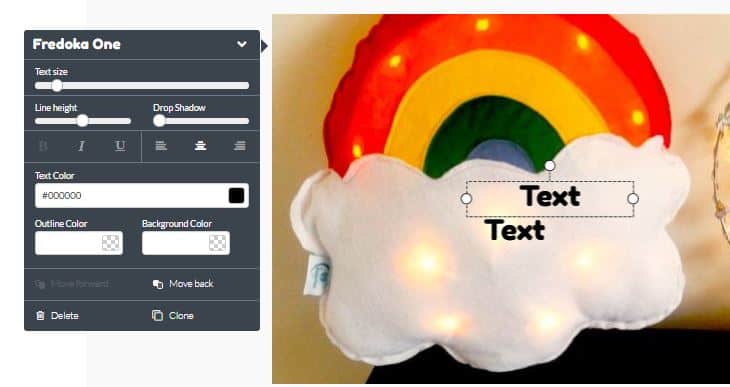 They've also recently introduced a new feature – they now have popular quotes ready and waiting for you to use on Stencil, so that you can easily add them to your post.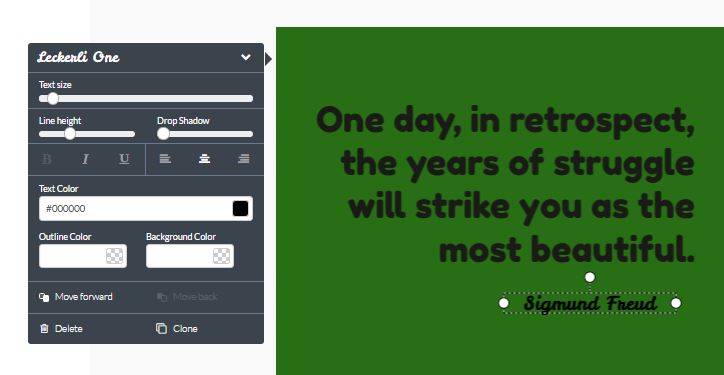 There are also templates that you can use, but you need to be a premium member to access these.  There are 50 templates to choose from.
Plus, as mentioned, they have a google chrome or Explorer extension download, which means you can easily access Stencil right from your toolbar.
Ultimately, it's very simple to get started here and everything is laid out in a way that is super easy to navigate and explore.
I think Stencil is going to become one of my new favourite tools!
Have you tried Stencil before – have you found it's increased social media activity for your blog or website?
Let me know in the comments!
All the best,