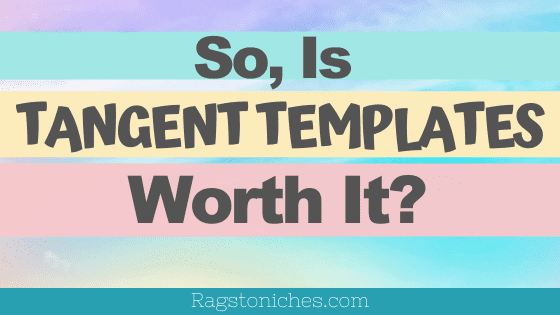 Considering this product is called Tangent Templates, maybe you'd expect that I'd be using the templates more than anything else.
But actually, the various templates available, (and there are a lot!) are probably one of the features that I use the least.
That doesn't mean this product isn't worth the purchase… Far from it! It's worth it for the templates alone!
This is actually one of the KDP tools that I use the most overall.
I'm not keen on MOST ready made templates generally, because I think it's important to have unique books.
However, using simple interiors such as lined pages, or even simple planners – is totally OK.
There is much more to Tangent Templates than just that though.
If you're interested in my full review, check out the video below, (where I run through all the features).
Update 2023: the amazing duo that is Katharyne and Issac, have recently released a brand spanking new course that will help you to create amazing coloring pages with Midjourney. I cannot wait to take a look at this and review it soon. The course is called: IMAGINE
For the purposes of this post though, I'm going to concentrate on the three features I use the most!
Spoiler alert…. YES, Tangent Templates is worth it.
It's far more than just templates and I think it's a good idea to read about some of the other features, before you make the purchase.
My Number One…. The Tangent Builder:
This is what I use to put every book I have together.
Within it, you can upload PDFs as a document or single pages and also use all the templates within the program, to simply click and build up your book.
I usually use Canva to create my interiors – but it is quite long winded to create a whole book on there. Because you have to keep duplicating pages one by one and you can also only have 100 pages per document. Update: I believe it may be more now, but have yet to test it.
With the tangent builder, you can click and duplicate pages to whatever quantity you want, at the click of a button.
I also like that fact that you CAN also mix and match your own designs, with some of the ready made templates.
For example; there are some simple children's game templates on there and these can be combined with your own pages.
For example; some additional activity pages could make a nice addition to a children's low content book.
You may also want to mix and match your own interior pages, with that of a dated planner – which you could create really quickly in Tangent Templates.
My Number Two…. The KDP Helper!
The next tool I love and use all the time, is the KDP helper!
This is where you can input your book dimensions and pages, plus whether you need a bleed or no bleed and then it will give you ALL the measurements you need, for various programs.
As a CANVA user, it specifically gives me the exact dimensions I need for my COVER and for my INTERIOR.
It also provides you with templates that you can upload to CANVA, to ensure all of your text and images are within the correct margins.
This just takes the hassle of having to work these things out yourself and it was especially useful to me as a beginner, because I found all the working out of the dimensions and so on, very overwhelming and confusing when I'd attempted to look it up on KDP!
If you're not a CANVA user, it also gives you the info you need for powerpoint, keynote, indesign, photoshop and illustrator.
When I first started learning about KDP, the whole book measurements and bleed/no bleed aspect really confused me and so, it was such a relief to just use this tool and not have to worry about it anymore!
My Number Three… The Listing Helper!
This is something you use in combination with their free chrome extension.
You can use this tool to input all your meta data for your books in advance.
This includes all your book info, including….
Your title/subtitle,
Description,
author name,
keywords,
categories.
So, when you come to upload your book, you can simply fill in all this data automatically, with the click of a button.
This is especially useful when you're creating multiple books within the same niche, or related niches, whereby much of the metadata may be the same.
It can also be a place outside of amazon, where you can review your metadata and keywords – without having to physically go into your published book on amazon.
As someone who does try and create multiple unique books within the same and related niches, this is very much a time saver.
Also, when you do have a success with a book, it's good to be able to go in and check on all the metadata and compare it to other books and their results.