Testbirds is a Usability Testing site that I mentioned in a recent post, where I shared 15 different website testing sites.
This one, was one I had yet to actually review yet and it looked interesting, so I thought I'd check it out and sign up & write up a quick Testbirds review.
So, what is Testbirds?
Testbirds test and optimise websites, games, apps and chatbots for their clients.
If you want to check out the usability of your particular application or product – you can get that done for a price here.
But what I'm looking at today is the money-making opportunity aspect.
Testbirds has 300,000 registered testers on their website at the time of writing.
As a tester, you will be the one performing small tests that will assess the usability of these websites or applications and pinpoint any issues that need addressing and improving.
You don't need any experience to join this platform – you can be a complete beginner.
They show you exactly what you need to do and there is some additional training on the platform as well.
How Much Can You Make?
Testbirds say that they'll pay you around 20 Euros for a standard test.
20 Euros is around £18 at the time of writing, although they mention paying £15, so I'm not sure if that's still the case.
20 Euro is around $22.
Generally, they say between 10-40 Euro is common and you can cashout from just 10 Euro, which you will have after your first test.
There is a basic test amount for actually completing the test and then you get additional payment for finding bugs.
You will get the most money for finding the most serious bugs.
You'll be invited to tests and they'll be a time limit within you which you have to accept – so, you can decide whether to participate or not.
When you want to make a withdrawal, you can cash-out via PayPal.
Are There Technical Requirements?
Much of the time, I find sites require you to either have a Mac or PC.
But Testbirds say all you need is a device that will access the internet – so, your smartphone or tablet are completely fine too.
I couldn't see the option for a chromebook though, so that doesn't seem to be an option right now.
How Do You Become A Tester?
Head to their website at https:www.testbirds.com
Here you will be able to read exactly what sort of services they offer.
If you scroll all the way down to the end of the page, you can see a "become a tester," link – which is on the left hand side.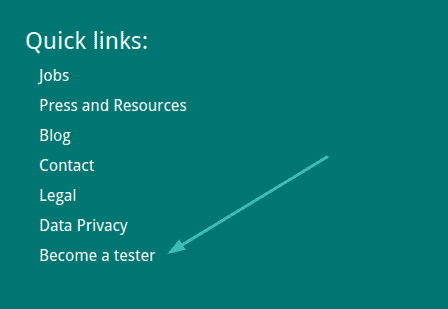 Here it will prompt you to sign up with some basic details – including your name and your email address.
Despite this company being Germany based, it appears you are able to sign up from multiple locations worldwide.
Once you've completed the quick sign up – you need to confirm your email address.
After that, you need to choose your devices.
From here you can browse the platform or start your entry test!
The Entry Test:
Most usability testing websites, will have an entry level test first.
Usually, you don't get anything for it – but Testbirds actually give you a 5 Euro bonus, which is a good perk.
You can't withdraw this, until you have completed your first real test though.
However, be aware that this is not a short test! Testbirds say the test will take 45, to 75 minutes!
So, this is a bit of a time commitment to get started – however, you don't have to complete it all in one go.
You can do a little and then save your progress and continue at another time.
Other Features!
BirdSchool:
Here there is some more training to help you to become a better tester.
They can also teach you how to become a "leadbird," where you can earn additional money for promoting Testbirds.
I didn't realise Testbirds had an affiliate program, you can earn community points by recruiting others – but I'm unsure how that translates financially.
Video Tutorials:
Some additional training to help you on your way.
Videos right now include:
How to accept a test invite,
Writing a test report,
Submitting a bug,
How to do a usability test,
Remote usability example.
Building Up Points:
There are two types of points you can build up – experience (Eps) and community points, (Cps)
Your Eps reflect your experience as a tester – the more tests and experience you have, the higher your Eps will get.
Your Cps will increase when you perform helpful actions in the Testbirds community.
For example; this could include replacing someone in a test, recruiting a new tester or more.
I believe having a higher Eps may mean you're more likely to get offered the higher paying tests.
I'm not really sure how getting the Cps will benefit you though, it's not very clear to me on that account.
PROS VS CONS of Testbirds:
PROS
5 Euros for completing your entry test,
Good reputation, with 300,000+ testers Wordwide,
Beginners welcome,
Can be well paid,
Training videos and guides,
PayPal payment,
Points for referring others,
You can earn points as you become more advanced, potentially getting higher paid tests.
CONS
Still just extra income website testing,
May be limited tests,
The entry test is long – up to 75 minutes.
Is Testbirds Legit?
Yes, you'll be able to make a small amount of money with this platform and Usability testing can be rewarding and enjoyable.
Just know that you're not going to be making a full time income from website testing.
The amount of tests you get really does vary and while you may get several in a day one week, you may only get a couple the following week.
To get the best chance of getting tests, it's best to sign up to a few different platforms and then you'll have more of a chance.
You can find 15 different Usability sites here.
Concluding Thoughts:
Testbirds is a decent Usability testing platform, where you can just get started, or improve your skills as a tester.
If you're looking to make some extra cash online, this can be a much better option than many other opportunities – such as online surveys, which typically pay badly.
I still complete tests online for a little extra income here and there – but I spend more time trying to build up income streams that will pay more.
A couple of the main streams of income come from having this website, via paid advertising and affiliate marketing.
You can learn how to make money from a website here.
I also wrote about 40+ ways you can make money online here.
All the best,