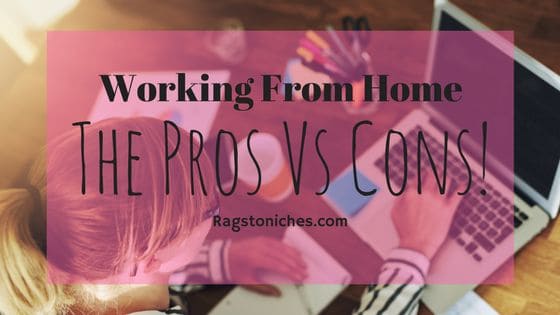 What are the advantages and disadvantages of working from home?
At some point most people probably wish they could work from home – the idea of working all day in your PJ's does have some appeal.
That being said, as someone that works from home, I always get showered and dressed first thing in the morning.
I do this just as though I was getting ready for a job in the outside world – as it gets me into the working zone.
So, working from home is not the same as lazing about and watching daytime TV…. and I think it's when this reality sinks in, that the appeal can start to wear off.
Working from home is now on the increase though, with many people being able to bring their office jobs home.
But is it all it's cracked up to be?  In this post, I will consider some of the pros and cons of working from home.
PROS
Yes, you COULD stay all day in your PJ's and no one is going to judge you… (well, apart from you ).
No horrible traffic to deal with, no being squashed like a sardine in a train, tube or bus.
No one to clash with at work.
No one constantly checking on you and seeing what you're up to!
You choose your breaks!  You can actually get up and go for a pee break or make a cup of coffee…. without asking anyone's permission.
You can completely avoid the general public, (if that's an appeal!).
It's introvert friendly.  If you're an introvert, you will really enjoy the peace working alone, (no team work required – woohoo!
More family time!  You can spend more time with your family.
You can cook yourself a nice homemade lunch and not be tempted by unhealthy treats in shops or cafes.
You spend less… how many times might you eat out or buy something from the shop when you're working, you can really avoid that at home.
Super flexibility…  you don't have to fit your work around the traditional 9-5 hours.  As long as you're disciplined, you can work a schedule that suits you.
Less distractions… while there are many things that could distract you at home, at least you don't have the annoying noise and other people that will make it harder to concentrate.
Less stress!  If your work is stressing you out, you have the option for a break whenever you choose.
CONS
Will power is key.  If you don't have will power of steel, there will be times where a "working day," turns into a Game of thrones marathon, (or whatever your current program of choice is!).
Your daily start time can be an issue.  Your 9am predicted start can easily become midday if you're easily distracted…
Self motivation is essential.  If you don't have the self-motivation, you'll have to grow some, or it will not work out well.
You may get bored with just me, myself and I to talk to….  and no work friends to laugh with.
Loneliness can be tough! You may well find yourself getting lonely with main social interactions being with the family pet, (cats aren't great conversationalists!).
Home may suddenly get a little bit dull when you're spending all your time there.  You may suddenly be desperate to get out once your partner returns home from work, when they're knackered from a full day at the office.
It may be hard to switch off from work, now that you're constantly surrounded by it.
Tips For If You're wanting to Work From Home, Or Create A Work From Home Business…
You'll feel more in control if you do set yourself a work schedule.
You need to set a clock in and off time – a "work," period and a family/social time.
I used to find myself still glued to the computer at 12am…
While that does still happen on occasion, I make a major effort now to have some free time with the evening with my family and UNPLUG!
The same goes with weekends.
You may think you want to work at home, but then realise the feelings of loneliness are overwhelming you.
If all your regular friends work normal job hours, then it can be difficult to stay connected with people.
One solution, is to have a small part time job somewhere, maybe half a day or so a couple of half days a week, to still be connected to the outside world.
Or alternatively, taking up a class or two.  If you're into art, join an art class… join yoga, or creative writing.. whatever it is, it will be a way for you to meet other people.
You could also look on forums for other people doing the same thing, maybe in the same line of work and also working from home – so, you could form friendships with people whether it be online, or people living close by you.
You could seek out other people working at home in your area and create a weekly meet up.
Ultimately, you won't know for sure whether working from home is for you – until you try it.
So, if you're in a full time job right now, maybe don't close all doors within the traditional job world right away.
Keep your foot in the door a little, in case you choose to return.
I personally considered so many options when it came to working from home and for a while, it made my head spin.
From various MLM's, I looked into multiple franchises, data entry, virtual assistant work, self-publishing, freelance writing, I considered a lot of different options- but I still couldn't decide.
As many of you may know, eventually I found this community and learnt about internet marketing.
it really opened up my eyes to opportunities, that I was totally unaware of.
What sort of work are you thinking of doing from home?  Let me know in the comments!
All the best…