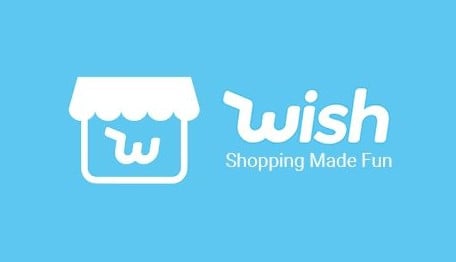 In my Wish App review, I will be exploring this new way to make purchases via your smartphone.
Is Wish App legit, will it save you money…  and does it really make shopping fun?
Or is this app full of cheap junk, not worth buying?
I downloaded it to find out.
So, What is Wish App About?
This is essentially a shopping App and has gained quick popularity, partly due to some of their incredibly low prices.
This App creates a personalized experience, by recommending products that you're likely to like, (based on your past purchases, views and rejections).
In order to start shopping, I needed to first sign up with my email address, full name and a password.
It's a shame you can't fully check out the App without first handing over your details, but I went ahead and signed up anyway.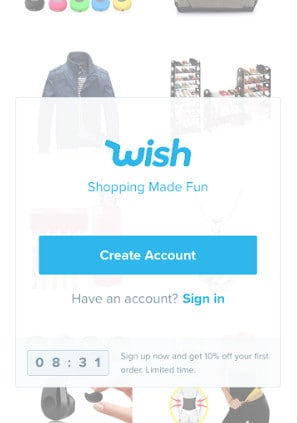 They try and entice you immediately into signing up, by giving you 10 minutes to get a 10% discount.
If you sign up within that 10 minutes, you get 10% off your first order, (a little marketing tactic here, but I'm sure it's successful!).
In any case, once you've added those few details, you can get started shopping immediately!
Do you have other Apps that you recommend?  Don't be shy…  Leave a comment below and share!
Wish App First Impressions:
So, once I logged in, I was immediately offered a free gift!
You can see some of what I was offered below….
I mean, largely a load of cheap tat that you really don't need….
Although, the toilet light thing was intriguing….  😀
I wanted to know more, but when I clicked on the item, it led me to a page to enter my address details.
It wasn't asking for any payment information, so it genuinely seemed like a free gift?
Although, I did wonder whether it would also mean you'd be sent a bunch of junk mail offers in the post from then on into eternity.
Anyway, I googled the toilet thing and it's actually a multi-coloured toilet night light, (I never knew such a thing existed!).
I decided to just go for it, but no sooner as I had put in my address and my telephone number, it then DID take me to a page for my credit info.
Why?  Because they are charging shipping.  In this case, it was 40p, (I'm in the UK).
No, it's not very much, but I still didn't want to pay it for something I didn't want, nor need.
I'm sure there is some ploy here for you giving them your payment details before even checking out the website, maybe to make paying easier when you start shopping?
Making it more likely for you to purchase from then on?
I'm not really sure, but I didn't want to do it.
So, instead I decided to come out and check out what else they had on offer.
I said I didn't want a free gift and was sent into their marketplace section.
There was the toilet seat again, (for £2 rather than free this time…)  They must think I am really desperate for one now…
Are The Prices Accurate?
There are all sorts of percentages off and in high amounts, such as 96% off!
It all sounds very good…
But although this may be off the original price somewhere in reality, it doesn't mean you can't still buy these things cheaply online elsewhere.
For example; the toilet light was £2 here, they say it was £7 originally.
But, on the free gift page, they say the original price of the item was £16…..    (you can see so in the image above, then see the change in the image below).
So, the *original price,* was £16 two seconds ago and now it is £7?!  Hmm….
Anyway, you can pick it up for under £6 on Amazon, so I'm not sure where they base their prices.
The shipping would be £1, so it would be still cheaper than Amazon in any case.
So, even if the *ORIGINAL* prices aren't really accurate, the items still seem somewhat cheaper on Wish than elsewhere.
But what About The Quality?
Having a look at some of the comments as I browsed, quality is definitely something that is frequently mentioned… (Or the lack of it!).
But, for these extremely budget prices, you can't really expect much more.
I will personally be buying some things and seeing how the quality is myself, so I will update this once I have.
The Genius Of Wish App:
As I started browsing, I almost immediately noticed seeing more and more things that interested me.
Already, their algorithm was working its' magic and notifying me of other products I may like.
I found myself adding more and more to my basket, also aware that this would allow the APP to learn to show me more and more things that I'd be interested in.
I started to see the danger here…
I could end up buying loads of this stuff, just because it's dirt cheap.
I started almost feeling a bit of a buzz by adding items to my shopping cart….
Is this making "shopping fun…?"   
Or is this just tapping into a previously dormant shopping addiction?
Related Post: My Favourite Extra Cash Sites!
Wish APP Reviews Online:
So far, Wish App has some excellent feedback online as far as the App stores go.
Although, not so much when it comes to some other review platforms, (see what I mean below).
Currently boasting 4.6 stars on the App store and coming up to 50k reviews at the time of writing and appears so have some glowing reviews.
It has another 4 and a half stars on Google Play and even more reviews, heading up to 70k ratings.

Some people have complained about things such as, the items not arriving, or poor quality…
But there have been many, many reviews from people that are very happy with their purchases and enjoy using the App.
On Trustpilot, there have been over 6k reviews, but this time not as glowing!
In this case, on average the reviews are three stars.
Some criticisms point to the long waiting time for delivery, lack of customer service and items looking nothing like how they do on the website.
It seems that many items are sent from China and, as a result, they offer refunds rather than returns.
Although, they encourage you to order a replacement after refunding, which some have done successfully.
Some people have been asked to wait weeks and weeks for delivery.. But I guess you do get what you pay for here.
If you're paying next to nothing for a lot of items, expect that there may be a downside..  Such as poor quality and waiting weeks for delivery!
Wish App On YouTube!
I also took a look on YouTube and saw what some other people were saying.
There are plenty of reviews on there actually and it was pretty amusing what some people had to say.
For example….  check out the video below, where Patricia actually spent hundreds of dollars on various items on Wish, (with varying degrees of success).
She made a good point of saying that they do add shipping to EVERY single item.
So, this is going to greatly increase the amount you actually spend in reality – as sometimes your shipping will be just as much as the actual cost of the item.
She also noted, (as I did earlier) that sometimes the same item is priced differently.
You may see the same item on a page on Wish and they'll be too different prices, which isn't very consistent and is bound to annoy people.
You also won't know how long your items will take until you go and pay for everything – and it can take a long, long time.
In any case, the video is pretty hilarious, check it out.  🙂
How much you're going to rate the Wish products, is going to depend on a variety of factors, including how much you've spent, your personal taste and what sort of item you've bought.
I personally just wouldn't take the risk with clothing myself, not only because the sizing could well be totally off and you can't really tell what a material will be like on a photo, or how it will fit.
PROS VS CONS
PROS
Some extremely cheap items.
Some of the shipping costs also low-cost.
A large selection of items.
Potentially you can get some bargains.
You can check customer feedback on the App for each item.
The App learns what you like and will show you more of what you're after!
CONS
Shipping can take weeks.
Items can be poor quality.
Some items listed for different prices, so you could end spending more for the same item.
Is Wish App A Scam?
No… This App has thousands of positive reviews online, from customers who have been satisfied with their purchases.
However, there are also many people who have not been happy with the quality of items, the long wait you have for delivery, or their customer service experience.
The good news is, it's not going to cost you much to try out Wish for yourself!
I would recommend that you don't spent a lot of money the first time, maybe just buy a couple of  items and see how you find them first, (rather than going crazy on your first visit!).
I will be buying some items here and I will update my review to let you know how I got on.
So, that's all for my Wish App review today…. Do you have any experiences you'd like to share with this App
Let me know in the comments?
All the best,