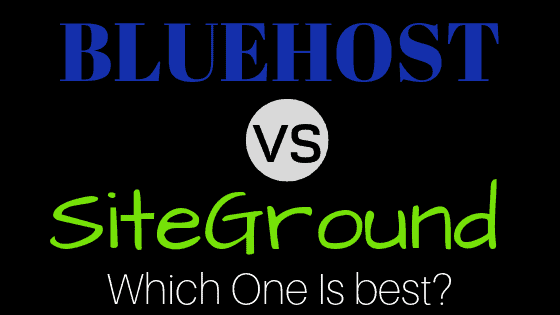 Bluehost Vs Siteground…. Which one is really the best?
When I first started blogging, I noticed that Bluehost appeared to be the most frequently recommended hosting company out there.
However, after looking into Bluehost myself, I started to notice a lot of negative feedback, coming from dissatisfied customers.
So, why was Bluehost continuing to be recommended by so many bloggers online, as their top choice?
Well, there are a couple of things you need to be aware of first!
In the past, a whole bunch of successful bloggers recommended Bluehost as their own hosting choice.
Following in their footsteps, a huge amount of new bloggers took their advice and signed up with Bluehost as well.
After seeing the decent money you could make by recommending Bluehost via their affiliate program, the new bloggers also recommended Bluehost too.
This made perfect sense: Of course bloggers are going to recommend the hosting company they are with …..and also make money in the process.
This seemed to create a knock on effect, whereby more and more bloggers would take this advice and then recommend Bluehost too.
This shouldn't be a problem, if Bluehost is really the best choice for new bloggers…….. but is it?
Well, all hosting providers have their PROS and CONS… So, I wanted to really see what these were in this particular case and did some investigating.
I decided to compare Bluehost with Siteground – as these are now two of the most mentioned hosting providers in the blogging world today!
Bluehost Vs Siteground – Which Started First?
You'd be forgiven for thinking that Bluehost had been around for way longer than Siteground, but I was surprised to discover that that's not the case!
Bluehost first started in Utah in 2003, whereas Siteground started in 2004 and was originally a Bulgarian company.
They are both also a similar size – with both hosting around 2 million websites.
This was surprising to me, considering that Bluehost is certainly a more popular choice and more recommended online than Siteground is.
What Do You Look For In A Host?
When choosing a hosting provider as a beginner online, there are some key factors that will likely play the biggest role in your decision.
For the purposes of this review, I will focus on comparing the following factors:
Overall Cost,
Getting Started, (Ease Of Set Up),
Hosting Features,
Security/SSL Certificate
Site Support,
Site Speed.
I think many people starting a new blog don't realize how one host can be better than another — or what factors they should be looking for in a host.
Some considerations, such as site speed, are much more important now that Google has included site speed as a ranking factor.
It's hard enough to maintain your site speed to a good level as it is, without having to worry about your host being slow as well.
So, during this post, I'm going to give a comparison of these key issues between Siteground and Bluehost and see who wins out overall.
Let me know what you think in the comments at the end of this post.
How Much Will It Cost?
Many people may initially decide on their first host depending on the cost… which is cheapest.
However, that decision could well come back to haunt them years down the line…
There are really way more important factors to consider when choosing a host, than cost.
However, if you're just getting started, price may be at the forefront of your mind and this is understandable.
So, what's the difference in price between Siteground and Bluehost?
Well, actually there isn't a gigantic difference here – Siteground is a little more expensive.
However, please note that prices do change. You can also get lower prices for signing up for longer time periods.
So, if you want an accurate description of the current prices – you can find them….here for Siteground & here for Bluehost.
Siteground Pricing:
Hosting plans start from $3.95, (£2.95) per month for the start up plan – for 10GB of storage.
While this 10GB of storage does seem a lot less than Bluehost – it's generally more than sufficient for anyone starting out.
As you can see, there is a small difference in price between these two hosting providers – but this is not the most important factor to consider – as we will see!
Bluehost Pricing:
Bluehost pans start at just $2.95, (£2.43) per month and you also get a free domain name thrown in.
They also provide you with 50GB of storage and unlimited bandwidth, which is quite a leap from the 10GB of Siteground.
The downside of this $2.95 price however, is that you do have to pay for an entire 36 months in advance – to pay for a 12 month term, this jumps to $4 per month. Practically identical to Siteground.
Regarding Bluehost, having to sign up for 36 months to get this special entry price of $2.95.
This isn't a great option for brand new bloggers – considering that, (being totally honest) many bloggers may not even stick with it for that long!
You may just want to see how it goes before you jump into committing to a three year plan.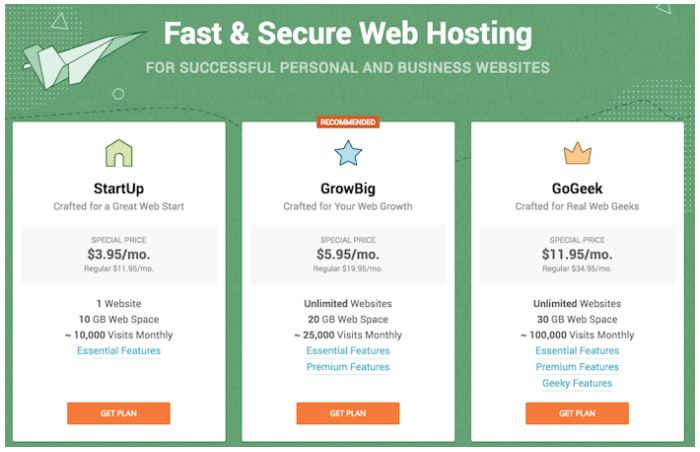 So, overall Bluehost IS a bit cheaper – but let's see how they match up on other aspects….
Getting Started – Which Is Easier To Set Up?
Both Bluehost and Siteground are easy and simple to use, even if you have zero experience setting up a website before.
Both have a bunch of Cpanel based extras for things like security, plugins, themes and more and you should be able to figure out how to.
However, Bluehost seem to be a lot more salesy in their approach to upselling and if you are someone brand new online, (with little understanding of what is really necessary) you could easily get roped into buying things that you don't need.
That said, both platforms are not complicated to grasp and that's an important factor for any beginners.
It's also worth talking about WordPress installation – since a majority of people joining either Bluehost or Siteground, will be opting for WordPress as their content management system.
Both platforms have simple WordPress installation – you're talking about a few clicks to set it up….
However, it appears that Bluehost does not provide automatic plugin or system updates – it also doesn't have a caching system, you need to use a Plugin.
Whereas Siteground does have an in house caching system and so, you won't need an additional plugin for this.
Hosting Features Compared.
It's only fair to compare the different hosting features, which could be vital to you as your blog grows over time.
Bandswidth:
how many visitors can they handle? Both Siteground and Bluehost do NOT have a limitation on the amount of traffic you can generate to your website.
I have seen some review claim this, but it's not the case.
For example; the Siteground beginner plan is based on you having up to around 10k visitors per month.
However, that is purely a guideline, rather than something set in stone.
Siteground don't suddenly shut you down if you get over 10k views in a month – and your website won't crash or anything like that.
If you have any queries about which plan you should be on, I personally have found their customer service really helpful in this regard.
How much storage space available?
Bluehost actually provides much more space than Siteground does.
Even at an entry level, Bluehost offers 50GB and Siteground only offers 10GB.
As for the middle and upper, Bluehost offers unlimited space – compared to Siteground, which offers up from 10GB… 20GB and 30GB respectively.
The space offered by Siteground will still be more than enough for most, but if you know in advance that you will need more Space, Bluehost is the winner here.
Security Backups:
We are all fallible and make mistakes sometimes…. So, having a backup of your website when you have a little hiccup, it really important.
So, what protection do these two have on offer?
Well, Siteground backs up every site for 30 days – which is awesome!
I was surprised to discover that Bluehost does not offer anything nearly as good as this… !!
For the lower level plans, you have to pay to have a back-up add on applied.
There doesn't seem to be an option on the control panel right now to do manual backups either.
With the premium offers it's included, but I would have thought they'd have more on offer in this respect.
It seems you can sleep soundly with Siteground on this one – this is a huge deal, because everyone wants to know their website is safe!
You also need to make sure you have a secure site and must have an SSL enabled, (HTTPS) running your website.
Both Bluehost and Siteground offer this for free, included in their packages.
As far as I can tell, both platforms have similar security measures in place. Both have SSL, SSH and SFTP access.
I have personally heard some horror stories of sites being hacked from Bluehost in the past, but this may not necessarily be the fault of Bluehost, so it's hard to determine this one!
Nothing is full proof, but both providers seem to be taking site security seriously.
Site Support – Which Is Better?
While both Bluehost and Siteground offer 24/7 site support via phone, livechat and email, there has been a lot of negative feedback about Bluehosts customer service.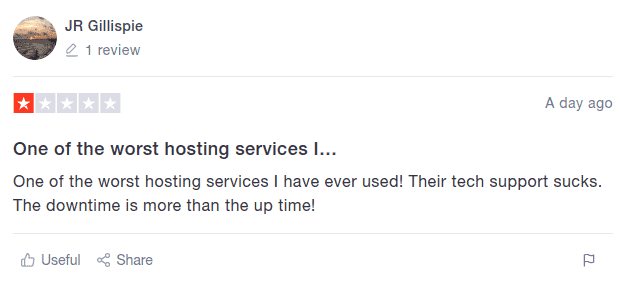 By contrast, Siteground prides itself on having excellent customer service and the reviews on this to match.
Having had my own conversation with Siteground on livechat recently, I can vouch for how helpful and friendly they are.
I was also surprised by just how promptly they replied to my query.
Check out on recent good review below.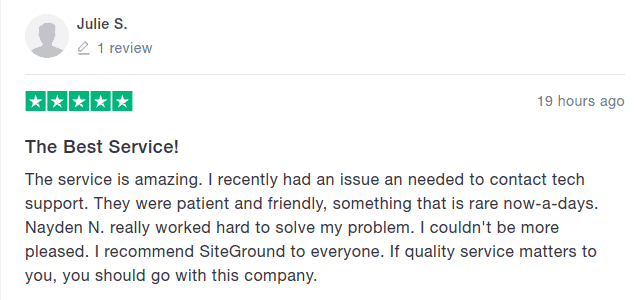 Siteground currently has 5 stars on Trustpilot… In comparison to Bluehost, which only has 1.5 stars at the time of writing.
What About Speed?
With Google placing a major emphasis now on Site Speed and particularly now how websites perform on mobile devices, it's vital that hosting does not slow your site down.
There have been numerous reports that Bluehost is not performing well in speed tests.
Data has shown that Siteground consistently wins out on Speed tests and this is a really important point….
Because, there is so much that we can often do to our own websites that slow it down as it is!
If our hosting is damaging our site speed as well, this is just an additional element that can effect our rankings in the search engines – as well as user experience.
According to Google research – it's said that you can lose 57% of your visitors, if your website takes over 3 seconds to load.
A sobering statistic for many of us.
Bluehost Vs Siteground: Which One Is Best?
I feel that Siteground is the clear winner here!!
Do you agree?!
The following benefits make it the superior choice to me….
Siteground websites have better site performance, (now site speed is a ranking factor in Google, this is incredibly important).
Siteground back up your website every 30 days for free and they have excellent customer service.
Siteground have superb customer service.
Siteground have excellent customer feedback online.
One last one I didn't mention previously — Siteground will migrate your website from another host for FREE! This is not something Bluehost offers right now.
The only reason you may feel more inclined towards Bluehost, is that you need a vast amount of storage.
But even then, I'd recommend looking elsewhere, due to their current site performance issues.
If you so choose to sign up with Siteground and are starting a blog, you may want to check out my step-by-step guide to setting up a blog.
It's an in depth post which is full of useful info that can help you not only start your blog, but also make money from it as well.
Have you had any experience from Siteground or Bluehost? Let me know in the comments below :).
Pin Me For Later 🙂