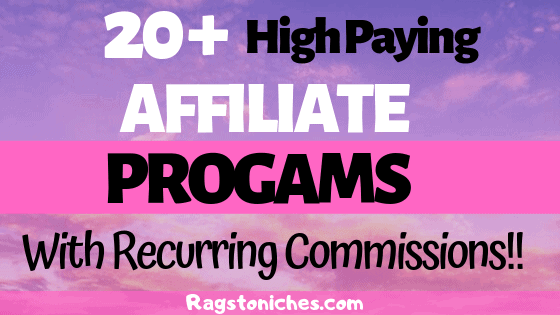 Affiliate commissions can be great and if you can get on board with some of the higher paying ones, even better.
However, in my mind the absolute best type – Are Affiliate Programs with recurring commissions.
This typically will involve a service or membership program, where you will receive on-going, monthly commissions – for however long your referral is a member!
So, (with SOME of these programs) if your referral sticks with the service for 10 years, you continue to get paid as well!
The most important thing is to find something that relates to your audience.
For example; there's not much point trying to promote an email service provider, when you have a pet related blog.
Unless you also talk a lot about blogging, some of these blogs can have a cross over.
But generally, the affiliate programs that will convert the best, will be the ones that solve some sort of problem your audience has.
Also, just because an affiliate program pays a reasonable commission, it doesn't necessarily mean it's a good one to promote.
You're going to have more luck promoting something that people have at least heard of before, or can see is well established.
Trying to sell an obscure email service that no one has heard of and doesn't have much feedback about it, is going to be significantly harder than recommending something that already has a great reputation.
So, in this post, I'm going to share some great high paying affiliate programs – that ALSO have recurring commissions.
Let me know if there are any big ones I've missed, (that you love!) in the comments!
Sales Funnels & Email Marketing:
Aweber:
I will add this first of all, because it's my email provider!
Still an affordable choice and therefore, great for people who just want something simple and don't want to spend a fortune.
While I started out with Mailchimp for free, I outgrew their free service…
Mailchimp can be quite strict about affiliate marketing and they also don't have all the functionality that Aweber has, so I made the switch!
This is a long established provider and a great option for people who are getting started with email marketing.
You get a very nice 30% recurring commission with their affiliate program and your payments will be sent out on a monthly basis.
Clickfunnels:
A popular service offering a 40% recurring commission.
You'll want to target people who are already somewhat established here – rather than total beginners.
This isn't a cheap service and will be for those ready to build sales funnels, landing pages, order pages and so forth!
However, some people are making gigantic commissions by recommending Clickfunnels.
Leadpages:
A Click Funnels alternative – another one for building opt in pages, landing pages, sales funnels and so on.
Like ClickFunnels, they also offer a 14 day free trial. The commission structure they offer is 30% recurring.
Thrive Membership:
Thrive have various products and services available and by becoming an affiliate, you can promote individual products, or their entire membership.
So, you can promote thrive themes, thrive architect, clever widgets, thrive ultimatum, headline optimizer, thrive ovation and thrive quiz builder.
You can also promote their thrive membership program – which offers the recurring commission.
They provide a great commission structure – 35% per purchase and 25% recurring commission.
They have tonnes of products available that can help you grow your email list and improve conversions.
Get Response:
Another popular email service provider. You also have a couple of different options for their affiliate program.
They offer the affiliate bounty program – where you can choose a one off $100 commission.
Or their recurring program, where you can earn a 35% monthly recurring commissions.
Convert Kit:
Convert Kit did have a recurring commission program! However, I just checked in on it and they aren't currently accepting new affiliates.
They said they're making some changes to the program and it should be updated soon – so, best to keep checking in on them if you're interested.
They're a really popular choice these days, as they do provide more options to you, but the cost means they're usually not the very first choice for beginners.
When the program was live, there was a 30% recurring commission for each customer.
Check if the affiliate program is back.
Search Engine Tools/Keyword Research/SEO:
Jaaxy:
You do get the basic tool here free if you are a Wealthy Affiliate member –
However, you can also pay for the Keyword research tool entirely independently as well.
You get $20 recurring for pro & $40 monthly recurring for enterprise. It's the keyword tool I have used since I started – You can get 30 free searches here.
LongTailPro:
Another really popular keyword research tool and a nice recurring commission offer as well.
You can get 30% recurring commissions for this one and you need to sign up via Clickbank to join their program.
Semrush:
Semrush is a fantastic tool and one that I wish was a bit more affordable.
However, if you have the budget, then it's more than worthwhile in my opinion.
Plus, their 40% commission can be very profitable if you have the right audience fit. Their keyword research tool is awesome too!
SpyFU:
The idea behind it is that you can Spy on your competitors, checking on their highest traffic keywords, rankings and more.
That said, I'd wouldn't take their data too seriously, as I have personally found some of it quite inaccurate.
You can check it for yourself, by checking what it says about your own website and best ranking pages etc – to see how accurate you find it!
Even the pages Semrush claims are my highest traffic posts – are no where close.
However, you can still get tonnes of valuable info from things like this, including plenty of content ideas!
PLUS… they do provide a good recurring commission of 40%.
Pin Me For Later! 🙂
WordPress Themes:
Thrive Themes:
I mentioned this already above – but worth mentioning again!
While you don't get a recurring sale if your customer only buys a single theme, you'll get a 25% recurring commission if they become a thrive member, (which includes all their themes in the package!).
Elegant Themes:
These pay out a recurring payment on a yearly basis.
So, if your referral pays each year for their theme, you can get a recurring commission.
Not as great as a monthly commission, but still worthwhile. plus, your get 50%!
Social Media:
Tailwind:
This is the only program out of these few that I'm actually an affiliate for and the ONLY social media marketing tool that I currently use.
They have 15% recurring commissions here. You can also get one month free via this link.
SocialOomph:
SocialOomph is a social media scheduling tool, with some affordable rates.
They also provide 40% recurring commissions available for the first 12 months of your referrals membership.
Social Pilot:
Another social media scheduling tool, that can help you automated social media posts, improve engagement and analyze the data.
They provide a 30% recurring commission.
Graphics:
GetStencil:
An easy-to-use graphics solution, that can easily help you create graphics for your blog and social media posts.
You can earn a 30% Commission, which is a pretty good option and one that I do use.
However, I waited forever & a day for CANVA to have an affiliate program, finally they do!
But it isn't recurring sob. Nevertheless, I have to recommend them as my #1…. As I use them on a daily basis!
E-Commerce & Dropshipping:
Shopify:
Shopify is just awesome in my opinion. You can get 20% commissions, recurring. However, there is a cap on this!
You can earn up to $2000 before you're cut off, (at the time of writing).
They're a great, affordable solution for easily creating an e-commerce store and have a bunch of free training included.
SendOwl:
While I haven't used this one personally, I have consistently heard good things about this service. You can earn 20% recurring monthly commissions.
Spocket:
With a high conversion rate of 6-11% this could be worth checking out.
They're a huge dropshipping marketplace for US and EU products and offer recurring commissions – although only up to $450 per customer.
Hosting:
Of course hosting affiliate programs are always going to be popular – if you want to start a blog, or a website, you're going to need hosting.
In fact, many bloggers make a full-time income from just recommending hosting.
However, all the main hosting providers that are constantly recommended, actually don't provide recurring commissions.…
Even though the commissions can be relatively high.
For example –
You can make $65 per sale for recommending Bluehost;
You can earn between $50 and $100+ dollars per sale, depending on how many you get per month for recommending Siteground.
With hostgator, you can earn between $50 and $125 per referral.
However, one popular hosting solution DOES provide recurring monthly and yearly commissions.
That is the Wealthy Affiliate program, where you *can,* get recurring referral commissions for the lifetime of the membership.
Affiliate commissions range from $8, (for the first month) to $175 for a yearly sale.
With average commissions per customer being $145+ and conversions from free memberships to premium being 8%, it's a solid program to join.
They also have a lifetime cookie – so, if your referral joins as a free member in 2019 – but then becomes a premium yearly member in 2020, you still get the commission.
In addition, they also have a tonne of training available for premium memberships, you can buy domain names on site and there are various other perks, making it an all-in-one solution for newbies online.
Check out Wealthy Affiliate here.
Online Courses:
Teachable:
This is an awesome platform where you can easily create your own online courses.
I've watched many a course, both free and paid here and know tonnes of bloggers that use it, (it will be my first choice when I start creating courses!!).
Plus, they have a great affiliate program with 30% recurring commissions. They pay via PayPal.
Paid Survey Referral Programs:
If you're going to promote paid surveys – I recommend you join programs that offer CPA commissions.
That means, one off payments per sign up.
That's because, many programs that promise you a percentage of the sign ups earnings don't work that well, unless you have many thousands of referrals.
That's because, most people get bored and don't remain active on survey panels.
Nevertheless, if you'd rather get paid a percentage of your referrals earnings for life, these survey panels all pay for referrals.
I still get recurring commissions from the referrals I originally got at Swagbucks basic referral program – before I switched to CPA.
If you'd rather be paid once per sign-up with a CPA network, I recommend the two networks: Panthera Network and Maxbounty.
Top Affiliate Networks You Can Join:
Many affiliate programs these days are housed within what is known as affiliate networks.
They will house hundreds and hundreds of affiliate programs and once you're a member, you can browse them and apply for them from within the platform.
I'm a member of a whole bunch of affiliate networks and they're a good way to find new programs – some of which could also be recurring!
Here are some of the main ones available:
Online Business Training:
Most blogging courses, or online business programs tend to pay a one off commission structure.
That is…. many of the ones I'd ever recommend! There is a lot of crap out there as well.
Systems and programs that do offer crazy recurring commissions, but which are structured to take more and more money from you and are not about providing value!
SO! That being said, there are a couple of training programs out there that do offer recurring commissions and some valuable training.
Affilorama:
This has been going for a long time and has a bunch of products – some of which are hit and miss in my opinion.
But they also have a bunch of quality free training, hours of video training with a lot of valuable insights.
In any case, if you do recommend Affilorama to your readers, you can earn 50% off ANY products they buy and this provides the opportunity to earn multiple commissions as well.
Wealthy Affiliate:
I mentioned it before and it's here again. It's where I joined myself several years back and continue to learn from today.
They have some great beginner friendly training, but they also offer hosting within the platform, tools, a community, live chat, tech support and much more.
The regular premium membership referral earns you $23.50 monthly recurring, but there is the chance to earn annual membership fees as well, ($175 every year – for as long as your referral is a member).
They have a free membership offer as well, which means you can access a 10 part training course for free and see everything on offer.
So, there are some of the best recurring affiliate programs available right now!
What's your favorite affiliate program? Let me know in the comments!
You may also want to check out some other affiliate marketing posts below!
All the best,