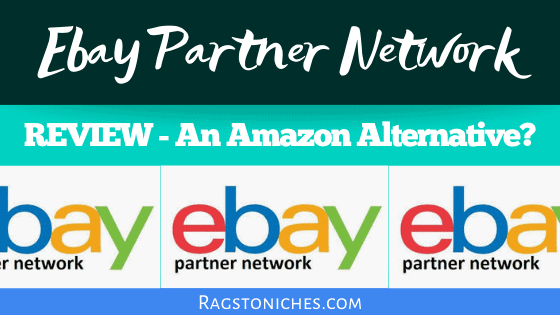 With the fact that the Amazon affiliate program has recently slashed its commission rates, it's made me start to look at other options.
The Ebay Affiliate Program, also known as the Partner network, was one of the first affiliate programs I ever joined and earned from.
I had a tiny website in an extremely narrow niche and it was with that website, that I made some of my first commissions.
However, since then I haven't used the Ebay Affiliate Program on subsequent websites, but am interested now in taking a look back and seeing if it may be an alternative to Amazon.
Firstly, even with my initial website, Ebay was always a program to complement the Amazon program.
But… What about being used as the main affiliate program you focus on?
And how to the commission rates compare now Amazon associates new ultra low commissions in 2021?
What Is The Ebay Affiliate Program & How Does It Work?
Joining the Ebay affiliate program is free and easy for beginners to sign up, because there aren't many requirements.
You can easily sign up, using your Ebay login details.
Once you're set up, you will be able to log into your affiliate dashboard, where you'll have a variety of tools to use.
You will also be able to keep track of certain metrics, by viewing your analytics. Things such as – clicks, impressions and sales.
How to make commissions/sales:
You need to find a product you want to promote – for example; if you have a cooking related blog, you may be searching for cooking appliances.
Once you've found something that will be a good fit for your content and audience you can create an affiliate link to that product using one of the tools in your affiliate dashboard, such as the link generator.
PROMOTE… Now you can promote this link. For example; by writing a blog post, or sharing on social media. Before to check the T&C's to ensure you're following the rules.
When someone clicks one of your affiliate links and purchases the product or makes a bid within 24 hours – you can then earn a commission, (more on that in a moment!).
When a potential buyer goes via your affiliate links to Ebay, they are tracked via a cookie that will give you 24 hours to make a sale.
Therefore, Ebay is now inline with Amazon, who also only has a 24 hour cookie.
Therefore, if your referral doesn't take any action for a couple of days, you won't get any commission.
This rule seems significantly more harsh when it comes to Ebay – because so many of us hold off from bidding until the END of an auction.
However, this is going to be less the case when you link to items that have a set price.
Ebay has changed drastically over the years in this regard and many items now are sold at a set price.
In fact, Ebay says that 90% of their items now sell at a buy it now price and that 80% of all merchandise is new.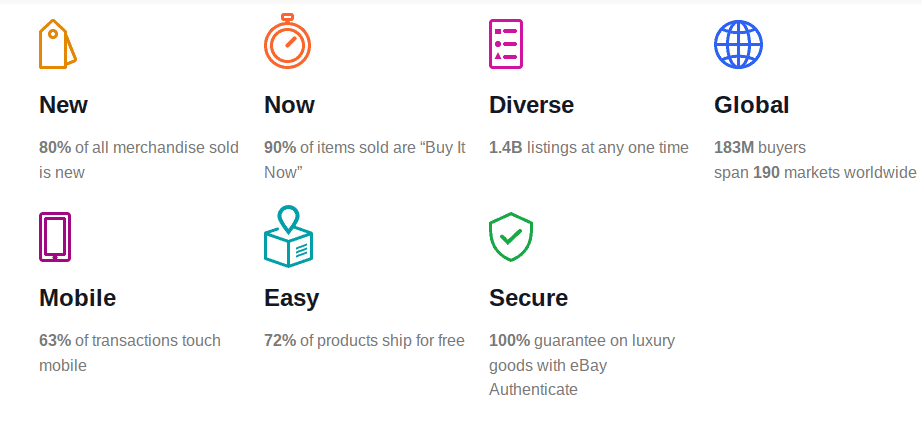 How Much Affiliate Commission Can You Earn With Ebay?
Take Note: Much Of The Info You See Online Is OUT OF DATE!
If you check out most blog posts, or even YouTube videos about the Ebay Affiliate Program, a majority that I've found is out of date.
Ebay have changed how their affiliate program rewards affiliates.
The new Ebay partner program no longer pays affiliates a percentage of their own revenue.
They now pay affiliates a percentage of the final sale price instead and this percentage is varies depending on which category the item is in.
This change has moved the Ebay program even closer by comparison, to the newer rates Amazon has introduced.
So, now how much commission you make is going to depend on what category the item that's sold is in.
Commission rates vary slightly between Countries and Categories – but ultimately fall between 1% and 6% of the final sale price.
For example:
lets say someone goes via your link for a dog bed.
The dog bed is priced at $50.
There is a 5% commission rate for US for pet supplies.
You earn $2.50 in fees for this item.
Ebay has also dropped a highly attractive feature of their previous program.
They used to pay you a bonus for both NEW or REACTIVATED users, (users that hadn't made a purchase in the previous 12 months).
In this case, you used to be able to generate DOUBLE the commission on offer. This bonus has now been eradicated.
Ebay says that, instead, they will be shifting their attention to providing bonuses only to the partners that bring in the highest quality buyers to Ebay.
In other words – bonuses to affiliates who make them the most money.
Although, there is no explanation for what these bonuses are, or what they could potentially be.

Ebay Partner Network Vs Amazon Associate Rates 2021?
I thought it may be helpful to look at some of the Amazon commission rates vs the Ebay ones and compare.
Many of the higher percentage items don't translate so well to Ebay.
For example; some of their highest commissions at 5% are for Amazon Homemade, (Amazon's answer to Etsy) – or music digital downloads!
But some things can be far more easily compared.
For example; the rate for TV's on Ebay is 2%… identical to Amazon.
Home & Garden items range from 3-5% depending on your Country. Amazon has most home items at 3%.
Ebay's rate for toys is between 3-4%; it is 3% on Amazon.
Frankly, the similarities go on and on.
Where Ebay wins out slightly are for items such as game consoles – with a rate of 2-3%… In comparison to Amazon's 1%.
You can get a 5-6% commission on beauty products on Ebay, compared to 3% on Amazon.
So, while you may prefer Ebay's rates over Amazon's in some cases, the difference in many cases is a slim.
Check out the full Ebay rate break down here.
Check out the 2020 Amazon rates here.
Alternatives to the Ebay Partner Network?
Below I'm highlighting four potential alternatives to both Ebay & Amazon affiliate programs…
Although there are many more than this and I will likely dedicate a post to this topic entirely.
Do you have a good alternative to the Ebay & Amazon programs? Let me know in the comments!
ETSY 🙂 :
I become an Etsy affiliate to promote house & home related items on another blog and have stuck with them for years.
While the commission rates aren't amazing, they are higher than standard rates on both Ebay & Amazon now.
New customers get you an 8% commission.
Returning customers get you 5% commission.
There is a 30 day cookie set.
You read that last part correctly… Whereas both Amazon and Ebay only give you a 24 hour window for a sale to be made, Etsy gives you 30 days.
By the nature of Etsy being largely homemade and vintage items, this isn't going to be a suitable program for everyone.
But you may be pleasantly surprised by the variety of items that you can find!
Related: How To Join The Etsy Affiliate Program.
Target 🙂 :
Target is well-known in the US and so, a potential option if your primary audience is in the US.
Target commission rates are similar to Amazon, but go up based on the amount of sales and revenue you generate.
If you make 0-10 sales per month, your commission rates range between 1-5% depending on the category.
If you make 11-50 sales per month, this goes up to 1-6%.
However, you need to generate 10,000 sales per month to get into the 8% category. No matter how many sales you make in hair and beauty, the commission rate stays at 1%.
One benefit of this program, (and it's a big one) is that they have a 7 day cookie duration.
Also Target is such a well known brand, that your conversion rates should look pretty good if you're doing everything else right.
Overall, the Target affiliate program could be a decent alternative to experiment with.
Walmart 🙂 :
Walmart has similar commission rates to Amazon – that fall between 1 and 4%.
However, you may want to cross check which categories pay more and also, Walmart has a three day cookie.
Not as good as the two above, with their 7 day and 30 day cookies… But still a lot better than just 24 hours!
Again, this is going to be an option for you if your audience is primary US based.
Check Walmart commission rates here.
Shareasale 🙂 :
Shareasale is different in nature from anything mentioned above, because it's an affiliate network.
This is where thousands of affiliate programs are housed and includes a variety of both digital and physical products.
In addition, Sharesale provide you with some useful metrics to figure out whether an affiliate program is worth dealing with.
For example; you can see:
Pay-Per-Click earning potential,
Average sale per affiliate,
Average amount of commissions affiliates make.
Commission rates vary from vendor to vendor. Some will offer you a flat out commission per sale and some will be a percentage.
For example; I am an affiliate for the program "Healthy Wage," and they pay a flat $50 fee per sale.
However, I have also seen this increase this to $100, for periods of time.
I'm an affiliate for another program called Tailwind.
They provide you with $0.50 per lead to their free trial and a 15% recurring commission for their premium membership.
If you're a blogger, you should be able to find something on there to match your niche.
So, is the Ebay Affiliate program worth your time?
The Ebay Partner Network appears to have become less appealing in recent years.
In both cookie duration and commission rates, it is now a very similar program to Amazon.
If your niche means you're only promoting items within the super low commission bracket, (1-2%) then it seems like more effort than it's worth.
Alternatively, if you're promoting items that could get a 4-6% commission, then it could be more worthwhile – depending on the price of the item.
Obviously, the higher the sale price, the higher your commission, (with their commission caps taken into account).
Also, it's worth noting that you earn a commission for ANY item that is bought within the 24 hour window… Whether you recommended it or not.
Therefore, you're bound to have sales in a variety of categories and not just the ones you send people to.
Like Amazon, a significant benefit of promoting products on Ebay, is that it's so well known!
Anyone landing on Ebay, will usually already be well accustomed to it and won't hesitate from purchasing something that they really want.
Therefore, if the niche fits, the Ebay Partner Network is still something you could consider incorporating into your blog or website.
Pin Me For Later 🙂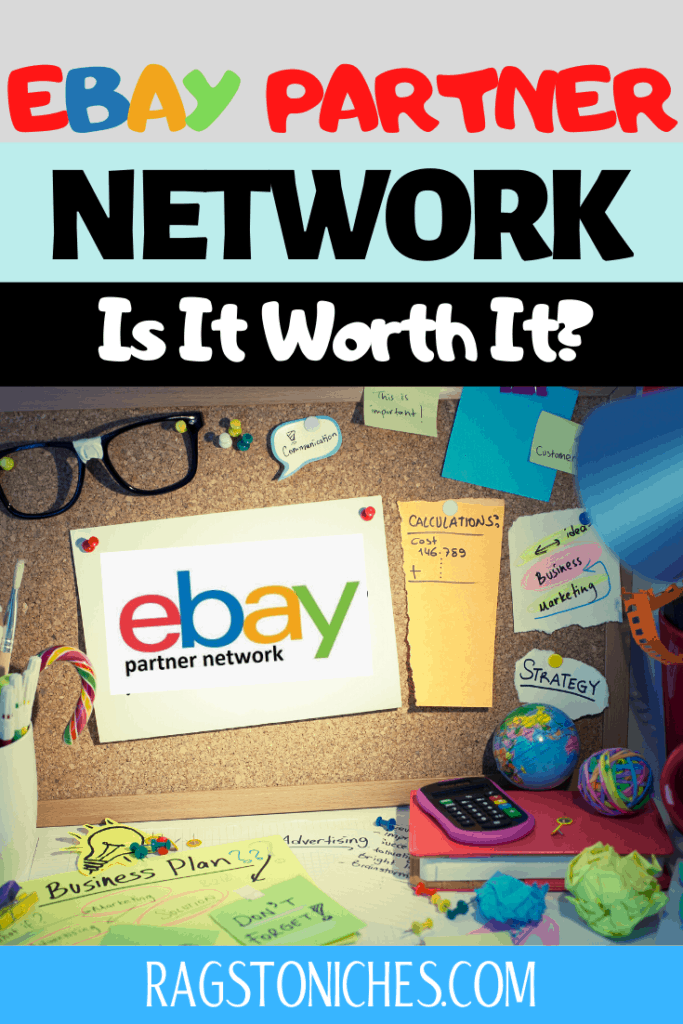 Don't Put All Your Eggs In One Basket:
The trouble with relying solely on one affiliate program is……. They are likely to change over time.
Unfortunately none of us can rely on any one affiliate program paying our bills for all eternity.
Therefore, it's good idea to at least have a back up plan and ideally, diversify your income so that it's not only coming from one place.
This is something I've attempted to do more of over time, which is why I've attempted these side hustles in recent years.
If you're most interested in affiliate marketing, I first started learning here & recommend it for beginners.
Do you have a side hustle besides affiliate marketing? Let me know in the comments!