I am so excited to bring you this Healthywage review today.
With so many people struggling with their weight, this is just the motivational tool that could help so many people reach their goals.
I only wish I'd had this App 11 years ago, when I lost 52lb in weight!!
However, I'm getting my husband on board with this and will update this when he reaches his goals.
I've recently written about certain Apps that can pay you to walk, but as far as financial reward goes…
This app knocks everything I have seen so far, out of the park!!
If you are looking to get paid to lose weight in 2021, then this is the app you want to check out.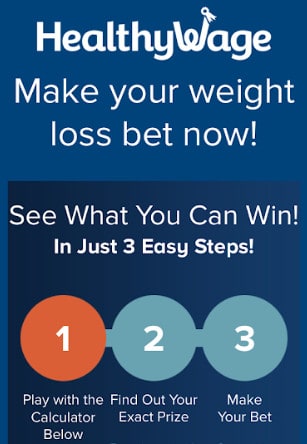 How Does Healthy Wage Work?
First of all, you just need to download the app, which you can sign up to extremely quickly.
You simply need to add your email and password and you're in!
You can then start playing with their calculator and see how much money you could potentially make.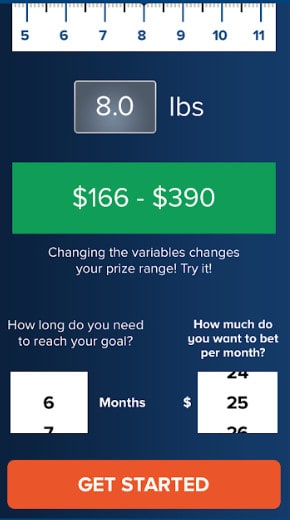 The First Steps Are…
To create a monthly investment pledge, (how much you will pay each month).
Select your goal loss in pounds (lbs)
Select how many months you have to lose it.
You'll have to put in your current details, such as present weight/height and waist size.
All the app instructions are step-by-step, so it's easy to get started.
You need to know, that your weight loss needs to be at least 10% of your current weight, or else you won't be able to participate.
So, if you only have a tiny amount of weight to lose, it's probably not going to work for you.
However, if you're able to get on board, the most you can win is a cool $10,000.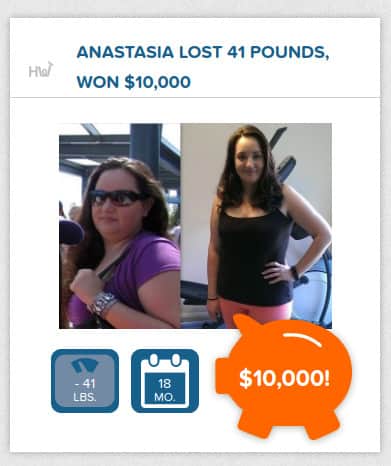 You can find a bunch of their success stories over here.
How Is Your Prize Calculated?
It's a bit of a mystery to me how it all works.
But I have looked into how it is done and their final prize is calculated using all the information that you have given them.
This will include, how much you have pledged to pay each month, how long you've said it will take you, your BMI and apparently, even the time of year you pledge!
It's a shame that you can't know all the secrets of the algorithm, in order to get the best prize possible.
However, you are able to play with the calculator and see different potential prizes and aren't just fixed on the first prize they offer.
Be aware that, you want to give yourself the best chance of actually reaching your goal…
There is no point setting a challenge that you have no hope of achieving!
So, make it challenging… But be realistic too!
Pin Me For Later 🙂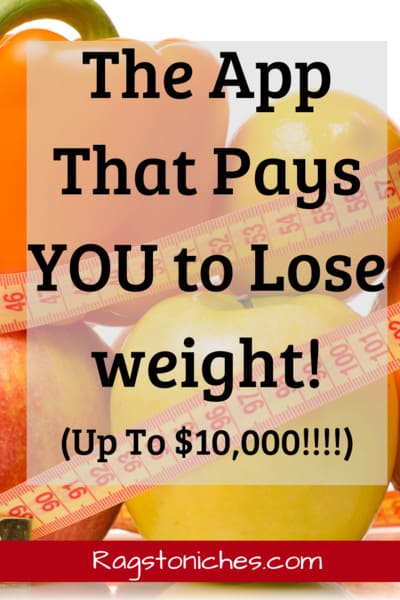 How Do You Get Your Weight Verified?
Of course they will need to verify how much you weigh both at the start of your journey, and right at the end.
There are no weekly or monthly weigh ins, you just need to show them your weight at the start and end of the challenge.
This can be done in two different ways…
Directly on the app, you can follow instructions for a remote referee to witness your weigh in.
You make a quick video, that you then upload to their website.
Healthywage Feedback Online:
People are clearly loving this app online and are sharing their experiences.
Obviously, the more you pledge each month, the bigger your cash out is going to be at the end of the experience, (as long as you lose the weight!).
Healthywage has nearly 5 stars on Sitejabber.
It has 4.7 stars on App store right now, with thousands of reviews.

It has 4.5 stars on Google Play.
This App has some great feedback online, with people making thousands of dollars in prize money.
Losing weight can be really difficult… the hardest part is often staying motivated throughout it all.
But if you have hundreds of dollars at stake and thousands of dollars that you're going to win…
Surely that gives you much more incentive to stay on the right track!
Help! I'm Not In The US…. Can I Still Join Healthywage?
This was a concern for me when I went to sign up, because I am in the UK.
But fret not! You can join Healthywage from the following locations:
US,
UK,
Canada,
Australia,
Mexico & throughout Latin America,
Most of Europe,
Most of Asia.
Can You Complete The Challenge Early?
Let's say you set the challenge that you'd reach goal at 9 months, but actually reach it at 6… can you end the challenge?
No, the earliest you can end the challenge is 2 weeks before your original time.
So, if you did finish early, you'd also need to make sure that you maintained your weight up until the point you show your final weigh in.
You need to make sure you give yourself enough time to lose the weight, but not drastically over estimate how long it's going to be.
How Does Healthywage Make Money?
You may wonder how Healthywage can possibly afford to hand out all this prize money.
How do they actually make a profit themselves?
Well, remember, that not everyone that makes a pledge will actually succeed in their weight loss goals.
Aside from this however, Healthywage state that they are financially supported by many organisations and corporations…
Including the government, hospitals, food companies and health systems.
Essentially, these are groups that benefit from the population losing weight and know that incentives like this work very well.
Recommend Healthywage To Friends And Family – For $40+
Healthywage have a great referral program, where you can earn more money, depending on how many people you recommend.
For example; you will get $40 for your first referral, but you get $20 extra for each participant thereafter, with no upper limit.
Of course, they will need to sign up and make their own pledge, but it's a great incentive for sharing something that you're already a part of!
This referral bonus is only on offer for the first three months of signing up, so don't leave it too late.
PROS VS CONS:
What Are The PROS Of Healthywage?
OK, we know tonnes about Healthywage now, but maybe we should look at some of the pros and cons, to get a balanced picture!
Having a financial incentive to lost weight can be a massive motivator. The promise of winning hundreds of thousands of dollars, could well keep your hands firmly out of the cookie jar.
You can join challenges with other people to lose weight – there can be a real sense of community spirit and it can be a source of great encouragement & support.
It can add excitement to a challenge that's usually dull and difficult.
Healthywage pays you in cold-hard-cash, via PayPal.
Great referral program – $40 dollars for recommending friends and family, plus a $20 bonus boost per person.
Tonnes of success stories and positive feedback.
You decide how long you need to lose weight, how long you need, how much you pledge… it's all in your hands.
Simple and easy to get started.
You only need to send your weight twice – once in the beginning and once in the end.
What Are The CONS of Healthywage?
If you don't lose the weight in the allotted time, you lose all the money you have pledged, (although there is an option to buy more time).
Prize amounts vary considerably, some people may only get 10% profit – but it could be up to 300%!! Many double their money. Time of year is also going to be a factor that can effect your profit.
Understandably, there are no refunds. Once you've committed to your pledge, you need to stick at it.
Will Healthywage Really Pay You To Lose Weight… Or Is This A Scam?
Healthywage is 100% a legitimate company.
They've been around since 2009, have given out millions of dollars and motivated thousands of people to lose weight all around the world.
They've also been featured in the likes of NBC's Today show, CNN, Time Magazine, ABC NEWS, Fox News, The Washington Post and many more.
If you've been searching for a big motivator to finally push you to reach your weight loss goals, Healthywage certainly offers great incentives to get you there!
It's more than just money though, in researching Healthywage, I learned that being part of their community can really motivate others too.
Because, you can participate in many team challenges and knowing that you are sharing your goals with others, adds to that drive and competitiveness to do well.
It's much harder to face any challenges alone, but when you have a whole team of people cheering you on, encouraging you and telling you that you can succeed – this can be a significant driving force behind you.
Marry that team spirit, with a significant financial reward to boot… and you've got a winning combination!
Will You Be The Next Big Winner With Healthywage?
I have to tell you, I review a lot of apps and different money making/saving opportunities and it's very rare that I can give quite such a glowing review.
It's so refreshing to find something like this, which genuinely can provide so much value— for something you already want to do anyway!
If you want to lose weight and you are 100% committed to that task, why not earn some extra cash in the process?
It's a genius idea and I'm just sad that it wasn't around years ago, when I had a lot of weight to lose myself!
That concludes my Healthywage review for today and I hope you found this information beneficial.
If you do sign up with Healthywage, I'd love to hear about how you get on!
Let me know in the comments & good luck!!!!