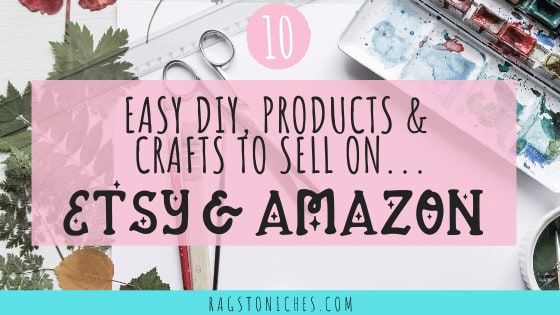 What are the best and easy DIY items & crafts to sell online?
With the popularity of stores like Etsy growing and even Amazon joining on, creating their homemade section….
There has never been a better time to share your creative talents with the world!!
Of course, you don't just want to sell any old crafts, but profitable and popular ones as well and…..what about time?
You would need to figure out just how long each one takes you to create and how much profit you can make per piece.
In some cases, products may just cost too much in time and money to make it worth your while!
However, for the most part, while some people have created a fortune and full-time businesses on platforms like Etsy….
When it comes to craft, you're probably going to be making an additional side income, unless you can create something with a very high profit margin.
For example; if you're selling something for $3 and it costs $1.50 to make and send to your customer, you're going to need to sell a lot of products.
…And what if they suddenly become popular?! You may find yourself over swamped with orders.
In this post, I will share with you, in my opinion, some of the easiest & best crafts to sell online that I have seen.
But this is only a teeny list! I will also link you up to some other posts that share additional ideas, at the end of this post.
Also, it's worthwhile to remember that you can also pay for some pretty cheap advertising on some platforms – for example; for a small amount you can run Etsy Ads.
What Categories Sell Well On Etsy?
If you're looking to get started on Etsy, or Amazon Homemade, (or both) then you may as well consider a category of things that sells best right?
Well, the following categories tend to do great – but it all depends on whether you can get it to work for you.
Jewellery – A given, Jewellery of all types does well here but it can be time consuming to make if you're not careful. I personally knew someone who did sell on Etsy and just via their own website and found the amount of profit they made, just didn't justify the amount of time and energy spent on the business. So, you want something that sells well, but which isn't time consuming to make.
Pet Stuff – of course people want unique items for their pets – including personalized items. Think of personalized collars, toys or treats.
Wedding stuff – including for bridal showers, bridesmade gifts, wedding accessories and much more, there is a lot of opportunity and people often are looking for something a bit more original and unique.
Unique home items – like novelty candles, lights and homeware items. Things that you're just not going to be able to buy in the shops!
Clothing items, these are becoming more popular now that platforms like Printful have paired up with Etsy, making print on demand more widespread.
Stationary and related items – from journals, planners, notebooks, down to novelty paperclips.
Art Work – many different types of artwork is popular on Etsy, but if you have any talent within the digital art area, this could be a good option, as it's something you only need to produce once per product and can print multiple times.
Be Careful With Copyright!
Some sellers may be able to get away with questionable, "Inspired by Disney…" items right now…
But is this really a safe option in the long-run?
There is a difference between something being "inspired by," vs just blatantly ripping of copyright material.
While Etsy is definitely way more relaxed about some of these things than Amazon is, it's still better to be safe.
If you're not sure about something, do your research.
10 DIY & Craft Items You Can Sell On Etsy Or Amazon….
1/ Simple Bracelets.
So simple, a child could certainly do it, (and if you have kids, this can be a joint project for both of you!).
Simple bracelets can be cheap to create and quick to make. There are plenty of items that can be thrown together in seconds.
The seller below has made close to 7000 sales – however, they have been on Etsy since 2014.
The thing with simple items to sell is, there is also going to be a lot of competition.
Expand your reach and profit by also selling in the real world, such as at craft fairs.
Also, don't just rely on your platform, share your products on Pinterest and create a Facebook fan page to connect with your buyers and resell to in future.
Or how about a twist on a favorite?
The seller below has only been on Etsy since 2017 but has made over 1500 sales.
They don't only sell bracelets, but also crystals and other crystal/precious stone Jewellery.
Some of the best sellers create items that would make ideal gifts and have an attractive brand.
2/ Clothing – Tshirts/Tanks Etc!
You may be thinking… Whhhhhat? Hold on…. how on earth is that EASY!?!?!?
However, you don't need to actually print your designs on the clothes anymore.
If your projects involve a creative concept, a relatable message, or a niche interest – no matter how obscure – with the right marketing strategy and some due diligence, you are sure to start an Etsy t-shirt business you can be proud of.
With platforms like Printful, or Redbubble, or Merch by Amazon, you can upload your designs, choose your item of choice and they will do all the printing and shipping for you.
I personally use Merch by Amazon and have briefly been on Etsy with Printful.
I make a small amount with Amazon Merch every month and I hardly uploaded any designs this year…
However, I'm not a designer and I scrape by making my designs in CANVA.
If you're a talented artist or designer and really work and promoting your designs, you can do really well and the best part is….you don't have to worry about start-up costs!
There are basically ZERO start up costs. You can't get cheaper than FREE!
The only initial costs, (only if on Etsy) is the price for listing an item.
One of my top selling designs…. was actually created by my then 9 year old son.
Another design, I created for a school play my son was in, (so I could buy it myself) and it ended up being one I sell on a weekly basis.
You just never know what ends up selling!
I wrote a post a while back about Merch by Amazon here, but there are various ways you can get started with Print on demand.
You don't need elaborate designs either – sometimes very simple text designs sell well too, (see below!).
3/ Lego DIY!
In my post how to make money with Lego, I did mention how some people create Lego related homemade items for sale.
Whether it's Lego earrings, Lego necklaces, or things like Lego figures in frames.
You don't use the "real," stuff – but you can pick up Lego copies on platforms like Aliexpress.
You can get all types of different characters – such as a bride and groom! Which is how you could create a picture frame like the one you see below.
4/ Notebooks/journals:
Notebooks and journals are really popular on Etsy and they don't have to get super complicated.
Take the notebooks below, which are simply covered in attractive fabric.
You could link up to a print on demand service that works with Etsy and print designs on notebooks as well.
If you have designs available to print on products, you can also do this for notebooks and journals via Kindle direct publishing, which I talked about in this post.
5/ Personalized items/Personalized Printables.
Personalised items do incredibly well on Etsy and some of these can be really easy to create and sell as well.
Take a look at the cute mini custom Nutella jar stickers below.
These are Intended as wedding gifts or bridal showers & you can add a personalized message on the back.
These are going to be cheap to create and send, making the profit margin good. There is plenty of scope to expand with personalized stickers on to various products as well.
6/ Cool & Funky Pins!
Pins have become increasingly popular and there are some awesome designs out there, such as the ace Halloween designs in the image below.
You may be thinking……. "Surely creating Pins is an incredibly slow process and really difficult?"
Well, what I'm suggesting is that you don't physically make them!
Nope, you can get pins made for you overseas and then you can sell them as a profit.
They will still be YOUR pins, because you will be doing the design work.
You then get your designs put on to the pins and shipped to you.
Shopify has a brilliant step-by-step article here, that shows you exactly how you can start your own Pin business.
7/ Personal Planners!
Personal planners are another thing that are really popular on Etsy and there are so many niches you could go into with this…
Food planners, motivation, fitness, gardening, weight loss
Take a look at the Weight Watchers planners below…(great idea!).
Once you've worked out the formatting and design, it's just a case of printing the pages and you can buy rings/page dividers for notebooks on somewhere like Aliexpress.
Or even Alibaba, if you're buying in a large bulk. By buying these items overseas, you can pick them up very cheaply.
8/ In Case Of Emergency Break Glass – Novelty Frames!
There are so many variations of this theme that you could do and there is really pretty limited work involved.
You need to purchase the frame, what you stick inside is up to you.
I guess you'd be stretched to call this DIY OR Craft – These definitely don't require much skill to put together….
(Although, they could do depending on what you put inside!).
I like the frame below, one that is full of mini chocolates. It could make a funny gift for a big Chocolate fan.
9/ Groovy Cushions:
Cushion covers are super quick and simple to put together, (apparently…I haven't personally made one, but there is a tutorial below!).
You can pick up so many cool and interesting fabrics these days and if you get some of this at a low cost, you can make a reasonable profit.
Plus, you could create a whole bunch to showcase on your storefront and see which become popular – after which time you can start making more of the designs that become popular.
10/ Gag & Funny Joke Gifts.
Some gag gifts simply require that you take a standard product that is already popular…(plain bar of chocolate, bar of soap, bottle of bubblebath)…
And then create an amusing label to create the product into a gag gift.
You could also take it further and make the label personalized.
Take the example below – it's a bottle of essential oils, but with an amusing label on it and they have tonnes of variations.
This may sound like an odd idea, but they've made thousands of sales and you can imagine how it could make a funny gag gift at a bridal shower, birthday or similar!!
So, those are just a 10 ideas to spark your interest – but what do other people think?
What Do Other Bloggers Say?
Below are some other posts that share some cool ideas.