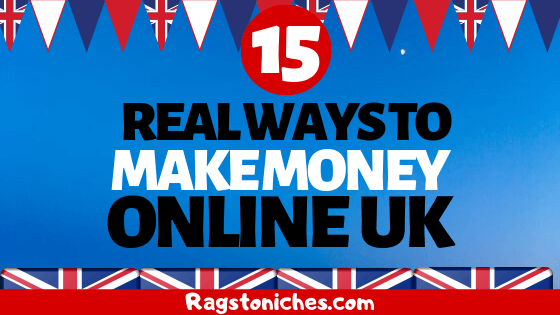 So, you're trying to find some REAL ways you can make money online UK and how exactly you should be going about it?
No doubt, if you've been searching around online for ways to make money…
You've come across a lot of websites suggesting you do online paid surveys or cash offers!?
Well, while you can certainly make a SMALL amount of money doing these things and save money as well, they are not real income opportunities.
What I mean is… If you work very hard doing them, you might be lucky to make £50 extra a month.
My highest recommendation for surveys right now is Prolific, they pay way above and beyond anything else I've seen.
My second recommendation for my favourite all-round site is Swagbucks, (you also get a £3 bonus to join) because there are a lot of cash offers, cashback and plus you can get points for surfing the web, surveys and more.
BUT… these are purely for pocket money and pocket money alone – (I wrote my top 10 here, if you're interested).
Ignore any website out there that tells you you can make hundreds or thousands of pounds a month from doing surveys…. This is NOT true.
In all honesty, it's a really CRAP way to make any sort of money and in most cases is a time waster.
Some people just love doing them and feel that it's worth it to them, but most people find they are a waste of time.
The TRUTH If You Want To Make Money Online From The UK…..
Well, there is some good news and some bad news.
The good news is, it really doesn't matter that you're in the UK.
A lot of the opportunities online are available to you, no matter where you are based.
I am based in the UK!!! But a majority of my audience is from the USA and so, primarily that's who I write for.
The bad news, (well, depending on your perspective) is that every single way to make money that I will mention, takes considerable work.
Will it be harder work that going to a 9-5 job each and every day?! Well, I don't think so myself.
However, I think THE hardest aspects of trying to grow and run and online business, is motivation, drive and organisation.
If you can some how keep a grip of those things, you can do well.
If, like me, you can be a major procrastinator, sometimes struggle to get organised and can quickly burn out…. Then it might take you longer!
But as long as you don't quit, you can still make money, it can just take longer and also longer to scale.
Try And Focus On ONE Thing:
Did you ever read the "One Thing," by Gary Keller?
Basically it asks what the one thing is you should focus on to make everything else either easier or unnecessary.
But it also highlights how we so often just have so many different balls in the air, we are unable to excel at anything.
You will find that a majority of people out there that have achieved incredible success, all share the ability to have intense focus towards a goal – to have tunnel vision.
For me personally… I do get distracted and often have way too much going on at one time.
You may feel tempted when you look at this list below – to try your hand at five different things at once.
I strongly recommend you do NOT to that.
See what resonates most with you, what you feel you could dedicate the most time to and be most driven by and just 100% focus on that.
There will be time later to branch out when you've had some results.
But if you try and do a whole bunch of stuff, you will find that your results are not good.
Can You Earn Dollars In The UK?
I've lost count of the number of times I've been asked this and so, I thought I'd just mention it now.
Most companies that I've come across online that are US based either pay you via PayPal, or can pay you directly into your bank account.
When you get paid via PayPal, it's in dollars – but you can simply switch the currency within PayPal itself and it's very easy.
When you're paid into your bank account – you sometimes have the option of being paid in pounds directly.
Other times, it's just converted at the standard rate and will appear in your bank in pounds.
In some rare circumstances, a company will have to pay you a cheque in dollars – which is quite annoying, because you then have to pay a fee to get it exchanged.
In a majority of cases though, it's straight forward. The only thing you usually have to do, is complete a tax info form!
For this, you will need your basic details and your national insurance number.
Residents of the UK do NOT have to pay tax to the USA – you pay it in the UK only.
Therefore, you need to complete your tax details because otherwise some companies, (such as Amazon) will withhold 30% of your earnings!
Of course you really don't want that, so ensure you get it sorted.
You then just need to work out your earnings and expenses and pay tax in the UK.
If you're earning any money in the UK, you need to register as self-employed, (this is also really simple to do, check out the HMRC website).
You then need to disclose your earnings and expenses each year and will be told of any tax and national insurance you need to pay.
But be aware that you get a certain amount of income that is tax free. This changes over time, in the year 2019/2020 the allowance is £12,500!
Can You Make Money Online For FREE UK?
The obvious ways to make money for free in the UK, are the small time opportunities that I mentioned before.
Things like online surveys, although something like website testing pays much more and is also free.
For some of the things I mention though, you may have to pay something – even if it's a tiny amount.
When I first started to look online for opportunities, I too was looking for things I could do for free.
But now I see it differently.
I'm happy to invest in myself and pay for training, products, or services that are going to both save me time and help me grow my income online.
I wrote a post previously called, how to make money with no money – where I mention some ways you could start for free.
How To Make Money Online From The UK…. 15 Legit Ways!
I could give you a massive post of a gazillion ways you could start making money online…. but to be honest, I have already written that post.
Here I wrote a list of 40 ways you could make your first dollar, (and scale it up).
But loads of those options are also available in the UK, so you can check it out too.
But for this post, I am picking 15 of my favourite options and several that I have tried myself too.
So, let's get started!
1 – Design And Sell Tshirts, Clothing Items, Even Mugs Online.
This is one side hustle that I have put a little bit of time into – although I keep going off the boil with it.
This is the world of Print on demand.
You create the design, (even if you're not a designer – which I'm not – it is possible with platforms like CANVA).
You can also purchase designs cheaply, (I use Upwork personally).
You then upload your designs on to products and the print on demand service do all the tricky stuff.
They print and ship the items for you and in some cases, (like Amazon) even deal with customer service.
My main platform for this personally, is Merch By Amazon.
You do have to apply to join and there is some wait time, I wrote an in depth post about it here.
Merch are continuing to expand on their products available, but other platforms such as Redbubble, have all kinds of products available.
You can even approach this on Etsy now, by connecting with a Print On Demand service such as Printful.
The great thing about this opportunity, is that you really can start without any money.
The downside is, if you're not a talented designer and aren't clued up on keyword research and finding good niches, you will need to spend some time learning.
Plus, because it has become quite over saturated, many people end up promoting their listings and for that, you will need some financial budget.
What I do like about this is that it does have the capacity to give you real passive income.
Even though I am not uploading designs right now, I have sales most days and that's always fun to happen.
If you're wondering where you can sell – at the time of writing you can sell your items on Amazon across US, UK and Germany platforms.
But no doubt pretty soon, it will expand even further, (along with the amount of products on offer!).
2 – Grab Those Cool Designs… And Add Them To Low-Content Books On KDP!
What is KDP? Kindle Direct Publishing!
This is something I took a while to get around to and still haven't dedicated an entire blog post to yet.
Essentially this involves making your designs go further, (or creating new designs) and adding them to low or no-content books.
I'm talking about things like simple lined notebooks and journals.
Planners, diaries and even things like colouring books, sheet music and more.
You can download, or create from scratch, simple interiors that you can then upload on to real books and sell on Amazon.
I really wasn't sure this would work, as it took forever to make my first sale with Merch by Amazon and I was expecting the same, (if anything!).
But after only 6 books being live I started to make some sales.
After 20 live, I had another couple of key books that started to sell.
The sales become pretty frequent as well, (see below!).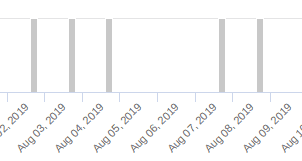 I haven't dedicated much time to expanding this and it's definitely something I'd like to do.
Typically, despite having 40 or so uploaded now – only a few seem to be the main sellers.
But there is definitely potential here and although there is a small learning curve, it's much simpler than you may imagine.
There is still a limited amount of knowledge about this – I feel that a lot of people don't quite realise the potential here.
I personally found this free training course by Rob Cubbon really helpful.
I haven't purchased any paid courses on this subject yet, but may do in the future when I want to dedicate some more time to it.
Update: After a break, I decided to get serious with this in October & am now making daily sales, (see below!).
3 – Blogging – And Earning In Various Ways:
I make the most online right now through blogging and it definitely isn't an easy path to money, or something that will happen quickly.
Nevertheless, it can be rewarding as well as profitable over time and the great thing is, there is a lot of scope to create various income streams.
I don't just make money because I write posts, (unless it's a sponsored post – I don't do many of those, but some bloggers do!).
But I make money primarily from affiliate marketing and paid advertising.
I often mention products or services on my blog and I'm an affiliate for some of those products or services too.
That means, if I link to those things on my blog and you make a purchase of some kind, then I can earn a commission.
With paid advertising, I'm signed up with an advertising network that places Ads on my blog.
The more people that view and interact with those Ads on my website, the more money I can make.
While you do need to have a lot of traffic, (visitors) to make good money with paid advertising, it's still one of my favourite ways to make money online!
That's because, it's entirely passive! I don't have to do anything at all and I will still make money from Ads.
Whereas, with affiliate marketing, your audience has to take some sort of action….
Sometimes that may only be signing up for a free service, but often it involves them buying something, which makes it a lot less predictable.
Nevertheless, affiliate marketing is still my second favourite way to make money online.
Many bloggers also create their own products and courses, which is another way that many create an additional income.
If you'd like to learn more about how you can earn money from a website, I learnt a majority of what I know here.
4 – Write And Sell Ebooks Online:
Creating good looking book covers is really easy with CANVA – and that's the service I create on a daily basis to create all my blog graphics, pins for Pinterest, book covers, Tshirt designs and more!
Selling Ebooks was a massive thing several years back, as Amazon still had so much opportunity.
While there are still opportunities, there are many more people self publishing books and trying to get noticed, so you have to put some more work in.
Selling on Amazon isn't the only way you can make money with Ebooks however.
If you have started a blog, as I mentioned before, you can sell Ebooks to your own audience.
If you'd like to create your Ebook so that's it's available to sell on Amazon, you will need to create a book that falls within their guidelines.
Kindle have a step-by-step tutorial here; showing you exactly how you can create and upload a book to KDP.
Read about some self-publishing success stories here.
5 – Selling Courses Online:
There are many bloggers out there that do really well creating and selling courses to their audience.
Ask your own audience what THEY want and then create a product that suits them.
It's not like you need a gigantic email list to make some money either.
Say you have a mini course you are selling for £20. You have an email list of 500 people and 5% of people buy it.
That's still £500 you've made from a mini course – that maybe took you a an afternoon to to put together on a platform like Teachable.
You can probably see the potential there for building a blog and an audience.
Most importantly, an audience that you can help solve a problem with your own knowledge and experience.
If you have some expertise to share, there are a growing number of platforms that you could create courses for too.
Probably one of the most well known for that is Udemy.
You can make money selling courses on Udemy in so many different areas of expertise and they show you step by step how to go about it.
6 – An Oldie But Still Good … Sell Stuff On Ebay.
There is a lot more scope to selling on Ebay than JUST selling your old stuff.
People do create full time incomes from buying stuff cheaply, (or sourcing it for free) and then selling it at a profit.
It is obviously not just something you could do online, because you will have to go out into the world to try and source your items.
But if you're a bit of a treasure hunter, this may appeal to you.
There is a great guide to selling on Ebay on the money saving expert website.
To spark your interest, I also wrote about some weird things you can sell on Ebay here.
7 – Enter Competitons – To Win Stuff, Including Cash!
Entering competitions was the first way I "made money," online.
I put that in inverted commas because, I rarely won actual cash.
But I won plenty that was worth money and I also had no shame saying that I sold some of the items that I won too.
I started the hobby to try help us financially after all!
For example; one of my first wins was a designer handbag and I was thrilled to be able to sell it on Ebay for £400!!!!!!!
One of my biggest wins was £5000 to spend on hotels around the world and I must have won every type of gadget going…. Including several Ipads.
I'm not saying this to brag, but I'm just letting you know that it's completely possible to win some great things entering competitions.
(You know there are still people who don't really believe there are real winners….).
Well, I know first hand of people who one some of those huge ITV competitions… So, I'm well aware there are real winners to some awesome prizes.
The downside to this is, you really do have to put the hours in.
You can easily burn out doing this, which is one reason I'm not doing it right now, (but regularly think about it).
I would generally spend several hours a day entering competitions.
When I was doing it seriously and closer to Christmas, (when you get all the advent competitions) I seemed to be doing it non-stop, (as there were hundreds to do every day).
Unfortunately, there are no guarantees and you may go for weeks or months winning zero.
When I put the most time into it though, I would win a bunch of prizes every month….
Most very small and the odd good thing that would keep me interested.
One nice perk about comping in the UK, is that it's tax free.
That's not the case in the US, so it makes it a more stress-free hobby here.
I found a majority of my competitions over at the Money Saving Expert website, (which is completely free & highly recommended).
They have a great comping guide here, which is packed full of useful info!
8 – Matched Betting:
I thought I would include this, because it's one of the few ways that you can make a profit online, that you can't in the US.
While it does involve "betting," there is no real gambling involved.
The only minor risk comes down to human error, (that is, placing the wrong bet).
It works by taking advantage of new offers that betting websites online give to new customers.
It's the sort of thing you will see all the time, every online betting website or online casino will have newbie offer.
For example – place a £10 bet and get a £20 bet for free. Deposit £20 and get £30 for free, that sort of thing!
It involves making bets to cover all outcomes, (a regular bet and a lay bet at a betting exchange) and using the free bet to earn a profit.
I didn't even know what a lay bet WAS when I started this. It simply means a bet against a certain outcome.
So, you'd be betting *against,* a certain football team winning a match for example, (this covers if they draw too, as well as lose).
Whereas, on the other website, you'd be betting for them to win.
It can be a little complicated to get your head around when you first start – which is why I recommend learning from someone who knows what they are doing!
This is all completely legal and any tax you earn is also TAX FREE…. Making £300-£500 in a month is not unusual.
To learn more, you can check out my Matched Bets Review.
9 – Freelancing:
Freelancing is often talked about as being one of the simplest ways to get started online.
It's one way that you could start making money – really as soon as today.
Freelance writing is a popular option – and I personally took this course when I was getting interested in that.
But it doesn't just have to be writing! There are so many skills that people require these days.
From graphic design, social media management, customer service, virtual assistant work and much more.
Back to the writing angle – there is a demand for good writers and if you're willing to work your way up, there are opportunities.
For example; I recently put an Ad on Upwork – I was looking for someone to do some content writing for me.
But I didn't get too many people to apply and the ones that did, did not put any effort into it or answer the direct questions I asked during job posting.
As a big tip – you can stand out to people if you really pay attention to the job posting and write a proposal that clearly shows you carefully read it.
Many people just copy and paste the same job proposal for multiple jobs, no matter what the job description and you can see it a MILE OFF!
What it showed me is, that if you make an effort to stand out, you will be noticed and have a much bigger chance of being chosen.
You can join a website like Upwork for free and start looking for jobs right away.
For a whole host of different services offered, you might want to check out somewhere like Fiverr.com
You may also find some of this posts useful:
10 – Affiliate Marketing On Pinterest – Without A Website!
Until recently, I didn't realise that it was possible to do affiliate marketing on Pinterest without a website.
While it's definitely not a way I'd recommend as the ONLY method you use, (it's still better to also have a blog or website in the long run…)
It's a good way to figure out what this affiliate marketing thing is all about and earn some money.
I only found out about this method after taking Elise of House Of Brazen's course over here and I recommend it if you're interested.
I also wrote a post detailing exactly how you can make money on Pinterest in this way – which you can find here.
11 – Amazon FBA – Selling Physical Products.
Amazon FBA involves sourcing and sending products to the Amazon warehouses and them storing them for you until sold.
You then list your products on Amazon and Amazon do all the hard work of dealing with shipping and returns.
Amazon is ever growing and expanding, making their customer base gigantic and continuing to grow.
You therefore have access to millions of potential shoppers each day and the thing is, you don't even need to concentrate on Amazon UK!
Many UK sellers have started off selling in the US, because it's a bigger market.
That said, some sellers are now turning to the UK market, as it has much lower competition than the US does at this point in time.
Many people selling products on Amazon get their products cheaply from somewhere like Alibaba – which is based in China.
There are many sellers on Alibaba that will ship the product directly to Amazon for you, (although, I recommend you of course get samples first to check quality).
Many people are making a great income selling on Amazon – so if you'd rather sell physical products online, this might suit you.
You may want to check out a well reviewed course found, showing you how you can start Amazon FBA, even if you're on a tight budget.
12 – Dropshipping:
Dropshipping is another way you can sell physical products online – without having to turn your home into a crazy storage facility!
One thing that always put me off about buying and selling was, the thought of having my home full of products and then having to deal with packaging and shipping to customers.
With dropshipping, you only make an order with the dropshipper when a sale is made.
The dropshipper will package and send your product to your customer for you.
So, all you need to do is focus on getting the sales and getting enough eyes on your product, plus you will need to deal with customer service.
The downside to this model is, because you need to get a good profit margin, many people source from somewhere like Aliexpress.
Which is again located in China. As a result, times for delivery can be very long.
Many people are OK with this, as they feel they're getting a good deal anyway, but sometimes customers may not realise just how long it will be.
In any case – if you have any interest in Dropshipping, I always recommend you check out the wholesale ted channel, purely because I really like the content & I bet you will as well.
13 – Selling Homemade Products Online:
The most obvious platform for doing this was Etsy.
Where you can make and sell all sorts of handmade items, as well as vintage items and craft supplies.
But following the success of Etsy, Amazon has now also jumped on the wagon.
Creating something that they call, "Amazon Handmade."
This could be seen as an additional platform to expand on to – but it's also a good place to research high selling products!
Because research can be difficult on Etsy, to really find the products that are selling well.
Using a simple free chrome extension – such as Unicorn smasher or DS Amazon quick view you are able to spy on other peoples products on Amazon and see how well they are selling on the market place.
You can assume that a great selling product on Amazon Homemade, could also do well on Etsy, so it's a good place to do some research.
The downside to creating products is that there are only so many you can create and sell…
So you really want something you can make quickly and cheaply and still sell for a good profit!
related post: 10 Simple Things You Can Make & Sell!
14 – YouTube:
This is going to be a long-term method and a good thing to do in combination of having a blog or website.
Many people are far less keen on going on YouTube, so you will find that there is far less competition on there than there is in the blogging world.
Therefore, you're going to have a higher chance of getting your video ranking on the top page of YouTube, than you are Google.
Furthermore, Google now OWNS YouTube and you may have noticed seeing YouTube video results frequently at the top of the Google search results.
So, even if you have a blog or website, creating YouTube videos is a good way to get additional traffic.
There is no doubt that people can and do make money on YouTube – but the money people earn isn't just about Ad revenue!
The amount people earn for Ads is really small, meaning you need TONNES of traffic to make anything reasonable.
That's why many YouTubers earn money in additional ways…
Such as via affiliate marketing, sponsored videos and linking directly to their blogs/websites, or to their own products.
15 – Online Tutoring – Or Teaching English Online As A Foreign Language!
There is lots of scope for teaching online, whether that's with regular standard subjects, or also for teaching English as a foreign language.
Actually, there are even Apps now where you can teach English!
Take the Palfish App, they take on English speaking tutors from the UK, US, Canada, Ireland and Australia.
You can earn up to $22 per hour to teach kids with Palfish – however, you require some qualifications, (such as TEFL).
But to teach adults on Palfish, you do not require this qualification and you can set your own rates, with no minimum amount of time required.
If you're more interested in teaching subjects that you have more expertise in, there are many sites online now that hire online tutors.
One website I discovered is coursehero.com – where they teach a broad number of subjects.
Their TOP tutors earn $500 per week, but you will need suitable qualifications to prove you have the right amount of knowledge to teach your chosen subject.
You can learn more about coursehero here.
Pin Me For Later! – To Your Make Money online Board!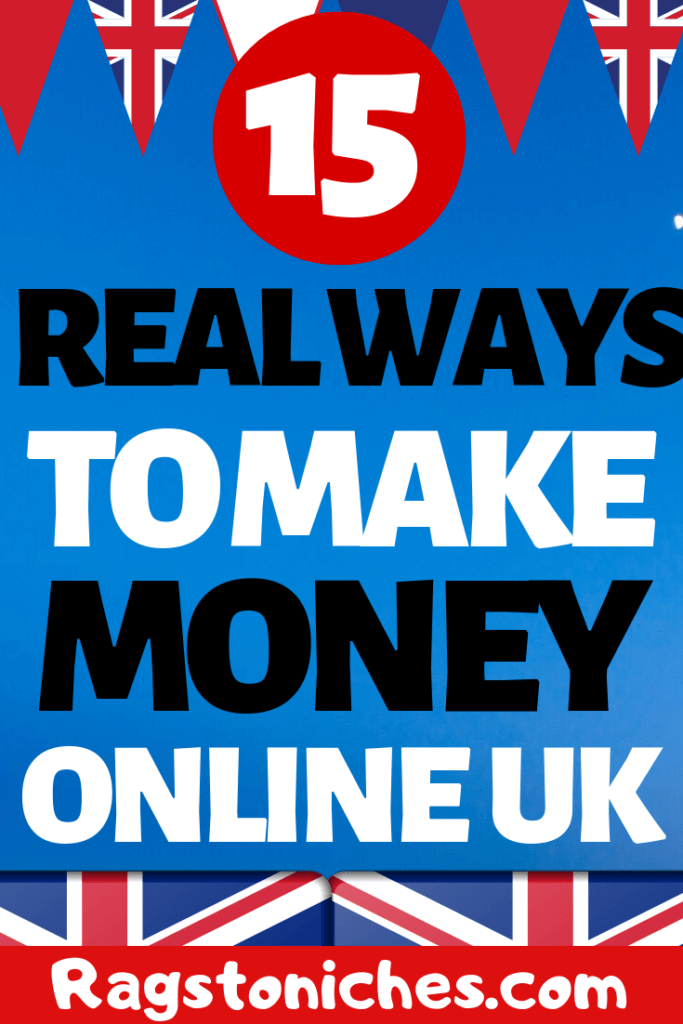 So, There Are 15 Real Ways To Make Money Online UK!
….Do You Have Any Other Suggestions?
Please feel free to share your thoughts, suggestions and experiences below in the comments section below.
I recently shared 10 side hustles that I've tried to make money, but I wish I had time to focus on more!
However, there are only so many hours a day so, I recommend focusing on becoming great at one thing, before branching out into anything else.
The first way I started making money online, (after the competitions) was via affiliate marketing – and I started to learn about that here.
Good luck making money!
All the best,