*Please note: The course mentioned in this post is currently closed for enrolment.
Can you really make money on Pinterest…  Affiliate marketing WITHOUT a blog?
Well, I was surprised to discover that you really can and it's been quite a big thing for me to discover, (as a blogger who loves Pinterest).
I mean, I did know that you could share affiliate links on social media, but I didn't really consider it as a viable side-hustle option.
I figured you'd need thousands of followers to get accepted to affiliate programs without a website, (which you do in some cases!).
But there are some options I wasn't aware of before – which I will elaborate more on below!
Even if you don't have to have previous experience blogging, or affiliate marketing – you will be able to do this.
The awesome thing about this method is, that it really is a legitimate way that you can start making money online pretty fast.
However, this isn't going to make you rich and if you have zero experience, it's probably going to take you a while to make your first sale.
I was introduced to this strategy by following this step-by-step Pinterest course.
The course claims that you can potentially make your first affiliate sale, in just 24 hours! 
But if you're new to this game, I would certainly give yourself a little longer than this.
It also depends how quickly you implement the tips, how much you pin, how many followers you have and how much you really take action on the advice given.
During the course of this in depth tutorial post, I am going to cover the following topics:
How Does Pinterest Affiliate Marketing Work?
Why Pinterest is a great place to make money.
Aren't Affiliate links banned on Pinterest?
How to get started affiliate marketing on Pinterest
What if you're not accepted?
The biggest challenge on Pinterest!
Useful tools & courses that have helped me!
Concluding Thoughts.
Psst… If you REALLY want to learn about affiliate marketing, I recommend you do have a website! Start training for free here.
How Does Pinterest Affiliate Marketing Work? 
I'm guessing if you found this post, (maybe on Pinterest, ha!) then you already know what Pinterest is all about.  
But to sum it up, I envisage Pinterest to be like your very own virtual Pin board. 
A place where many people will Pin ideas, inspiration and information – in order to come back and look at it at a later date.
When I first discovered Pinterest, I had my own personal board – often where I'd pin recipes, products that I wanted to buy, or inspirational quotes.
I even just liked browsing Pinterest because – some of the images were so beautiful. And that's another thing to keep in mind.
Pinterest IS very visual, so the more appealing you make your pins, the more likely someone is to save it.
I'm no graphic designer and I do personally cringe when I see some of my first pins. 
I'm still learning, but that's the thing, it's all a learning curve.
I also have a tool that helps me to create images, which I'll link you to further down.
If the thought of creating Pin images totally turns you off, you could consider getting some created for you somewhere like Fiverr.com.
In any case, you must have noticed that every pin you find, must link to a blog or website.  
When you create a Pin, you control what link the Pin is directed to.  
Therefore, you can use this to your advantage, by linking the Pin directly with an affiliate link to an offer or product.
That means, if anyone clicks your affiliate pin and makes a purchase, you can earn a commission on the sale! 🙂
Of course, the most common ways to make money from affiliate marketing is through having your own blog or website and via email marketing.
However, this is one example of an additional way you can earn commissions as well.
Want more help? I loved This Course & It's Great Value.
Why Is Pinterest A Good Place To Make Money?
Certainly, Pinterest can be a place to gather and save information, such as recipes.
But it's also a place for people to research products, courses and gifts to buy others, or themselves.
In fact, I have another small blog in a product based niche that currently has nearly 700,000 views to the Pinterest account per month– with minimal effort on my part to grow it.
No, those numbers don't translate to traffic or sales by the way! 
But it does mean most of my traffic for that little website comes from Pinterest and I've done very little to maintain it…. for several YEARS!
That's the great thing, you can have your pins take off and they will just keep getting repinnned and repinned by people down the line.
The reason it took off, is because I shared popular images, that happened to spread around like wildfire and I had very little input in it.  
 I left the blog for ages and have only recently started adding to it again, after I see this potential for growth.
My point here is, that people are on Pinterest with their wallets already on the table.
Many people on Pinterest are open to making purchases and often looking for things to by… whether that's a digital or physical product.
To elaborate further, did you know that half of Pinterest users make 50k a year or more and even 10% of them earn over 125k per year!
So, many of these guys are not short of money to spend.
However, there are certainly restrictions on what affiliate programs allow you to direct link on Pinterest and also, various programs also require you to have a website.
But there are programs that do not, so you need to always check the T&C's before you join something.
Aren't Affiliate links banned on Pinterest?
Affiliate links WERE once banned on Pinterest, but they have been allowed once more since 2016.
Unfortunately they were banned due to excessive spamming and there is always the chance they could be banned again.
What's more, there are restrictions and rules you need to abide by.
There are platforms that forbid you putting affiliate links directly on Pinterest – others you can, but there may be some grey areas.
Consequently, It's best to contact any program directly and simply ask the rules! 
Better to do that first, than risk being banned from either the affiliate program, or Pinterest itself.
You also want to be careful how you do it. 
 If you have a brand new Pinterest account and just start posting affiliate link after link, without sharing any regular content, or pinning other peoples pins – it's likely you'd just be banned.
How to get started affiliate marketing on pinterest!
1. create a Pinterest account.
Maybe you already have a Pinterest account and you could use this, or you could start a completely new one.
A good idea would be to create an account around a particular niche – much in the way you would with blogging.
However, you could adapt an account you have already, as it will help you get started if you already have some followers.
If you don't have an account, you can create your Pinterest account here.
You can stick to any regular account initially, but it's a great idea to set up a business account.
Don't worry, it's totally free and you don't have to do anything special to get one either… 
BUT by having one, you can get to see plenty of really interesting stats in their analytics section, which can help you get more sales.
You can read how to get a Pinterest business account here.
I suggest you create a minimum of 10 boards, with enough pins in them so that the boards look full and thati if someone clicks on your board, it looks like there is SOMETHING behind it, (so, 10 or so is a start!).
At this stage you want to be repinning other peoples pins – so, just search for relevant topics in the search bar and start pinning!
Like I mentioned before, you could go into a particular niche that you want to be in, but you could also just create boards surrounding things that interest you personally as well.
So, Yoga, Cats, Running, Inspiration, Business, Vegan Recipes, Home Decor….  Or whatever floats your boat!
2. Find suitable affiliate programs.
Affiliate marketing is HUGE and pretty much any brand you can think of will have an affiliate program attached to it.
One way to search for affiliate programs that you want is to search for… "topic + affiliate program."   
So, as an example – you could type… "Yoga + affiliate program," in Google and see what comes up.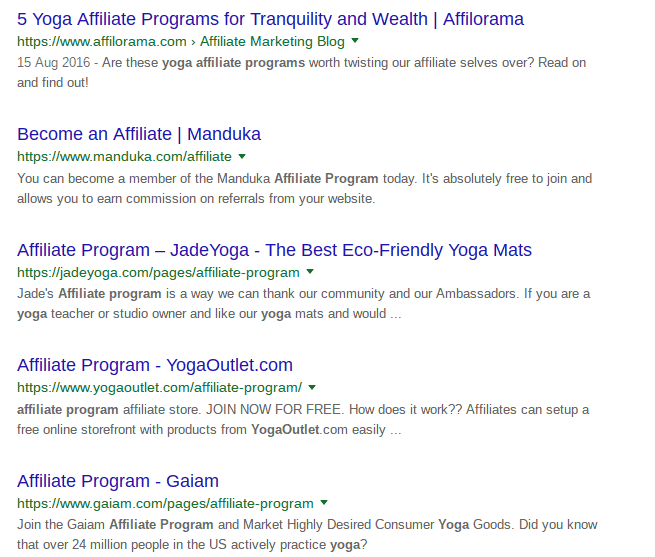 You'd then need to check through and see what requirements they have and whether you need a website to sign up.
One program I've recently discovered is Magic Links and I've just joined them with one of my other blogs.
A good thing about them is that you do NOT need a website to join…
However, a decent social media following is preferable and you'll need at least 100 followers to join.
I guess the more the better, but I'm not sure how readily they accept people. 
The best thing you can do, is simply sign up and see what they say!
Don't be thrown by the section that says "website…"  It's not compulsory. 
So, if you don't have a blog or website, simply leave that bit blank! But you will need the URL of the social media account you're applying for.
There are a huge number of categories to choose from, so it's a good opportunity to get stuck in and I'm excited about joining them myself.
3. You're Accepted!?  Get started!
Once you've been accepted on to your programs, you can start pinning… but start cautiously!
You can cut your own product images from websites, or some companies may have actual pin images you can use.
I also create pin images in CANVA – I have a business account, but you can also have an account completely for free as well.
CANVA allows you to create attractive images – where you can add colors, graphics, fonts and images. 
Plus, they have many ready-made templates you can use as well.
You can see a good intro to CANVA in the video  below.
When you start adding links to your PINS, be sure to disclose that you're using an affiliate link in the Pin description and don't do anything misleading to get people to click.
Be very clear about what it is you're sending people to and transparent.
You're not allowed to use any affiliate link shortners or cloaks – so, ensure you use the raw link when you pin. 
If you decided to sign up with magiclinks – they have a handy blog post explaining how to use affiliate links on Pinterest here.
4. Follow Good Pinning Guidelines!
The guidelines for how to get your pins actually seen by people, seems to change all the time.
However, it's definitely worth doing the following:
Pin your affiliate pins to boards that are very relevant.
So, don't post an affiliate pin for a dress, on a board all about cats.  Pin it on a board called: "Best dresses (year date)," or something to that effect!
Do a good pin description.
Sounds kinda obvious, but describe the item!. You can also now use hashtags on Pinterest but they have to be VERY relevant to the item and, (so far) I've heard the recommendation is only 1 to 2 hashtags.
Try and put in several "keywords," into your description… 
These will just be phrases that people may be searching for in Pinterest. 
You can find these when you start to search for anything on Pinterest and it tries to auto-complete your sentence. 
So, for example; if it was a dress… it could be something like, "red short party dress," "prom dress," and so on.
Disclose your affiliate link. 
With Magiclinks; they suggest either adding an affiliate disclosure in your pin description, or on your actual Pinterest profile.
Follow other people with similar interests.
If you're largely going to be sharing affiliate links relating to fashion, follow other people who share those interests too and share THEIR content. 
This could then get you noticed and you can eventually build up a following of people interested in your Pins.
5. Create a pinning schedule + be consistent!
Pinterest likes people who are active on the platform… every day. 
They don't want you relentlessly spamming the same pins at all, they like NEW fresh content.
So, you want to do a combination of pinning lots of peoples pins on Pinterest, as well as your own.
This is different to when you have a blog.  
When you're linking to blog posts, you can pin more of your own content and less of other peoples, (as long as you have a lot of content that you can rotate).
But if you don't have a blog or website, you don't want to purely just be pinning affiliate links and nothing else.

Also, Some affiliate pins are likely never going to get shared, let alone ever make sales… That's just the way this goes on Pinterest.
If you actually want to build a sustainable business from affiliate marketing, then I do recommend you start a website and learn how to do affilate marketing from scratch.
But, if you really don't want to, you can still achieve some sales this way, it's just not something that you can really turn into a business long-term.
What If You're NOT Accepted By An Affiliate Program?
Being declined from affiliate programs, is not uncommon.
However, sometimes it may be done on auto-pilot. 
I have had situations in the past where I have initially been rejected from a program, but then accepted once a real person went and reviewed my application.
In any case, there will be a reason! 
So, the best thing you can do, is directly ask why you weren't accepted and what you need to do in order to be accepted.
The good thing is, you can always reapply!
The Biggest Challenge – Staying Consistent! 
One of the biggest challenges with Pinterest, is actually creating a schedule that you can stick to.
I have struggled with this MANY times in the past with my own accounts.
Another issue can be, to pin at the right time to reach the biggest audience. 
For me personally, most of my web traffic is in the US and the best time for me to pin… is in the middle of the night for me!
One way that I know the best time for Pin, is that I have Tailwind!
Tailwind is a tool that I can use to schedule all my pins on autopilot to go out. 
Another feature of it, is that it tells ME the best time I can possibly Pin, to get the most activity.
While I still do some manual pinning during the day, I also schedule some others that go out during the night.
I tend to schedule all my pins 1 to 2 weeks in advance, but you could schedule a whole months worth. 
Tailwind then lets you know when your queue is empty.
It also gives you tonnes of other handy features, that will help you create the best and most profitable pins.
Tailwind is a paid tool:  but you can get free trial here and also your first month free, (worth $15) with this link.
Great Pinterest rescources & tools that have helped me!
While there is no doubt you can start this journey completely for free, there are some tools that can help you along the way, (some free, some paid!).
Creating Your Pins:
I 100% recommend CANVA for all Pinterest design.
In fact I also use CANVA to create far more than Pinterest Pins, including Tshirts, book covers and blog banners.
I use it on a daily basis and while I am a paying PRO member, they also have tonnes that you can use for FREE too.
Training Guide: How to make your first affiliate sale in 24 hours!
I wouldn't even be writing this post whatsoever, if I hadn't discovered this technique after taking this course.
It opened my eyes to new possibilities of expanding my affiliate income on Pinterest.
The course is super simple to follow and easily accessible to anyone, even if you have zero experience with Pinterest, or affiliate marketing.
It also goes into other tips such as how to join group boards and also has a private Facebook group attached, so you can go and exchange tips and ideas!
Check out how to make an affiliate sale in 24 hours!
Scheduling Tool:
I'm not sure where I would be on Pinterest without Tailwind…. 
As someone who already feels like there are just not enough hours in the day to get everything done, Tailwind helps me grow my Pinterest accounts at all hours of the day.
The great thing is, it's highly affordable and even if you only take their free trial and their free first month – it's more than worth your time.
Because, you can use that free trial and month to schedule tonnes of pins and really get a good start on Pinterest.
Get a free trial AND a free month of Tailwind here.
Affiliate marketing training:
If you'd like to get an insight into what all this affiliate marketing stuff is all about and are interested in actually creating your own website to do it, then definitely check out the free training here.
You can get a 10-part training course, two free websites and a lot more besides.
It's where I learnt a majority of what I know about affiliate marketing and building websites.
Concluding Thoughts:
Until recently, I generally thought that affiliate marketing without a website, would largely involve spamming forums, blogs and social media with your links, (with little success!).
But now that I've discovered Magiclinks, I can see far more potential with it.
Nevertheless, the best combo is always going to be to have your own blog AND to also have the option to post affiliate links elsewhere as well.
So, it could be like adding another income steam coming in and an extra source of income – rather than the ONLY one.
That being said, you could always get started this way and just progress from there!
While I've just been talking about Pinterest here, it doesn't have to be.
You can use affiliate links on other social media platforms too.
So, if you already have a good following on Facebook, Instagram, or Pinterest – it's definitely worth looking into further.

If you do have any platform that has over 100 followers, you can try signing up to Magiclinks, it's free & really easy to use.
Are you going to get started?  Let me know your thoughts in the comments!
Other posts you may like…
Pin Me For Later!