Kindle Direct Publishing – or KDP – is a platform on Amazon where you can upload your own paperback and ebooks on to the Amazon platform to sell.
This is a print on demand platform when it comes to paperbacks – which means that Amazon will print and ship your created books to customers.
You will earn a commission after Amazon takes their cut.
The whole idea behind it is brilliant – because, like Merch By Amazon, it does give people the opportunity to create passive income over time.
Work that you put in once, (such as creating one book) can pay you multiple times over.
For the sake of this post, I will be talking about low-content publishing in particular.
Low & no content publishing involves publishing books such as – simple lined notebooks, journals, guided journals and planners, colouring books, activity books and so on!
In the case of no content books – creating the entire book and publishing it could all take less than half an hour.
However, Amazon has been having some issues recently. There was a while… still ongoing actually… where there was a reporting delay.
This has led to some people still missing out on sales & sales not being tracked.
Now there is a review delay for low content books. Amazon did take up to 72 hours to review and publish a book.
But recently this has increased to over a week or more for low-content books.
They haven't said why, (yet) aside to say that there are some technical issues they're working on.
Behind the scenes though, people are wondering whether all these issues are due to people spamming the system with books and them putting somewhat of a halt on things, until they can figure out how to manage it.
I only started to dip into KDP in 2019 and not seriously until October 2019.
Without a doubt, there has been a huge upsurge of low-content books flooding KDP – but most of them that I've seen, are bad quality books.
Last month is my best month on KDP so far, with over $1700 .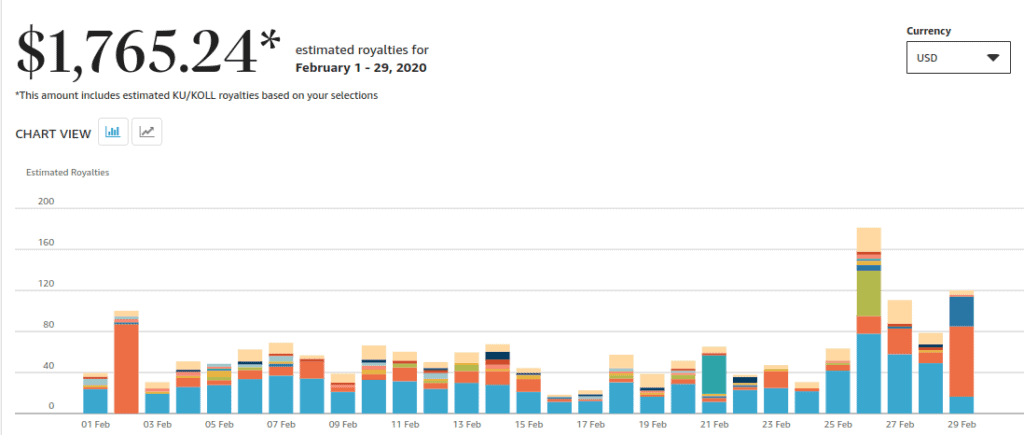 While this is brilliant and I'm very happy about it – over $1,100 come from just two books, in the same niche.
Thankfully, that book is in an evergreen niche – so, it can potentially sell all year around.
However, there are also tonnes of copycat books that have recently been published and at least one that was an identical copy of my own.
Ultimately, the whole thing does feel quit tenuous and that's why you can't just sit around and take a rest when things are going well.
You need to keep creating good books, keep researching and come up with the next big seller.
This is becoming a much slower process right now, with the review delay on low-content books.
Is KDP Saturated?
Since I very first stepped into the world of online business in 2015, everyone constantly talks about things being saturated.
Affiliate marketing.… saturated. Blogging... Saturated. Merch.… Saturated. And so on and so on and so on….
Too many people decide to not bother anymore because they think things are too saturated.
But guess what?
While people give up and move on to the next thing, there are STILL people continuing on and still making money.
I stopped making an effort with Merch by Amazon because I had reached my tier limit of 500 and was still only making a small amount of sales each month.
But, to be honest, I'd been lazy with it.
Now, there are so many more products on Merch, you can upload one single design on to multiple products.
I would have a single design, on multiple products, across three countries. So the amount of DESIGNS I actually had live wasn't so much.
If I had actually had 500 individual DESIGNS live, I'm sure I'd be making a lot more money.
Anyway, there are many excuses we tell ourselves on a regular basis, but basically I just did not put the time and dedication into growing Merch and my stopping isn't just due to it being impossible to make sales….
But too often people make these excuses to themselves, so they can give themselves permission to fail.
That Said – There IS A Spam Problem:
Many people have recently latched on to this opportunity, hoping to make some quick money.
To do so, they try and use automated software to upload tonnes of different identical books.
Either just plain lined journals, or large amounts of books with identical interiors and simply different covers.
Amazon seems to be tightening the rules at the moment, but no announcements have been made about any additional rules.
This is one problem with Amazon, which I will mention a bit further down.
Kindle Direct Publishing Royalties – How Much Do You Get?
One thing that tends to put people off with KDP and that did put me off starting earlier on, is the small amount you may get per book.
Typically, with a basic journal, or even with a more complicated interior, you may only price your book at around 5.99 or 6.99.
Some books you can price higher, but this is a common amount.
With this, I may make between $1 – $2.50… With some making slightly more.
Naturally this means, you are going to need to make a lot of sales to make good money.
While it's true that the more books you have on KDP the more chances you have to get a sale – you will have a much better chance of making a sale if you do ensure you have a quality design.
If you're not a designer, it can feel intimidating at times. But you just have to get started, you can improve over time.
One Funny Thing Is…
You will probably find that some of the books you spend the most time creating, either don't sell or don't take off like you hoped!
Then, randomly, a book you really wasn't so sure about starts selling and becomes one of your best sellers.
Yep. It's happened to me more than once and I've heard it SO many times now, that I imagine it will happen to you as well.
In fact, that's really what happened to my best seller right now. I didn't take that much time over it and didn't have crazy high expectations… But it just took off.
So, you really never know what your next big seller is going to be!
Some Problems With KDP?
There are some rules on KDP which really aren't that clear and many people seem to have recently lost their accounts, for vague and uncertain reasons.
The way KDP terminates accounts, seems pretty harsh from some of the stories I've heard and I think it's left many low-content publishers feeling uncertain.
It looks as though some authors have had things come back to haunt them that they may have published years ago…..
So, even once your account has long been established, there are no guarantees that your account is safe.
Then there are the rumors that KDP is going to be cracking down on low-content books altogether………..
Whether there is any truth in that, remains to be seen!
For me, Amazon KDP has definitely been a good idea.
But the anxiety this business model causes me, makes me thankful that it is not my only income stream right now.
Do you have any experience Self-Publishing on KDP? Let me know in the comments!
Pin Me For Later?