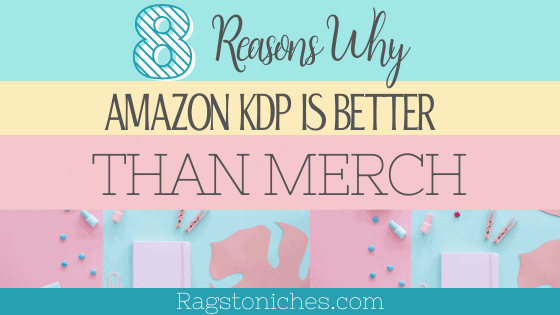 My guess is that you probably know what Merch or KDP is already, but if not – I will briefly explain now!
Kindle direct publishing, is another Amazon opportunity, where by you can upload and self-publish your own physical and digital books to sell on the Amazon platform.
In the past, you needed to go via create space to create your physical books – but now create space is no more and you can do this on KDP.
Merch By Amazon, is yet another Amazon opportunity.
This involves uploading designs on to the platform on to t-shirts, tanks, hoodies, pop sockets and no doubt, many other products in the future.
Learn more about Merch By Amazon here.
So, why am I saying KDP is better than merch……. aren't these two entirely different things?
Well, what I'm really talking about is selling here are LOW-CONTENT books on Amazon KDP.
Low-content means things such as…
notebooks,
journals,
planners,
coloring books,
sketch books… and so on!
Really any type of book that doesn't contain very much written content.
I have only very recently started experimenting with KDP and even LESS recently decided to take it seriously.
However, I noticed that there really aren't that many people talking about this… presumably they also don't want it to get over saturated like Merch.
But I also think many don't try it because, there is a little more of a learning curve and less resources online to help.
Which is why I personally didn't even start with KDP until several months after hearing about it.
Related Post – Is Merch By Amazon Worth It?
Still, I have seen plenty of Merch sellers claim that KDP is just a waste of their time bothering with and personally, I think that's misguided.
While I'm just a beginner myself with this and I have limited experience, I still believe there is opportunity here and that's what I want to share with you today.
So, how can Merch connect with KDP?
Very easily…. Because you can use your merch designs, to put on the covers of low-content books for KDP.
So, here it goes………
8 reasons why selling low-content books on KDP – is better than Merch By Amazon!
1/ You Don't Have To Wait To Join KDP!
Merch by Amazon currently have a waiting list system.
This is where you have to fill out an application and wait to be accepted.
It's not been unheard of for some people to wait for a year – but then norm is several months.
When I first applied in 2017, it took several months for my account to be approved.
Back then, there didn't seem to be much barrier to entry.
But I believe it's harder than it was to be approved.
By contrast, anyone can join Amazon KDP and there is zero wait time.
Therefore, there is no barrier to entry and you can start quickly.
2/ KDP is More Creative:
Yes, of course creating designs for Merch is a creative process.
But with KDP, there is another element you can explore as well – and that is creating your internal pages.
There are so many ways you can experiment and be creative with the pages of a book.
This is something I want to do more of in future, as technical ability wise, I'm not even sure how to go about creating some of the internal pages that I have seen.
But there are many variations and things you can do to make your books unique.
So, if you're a creative person, this could be something you'd really enjoy.
3/ KDP Is Less Competitive:
Everyone on the net seems to now know about Merch By Amazon.
The cat is long out of the bag and it is highly competitive.
While they do have other platforms now to explore, (the UK and Germany right now) many have found they just aren't getting the sales in these Countries.
Yet, on Amazon.com – the big niches are so saturated, that it's very difficult to start there now as a beginner.
When you get people that are in the higher tiers, have whole teams behind them and have hundreds of upload spots a day….
It's easy to see that gaining any type of traction on this platform, (especially with zero paid advertising) is going to be an uphill battle.
By contrast, there is still less competition in the low-content KDP space.
Yes, the bigger niches are definitely already becoming saturated – but I have searched for many keywords finding only tens to hundreds of results, rather than the typical 10,000+ results on Merch.
Plus, sometimes in those top results, the products are not even relevant, so you can see that getting on the top page of the results is a possibility.
4/ You Get To Sell On More Platforms Than Merch, (So Far!).
At the time of writing, Merch sells on Amazon UK, Amazon.com and Amazon Germany.
When you publish on KDP, you get the chance to put your book onthe US platform, Canada, UK, Germany, Spain, France, Italy and Japan!
I have to be honest, I have yet to sell any on most of them — I've only made sales on US and UK platforms — plus a single on in Germany, so far.
But, it's good to have the opportunity isn't it?
Plus, you could directly create products that could appeal to these different platforms, if you have any experience with those Countries, (or are willing to research hot niches there).
5/ You Can Get Repeat Customers:
Ok, so if you create a brand on Merch – you can also get repeat customers.
But how often do you buy the exact same tshirt or hoodie twice?
By contrast, you may buy the new edition of a new journal. For example; next years edition.
You may also like to have a whole collection of different items with the same design on…
So, you may want the same notebook in different sizes, you may want the journal and the notebook and the diary as well.
Plus, once you have used up all the pages in a particular book – you may decide you want to get the same one again.
And I feel that's going to happen frequently, than someone getting the same t-shirt again because it's faded, or whatever!
In fact, during this Podcast on the side hustle show, one of the designers – Rachel Harrison-Sund, explained just that.
6/ You Target A Wider Audience…(I think…):
Ok, I don't have the solid data here to prove this right or wrong, (my opinion)…. BUT….
Not everyone will go out and buy a t-shirt or tank with a slogan or image on it.
For example; I don't!
I've only once or twice bought a t-shirt with a slogan on image on it EVER!!!
I only ever once bought one of my own designs and that's because I created it for a play my son was in.
By contrast, I must a vast variety of different types of notebooks, planners, diaries and sketchbooks every single year.
Not just for me, but for my kids too.
Some could say, I'm a bit obsessed with stationary. But I am far from alone!
Everyone will use some sort of low-content book at some point in their lives – whether it's in school, college, the workplace, or in their homes.
Not everyone is going to buy a novelty item of clothing…. which is the bracket many Merch designs fall into.
Also, many people may feel more inclined to have a notebook with a cheeky slogan on it, because it's something that not everyone is going to see.
It takes someone a bit more bold, to wear a controversial, cheeky, or rude statement on their clothing.
7/ There Are No Upload Restrictions:
One of the most frustrating aspects on Merch is there restricted uploads and tier system.
When you first get accepted on to Merch, you may only upload a maximum of 10 products.
You then need to make 10 sales, before you can tier up…. but then you're only on the 25 tier.
Then you must make 25 sales. This process was very slow for me when I started and that was back in 2017!
Back then, I think it took a month to make a sale and I don't know how many times a day I'd check my account…………..
Now I'm stuck at the 500 tier and need to wait to get to the 1000 tier before I can upload any more designs.
With KDP, you can upload as many designs as you want.
This is a huge advantage in my mind and will make it much easier to scale up, in a shorter amount of time.
8/ You Can Make Sales FASTER:
Not only do you have to wait for months to even get accepted on Merch, but when you finally do the upload restrictions make it really hard, (and slow) to make your first sales.
I managed to make my first sales within a couple of weeks of uploading my designs to KDP.
Seeing as I had zero experience in this space and no idea what I was doing, I was in shock when I made my first sale.
Some Not-so-good things I've noticed about KDP, so far…
I find how you get ranked on there a bit of a mystery so far, that I'm trying to work out.
For example; sometimes I search for a keyword I believe I should get ranked for fairly easily and I can't find my book anywhere.
Yet, on the first page, will be completely irrelevant results to that keyword.
Also, while you can find tonnes of free resources on how to do keyword research on Merch and how to use Keywords….
The process is a bit different on KDP and free resources on this seems more challenge, (link me up to some if you know any!).
Probably the MOST ANNOYING thing about KDP, is that it can take several DAYS for your books to be reviewed and go live.
So, you can have a nervous wait for several days, wondering if your book is going to be approved or not.
The whole process of actually uploading the book, can also be very slow at times and frustrating.
Nothing is perfect and there are certainly PROS and CONS to both Merch and KDP.
However, even though I've made more money on Merch, I also have hundreds more products on Merch.
I am finding myself enjoying creating books more, so I hope I will be able to exceed my sales on Merch in future and start making some consistent sales.
I just need to keep up the consistency on uploading!
Have you tried Merch or KDP? Let me know in the comments!
Below are some links to free resources that have helped me so far:
Pin Me For Later 🙂