I'm excited to bring you this Magiclinks review today, as I think they're a great company that could provide you, with an additional income stream.
Magiclinks is a company I have recently discovered, after learning that you can make money from affiliate marketing on Pinterest, (without a blog).
While that's not a way that I'd recommend as a sole income stream, it is a way to make some extra cash.
And while I still 100% recommend that anybody start a blog prior to starting affiliate marketing…
This is still something you should certainly check out if….
You simply don't want a blog, or website.
You have a YouTube channel & are fed up of the measly Google Adsense commissions,
Or you have a great social media following and are wondering how you could make some additional money, while sharing great content.
Or if you already have a blog and are looking for a new affiliate network boost your affiliate commissions.
Magiclinks makes affiliate marketing accessible to everyone, no matter what their previous experience is.
But how does it work…. How to you sign up & how do you make money?
After recently signing up with Magiclinks myself, I can explain the whole process to you right now.
During this in depth Magiclinks review – I will cover the following topics:
What Is Magiclinks About?
Signing Up With Magiclinks.
MagicLinks Chrome Extension.
How Much Money Can You Make?
Getting Paid.
Magiclinks Referral Program.
PROS VS CONS.
When Would Magiclinks Not Be Worthwhile?
Alternatives To Magiclinks.
Who Should Join Magiclinks?
My Final Thoughts!
Learning More About Affiliate Marketing.
What Is Magiclinks About?
Magiclinks primarily seem to talk about the YouTube platform and how YouTubers can easily link their fans to any products they talk about on their channel.
If any fan then clicks their links and makes a purchase, the YouTuber will get a commission.
However, it's the same story for other social media platforms as well – it's far from just being for YouTubers!
The main social media Platform I work with, is Pinterest, who banned affiliate marketing for a while in the past, but it is now allowed.
This makes it an ideal platform to profit from Magiclinks.
They have over 1500 retailers at the time of writing this post & over 100 MILLION products…
So, you're not going to find it difficult to find products to share with your audience.
What makes it even easier, is they have a browser extension, which means you can check whether you can generate Magiclinks on any website you visit.
Pin Me For Later 🙂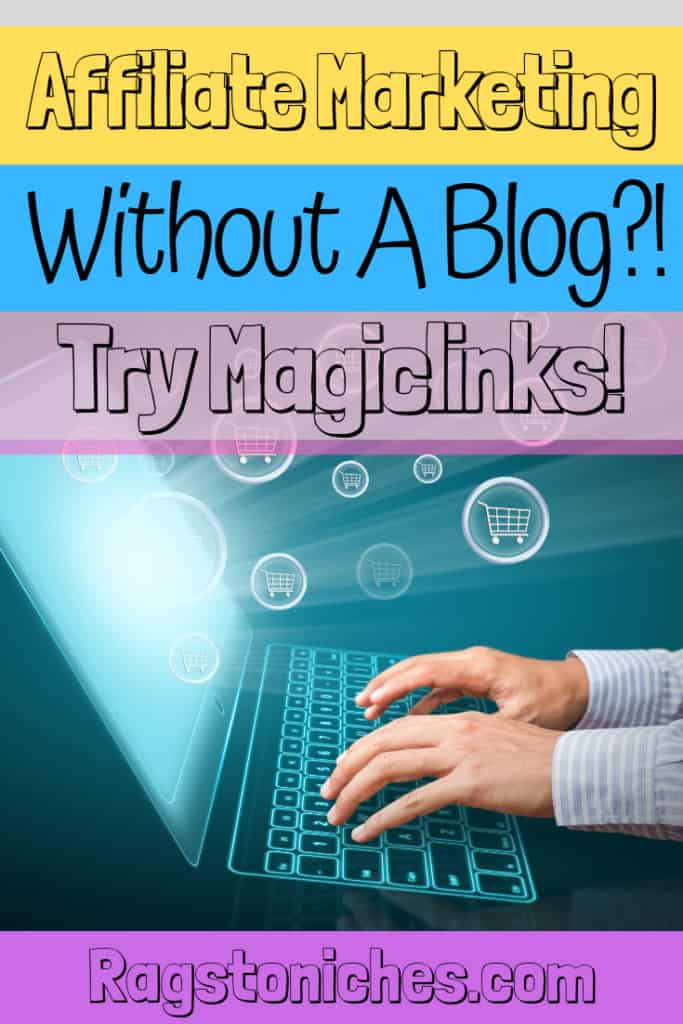 Signing Up With MagicLinks:
Its super easy to sign up and you'll likely get accepted very quickly, (as long as you're someone sharing quality content and have a good social media following!).
Head to their website here, you'll need into fill in some basic details such as you email/name/display name/telephone and country of residence.
Then it comes to a section asking for your website – you do not need to include this! You can simply leave it blank.
Below this, you can add your social media profiles, (see below).

I personally signed up for another website that I own, which happens to have around 700,000k views on Pinterest a month, so I thought that had the best chance of being accepted, (even though it only has a couple of thousand followers).
The first option it gives is to say you have "less than 1000," followers and then it goes up from there.
You may want to wait until you do have a thousand followers or more prior to applying, as you probably won't be making much from Magiclinks otherwise anyway!
But whatever you choose, there is no harm in applying. Simply complete the form and keep your fingers crossed… 🙂
You can always reapply later if you don't get accepted the first time around.
I heard back quickly that I had been accepted… I think it was only a couple of days, it certainly wasn't long.
Sign up to Magiclinks here – and let me know how you get on.
You can also ask any further questions, in the comments section at the bottom of this post.
MagicLinks Chrome Extension!
Once you are accepted, this great free tool makes everything so easy and it is so simple to use.
So, if you don't think you're a technical person, you really won't struggle with this.
But what is it? It's a handy tool that makes creating affiliate links easy- peasy.
Go to the chrome store and simply search for Magiclinks and click to install.
Now, whenever you're on a retailers webpage you can…
First, find out whether you can create Magiclinks with that retailer by clicking, "create URL from current URL." If you can't, it will let you know right away.
If you can, you can go ahead and create your link by clicking the button as before – if it can, it will create your affiliate link to the product. It will even tell you your predicted commission!
You can then use your affiliate link via social media, such as in your YouTube video description, or on your blog.
How Much Money Can You Make?
How much money you make, completely depends on the retailer.
Generally, I've seen many commissions be around the 8-9% mark, but you could generate commissions ranging anything from 2-50%.
However, it's worth remembering that Magiclinks will also be taking a cut for themselves – they take 30% on your commission.
However, Magiclinks have said themselves that their top affiliates are making over $100,000 per year with them!!!!
Also… something you need to remember is, just like with Amazon Associates, you get a commission on the final value of purchase made.
So, if you link to a particular dress, but then the customer also purchases a tonne of other stuff, you will ALSO earn a commission on those items.
Getting Paid:
They also have a fairly large payout threshold of $50, although that's not unusual with affiliate networks.
You will get paid via PayPal once you reach that $50 threshold – on the 15th of each month.
If you don't reach that payout threshold, your earnings will simply roll over into the next month.
Magiclinks Referral Program:
If you have a blog or YouTube channel that other bloggers/YouTubers take advice from themselves, you could also earn by recommending Magiclinks.
Once you've checked it out for yourself, signed up and see how easy it is to start recommending products you love, you'll be happy to recommend them to your readers.
The best bit is, you will actually earn 40% of whatever your referrals earn and this is at no cost to them at all.
They still get paid commissions like they always would, but you can also benefit in the process.
PROS VS CONS
PROS:
It saves tonnes of time joining multiple affiliate programs, when there are so many products connected here.
Free & simple to sign up.
You don't have to have a blog/website to sign up.
Awesome platform for YouTubers, which has masses of growing potential.
So simple to create affiliate links with their chrome extension.
Allows anyone with a large social media following to potentially earn commissions, (not just for YouTubers/bloggers).
Plenty of video walk-throughs, showing you exactly how to do things – anyone would find it easy, no technical knowledge required.
Over 100 million products to choose from, over 1,500 retailers and no doubt growing all the time.
Good customer service and even live chat available on their website.
Some retailers also pay-per-click, instead of earning via earning affiliate commissions/sales.
You can make up to $1500 per referral you bring to Magiclinks, with generous 40% commissions.
CONS:
You can only be paid via PayPal at this present time.
Magiclinks does earn part of your commission – although they have struck a lot of good deals, which means that you may not always have made any more, even if you had gone an joined the affiliate programs directly.
Ultimately, you have to weigh up whether the convenience of using their service outweighs any potential loss.
Or, maybe you're not even bothered…. (Personally, I take convenience over the odd dollar of commission here and there).
When Would Magiclinks… Not Be Worth it?
Let's say you join Magiclinks, but constantly see that you're only really using a small number of retailers.
In this case, you may want to check how much commission you'd make by signing up with these retailers individually, (potentially bypassing the loss of commission you give to Magiclinks.
Is the amount you'd make individually substantially more… Or not?
If not, you may still find it more convenient to stick with Magiclinks.
But if not, you could consider switching.
It's up to you whether you want to figure this out, but it wouldn't take much investigation if you find the retailers you actually use are very few.
For some people, they may be linking to multiple retailers all the time, which means it's just going to be a lot less hassle to stick with Magiclink.
Keeping track of multiple individual affiliate programs can be quite a challenge, which is why I do find affiliate networks useful.
Alternatives To MagicLinks:
Many affiliate programs do require you to have a blog or website and I still highly recommend you start one, (if you're serious about affiliate marketing).
BUT… you're still dead set on affiliate marketing without a website, you may find the following posts useful:
You may also be interested in checking out the following affiliate networks…
Who Should Join Magiclinks:
Primarily this company are great for anyone who wants to monetize their YouTube channel, or social media platform.
However, it's also still a great platform for bloggers too and great for ease of use and quickness.
With so many retailers, you're bound to find something that fits in with your niche…
But if not, you could check out the other affiliate networks that I've linked to above.
Final Thoughts:
I've been really impressed with Magiclinks so far and am very pleased to have found another network that I can proudly recommend to my readers.
For people who have a large social media following and an engaged audience, there is no reason why you can't start making some commissions.
I think it's great that this company has really opened up affiliate marketing to content creators of all kinds and are giving a wider audience the opportunity, to make an income sharing products that they love.
I hope you found this review helpful, you can join Magiclinks for free here – good luck with your application!
If You'd Like To Learn More About Affiliate Marketing:
If you're actually quite curious about starting your own website, or would like to learn more about affiliate marketing…
I highly recommend you check out the free training here.
It's actually where I learnt how profitable websites can be created and of the many ways you can earn an income from a blog or website.
All the best….