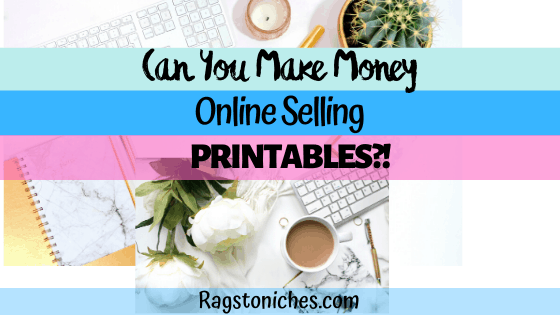 Can you make money with Printables… And if you can, how does it work?
I've been interested in making passive income for a long time and trying to build up income streams, that can bring in additional income without continuously needing to produce more work, or work harder!
After recently getting into self-publishing low content books online and finding some success there…
I have also become aware of how creating and selling Printables and digital files, can also be a great way of generating passive income.
But… What Is A Printable?
Well, it's going to be any sort of digital file, that you intend to print out later.
So, it could include things like….
Timetables/charts/trackers,
Coloring pages,
Invitations, (e.g. Wedding/Birthday/Party).
Digital artwork,
Signs, (Wedding/Birthday),
Printable Planners,
Printable Labels….
You get idea!
Printables are a great option for you if you have any basic artistic ability, because they're simple to create and can pay you multiple times over, for work you just put in the once.
For example; you could sell thousands of one invitation design that you created, that may have only taken you ten minutes to throw together.
Even if you feel you're a little artistically challenged, don't worry! Because online platforms like CANVA, make designing simple and fun.
Can You Make Money Selling Printables On Etsy?
Yes, you certainly can.
Some sellers have become very successful selling printable products on this platform.
In fact, printables are some of the best selling products on Etsy!
Etsy is a great choice because it's so simple to set up an Etsy store and it is inexpensive to get started.
Plus, you get the added benefit of generating free traffic from people searching for products on Etsy.
Therefore, you can avoid expensive advertising costs, which would certainly eat into your profits.
To boost your products up in the Etsy search, Etsy does also provide some cheap advertising options, which mean you can boost your listings for a small fee.
What About Other Platforms?
As well as selling on Etsy, you could also sell on something like Shopify, (which has tonnes of handy tutorials and support to help you get started).
Many people also giveaway, (or sell) printables on their website or blog.
Giving away a free printable – such as a guide or even an e-book, can be a good way to get people to join your email list.
I have also heard of some people having success selling on platforms like, Gumroad.
So, have a think about where you might want to get started.
My personal preference would be Etsy, as I have already previously set up a store selling clothing and having done so, I know the process is very straight forward.
How Do You Get Started Creating Printables?
Before you get started, you may want to get some inspiration about the type of products you want to create.
Whenever I am looking for inspiration, I head straight for Pinterest.
There you can look for products that may work, or be a good fit for you.
Make sure you save those pins to an inspiration board – if the board doesn't really fit into your current brand, you could make the board private.
Or, if you're not a blogger/website owner at this stage, you may just have your regular Pinterest account.
Before you begin, you'll want to look into creating and Etsy or Shopify store.
There is a guide for starting your Etsy shop here.
You can find out how to get started on Shopify here (you can get a 14 day free trial here).
If you want to get started on Shopify, make sure you create some of your products first.
There is no point starting your free trial, before you have something to sell!
If you have zero idea how to start creating a printable…,then you may feel completely stuck about where to start.
For example; can you use certain graphics for free? What about fonts and templates?
Here are a few options for websites where you can get licenses for digital files to use and sell.
Which you choose may depend on your budget and experience and also what you will use to edit your printable files.
If you're already familiar with photoshop an illustrator, then you're not going to have any problem with editing files.
If, like me, you have never used those programs, it is possible to edit via free programs such as CANVA, (my personal choice for all graphic design work right now).
But this will limit your choice of vetcors and images because you can only upload Jpeg and PNG files up to CANVA.
If you get the premium version of CANVA, (which I have and is really great value) then you can also upload SVG files as well.
Long term, if you are planning on building a business on selling Printables, it's a good idea to invest some time learning something like illustrator or Adobe indesign.
Thankfully, you can learn anything these days online and there are so many online tutorials you can find.
For example; you can get budget courses on platforms like udemy
Pin Me For Later! 🙂
What About If You Just Want To Use CANVA?
If you really don't want to invest the time and money learning something like illustrator, plenty of people have got by using low-cost programs like CANVA.
They do have plenty on their platform that's free to use, but if you're serious about creating printables to sell, I recommend the premium version, (I have it myself and use it EVERY single day).
Check out the video below that shows you just how easy it is to create a simple design on CANVA….
Just Start Experimenting!
The only way we learn is by trying things out and experimenting.
So, don't spend too long in the planning stage and start actually designing something and see how it goes.
Have a list of potential ideas that you've discovered on Pinterest and go and browse similar products on ETSY.
Decide on one particular thing that you'd like to try, (for example; a Birthday invitation!).
Head over to CANVA, sign up and check out some of their templates.
You will see that they actually have invitation templates for you to use.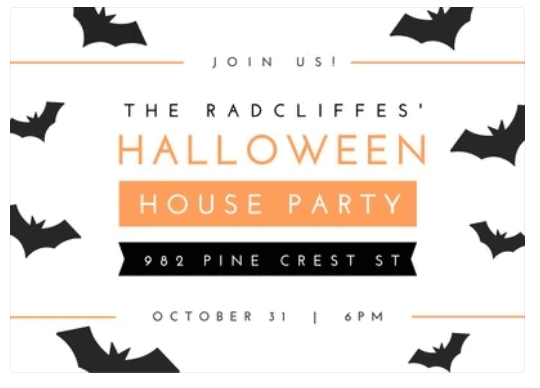 You're fully able to edit these templates by changing things such as the fonts, the colours and the images and making something entirely unique.
I hope you found this little intro into Printables useful and that it provided you with some useful resources and ideas to get started making passive income!
This is definitely an avenue that I'd like to explore myself – both with Printables and digital downloads in general.
The great thing about this income opportunity, is you can start it up with little to no money and start generating sales.
How Do I Make Money Online?
At the time of writing, most of my income comes from three sources…
Affiliate marketing, (via two blogs),
Self-publishing,
Paid Advertising, (on my blog).
With the majority of it coming from my website right now, it's something that does generate passive income for me on a daily basis.
That's not to say I don't put work in….
It's to say that I can be paid many times over for work that I put in just the once.
Let's say I write a blog post today that becomes my most popular post, that will be generating money from advertising and maybe affiliate sales and could do so for many months & years into the future.
It won't always work that way for many posts you write, but for some it will and that's just how it goes!
If you're interested in generating an income long-term in this way, check out this free training.
If you have any questions about Printables, or would like to share your own experience so far – simply leave a comment below! 🙂