Many people will say, that you gotta have money to make money…
But, believe it or not, there ARE legit ways to make money online when you're broke.
Ideally, what you can do is to start learning for free and build up your skills…
At the same time, you can also do other things that are free too, but which could boost your income and grow into something more in time.
I do recommend doing what you can to invest in yourself.
I didn't have much at all to invest into making money online when I very first started.
Even once I had a little, I really resisted spending money on things like training, help, or things like a premium theme for my website or an email autoresponder….
Some things are going to help advance you along more quickly than you'd be able to achieve yourself and can be beneficial.
Therefore, I recommend trying to get a small amount of money together to help get you started.
You could achieve this by simply selling some of the junk that you don't need anymore, (as I mention further down).
However, if you have nothing to put towards getting started, there are still things you can do, that I will cover in this post!
Two Training Options:
I recommend these two training options for getting started… One costs just $1… The other is free….
1/ The 100k Roadmap
This one you can get for only $1….
Yes, at some point Paul, (the creator) put this training on at a dollar and I'm not sure how long this is going to be available right now.
The training there is aimed at getting you started building a 100k business online and you will also get an insight into the type of training Paul Scriven's creates.
He has a particular style that resonated with me and I really enjoy his training, emails and videos.
He's also a real motivator and cuts out all the crap, so if you need a kick up the butt, Paul Scrivens, (AKA Scrivs) is a good one to check out!
He explains what's on offer here on the $1 sales page.
2/ Wealthy Affiliate: The Free Membership Training.
This platform can help you learn how to make money via affiliate marketing and much more besides.
It has a free 10-part training course, two free websites, tens of thousands of members, live chat and much more…
It's one of very few platforms that allow you access for free and can access many premium features for 7 days.
In the long term, the premium membership is what you want here, BUT the free training is just a no-brainer to try.
You only need an email to sign up as well, no other info!
---
Ok…. So, you've signed up to those training options…. BUT WHAT NOW?
Getting your budget training underway, will give you an insight into how you can start building an online business.
But what could you do while you learn…. what ways could you start making money online?
Affiliate Marketing – Without A Blog…. On Pinterest?
If you have no idea what affiliate marketing is, this post here explains.
But very simply: affiliate links are tracking link URLs that you will use to direct customers to products and services that you recommend…. You make a commission when a purchase is made.
The traditional way of affiliate marketing, is to place these links on your own website/blog – but you can use on some social media platforms too.
…. Such as Pinterest!
I wrote an in depth post here, explaining how you can make money on Pinterest without a blog.
It was this great budget course, that first opened my eyes to affiliate marketing on Pinterest!
You can also get started and join some affiliate programs, even if you don't have a website or blog.
You just need to have a relatively good sized social media following to join something like magiclinks.
Magiclinks allows you to find affiliate links from hundreds of different companies online.
You can actually create pins leading directly to affiliate products from Pinterest.
However, is very important that you disclose your affiliate links on Pinterest – or risk being banned.
I already wrote a post showing you step by step how to do this, so you can just check that out here, if you're interested in this method.
Of course – you can always get straight into affiliate marketing WITH a blog as well.
While I (highly) recommend that you do this on a domain that you own, you can always start on a free website and then change this later on.
I wrote an in depth post showing you how to build a blog from scratch here.
Freelancing:
Freelancing is one of the quickest and cheapest ways you can start making money online.
My first choice in this way, would be to start freelance writing, (get 200+ niche ideas for free).
But maybe you have a different area of expertise!
A good place to check out what people are looking for, is Fiverr.
Go and take a look at the different categories and see where your skills would fit.
Alternatively, take a look at what skills you'd need to learn, to do the type of work you want to do!
On platforms such as Fiverr, Upwork, People Per Hour and Freelancer – you can sign up and start selling your services really quickly.
If you don't mind taking some time learning in your own time and building up a client base, this is something you can start for free.
If you want to up the pace – I personally took this freelance writing course.
You may also find the below posts useful!
Print on Demand:
This is how I make a small amount of money online and you can start entirely for free.
I make simple designs and upload them on to tshirts, tanks, hoodies and sweatshirts on Merch By Amazon.
Then Amazon print my designs on to the products and ship the products to my customers, when I make a sale.
Amazon is in a period of growth with this right now – they're adding new products and it's quite exciting to see what products they will produce next.
Because they continue to bring out new product opportunities & also open up into additional Countries, more opportunities will arise!
While I'm not a "real," designer by any means, I have managed to create simple designs using CANVA.
Over time, I've gotten a bit better at the designing aspect and can product something relatively decent.
You also don't need to be an expert designer to sell products – some of my simplest designs have sold the most!
But I have also purchased designs for around $3 or $4 per design, on Upwork.
Ironically, a majority of the designs I've actually bought haven't sold so…. So, it just goes to show!
You do need to apply to join Merch By Amazon – but while you wait, you can upload your designs to various other platforms as well.
I recommend you go for Redbubble first, because they also have their own organic traffic.
Pin Me For Later 🙂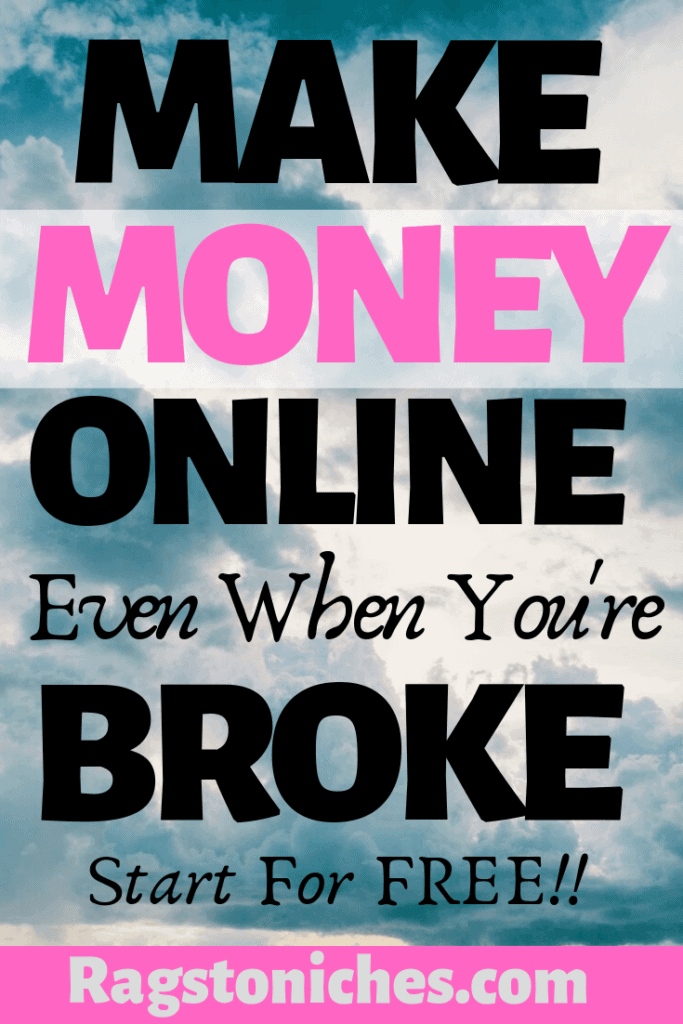 Sell EVERYTHING You Don't Need:
I know it sounds simple – but so many people still overlook this.
If you hate Ebay, there are other ways you can sell your things – you just may not get as much money.
Here are a bunch of alternatives to Ebay.
If you have dvds, old smartphones, music, or even random Lego to get rid of and don't want to sell it yourself, you could try MusicMagpie.
There are also lots of local Facebook groups you can join, if you'd like to sell things locally to you.
Get some money together that you can then put back, into growing your business.
Every month, I have various expenses that I need to allow for. Some of these include….
And there are regularly other things I will purchase – such as premium plugins, wordpress themes, training and more.
So, while you can certainly start off very cheaply, you need to invest back into your business as well.
Create An Online Course:
You can create Online courses really easily on Udemy.
There is step by step training, showing you how to to do it and so many different categories you could go into.
Most of us are skilled enough in at least something that we could help teach others and if you're not, it's worth seeing how you can develop the skills you need.
If the idea of creating and selling online courses appeals to you, it is a good way to make recurring commissions online.
It's something whereby you create the course once and… aside from edits and updates… you get paid multiple times over for it!
Once you've developed skills online, this is an area you could also go into later on too.
Test Websites:
This is a really easy way to start making some extra cash online – it's something I've done a lot and that I recommend!
It involves checking out websites in development and sometimes Apps as well and performing certain tasks to assess usability, check for bugs and give opinions about various aspects of the website/app being developed.
Some questions may be as simple as them asking… "What do you think this website is for…?
"what are your first impressions of this website?"
"Do you find this website easy to navigate… explain…" And so forth.
You will often have to complete a task that they set for you. This has often involved me making a pretend purchase on a site and browsing around….
There are tonnes of different websites you can check out – I wrote about 15 different website testing sites here.
However, my absolute favorite, is still one of the first ones I ever joined and also one of the most popular – which is called User Testing.
You can get $10 for a test lasting around 20 minutes and $3 for smaller tests.
The work is simple and pretty enjoyable – on the downside, there can be limited tests and you need to act quickly, because they are first come, first serve basis.
Participate In Studies:
I only was recently introduced to a website called Respondent!
Having spent hundreds of hours looking into different survey panels online, (that pay a very small amount) this was something new to me!
Respondent pays for you to participate in research studies online and in person.

Online, it will require you to have a face to face interview online, so you need a webcam.
However, you get paid much more than you would with many survey related websites….
In fact, some pay as much as around $140 for a test!
While many studies do require you to have knowledge in very specific areas, other studies are more general.
Like any of these things, regularly checking what is available is key.
You need to go on to the website to check regularly if you're serious about making money here.
It's completely free to join and well worth checking out.
Create Stuff To Sell On Etsy Or Amazon Homemade:
I recently wrote a couple of posts that are relevant to Etsy, which you can see below!
Etsy is a good platform to start with, because they have their own traffic.
By targeting low competition keywords people are already searching for on Etsy, you can try and rank highly on the platform for search terms.
You can also boost products on Etsy REALLY cheaply too, with some budget Ads.
When I created print on demand products on Etsy, I used to boost some listings for about $1 a day.
I talked about print on demand earlier and is also possible to do this on Etsy, by linking up with another service like Printful.
It's a little more complicated than Amazon, but does provide a completely different client base opportunity.
As I mentioned in the title, you could also add products to Amazon Homemade.
At the time of writing this post, Amazon Homemade is still relatively new, but you do see some cross over with products on both platforms.
While you'll need some money to buy the materials you need, you can start out small and see how the sales go.
The great thing about Etsy is you can experiment – you can delete items from your shop whenever you like and upload new items.
Etsy has a useful section on their website called – The Etsy Handbook, it is packed full of info to help you get started & make sales.
What Will You Do To Get Started?
That sums up a bunch of ways that you can make money online when you're broke.
But what appeals to you?
Whatever you choose to do, just don't overload yourself by doing everything at once.
You may also want to check out…
If you'd like to learn more about how to start up an online business from scratch, you can sign up to my free course below this post.
All the best,