If you're a crazy about Lego fan….
Maybe you've started to wonder about ways you could actually make money with Lego?
Making money with my hobbies or interests has always been something that has interested me as an idea!
In fact, that's what first led to me creating my first website.
Because, I was looking for a way to make money from writing primarily.
One of my very first blogs was in the kids room decor niche…
Which is where I first started to see some of the potential for making money with Lego!
I got to see so many different Lego inspired designs and creations – if you're any good at DIY or Art, then this could be an option for you!
Let's get stuck into this… During this post I will talk about the following.
The simplest method: buying/selling Lego.
Lego decor design/DIY
Lego stationary/gift cards.
Lego inspired Jewellery.
Lego inspired Art.
Lego YouTube channel.
Lego niche site/blog
What surprised me was just how many of these methods for selling Lego inspired items – were available to buy on ETSY.
Etsy is a great place to get creative ideas for things to sell and also, to research what is selling well – and what isn't.
As they're all on this platform, you could go into creating multiple Lego inspired items.
1. Buying/Selling Lego.
This is the most straight forward and well known well of selling.
Buy at low cost and sell for a higher cost, it's as simple as that.
Check out garage sales, (bootsales in the UK), thrift stores, (charity shops) and even on places like Ebay.
You can of course resell on Ebay as well, but you may be able to get a bargain deal when people selling too.
Generally though, you should be able to pick up cheaper pieces offline and then resell for higher price online.
I kick myself when I think of the brand new Lego sets I've sold for next to nothing, just because I couldn't be bothered to list online at the time.
The video below gives you some good tips for buying Lego to sell for profit.
So, while you can sell random lego pieces via weight – you can end up selling unique single pieces for a lot.
In the video above, the guy talks about finding a unique looking elephant Lego figure piece and that sold for $36 alone!
Top Tip: Lego animals sell well!
So, if you see any figures or unusual looking items in your Lego stash, check out how much they may go for individually on Ebay.
2. Lego Decor – Design/DIY:
If you're you're good at DIY, or even if you're not, (hey, you can learn right!?)…
Then you may consider creating Lego decor items to sell on platforms like Ebay, or Etsy.
An example of some items you could create are – Lego tables, shelves, lights, cupboards.
Take a look at some cool examples below…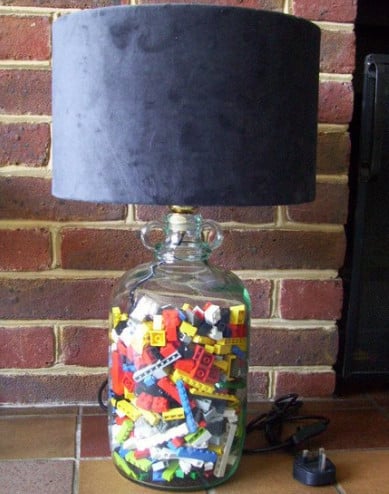 You can find this Lego Lamp on Etsy – where many sellers are selling Lego inspired items.
Custom built Lego tables could be a good idea, I remember wanting one when my kids were younger, (should have just made one really!).
More of a Lego cube table – that you could also use to sit on as well!
This one is made from fabric and they have a bunch of different varieties.
3. Lego Stationary/Cards:
Stationary and gift cards is a great Lego idea and, looking through these, this I was tempted to buy one of the cool gift cards…
But wish I'd been in time for valentines day, (see below!)….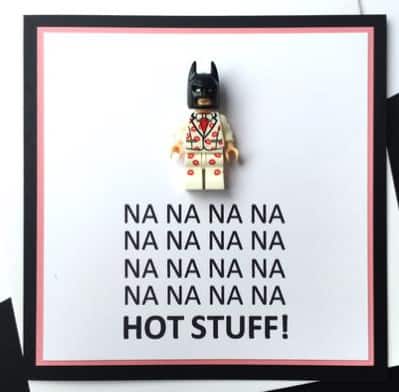 This seller has a whole variety of Lego related gift cards on offer and has sold nearly 230, at the time of writing.
You may be wondering – how on earth can someone get hold of all these Lego figures cheaply enough?
But actually, there are several places you can buy fake Lego figures at a cheap rate.
one place you can find a huge variety of figures; (which they call "Legoings,") is – Aliexpress.
I also love this Unicorn Lego Card, (see below!).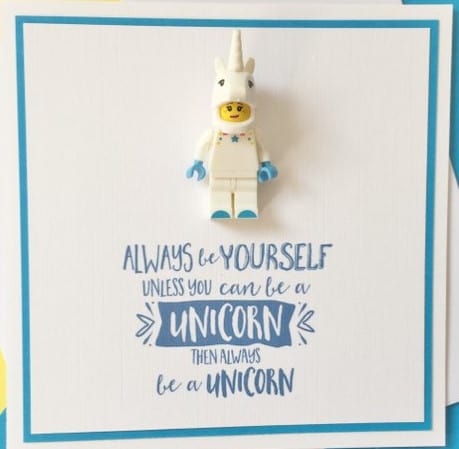 But gift cards are just one idea… You could also decorate notebooks, make Lego crayons, Lego pencil tops and so on.
4. Lego Inspired Jewellery:
Quirky jewellery is always going to be a winner and if you can combine a passionate hobby or interest with that, then you can have a winning combination.
Below, you have the combo of Star Wars & Lego… Combining two popular interests.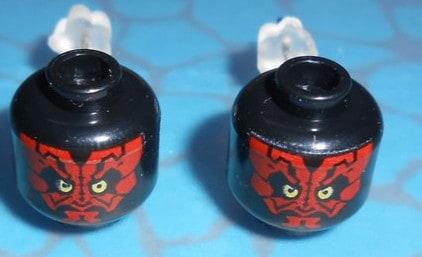 There's a cool video below, demonstrating how you can create earrings from Lego men.
There are various other things you could consider doing – such as; necklaces, bracelets, rings… and I have even seen cufflinks.
5. Create Custom Lego Frames:
Something I do see a lot of, are frames full of Lego characters.
Generally, there will be some sort of theme.
Such as, a bride and groom, couples, family, valentines.
Take two examples below…
If you're not particularly crafty or artistic, the frame ideas look like a pretty simple one to pull off.
However, the sellers have gone to great lengths to create all sorts of different varieties.
The good thing with any of these ideas, is you could try them out affordably.
You don't need tonnes of items to try them out sales wise.
6. Lego YouTube Channel:
Just so you know from the get-go…. You need many thousands of views on YouTube to make very much money.
So, for the most part, this could make an additional income stream with other methods.
For example; you could have a YouTube channel with tutorials showing others how to create Lego products.
You could also use the channel to promote content on your Lego niche blog or website.
In addition to Ad revenue, you can also add affiliate links below your videos, (linking out to useful related products for a commission).
In any case, there are many different types of channel dedicated to Lego.
One popular type of video that stood out – were some dedicated to creating stop motion Lego videos of all kinds.
Some other types of video you could consider making include….
Creating speed Lego building videos.
Channels dedicated to all sorts of Lego videos & films.
Channels showcasing amazing Lego creations.
Unboxing videos.
Lego Tutorials.
Lego Reviews.
Basically, anything you can imagine relating to Lego!
Lego has such a massive fan base, perhaps you could come up with something original for your channel?
Finding a unique niche within this interest, would help you stand out.
7. Lego Blog:
Whatever way you choose to make money with Lego – it's a good idea to try and incorporate a blog into this as well.
So, for example…
If you decided to sell Lego products on Etsy – you could use your blog to build up a following and grow an email list.
You would then be able to send your fans promotions and update them about new products!
If you buy and sell Lego, you could have a blog documenting how you do that and incorporate tips & tricks to help people.
If you start custom making furniture, you could have a blog with tutorials showing how you build your items.
Your blog doesn't even need to be solely about Lego, but you could incorporate Lego into a different niche.
The other great thing about a blog, is that over time you can develop different income streams.
So, you can join affiliate programs, (there is even a Lego affiliate program you can join).
Affiliate marketing is where you can earn a commission for recommending products/services.
But you could also earn money via doing sponsored posts, join an Ad network, or much more.
Useful: How to make your first affiliate sale.
If you want to look at some example's of Lego blogs – there is a useful list here.
If you'd like to learn how to start your own blog, I created a handy guide here.
If you want to learn more about affiliate marketing and making money online, this is the training I took & recommend.
That concludes my 7 ways to make money with Lego…….. 🙂
Can you think of more? Let me know in the comments!