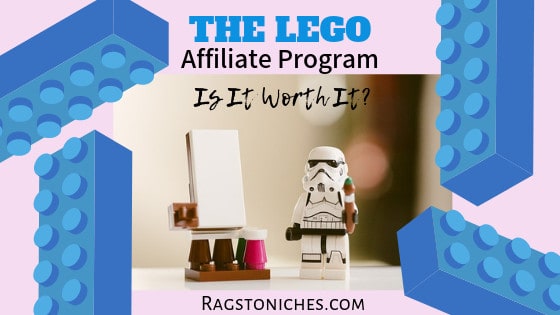 So, having just recently written a post all about ways to make money with Lego….
I discovered the Lego affiliate program!
When I was a kid, (in the 80's!) Lego was still primarily considered to be a boys toy.
However, I always loved playing with Lego and, even now, I don't need any excuse to take my kids to the Lego shop…
(You get to play with Lego!!).
It's just one of those brands that transcends all age groups and has global appeal.
Therefore, surely there are going to be many thousands of people online every day looking to buy Lego sets.
If you do it right, there is no reason why you can't benefit from this fact, by helping people with their Lego purchasing decisions!
In my Lego Affiliate program review today, I'll be covering the following topics.
What Is The Lego Affiliate program?
How do you join the Lego Affiliate program?
What Toy Ranges Does Lego Have?
How Much Do They Pay?
Affiliate Programs To Compliment Lego.
How Would You Promote Lego?
PROS VS CONS
Is This Program Worth It?
Affiliate Marketing Training – Start For Free.
It's great to see that this program exists, as I wasn't aware of it for ages.
However, you may find that other online retailers have better prices than the Lego website itself, (I will explain further down!).
I will give you some tips about other affiliate programs you could join that may convert better overall and ultimately, whether this program is worth your time!
What Is The Lego Affiliate Program?
If you found this post at all, I assume you know all about affiliate marketing already, (or at least the basics…).
If you don't, then don't panic: this post explains it in some detail.
Very briefly though, I will explain it now:
When you sign up to the Lego affiliate program, it means you can link to products on their website and earn a commission whenever a sale is made.
So, if you're reviewing different Lego sets, (for example;) you can link to the Lego website from your blog, with an affiliate tracking link connected to your account.
If the person reading your review decides to go an make a purchase from your recommendation; then you will earn some money.
There will be various terms and conditions and it's worth carefully reading through those before you participate but basically, that's it!
Join affiliate programs —- > direct people to products via your links —-> make sales!
I'll explain how much you can earn per sale a little bit further down.
How Do You Join The Lego Affiliate Program?
First a foremost you will need a blog or a website and generally, you'll need to be in a niche that has some relevance to the program you're joining.
So, if you have a website reviewing wine coolers or something, (err that's off the top of my head :))… Then you may not be accepted!
By contrast, if you have a toy review site, a Lego based blog, or a blog that in anyway incorporates kids, (parenting etc) then that's going to be a good match.
Useful: My Crazy In Depth Guide To Starting A Blog!
Once you have your blog set up and you have some content on there, you can start applying to affiliate programs.
I personally discovered the Lego affiliate program on the Rakuten affiliate network.
Which also happens to be one of the first affiliate networks I ever joined, so they do welcome beginners.
An affiliate network is a home to many different affiliate programs and they can be very convenient – as it means you can sign up to multiple affiliate programs in one place.
Simply follow the instructions to register as a partner on their website.
They will want to know things such as your personal details, social security number, website URL and how many visitors you get per month.
Just be honest about the amount of visitors – the lowest you can say is, "less than 500."
So, it's not like you have to say zero!!! 🙂 I remember being so nervous applying to affiliate networks as a beginner, but there is really no need.
What Toy Ranges Do They Have?!
So, let's say you've signed up with Rakuten and have searched for the Lego program, applied and been accepted….
What sort of products can you actually promote!?
Well, you're able to promote anything on the Lego website.
Simply grab a link for any product on their website and you can change this link into an affiliate link on the Rakuten platform.
On their website, you can shop via categories, or themes. You can also go straight to their new products, or exclusives.
So, some of the themes include: Disney, Elves, Ghostbusters, Harry Potter, Jurassic Park, Unikitty… (They didn't have this choice when I was a kid!).
Some of the categories include: Buildings, Animals, Cars, Ninjas, Robotics and Fantasy…
And there is tonnes more than this available, so a lot to choose from and can be a good fit for a variety of different blogs.
The range of things available, (and the scale) is quite incredible. Although the prices can be a little eye-watering….
Luckily for you, the higher the price – the bigger the commission.
How Much Does Lego Pay Per Sale?
You need to join a different affiliate program, depending on your location, (or several if you want to promote from more than one country).
At the time of writing, they have affiliate programs in the USA, UK and Canada.

What you may not be able to see clearly above, is the level of commission. This is as follows:
USA: 3% commission.
Canada: 3% commission.
UK: 5% commission.
Also, the USA and Canada only have a 7 day cookie, whereas the UK has a 30 day cookie.
That means that – if someone clicks your affiliate link to Lego, but doesn't buy anything… You will still get a commission if they return and buy something within an allotted time frame.
In this case 7 days, (USA/Canada) and UK, (30 days).
Although, they also can't click on anyone else's affiliate link in that time frame. Otherwise, the commission will go to them instead.
The percentage commission you get, is from the total sale.
So, if someone spends $200 on the Lego website, you'd get $6.
Or £10 in the UK on a £200 sale.
Affiliate Programs To Compliment Lego?
One thing I am always cautious of before joining many affiliate programs, is if people are more likely to purchase from Amazon.
Is someone going to search for the desired Lego set on the main site and then search for a cheaper price on Amazon or Ebay?
In many cases, I think they might. On my very first search, I found the a set cheaper on Amazon.
(I'm in the UK but in the US there was also a price reduction).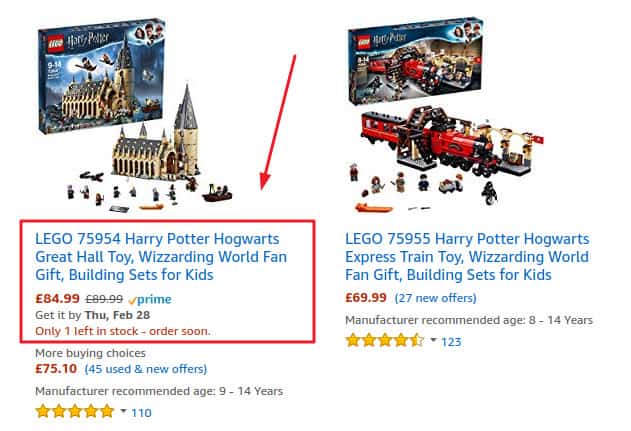 On the main Lego site, this item was retailing at £89.99.
So, not a huge reduction – but a reduction all the same and free delivery if you're PRIME.
However, I also noticed free delivery on the Lego site AND some freebie Lego movie trading cards.
Sooooo… it would be up to you to judge.
If you noticed that Lego were giving freebies away with orders, it would be worth mentioning this in your blog and then ensuring you keep it updated as this changed.
Also, it won't always be the case that sets are cheaper elsewhere and there are also going to be sets that you just can't get on Amazon, or that are in very short supply.
In any case, I would recommend also joining affiliate programs such as Amazon and Ebay.
Depending on your niche, there are also many other Toy affiliate programs out there.
A good idea is to join networks such as Rakuten and AWIN and browse the different companies on offer.
Another program you may consider is the Etsy affiliate program – as they do all sorts of handmade Lego inspired items, that may also fit in with your niche.
Just don't join too many at once, it's better to have a few main ones and it's important to keep track, (I have all my affiliate programs bookmarked).
Useful: How To Make Your 1st Affiliate Sale.
How Would You Promote Lego?

Naturally, the main initial way will be through blog posts, or YouTube videos – with a focus on reviewing certain products.
Your niche doesn't have to be purely Lego related by any means.
Any blog that incorporates parenting or kids can probably fit in some Lego related posts.
Alternatively, you may want to target adults. There are many adult Lego enthusiasts out there.
Also, you may have a website in another niche that Lego has a connection with… such as Star Wars, Harry Potter, Disney, Marvel, or Minecraft!
Aside from standard reviews, other posts such as "Best of's" and "Top 10" list posts can do really well….
And can also be done on research alone, rather than purchasing all the products yourself.
If you have a YouTube video – videos where you un-box products live are also popular. The downside being, you have to purchase the product.
That said, once you have enough followers – many companies will send you products for free too.
PROS VS CONS
PROS:
Simple to sign up, via affiliate network.
Well-known, trusted and established brand.
Tonnes of products available to promote.
Sales items and exclusive offers to promote.
CONS:
Fairly low commission 3% and 5% UK – (but this is pretty normal in comparison to similar programs & Amazon Associates).
You may be able to find the same products cheaper online.
Is The Lego Affiliate Program Worth It?
If you think you'll be talking plenty about Lego and that it would fit in with your niche, then sure!
But if you're only going to be promoting the odd set here and there, it may be just worth sticking to something like the Amazon program instead.
On the other hand, if there are other programs that you can join on Rakuten, then there is no harm joining the Lego program as well….
(As you can keep track of all your programs there and your earnings combine into one!).
Need Affiliate Marketing Training? Start For Free!
Affiliate marketing sounds straight forward, and it is.
But there is a more to it than just sticking links on a blog and hoping for the best.
For example; you want to learn how to rank your content in Google, what type of content to write, how to promote your content, how to build and email list and much more.
A majority of people who join affiliate programs never make a SINGLE SALE!
For the most part, people have unrealistic expectations about the amount of work it can take – but also get overwhelmed and confused.
If you want to learn how to make your first sales online, I recommend this training.
You can check it out for free.
It's the reason I started making sales within my first few months online back in 2015 and I've been generating an income online ever since.
Let me know if you have any questions!
Did You Enjoy This Post? PIN this To Your Affiliate Marketing Board!