I'm going to be doing a Coinnect review today – an App that claims you can win free gift cards and also win REAL cash, by playing a very simple, (but addictive!) game.
But… is Coinnect legit? How can you win cash by playing this game?
Today, I'm giving a brief overview of this App, including how you can make money with it, if it's worthwhile and what else you can do.
So, let's get started!
How Do You Sign Up?
At the time of writing, Coinnect is available on the App store and on Google Play.
All you need to do is download the App for free – then it will ask you if you want to play for free, for free giftcards OR for cash.
You will then have to enter basic details inclduing…
Your name,
Your email,
You mobile number, (optional!),
Your password,
Your location, (various countries available).
Unfortunately, what they don't tell you right away, is that you can't play for real cash outside the US.
I'm also unsure if you can get giftcards either! Because I can't see any actual info about how you can earn them.
It says to go through levels and gain points but nothing about how much you need to actually get a gift card.
It may be that you not only can't enter tournaments outside the US, but also gift cards – more on that in a moment.
You then have the option to install the App via an Ad, (basically, just watch an Ad and you're in).
OR…
You can pay $1 and then you can play the App Ad free……But it's only for a limited amount of time!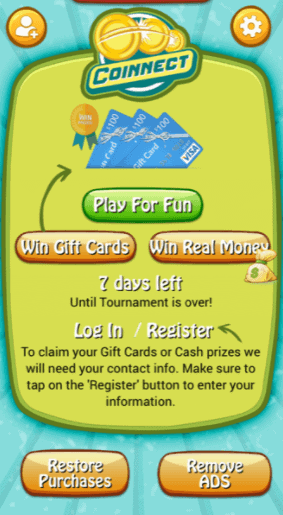 How Do You Play?
There are so many versions of this type of game – but this is one at its most basic.
No complicated rules at all, but in a way – that's what's nice about it.
All you have to do is click three or more coins in the same colour to make points.
You have a certain amount of time to get as many coins as possible, so you need to be quick with it.
It actually says to click three or more coins of a, "similar," colour…….
You really have to click on the coins with the SAME colour, I'm unsure why they say similar!
Like I said, this format has been done SO many times before, but still never fails to be quite fun.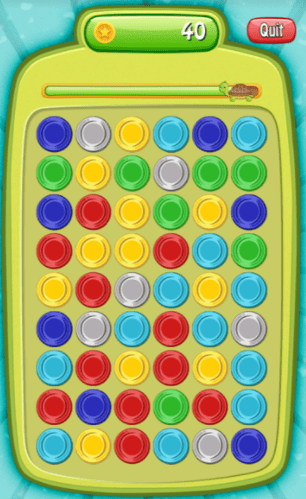 How Do You Win Money?
Obviously, if you've just started this and haven't played this type of game before,then you may want to stay out of this section for a while.
But you can go to the win money section and you will find a whole bunch of tournaments.
THIS TOURNAMENTS ARE NOT FREE!
These are games you need to pay to enter & the winner takes the pot.
While I was looking, I saw some good paying games!
For example;
$1000 prize – 500 entrants – All pay $2 to enter.
$100 prize – $20 to enter.
There are also different contests for different levels.
So, you may want to try out the easier tournaments first — or at least the cheapest ones!
Bear in mind, you will need to be in the US to enter any of these real cash games.
Once you do win some cash, you will need to pay a 5% processing fee to receive it.
You can see by the leaderboard that there are definitely some good players raking it in.
The number one player right now, has won over 200 contests!
But What About The Gift Cards?
You're meant to be able to earn gift cards, as well as real cash here though.
There is a free route to the gift cards, depending on your points accumulated…. I just don't know how much!
I can't see anywhere how much you need to withdraw.
It could be that I can't see the info about gift cards because I'm outside of the US…. But in which case, it could tell you.
Have you cashed out a gift card with Coinnect? Let me know in the comments!
What Do Other People Say About Coinnect:
I went and checked out some other reviews online to see what people said about this App – as there isn't all that much about it.
Coinnect only has 34 ratings on the Google Play store right now, but has managed to maintain a 4.5 star rating at this time.
In general, people say that this is a fun and addictive game and I can completely get that – which is why this game format is so popular with other games.
However, I saw something a bit weird – most of the reviews were from 2017 and one person said they couldn't actually win real cash.
Coinnect responded that Google connect didn't allow it to be a gambling App at that time… Well, perhaps this is what's changed.
I could see that there were active tournaments live and you could deposit money, so it appears that's now changed.
On the App Store, this App has many more ratings – at around 5k right now and also has 4.5 stars.
I also personally downloaded the App from the App Store.
This App has plenty of good reviews, but some do complain that it can be glitchy and that you can be chucked off of tournaments during a game and can therefore lose.
The thing is, if you already have plenty of experience playing these sorts of games, you may do well in the tournaments and therefore have a higher chance of winning money.
Plus some of the buy-ins are small and the odds aren't too bad!
For example; paying $2 to enter a tournament of 50 and the prize being $100!!
In theory, this could be fairly easy money for some people.
Is Coinnect Legit – Is It Worth It?
Unfortunately not everyone will be able to join tournaments with Coinnect, but if you're in the US – there are plenty going and if you get good at this game, you could potentially win quite a bit of money.
For the most part, people enjoy it, there have just been some issues with glitches.
From my perspective, I felt like the App looked somewhat dated and could definitely have some better information available.
For example; I couldn't find any information about how you can earn enough points for gift cards.
It could be that this feature isn't available in my Country – but then, that information should be clearly available.
It would be handy if there was a clear FAQ section… Their "Rules," section went to an unrelated page for me, as did their "how to play section…"
There are definitely some issues, that need ironing out.
Have you won money with Coinnect? I'd love to hear from you! Please leave a comment below.
Forget about games… Don't you want to make more long-term?
I started out online trying to *win,* money in various ways… from online sweepstakes, competitions and even online Poker.
I actually did pretty well, but eventually realised it wasn't a sustainable way to make money in the long-run.
I started researching different side hustles — and tried a bunch of these.
I'm still keen on discovering new ways that I can make passive income!
The main way I do right now, is via affiliate marketing, paid advertising…. and that's from having my own website!
If you'd like to learn more about that, there was some training that really helped me get started.
You can start learning for free here!
I hope you found my Coinnect review useful & feel free to leave a comment below!