Damsel In Defense Review
Company: Damsel In Distress.
Business opportunity: Multi-level-marketing
Cost: $149 starter pack.
Overall score? 55/100
What is Damsel In Defense About?  
This company sells a variety of protection related products, aimed at women.
These include items such as pepper spray and stun guns and personal alarms.
Some of their products could also be used by other members of the family – such as by men or children too.
They also provide related accessories, such as specially adapted handbags, which make storing and retrieving their products quick and easy.
Since Damsel In Defense is also an MLM, (multi-level-marketing company) they also provide a "business opportunity," whereby you can sell their products to others for a profit, (25-30% commission) and recruit others into the business.
You can earn 4% of all your first level recruits earnings and can also make additional earnings from people they recruit and so on.
Related post: The difference between an MLM and pyramid scheme.
Damsel In Defense Promotional Video:
Damsel In Defense – A Unique Angle?
Many MLM's tend to revolve around the health and wellness niche.
Whether it's some revolutionary new slimming coffee, highly nutritious shakes, pampering products, skincare, or beauty products….
So, this company has gone in a unique direction with their products and while I do appreciate the motivation behind this brand, I'm not sure that this particular uniqueness will be so great for their consultants long term.
I will go into more detail as to why in a moment!
For a vast majority though, this is a small-time opportunity, where you could earn a bit of an extra side income whilst throwing home parties or social media parties.
Unsure about MLM?  You could always try this…
Some Attractive Products.
After looking through their products online, I can see that they'd be appealing to many women.
They've made their products colourful and accessible – rather than just your standard product, that generally look practical.
For example, they even have different colours to match different outfits. While this might be a bit overboard, I can certainly imagine some women loving that.
Another thing I noticed was that, on the whole, their products seem affordable and not overpriced – although I have read some complaints that disagree.
Generally, the price of MLM related products are going to be more expensive than your standard products – because they need to sustain the MLM business model.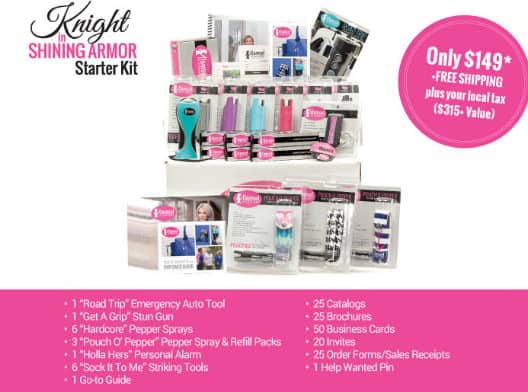 I think the range of products are really interesting and varied and could certainly appeal to a wide range of people.
Zero Competition: Is That Always Good?
Some of the consultants for this company use the companies lack of competition as a selling point.
While there is no competition, as far as the MLM industry goes, with these sorts of products, this may not be such a good thing.
One reason SO many MLM's are within the health and wellness industry, is because their is a big demand for those types of products.
Not only that, but they can also sell products to the same repeat customers again and again and again, for years to come.
I don't know about you, but when I find a brand I like, I can stick with that for years.   I've been using the same perfume for about a decade.
But, the Damsel In Defense products are precautionary measures.
A majority of people are never going to need to use their pepper spray, stun gun etc…
Therefore, they can just hold on to that product for years.  They are a one-time customer.
Maybe a mother will buy something for herself and then again for her daughter at college and her grandchildren….  but it's limited.
This will only make the MLM model even harder to maintain.
If you build up a loyal customer base, these are people you could keep on them on your books indefinitely and not being able to get that is a significant draw back.
Who is going to be a long-term repeat customer of products like this?
You will also slowly be creating an over saturated market by recruiting a large team under you in your local area, who are also trying to recruit others…. and whose recruits are also trying to recruit others….
Gradually, the pool of people you can reach with these products is diminishing.
That being said, what you could do, is target an age range that will always bring in new business….
For example, university students.  Every year, there will be a new group of freshman students and many will be interested in having that peace of mind, being able to protect themselves.
If you could manage to do some demonstrations with students at local colleges, or Universities, that could be one avenue you could go down.
So, it's not all doom and gloom as far as your market goes, but the one-time-customer aspect is certainly a significant drawback.
Additional Products Sold – Digital Security.
Perhaps as a way to bypass this issue of the one-time customer, they also provide this digital security protection plan.
That costs nearly $60 for a family, or $29.99 per month for an individual.
While this would provide some ongoing monthly income, this sort of product is a hard-sell and doesn't feel that in-keeping with the rest of the brand.
It feels a little like an afterthought.
Examples they mention include identity theft, cyber bulling and sexual online predators.
protecting your whole family for $60 a month, is a lot when you can take simple measures online (free) to either protect yourself, or resolve the issues as and when they arise.
I'm sure many of us have had some experience with these issues and have been able to resolve them pretty swiftly, without any help.
Spending over $700 per year for this –  is a big chunk of change.
Do you have Digital protection?  Do you think it's worth the cost?  Let me know in the comments!
Are The Products Worth The Price?
While there standard products do not appear over-priced to me, you can certainly find similar products for cheaper online.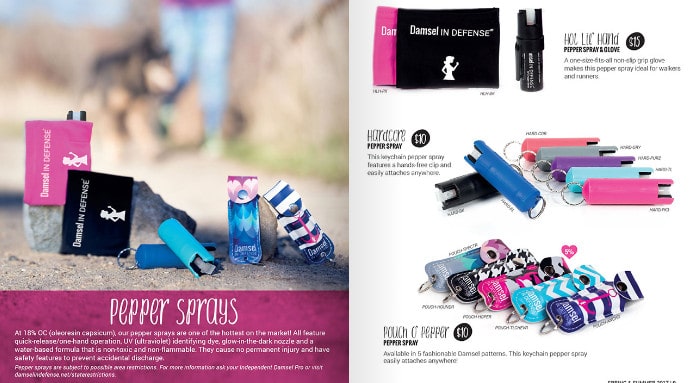 For example, I found a small pepper spray online for under $7 on Amazon and it had nearly 2000 reviews, averaging at 4.5 stars.
I think one reason you may choose these products over others, is the branding, they come in some fun colours and many of the products look appealing – so, that will be the selling point.
 Have you purchased any Damsel In Defense Products?  Let me know in the comments!
Throwing Home Parties For Profit – How Easy Is It?
Throwing home parties is one of the toughest aspects for many people joining an MLM, although it's rarely portrayed to be.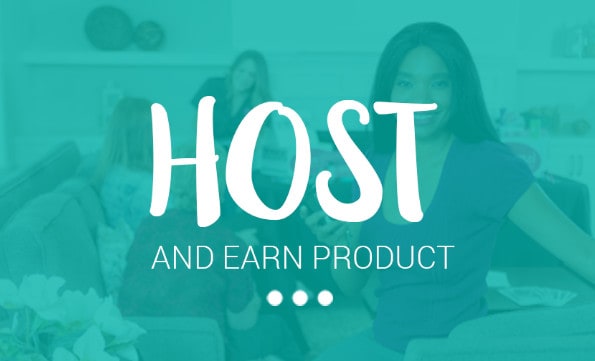 In this case, because many of these products will be a one-time-purchase, you're going to need to be finding brand new people every  time you throw a party.
Whereas with other MLM's, you could throw parties regularly for some of the same customers, as new products are often released and they buy more of their favourite products.
Finding people to join these parties can be hard enough, but then you need to provide some sort of food and drink and this can quickly eat into your profits.
One good thing is, you don't have to solely rely on home parties.
You can also throw Facebook parties, outdoor events such as craft shows, fundraisers and so on.
Many MLM's are now focusing on having more of an online presence, which makes a wider audience more accessible.
How Much Money Do You Make?
At the very beginning, you're a "recruit," and you can earn 25% commission on the products that you sell.
You can then move on up to 30%.
But since many products are fairly low value, you'd need to sell a lot to make anything reasonable.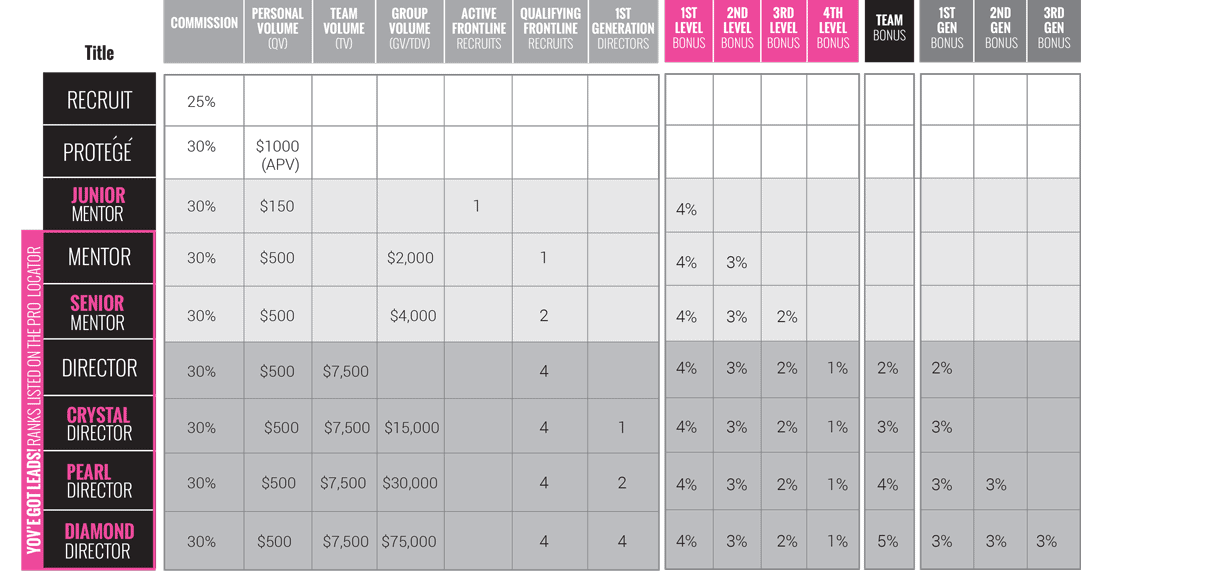 For example, if you sell a $10, you're making $2.50 initially.
At a 30% level, you'd need to sell $5000 worth of products to make $1500 in a month.
Or, put another way, 500 products sold, priced at $10.
It's not difficult to see how difficult making good money form personal sales would be – and why recruiting a team is an important factor.
Although, with your first level recruits, you're only making 4% commission from their sales, so you're still going to need a good active downline to be really profitable.
As well as the regular percentage of sales, you can also earn additional free perks and bonuses – some of which are shown below.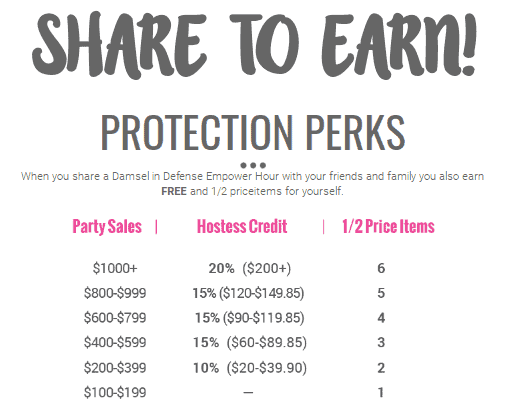 So, as you can see – you'd need to sell $200 worth of products at a party, to qualify for 6 half price products yourself.
Building A team With Damsel And Defense:
The long term goal, if you wanted to scale your business, it to recruit others and build a team below you.
Unfortunately, most of the people you recruit will fail – it really depends what sort of characters you're recruiting.
However, you also need to be an active seller yourself to make any commissions from your recruits.
Most MLM's will lock you into this sort of deal, in order to cover their own costs.
So, in this case, you need to make at least $150 in sales every 3 months, in order to qualify as "active."
Unfortunately, what happens frequently in these cases, is consultants spend the money themselves and end up with a back-log of product.
Is Damsel In Defense A Great Business Opportunity?
I admire the motivation behind the creation products and their overall message of empowering and protecting women.
However, this review isn't just about the products, nor the motivation behind the creation of this business – but the business model itself.
A majority of people will not suit the MLM business model, because it is full of gruelling hard work, rejection and – in a majority of cases – failure.
Only a tiny fraction of anyone who ever joins an MLM, can make a long term and sustainable full-time income from it.
Plus, even when they do, they're chained to that company.  If the company collapses, so does their business.
With MLM, you not only have to rely on the business surviving and being a success, but you also need to rely on all your recruits being successful as well.
If what you're looking for is a small-time opportunity, to make a little additional money on the side and perhaps share your own story – this could be something you enjoy.
Just don't underestimate the effort involved, for potentially minimal profit.
Concluding Thoughts…
When I was looking to start an online business and looked into MLM's initially, one article changed how I looked at MLM forever.  You can view it here.
I'm always in the lookout for MLMs that are an improvement on the vast majority that appear deceptive, misleading and over-hyped.
While, I'm not a fan of MLM's, THIS particular one does have some positive features including –
The overall message of protecting/empowering women.
Some decent looking products.
A unique range of products, in comparison to some MLMS, (although the downfall here will be a lack of repeat customers).
An appealing brand that some women may relate to, (especially those who have personal stories they may want to share with others).
Low introductory cost – start up pack being $149 at the time of writing.
Some transparency – not over-hyped claims about wealth and fortune.
If you're really drawn to this particular business, the start up costs are pretty low at $149.  So, you won't break the bank by checking it out!
However, if you're someone that cringes at the idea of throwing home parties – or even social media "parties," for that matter, I can relate.
That's just another reason why I decided to go down an affiliate marketing based route and I first learnt about that over here.
Do you have any experience working with Damsel in Defense?  I would love to hear from you!  Please leave me a comment below.
All the best…